SERVANT OF RED CHINA FOR RAW CASH, $ENATOR FEIN$TEIN'S DRIVER IS A SPY FOR HER PAYMASTERS IN CHINA!
OBAMA'S CRONY BANKSTERISM destroyed a 11 TRILLION DOLLARS in home equity… and they're still plundering us!
Barack Obama created more debt for the middle class than any president in US
history, and also had the only huge QE programs: $4.2 Trillion.
OXFAM reported that during Obama's terms, 95% of the wealth created went to
the top 1% of the world's wealthy.
OBAMA: FUNDED BY HIS CRONY CRIMINAL BANKSTERS and ELECTED
BY MEXICO – THE FIRST BLACK MAN OR THE FIRST SPY ELECTED TO THE PRESIDENCY???
Now the outlines of a Watergate-like conspiracy are emerging in which a sitting Democrat president apparently used the apparatus of the state to spy on a Republican presidential candidate. Watergate differed in that President Nixon didn't get involved in the plot against the Democratic National Committee until later as an accomplice after the fact. Here Obama likely masterminded or oversaw someone like the diabolical Benghazi cover-up artist Ben Rhodes, masterminding the whole thing.
"Cold War historian Paul Kengor goes deeply into Obama's communist background in an article in American Spectator, "Our First Red Diaper Baby President," and in an excellent Mark Levin interview. Another Kengor article describes the Chicago communists whose younger generation include David Axelrod, Valerie Jarrett, and Barack Hussein Obama. Add the openly Marxist, pro-communist Ayers, and you have many of the key players who put Obama into power."
Karin McQuillan
Democrats' Impeachment Army: $110 Million, 1000 Staff, 2000 Volunteers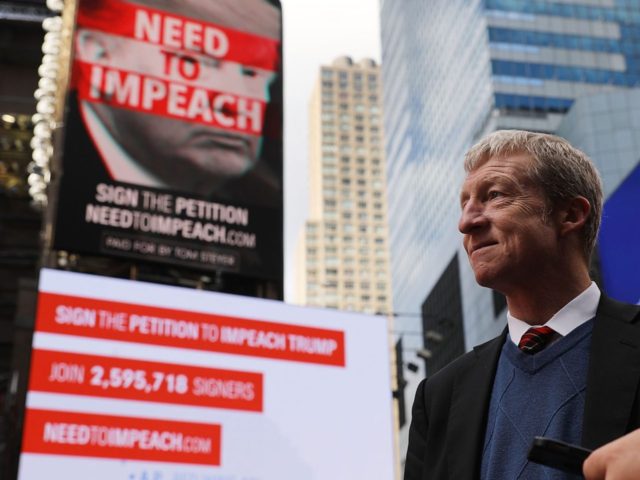 Democrats who are pushing for the impeachment of President Donald Trump will have $110 million to spend on the cause, thanks to the efforts of left-wing billionaire Tom Steyer.
Tom Steyer plans to spend at least $110 million in 2018, making the billionaire investor the largest single source of campaign cash on the left and placing him on a path to create a parallel party infrastructure with polling, analytics and staffing capabilities that stand to shape and define the issues the party runs on in November.

Steyer is building out an operation that's bigger than anyone's other than the Koch brothers' — and the billionaire and his aides believe the reservoir of nontraditional voters he's already activated could become the overriding factor in House and other races across the country.

Between the two organizations, he'll have close to 1,000 people on staff, in addition to over 2,000 volunteers. The Need to Impeach email list alone has already topped 5.5 million, which its research — anyone who signs up with the effort has their information run through a series of voter files and other databases — shows includes a very exact 697,780 infrequent voters in the 63 most competitive House districts.

"Our list is bigger than the NRA's — and we're going to make sure that it votes that way in 2018," said Kevin Mack, lead strategist for Need to Impeach.