TRUMP'S SECRET AMNESTY, WIDER OPEN BORDERS DOCTRINE TO KEEP WAGES DEPRESSED.
"During the same month that Schlafly had backed Trump for his "America First"
agenda, Nielsen's committee released an ideologically-globalist
report
, promoting
the European migrant crisis as a win for big business who would profit greatly
from a never-ending stream of
cheap
, foreign migrants."
STAGNANT WAGES and the Dem Party's obsession with open borders, amnesty and no damned legal need apply!
THE LA RAZA SUPREMACY PARTY for OPEN BORDERS, AMNESTY, NON-ENFORCEMENT, NO E-VERIFY and no Legal need apply!!!
The Democratic Party
used to be
the party of blue collar America- supporting laws and policies that benefited that segment of the U.S. population. Their leaders may still claim to be advocates for American working families, however their duplicitous actions that betray American workers and their families, while undermining national security and public safety, provide clear and incontrovertible evidence of their lies…. MICHAEL CUTLER …FRONTPAGE mag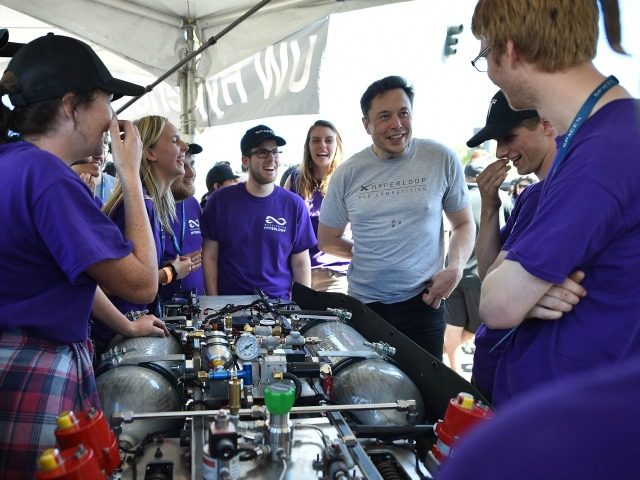 Federal data shows that legal immigrants are filling a growing share of several white-collar professions which have seen little salary growth since 2000.
The data was posted by the Center for Immigration Studies, and it shows how Congress imports foreign-born immigrants and visa-workers to raise the labor supply by roughly 50 percent in several white-collar science and technology jobs, ensuring much lower salaries for Americans in those flooded job markets.
The CIS study looked at the percentage of foreign-born workers in 474 separate occupations defined by the Department of Commerce. The group reported:
There are 65 occupations in which 25 percent or more of the workers are immigrants (legal and illegal). In these high-immigrant occupations, there are still 16.5 million natives — accounting for one out of eight natives in the labor force…

there are just 24 occupations out of 474 in which illegal immigrants comprise at least 15 percent of workers …

we find that only 4 percent of illegal immigrants and 2 percent of all immigrants work on farms.
The loss of wages and status is obvious in the jobs where migrants have doubled or nearly doubled the supply of labor. For example, legal and illegal migrants hold a slight majority of jobs in blue-collar agricultural sorting, construction plasterers, sewing-machine operators, tailors, and miscellaneous agricultural workers. Immigrants also comprise 40 percent or more of eight additional jobs as maids, textile workers, taxi drivers, translators, roofers, and painters.
But the government-delivered flood of new labor has reached up to many once-prestigioushigh-tech white-collar jobs that were widely seen as a hard-earned pathway to a prosperous and secure future.
Foreign-born workers comprise 43 percent of medical and biological scientists, 38 percent of physical scientists, 38 percent of software developers, 36 percent of computer engineers, 31 percent of economists, 28 percent of physicists and doctors, 27 percent of clients, 27 percent of electronics engineers and 25 percent of software programmers, according to the CIS data.
These are huge inflows. For example, if 33 percent of people in a career are immigrants, then the government has raised the labor supply in that career by 50 percent.
In February 2018, an alliance of Democrats and business-first Republicans — backed by business groups — blocked Trump's Four Pillars pro-American reform in the Senate.
The high inflow of extra workers ensured by Congress has a large impact on wages, according to Economics 1o1 calculations. For example, the 2016 report on immigration by the National Academy of Sciences reported that Americans lose 5.2 percent of their wages and salaries when the government uses immigrants to raise the labor supply by 16.5 percent.
The lost 5.2 percent of income does not go to immigrants or disappear into the air — it is transferred to employers and investors in the form of almost $500 billion in extra profits per year. Those transfers supercharge New York's stock market.
One of the academics serving on the NAS group, George Borjas of Harvard, used his blogto translate the academies' overly complex description of the immigration tax:
The calculation of the immigration surplus reported in Chapter 4 of the NAS report assumes that GDP is $17.5 trillion; that 65% of GDP goes to workers; and that 16.5% percent of the workforce is foreign-born. The report also says that "the current stock of immigrants lowered wages by 5.2 percent."

Because only 65% of GDP goes to workers, that means that the total earnings of all workers is $11.4 trillion (or 0.65 × 17.5). But because only 16.5% of workers are foreign-born, the fraction of total earnings that goes to native workers is $9.5 trillion (or 0.835 × 11.4). The NAS report says that native earnings fell by 5.2 percent, so that the wage transfer from native workers to employers is $494 billion (or 0.052 × 9.5).
So the 5.2 percent transfer tax is imposed when where government-supplied immigrants or visa-workers — such as H-1Bs, L-1s or H-2As — provide 16.5 percent of the labor. But the immigrant population is far higher in the high-tech careers where government-supplied immigrants and visa-workers can jointly add 30 percent or 40 percent of the labor.
Legal immigrants are equally impacted by this government-arranged transfer because they work under similar economic pressure as Americans. They gain by moving to the United States but lose when the government moves another cohort of immigrants into their sector.
The growing economic impact of white-collar immigration helps explain why blue-collar wages are rising faster than white-collar wages in the current economic expansion. Jason Furman, a former economic advisor to President Barack Obama, used orange bars to show the white-collar slump: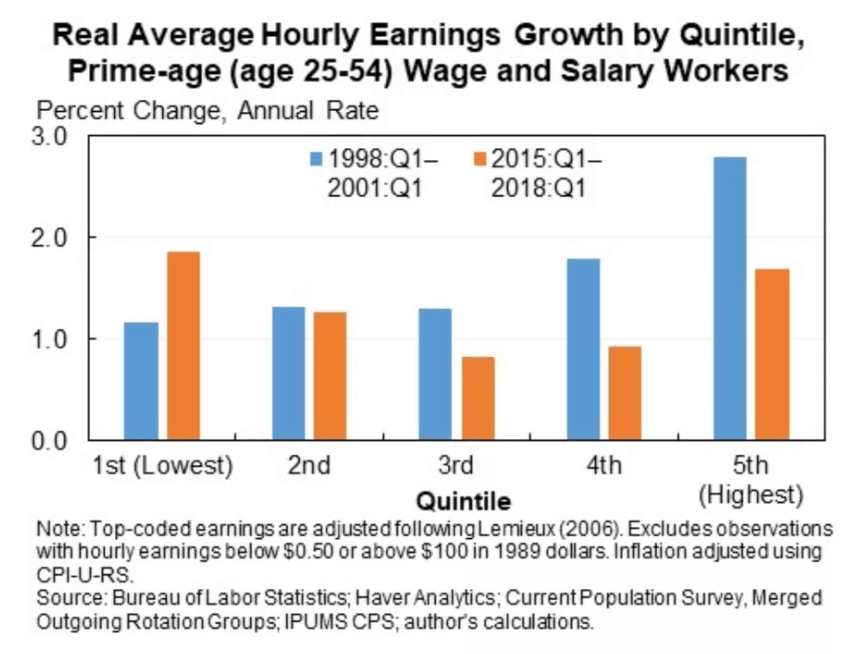 Overall, salaries for technology jobs have barely kept ahead of pre-inflation average salaries nationwide over the last decade, according to Payscale: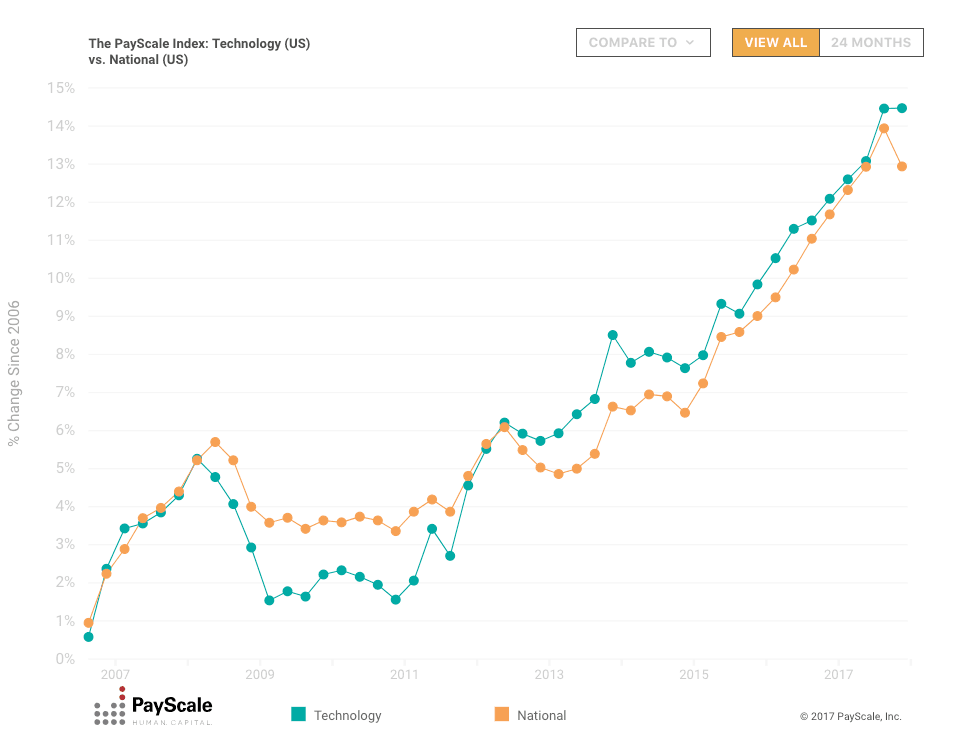 But the government data provided by CIS shows that many culture-intensive jobs have largely escaped the diversity that many progressives promote for others.
So far, immigrants comprise just 5 percent of business fundraisers, 7 percent of lawyers, P.R specialists, and archivists, 8 percent of writers and authors, urban planners, editors, technical writers, law clerks, and religious directors, 9 percent of psychologists, event planners, therapists and human-resources people, and 10 percent of advertising managers, camera operators, social workers and paralegals.
Nonetheless, the rising inflow of immigrants is also beginning to flood into many of these culture-related jobs.
Twelve percent of photographers, actors, social scientists, clergy, and "news analysists, reporters and correspondents" are immigrants. "Native-born reporters who work at English-language media outlets face … modest levels of competition from immigrants," CIS reported.
Thirteen percent of chief executives, human resources managers, and artists are immigrants.
Fourteen percent of therapists are immigrants.
Fifteen percent of designers, 19 percent of architects, financial analysts, and computer managers are immigrants.
Twenty percent of pharmacists and 22 percent of teachers are immigrants.
However, people who work for government and regulated industries face little competition. The jobs with the fewest percentage of immigrants include firefighters, soil-conservation scientists, jailers, powerline installers, detectives, country clerks, air traffic controllers, police officer, and teachers.
Each year, four million young Americans enter the workforce — and the government imports 1 million legal immigrants, replenishes the population of roughly 1.5 million white-collar guest workers, and does little to repatriate the resident population of roughly 8 million illegal immigrants.
Overall, the Washington-imposed economic policy of economic growth via immigration shifts wealth from young people towards older people by flooding the market with cheap foreign labor.
U.S. Election Meddling: Nationwide Voter Fraud, Importation of 15M Foreign-Born Voters
Shelby Lum, Richmond Times-Dispatch via The Associated Press
19 Jul 2018
Washington, D.C.
As the establishment media, GOP, and Democrats fret over the influence foreign countries have on U.S. elections, the leading threats to the American electorate remain nationwide voter fraud and mass immigration.
Though President Trump's administration sought to thoroughly investigate voter fraud through the Presidential Commission on Election Integrity, the board was
handed off
to the Department of Homeland Security (DHS) in order to bypass obstruction from national Democrats who refused to turn over voter data.
The number of convictions against voter fraud continues to rise, with now nearly 940 criminal convictions on the books across the U.S., according to the latest
data
from the Heritage Foundation.
Likewise, the number of cases of voter fraud has risen. Heritage's Voter Fraud Database now features 1,071 cases of voter fraud that spans across 47 states.
In the most recent
study
by the Government Accountability Institute (GAI) on voter fraud, the think tank found 8,471 high likely cases of double voting. About 7,271 of those cases were inter-state double voting, while the remaining 1,200 cases were of intra-state double voting.
"The probability of correctly matching two records with the same name, birthdate, and social security number is close to 100 percent," the GAI report noted.
Kansas Secretary of State and
gubernatorial
candidate Kris Kobach is fighting in his state to enforce voting laws that would mandate voters prove their U.S. citizenship. This effort has currently been halted by the left-wing ACLU organization and a circuit judge who recently claimed that it was unconstitutional for a state to demand voters provide their U.S. citizenship records. Years ago, proof of citizenship voting laws were upheld as fully constitutional.
"Compare [Russia meddling in the 2016 presidential campaigns] to the kind of foreign influence in the actual election numbers in foreign nationals voting," Kobach told Breitbart News. "That's real and much more consequential and it's happening all over the country."
Kobach said his expert witness in the suit with the ACLU over the proof of citizenship law revealed that as many as 33,000 foreign nationals are on the voter rolls in Kansas. For states like California, with the largest foreign-born population in the country, the number of foreign nationals on the voter rolls is likely in the hundreds of thousands or even the millions, Kobach says.
Similarly, mass legal and illegal immigration to the U.S. continues to be the largest driver of population increases and demographic shifts in the country. Every year, more than 1.5 million immigrants are admitted to the country. The U.S. has
imported
more than ten million immigrants in the last decade.
The vast majority of foreign nationals arrive through the process known as "chain migration," where newly naturalized citizens can bring an unlimited number of foreign relatives to the U.S. Every two new immigrants to the country bring an additional seven foreign relatives with them.
As Breitbart News has
extensively reported
, the U.S. is on track to import about 15 million foreign-born voters by the year 2038. That is nearly quadruple the size of the annual number of U.S. births; about four million American babies are born every year.
Through chain migration alone, the U.S. will import about eight million foreign-born voters in the next two decades.
The country's continued mass immigration policies are likely to hand over electoral dominance to Democrats in statewide and national elections, Breitbart News has noted.
Analysis conducted by Axios's Chris Canipe and Andrew Witherspoon shows the overwhelming trend of foreign-born populations voting Democrats into office over Republicans.
Got any tips about the H-1B, L-1 and OPT programs? Email Neil Munro here or at NMunro@Breitbart.com.
No Justice for Taxpaying Americans




By Howie Carr




The Boston Herald, August 08, 2018

But the real double standard kicks in when the undocumented Democrat gets to the courtroom. A taxpaying American can only dream of the kid-gloves treatment these Third World fiends get.




Here's a 2016 headline: "If Springfield market owner illegally cashing food stamps had been U.S. citizen punishment would have been greater, judge says."





This one involved a 56-year-old Dominican bodega owner who was running an EBT-card scam for illegal immigrants in Springfield — stop me if you've heard this one before. He stole $38,000 and didn't do a day in jail. As Judge Tina Page said, "Had he been a citizen of the U.S. he would in all likelihood be serving a substantial sentence."





But if he'd been imprisoned he'd have been deported, and God knows we don't want to deport Dominican welfare fraudsters — or Dominican heroin dealers.





Freeing Dominican heroin dealers (and future cop killers) is the specialty of Superior Court Judge Timothy Feeley, who cut loose a Dominican heroin dealer with no prison time, as the prosecutor put it, "to help him avoid deportation."





Are you starting to notice a pattern here? Sometimes law-abiding taxpayers get murdered because of this double standard of justice for welfare-collecting noncitizens.




http://www.bostonherald.com/news/columnists/howie_carr/2018/08/carr_no_justice_for_taxpaying_americans
Get rid of 40 million looting Mexicans and we resolve our housing and jobs crisis and end the $150 billion Mex welfare state in our open borders!
Our government is too busy easing illegals over the borders!
THE NEW PRIVILEGED CLASS: Illegals!
This is why you work From Jan - May paying taxes to the government ....with the rest of the calendar year is money for you and your family.
Take, for example, an illegal alien with a wife and five children. He takes a job for
$5.00 or 6.00/hour. At that wage, with six dependents, he pays no income tax, yet at the end of the year, if he files an Income Tax Return, with his fake Social Security number, he gets an "earned income credit" of up to $3,200..... free.
He qualifies for Section 8 housing and subsidized rent.
He qualifies for food stamps.
He qualifies for free (no deductible, no co-pay) health care.
His children get free breakfasts and lunches at school.
He requires bilingual teachers and books.
He qualifies for relief from high energy bills.
If they are or become, aged, blind or disabled, they qualify for SSI.
Once qualified for SSI they can qualify for Medicare. All of this is at (our) taxpayer's expense.
He doesn't worry about car insurance, life insurance, or homeowners insurance.
Taxpayers provide Spanish language signs, bulletins and printed material.
He and his family receive the equivalent of $20.00 to $30.00/hour in benefits.
Working Americans are lucky to have $5.00 or $6.00/hour left after Paying their bills and his.
The American taxpayers also pay for increased crime, graffiti and trash clean-up.
Cheap labor? YEAH RIGHT! Wake up people!
A detailed look at immigrants (legal and illegal) and natives across occupations
---
---
Of the 474 civilian occupations, only six are majority immigrant (legal and illegal). These six occupations account for 1 percent of the total U.S. workforce. Moreover, native-born Americans still comprise 46 percent of workers in these occupations.

There are no occupations in the United States in which a majority of workers are illegal immigrants.

Illegal immigrants work mostly in construction, cleaning, maintenance, food service, garment manufacturing, and agricultural occupations. However, the majority of workers even in these areas are either native-born or legal immigrants.

Only 4 percent of illegal immigrants and 2 percent of all immigrants do farm work. Immigrants (legal and illegal) do make up a large share of agricultural workers — accounting for half or more of some types of farm laborers — but all agricultural workers together constitute less than 1 percent of the American work force.

Many occupations often thought to be worked overwhelmingly by immigrants (legal and illegal) are in fact majority native-born:

Maids and housekeepers: 51 percent native-born

Taxi drivers and chauffeurs: 54 percent native-born

Butchers and meat processors: 64 percent native-born

Grounds maintenance workers: 66 percent native-born

Construction laborers: 65 percent native-born

Janitors: 73 percent native-born

There are 65 occupations in which 25 percent or more of the workers are immigrants (legal and illegal). In these high-immigrant occupations, there are still 16.5 million natives — accounting for one out of eight natives in the labor force.
High-immigrant occupations (25 percent or more immigrant) are primarily, but not exclusively, lower-wage jobs that require relatively little formal education.
In high-immigrant occupations, 54 percent of the natives in those occupations have no education beyond high school, compared to 30 percent of the rest of the labor force.
Natives tend to have high unemployment in high-immigrant occupations, averaging 9.8 percent during the 2012-2016 period, compared to 5.6 percent in the rest of the labor force. There were a total of 1.8 million unemployed native-born Americans in high-immigrant occupations.
The stereotype that native-born workers in high-immigrant occupations are mostly older, with few young natives willing to do such work, is largely inaccurate. In fact, 34 percent of natives in high-immigrant occupations are age 30 or younger, compared to 29 percent of natives in the rest of labor force.
Not all high-immigrant occupations are lower-skilled. For example, 38 percent of software engineers are immigrants, as are 28 percent of physicians.
A number of politically influential groups face very little job competition from immigrants (legal and illegal). For example, only 7 percent of lawyers and judges and 7 percent of farmers and ranchers are immigrants, as are at most 9 percent of English-language reporters and correspondents.

1
Full Results
The spreadsheet that accompanies this report gives the share of each occupation that is comprised of immigrant workers.
Discussion
Data and Methods
---
End Notes