Democrats' Impeachment Army: $110 Million, 1000 Staff, 2000 Volunteers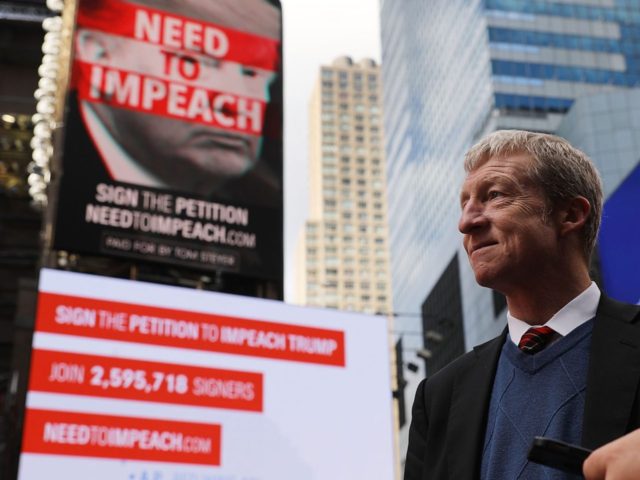 Democrats who are pushing for the impeachment of President Donald Trump will have $110 million to spend on the cause, thanks to the efforts of left-wing billionaire Tom Steyer.
Tom Steyer plans to spend at least $110 million in 2018, making the billionaire investor the largest single source of campaign cash on the left and placing him on a path to create a parallel party infrastructure with polling, analytics and staffing capabilities that stand to shape and define the issues the party runs on in November.

Steyer is building out an operation that's bigger than anyone's other than the Koch brothers' — and the billionaire and his aides believe the reservoir of nontraditional voters he's already activated could become the overriding factor in House and other races across the country.

Between the two organizations, he'll have close to 1,000 people on staff, in addition to over 2,000 volunteers. The Need to Impeach email list alone has already topped 5.5 million, which its research — anyone who signs up with the effort has their information run through a series of voter files and other databases — shows includes a very exact 697,780 infrequent voters in the 63 most competitive House districts.

"Our list is bigger than the NRA's — and we're going to make sure that it votes that way in 2018," said Kevin Mack, lead strategist for Need to Impeach.