Six Reasons Why AG Jeff Sessions is Trump's Hammer in the Fight Against Illegal Migration
Attorney General Jeff Sessions is using his legal expertise and his authority to aggressively implement President Donald Trump's policy against illegal immigration, even as he is getting flak from the President for recusing himself from Democratic-cheered investigations into the President's campaign and business activities.
The next step for Sessions, says source, is the release of federal regulations that will replace the 2015 Flores settlement which requires officials to release migrants within 20 days if they bring children with them over the border.
The catch-and-release settlement was created in 2015 by a judge, the ACLU, and officials working for former President Barack Obama, and it has forced officials to release hundreds of thousands of Central American migrants who bring their children into the United States.
But the pending Flores regulation is just one of several major regulatory changes which Sessions which are shutting the various border loopholes which were created by pro-migration judges, advocacy groups and agency officials over the last 20 years.
"These changes are really possible because Jeff Sessions is Attorney General," said Mark Krikorian, director of the Center for Immigration Studies. Krikorian continued:
He both knows what has to be done, and is committed to making sure it happens. A different AG, even if he means well, would be unlikely to have both the knowledge and commitment to get these kinds of change though, and that assumes he even wanted to do so. A [George W.] Bush-retread might not even be committed to the President's agenda … What matters are the policy changes that we are seeing, not the investigative circus which dominates the news.
Justice Department officials "are intimately involved in the drafting and coordination of the Flores regulations," an agency source told Breitbart News. The proposed regulationssoon will be posted at a government site for public comment, officials say.
The regulations likely will allow officials to keep migrants with children in detention for at least two months, ensuring that the migrants who bring children are not released into the United States to seek jobs.
The extra time is needed because many economic migrants are legally allowed to ask judges for asylum from gangs or abusive spouses. The time allowed for detention by the pending regulation is expected to be long enough to allow border officers and judges to consider and reject claims for asylum, so allowing officials to deny catch-and-release to migrants.
The new quick-turnaround process is expected to sharply reduce the number of migrants who put themselves in debt to pay for smugglers who can guide them through Mexico to the U.S. border posts.
That reduction will help lower-wage Americans by reducing the inflow of cheap workers to U.S. employers. In 2017, for example, officials were forced to provide 400,000 work permits to unskilled migrants who Obama allowed into the country to claim asylum. The Flores regulation will likely also help U.S. children by reducing the number of migrants youths and children who are being smuggled into U.S. schools by Central American parents.
In April, Sessions announced a zero-tolerance policy for people trying to sneak over the border. He also sent extra prosecutors down to the border states to conduct the extra prosecutions. This policy is expected to deter future economic migrants because judges can impose a jail sentence on migrants who are caught returning after a first conviction.
immigration prosecutions continue to climb. The latest available case-by-case records for June 2018 reveal a total of 11,086 new federal prosecutions were brought as a result of referrals from Customs and Border Protection in the five federal judicial districts along the southwest border. June numbers were up 20.3 percent from the 9,216 such prosecutions recorded during May, and up 74.1 percent over March figures. Despite this increase, only 46 percent of all Border Patrol arrests of adults in June were criminally prosecuted.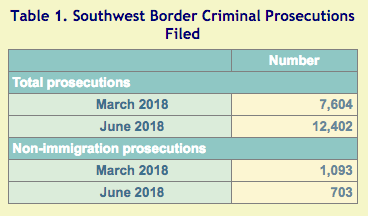 The nation's immigration courts are run by the Attorney General, so Sessions has the legal authority to set precedents, procedures, and rules for ordinary immigration judges and for the Board of Immigration Appeals. He has used that power to end the Obama-era policy of awarding asylum to Central American migrants who claim "credible fear" of abuse by spouses or by criminal gangs.
"Starting in January 2018, court findings of credible fear began to plummet," says a reportby TRAC Reports. The "dramatic change" is shown in the data, says TRAC:
By June 2018, only 14.7 percent of the CFR [credible fear] Immigration Court decisions found the asylum seeker had a "credible fear." This was just half the [30 percent] level that had prevailed during the last six months of 2017 …

Unless the asylum seeker who is otherwise subject to expedited remova passes the [courtroom] CFR review, he or she is not allowed even to apply for asylum. This applies to most parents arriving with children at the southwest border. As a consequence, individuals who don't pass these reviews are usually quickly deported back to their home countries.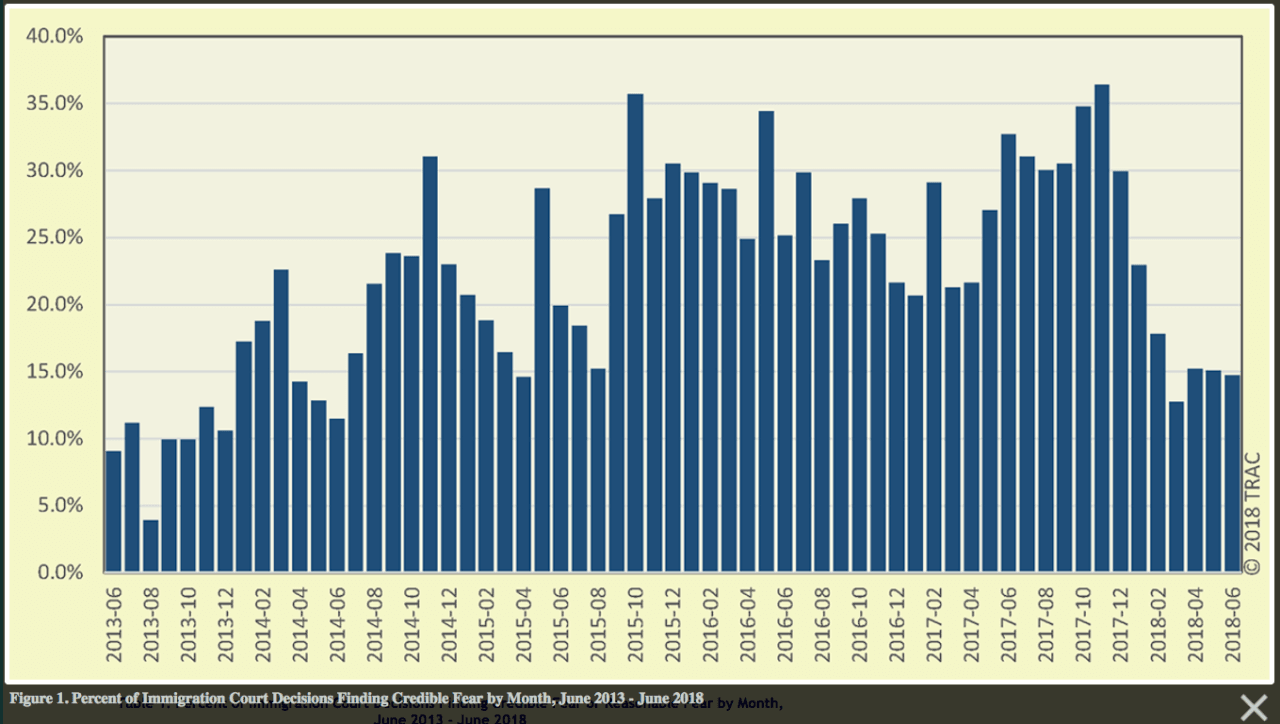 This reform is expected to force a rejection of the many of the 700,000 asylum cases launched during Obama's terms. The ACLU and other pro-migration groups are suing Sessions' agency to block the reforms.
Ending "Administrative Closure"
Sessions has ordered immigration-court judges to stop the practice of "Administrative Closure," which was used by overburdened judges to discard deportation cases during the mass migration of Central Americans in Obama's tenure. Roughly 350,000 migrants were excused from deportation via this process, but Sessions has directed agencies to "recalender" these deportation cases.
The Sessions reversal was shown in a chart released by the Executive Office which reveals that 1,077 cases were revived by the Department of Homeland Security in July 2018, up from roughly 755 cases per month since October 2017.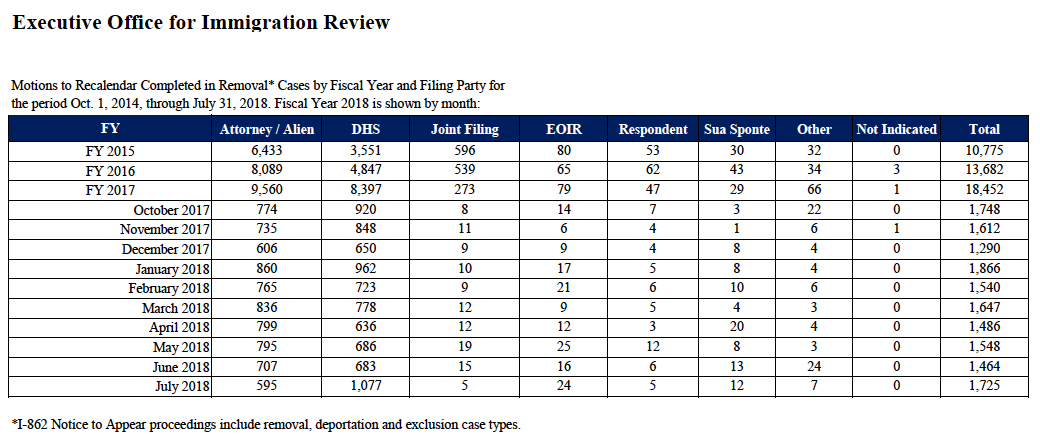 Overall, the number of cases being set back to the courts is on track to reach almost 10,000 in 2017, up from 8,397 in Trump's first year, and 4,847 in Obama's final years.
Streamlining Immigration Courts
On March 5, 2018, Sessions formally vacated a 2014 immigration-court decision, dubbed "Matter of E-F-H-L," and told the 350 immigration-court judges that they could rely on submitted written evidence to avoid full hearings in some deportation cases. This reform will speech up courtroom hearing and help reduce the huge backlog of roughly 700,000 asylum that allows many migrants to stay in the United States for several years.
The TRAC data shows that Sessions has halved the rate at which migrants win deportation cases, from roughly 56 percent in 2017 down to roughly 28 percent in 2o18.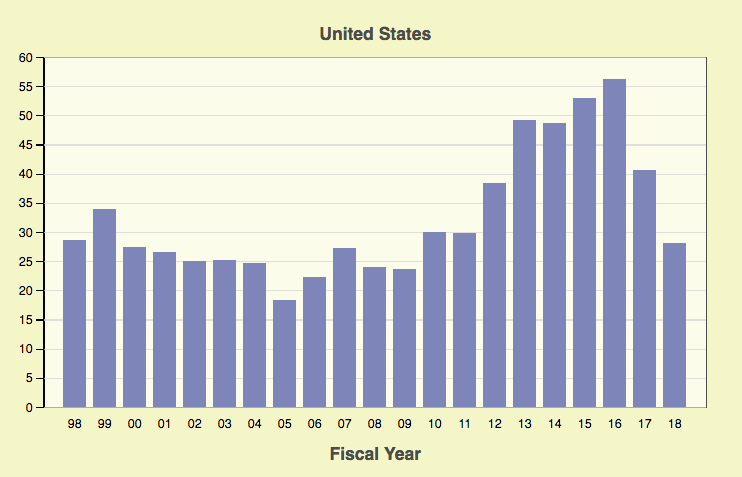 That percentage shift means that far more migrants are being sent home under Sessions' watch that under Obama's tenure. The deportation numbers are rising from almost 80,000 in 2016 to more than 120,000 in 2018, says TRAC: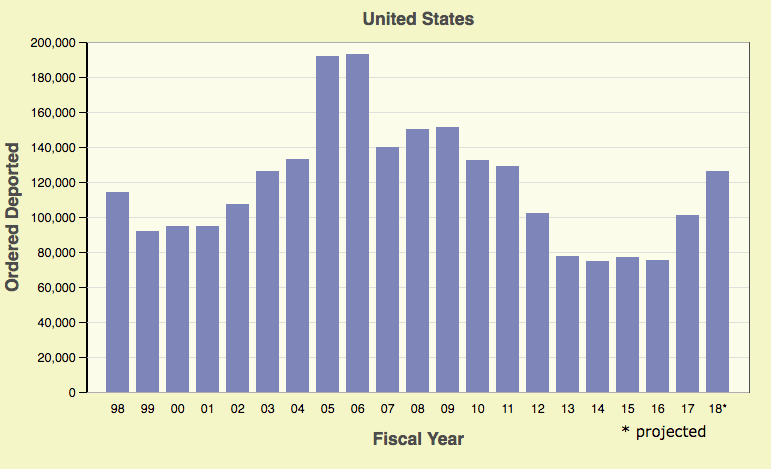 Deferred Action for Childhood Arrivals Amnesty
Obama offered a legal blind-eye and work permits to roughly 800,000 younger illegals via his 2012 DACA amnesty, and then tried in 2014 to offer similar benefits to roughly 3.5 million illegal immigrants who have children in the United States via the so-called DAPA amnesty.
The DAPA measure was struck down by a Texas court in 2015, and the DACA measure likely will be ended in 2019 because of Sessions' continued legal pressure in various courts.
The loss of work permits by roughly 800,000 illegals will pressure Democrats to make concessions on Trump's "Four Pillars" immigration policy.
ILLEGALS VOTING IN MASSIVE NUMBERS IN MEX-OCCUPIED CA

'Eleven of California's 58 counties have registration rates exceeding 100% of the age-eligible citizenry.'
'California has the highest rate of inactive registrations of any state in the country. Los Angeles County has the highest number of inactive registrations of any single county in the country'
(THIS IS DATED. MEXICO NOW HAS INVADED ALL STATES )
And M.E.Ch.A's goal is even more radical: an independent ''Aztlan,'' the collective name this organization gives to the seven states of the U.S. Southwest – Arizona, California, Colorado, Nevada, New Mexico, Texas and Utah."
The letter notes that the percentage in L.A.
County may be as high as 144%.
America builds the La Raza "The Race" Mexican welfare state
TRUMP WILL DOUBLE THIS NUMBER!
America builds the La Raza "The Race" Mexican welfare state
IT'S MEXICO SUCKING THE BLOOD OF AMERICA…. HUNDREDS OF BILLIONS FOR WELFARE, "FREE" HEALTHCARE, HEROIN SALES, CRIME COST AND THEN THEY SEND TENS OF BILLIONS BACK TO NARCOMEX
"In the U.S. the remittances that come of illegal immigration drive down U.S. wages, particularly of those on the lowest-skilled parts of the ladder, and as money flows out from local communities, leaves them underinvested and run-down. Nobody can live two places at once. Illegal immigrants live here but their money lives in Mexico. And it's often untaxed." MONICA SHOWALTER
LA RAZA GANG INFESTED LOS ANGELES, A DUMPSTER WELFARE COLONY OF MEXICO'S…
NARCOMEX DRUG CARTELS OCCUPY TEXAS
MCALLEN, Texas -- The capture of three top Mexican drug cartel bosses on the U.S. side of the Texas border helps to illustrate the irony of how even narco's seek refuge from the violence in Mexico.
LOS ANGELES – GATEWAY FOR THE LA RAZA MEX DRUG CARTELS
NARCOMEX in LA RAZA-OCCUPIED LOS ANGELES – Western gateway for the MEXICAN DRUG CARTELS and MEXICO'S SECOND LARGEST CITY.
Federal agents raided Q.T Fashion and numerous other businesses in the downtown fashion district Wednesday, cracking down on a scheme that cartels are increasingly relying on to get their profits — from drug sales, kidnappings and other illegal activities — back to Mexico, authorities said.
Nine people were arrested in raids targeting 75 locations, and $90 million was seized — $70 million in cash. In one condo, agents found $35 million stuffed in banker boxes. At a mansion in Bel-Air, they discovered $10 million in duffel bags.
"Los Angeles has become the epicenter of narco-dollar money laundering with couriers regularly bringing duffel bags and suitcases full of cash to many businesses," said Robert E. Dugdale, the assistant U.S. attorney in charge of federal criminal prosecutions in Los Angeles.
LOS ANGELES: MEXICO'S SECOND LARGEST CITY AND GATEWAY FOR THE LA RAZA HEROIN CARTELS
LOS ANGELES TOP 200 LA RAZA CRIMINALS… they're all registered dems and getting anchor baby breeders' welfare!
206 Most wanted criminals in Los Angeles. Out of 206 criminals--183 are hispanic---171 of those are wanted for Murder.
DEATH ON THE BORDER
Agent Rogelio Martinez sought "to defend my country from terrorists."
Mexico transferred Ernesto Fonseca to house arrest in 2016 and in 2013 Mexico released Rafael Caro Quintero from prison on a legal technicality. Clearly, the Mexican government ranks among the cartels' chief collaborators.
In March of 1995 U.S. Border Patrol agent Luis Santiago fell to his death while pursuing illegals. Voz Fronteriza, an officially recognized student publication at the University of California at San Diego, responded with

"Death of a Migra Pig,"

a page-one editorial that celebrated both the death of Santiago and called for the killing of federal agents.

In 1994, Voz Fronteriza received $6,000 from UC student activity funds and many of its writers are members of the Movimiento Estudiantil Chicano de Aztlan, which refers to the American Southwest as "occupied Mexico."

California attorney general Xavier Becerra

, a former congressman once on Hillary Clinton's short list as a running mate, boasts of his involvement with the militant group.
THE NEXT MEXICAN INVASION IS AT HAND:
"Mexican president candidate Andrés Manuel López Obrador called for mass immigration to the United States, declaring it a "human right". We will defend all the (Mexican) invaders in the American," Obrador said, adding that immigrants "must leave their towns and find a life, job, welfare, and free medical in the United States."
"Fox's Tucker Carlson noted Thursday that Obrador has previously proposed granting AMNESTY TO MEXICAN DRUG CARTELS. "America is now Mexico's social safety net, and that's a very good deal for the Mexican ruling class," Carlson added."
"Many Americans forget is that our country is located against a socialist failed state that is promising to descend even further into chaos – not California, the other one. And the Mexicans, having reached the bottom of the hole they have dug for themselves, just chose to keep digging by electing a new leftist presidente who wants to surrender to the cartels and who thinks that Mexicans have some sort of "human right" to sneak into the U.S. and demographically reconquer it." KURT SCHLICHTER
(CNSNews.com) - Under the North American Free Trade Agreement (NAFTA) that President Bill Clinton signed in Dec. 8, 1993, the annual U.S. merchandise trade balance with Mexico has fallen from a surplus of approximately $2.8 billion to a deficit of approximately $70.9 billion, according to data published by the U.S. Census Bureau.
NAFTA--which created what the Congressional Research Service calls a "free trade area" among the United States, Canada and Mexico--took effect on Jan. 1, 1994. President Donald Trump announced on Monday that he had negotiated an new agreement with Mexico to replace NAFTA.
"We're going to call it the United States-Mexico Trade Agreement, and we'll get rid of the name NAFTA," Trump said. "It has a bad connotation because the United States was hurt very badly by NAFTA for many years."
In 1993, the last year before NAFTA came into force, the United States ran a $2,812,370,000 merchandise trade surplus with Mexico (in constant December 2017 dollars adjusted using the Bureau of Labor Statistics inflation calculator).
By 2017, the last full year on record, the U.S. ran a $70,952,900,000 merchandise trade deficit with Mexico.
In the 24 years under NAFTA, the U.S. has run a merchandise trade surplus with Mexico in only one year. That was 1994—the first year under NAFTA—when the U.S. ran a $2,222,830,000 trade surplus with its southern neighbor.
In every one of the 23 years on record since then, the U.S. has run a merchandise trade deficit with Mexico.
In 1995, the second year under NAFTA, the U.S. ran a trade deficit with Mexico that was $25,388,440,000 (in constant December 2017 dollars).
In 2002, the U.S. merchandise trade deficit with Mexico topped $50 billion for the first time—hitting $50,621,090,000 in December 2017 dollars.
In 2005, it topped $60 billion for the first time—hitting $62,459,010,000 in constant December 2017 dollars.
In 2006, it topped $70 billion for the first time—hitting $78,833,200,000 in constant December 2017 dollars.
In 2007, it topped $80 billion for the first time—hitting $87,789,520,000 in constant December 2017 dollars. That was the largest merchandise trade deficit that the U.S. has run with Mexico in the 33 years (going back to 1985) that the Census Bureau has posted historical trade data on its website.
The top four products the U.S. imports from Mexico, according to the Census Bureau, are "other parts and accessories of vehicles" ($44,684,401,000); "trucks, buses, and special purpose vehicles" ($30,597,819,000); "passenger cars, new and used" ($29,727,683,000); and "computers" ($18,357,874,000).
The top four products the U.S. exports to Mexico are "other parts and accessories of vehicles" ($20,492,114,000); "electric apparatus" ($15,927,123,000); "computer accessories" ($14,612,318,000); and "semiconductors" ($8,519,645,000).