On Immigration, the GOP Is the Grown-Up Party
By Saritha Prabhu
The Tennessean, August 3, 2018
Democrats aren't listening to the people on immigration
Listening to Democratic Party leaders and their media supporters talk about immigration gives me massive cognitive dissonance.
Their argument has a strange up-is-down, black-is-white quality to it:
Uncontrolled illegal immigration is no problem!
Border protection is racist and offensive!
Arresting and deporting criminal aliens, even those that are violent, is immoral!
Enforcing our immigration laws is racist!
And now, of course, it has amped up — several Democratic leaders are openly talking about abolishing the Immigration and Customs Enforcement or ICE.
The logical corollary to this is: Let all or most of the 7 billion people on planet Earth — decent people, criminals, terrorists, everyone — be able to come across the border to live in America.
And all this when increasing automation threatens to destroy what jobs we currently have.
. . .
https://www.tennessean.com/story/opinion/columnists/2018/08/03/immigration-republicans-democrats/882120002/
YOU WONDERED WHY OBAMA-HOLDER WORKED SO HARD TO SABOTAGE AMERICAN VOTING FOR MORE ILLEGALS???
Those are the subliterate, low-skill, non-English-speaking indigents whose own societies are unable or unwilling to usefully educate and employ them. Bring these people here and they not only need a lot of services, they are putty in the hands of leftist demogogues as Hugo Chavez demonstrated - and they are very useful as leftist voters who will support the Soros agenda.
*
ILLEGALS VOTING ILLEGALLY
Of course, the game of the Democrats is to avoid at all costs any of the safeguards against fraud, such as photo ID requirements. That should tell anyone with integrity what they are up to. But most media continue to ignore this stain on democracy. THOMAS LIFSON – AMERICAN THINKER
BARACK OBAMA and ERIC HOLDER'S SABOTAGE OF HOMELAND SECURITY:
The "zero tolerance" program was dismantled by Attorney General Erc Holder once it had successfully cut the transit of migrants by roughly 95 percent. Initially, officials made 140,000 arrests per year in the mid-2000s, but the northward flow dropped so much that officials only had to make 6,000 arrests in 2013, according to a
2014 letter
by two pro-migration Senators, Sen. Jeff Flake and John McCain. NEIL MUNRO
To Counter Trump, Vox Defends MS-13 as Nice Kids Who Ride Bikes, Work After-School Jobs
By Jacob Perry
The Federalist, August 9, 2018
This context is wholly absent from Vox's presentation. The video succinctly describes the origins of MS-13 as "a group of teenagers, hanging out, smoking pot, listening to rock music" who eventually became "juvenile delinquents involved in street crimes who were stuffed into American jails."
Vox specifically defends MS-13 against Trump's charge that the gang is a drug-smuggling criminal cartel. The voiceover states, "that's not really the case" and notes that the group "doesn't have global ambitions." Hannah Dreier, a ProPublica reporter showcased in the video, says "MS-13 is not really involved with the international drug trade." Senior Vox reporter Dara Lind adds that "the organization doesn't have that kind of sophistication to really play with the major players." These assertions are made despite the fact that there is a growing mountain of evidence to the contrary.
http://thefederalist.com/2018/08/09/counter-trump-vox-defends-ms-13-nice-kids-ride-bikes-work-school-jobs/
Left-Wing Media Defend MS-13 Gangs: 'American Problem,' Hurting Other Immigrants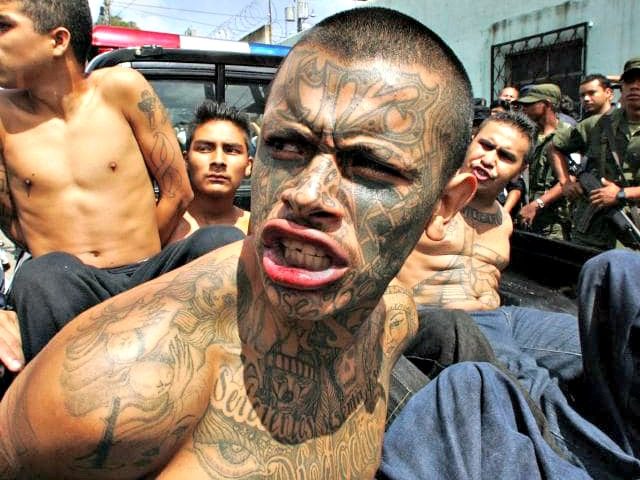 Left-wing media outlets Vox and ProPublica are defending the MS-13 gang with the release of a video and links to its reporting on the L.A.-based El Salvadorian gang.
"We need to separate fact from fiction about MS-13," the text accompanying the videoposted on YouTube said.
The video draws on ProPublica's Hannah Dreier's stories about the gang, which Breitbart News has reported, including her description of MS-13 thugs as

"Mighty Munchkins" and not reporting the gang's role in grizzly murders and human and drug trafficking.
"So to hear Trump tell it, MS-13 is this shadowy gang that's organized across continents with major plans to disrupt the security of the United States border, and what I'm actually seeing is that this gang is settling, basically, high school beefs," ProPublica's Hannah Dreier told NPR.
"One detective told me that he called them 'Mighty Munchkins' because these are kids who haven't yet finished their growth spurts, but they team up together in the woods and wreak a lot of carnage," Dreier said.
In the video, Dreier describes the alleged gang members she has been following on Long Island as regular kids who are "working after-school jobs, living with their parents. They get around Long Island on bicycles because they can't afford cars."
The video calls MS-13 "an American problem," describing the gang that originally formed in Los Angeles as illegal aliens from El Salvador who had to protect themselves from other illegal aliens.
The video states that MS-13 is not highly organized, does not have a central leader, and has "no global ambitions."
And yet, "MS-13 alarmism has persisted for decades," the video narrator states.
For any policy to work its worth, keeping the facts front and center, MS-13 is not invading the country. They're neither a new phenomenon nor growing in number, but they have committed acts of horrific violence, mostly against other immigrants in specific communities. And that is still an American problem.
As Breitbart News has reported, MS-13 is, indeed, a problem in America:
In early 2018, for example, Ivan Alexis Pena-Rodriguez, 20; Yervin Josue Romero-Rivera, 21; and Miguel Angel Ayala-Rivera, 24, were all formally charged with first-degree assault, plus other assorted criminal counts in Montgomery County, Maryland. All are members of MS-13.

When police served a search warrant at a house near Albert Einstein High School, they found a 15-year-old girl "severely wounded and bloody," according to WJLA.

On Aug. 1, 2017, the source said Pena-Rodriguez, Romero-Rivera, Ayala-Rivera, plus two other men, used a solid bat to beat the girl behind the single-family home along Valley View Avenue. The men reportedly took turns whacking the 15-year-old girl's flailing body — 28 swings in total.

Her injuries included an "indented" buttocks, discolored arms and legs, and visible bleeding from the neck down.

A second unnamed source would later tell cops that Ayala-Rivera ('Noctorno') ordered the backyard clubbing because he felt the victim was "not doing a good job as an MS-13 prostitute." The same source revealed Ayala-Rivera ('Noctorno') raked in a lot of money by trafficking teenage girls to men of all ages.
A Center for Immigration Studies (CSI) report and map released in the wake of the horrific crimes contradicts ProPublica's so-called investigative reporting about MS-13.
Some of the key findings of the CIS report:
• 506 MS-13 members arrested or charged with crimes that were reported in 22 states. The most cases were reported in California (92), Maryland (85), New York (80), and Virginia (63).
• MS-13 crimes are not primarily petty nuisance crimes; 207 MS-13 members were charged with murder. More than 100 were accused of conspiracy/racketeering, and dozens more for drug trafficking, sex trafficking, attempted murder, sexual assaults, and extortion.
• The median age of MS-13 gang members identified was 23, and suspects ranged in age from 14 to 57.
• The median age of their victims was 19, and victims ranged in age from 14 to 74. Sixty of the victims were below the age of 18, including 52 of the murder victims.
• 120 of the 506 MS-13 suspects in our case set arrived as UACs (Unaccompanied Alien Children), including 48 of the murder suspects.
• The location of these MS-13 crimes corresponds with locations of large numbers of UACs whom the federal government resettled into American communities.
ProPublica is funded in part by left-wing activists, including billionaire George Soros
.
Trump's Welfare Ban for Immigrants Would Be $57.4B Tax Cut for Americans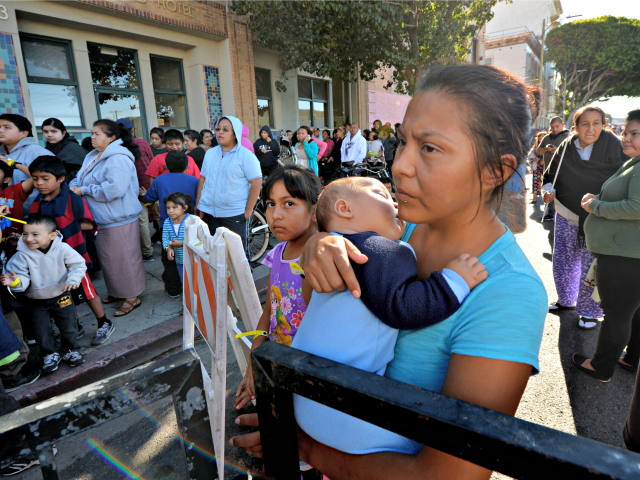 President Trump's ban on allowing welfare-dependent legal immigrants to resettle permanently in the United States would likely save American taxpayers about $1,600 a year per immigrant.
As Breitbart News reported, the Trump administration is set to roll out a plan in the next month that bars foreign nationals who need government welfare in order to live from resettling in the U.S. Such a ban on welfare importation through immigration has been eyed by the Trump White House since February.
Such a plan would be a boon for American taxpayers, who currently spend about $57.4 billion a year on paying for the welfare, crime, and schooling costs of the country's mass importation of 1.5 million new, mostly low skilled legal immigrants every year. In the last decade, the U.S. has imported more than 10 million foreign nationals and is on track to import the same amount in the coming decade if legal immigration controls are not implemented.
The National Academies of Science released a report two years ago, noting that state and local American taxpayers are billed about $1,600 each year per immigrant to pay for their welfare, where immigrant households consume 33 percent more cash welfare than American citizen households.
Trump's seeking to end the "public charge" that mass legal immigration from mostly the poor and developing world would translate to an annual tax cut for American taxpayers.
Illegal and legal immigrant-headed households use nearly 60 percent more taxpayer-funded food stamps than households headed by native born Americans, a study conducted by the Center for Immigration Studies (CIS) revealed in 2016.
Harvard University economist George Borjas says the country's decades of importation of more than 1.5 million legal immigrants every year is the world's "largest anti-poverty program" that comes at the expense of American citizens who are forced to subsidize the cost.
"Since 1965, we have admitted a lot of low-skilled immigrants, and one way to view that policy is that we were running basically the largest anti-poverty program in the world. That is actually not a bad thing at all," Borjas said in an interview last year. "Except someone is going to have to pay the cost for that."