West Hollywood Votes to Remove Donald Trump's Walk of Fame Star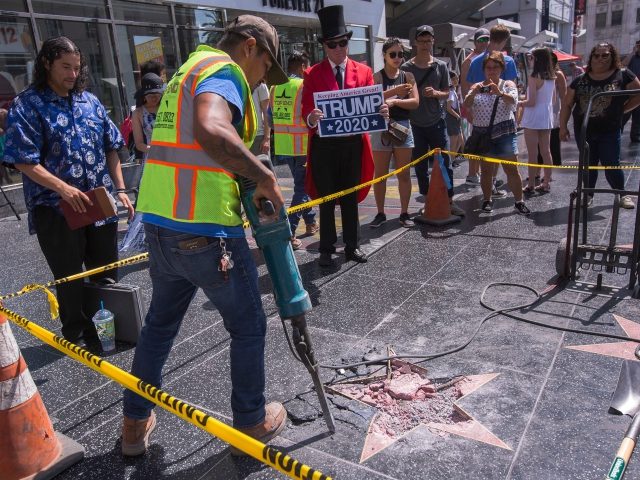 The West Hollywood City Council on Monday evening voted unanimously to remove President Donald Trump's Walk of Fame Star.
The resolution calls on both the Hollywood Chamber of Commerce and City of Los Angeles to remove President Trump's the star due to his "disturbing treatment of women and other actions."
"The West Hollywood City Council did not pass the resolution because Donald Trump is a conservative or a Republican," said

West Hollywood Mayor Pro Tem John D'Amico in a statement to The Wrap. "

Earning a star on the Hollywood Walk of Fame is an honor. When one belittles and attacks minorities, immigrants, people with disabilities or women — the honor no longer exists."
The resolution comes after twenty-four-year-old Austin Clay of Glendale was charged in Los Angeles Monday with one felony count of vandalism for allegedly smashing President Trump's star. Prosecutors say Clay took a pickaxe to the star on Hollywood Boulevard on July 25. The star recognized President Trump for his work on the TV reality show "The Apprentice." Clay could face up to three years in jail if convicted.
The star was previously vandalized by James Otis with a sledgehammer and pickax days before the November 2016 election. Otis pleaded no contest to the felony and was sentenced to community labor and ordered to pay $4,400 for the damage.
Otis, who described himself as a "Bernie Democrat" in an interview with the Los Angeles Daily News, said allegations of sexual misconduct against the president drove him to destroy the star. "It's just a big joke to him. I have children; I have many women in my life who don't think it's a joke. But he does," Otis replied when asked what he would say to the president pertaining to the accusations. "He lies about it, he shuffles and I don't see, there's no reason to believe at all that it will ever stop now. He'll continue to do this, he'll continue to make women suffer. So that's what I'd tell him. "You need help. Please understand that."
Porn actress Stormy Daniels, who is suing the president to invalidate a confidentiality agreement stemming from an alleged 2016 affair, was awarded the key to West Hollywood. In addition to bestowing Daniels, whose real name is Stephanie Clifford, with the award, Mayor John Duran officially declared May 23 "Stormy Daniels Day."
About 100 people cheered and chanted "Stormy! Stormy!" as Daniels appeared outside an adult entertainment store called Chi Chi LaRue's. "This community has a history of standing up to bullies and speaking truth to power, and I'm so lucky to be a part of it," Daniels said.
Duran called Daniels a modern-day Lady Godiva who "has had to bear the slings and arrows of attacks not only from people all over this country, but from the most powerful person on the planet."
Kathy Griffin, another outspoken critic of the president, was honored in June by West Hollywood for raising millions for progressive causes. The city gave Griffin its Rainbow Key Award for raising $5 million for HIV/AIDS and other LGBTQ services.
Mayor Duran has faced sexual harassment claims, leading to the city of West Hollywood paying out $500,000 on his behalf in 2016.
A liberal city of 35,000 with a huge LGBT population, West Hollywood has declared itself a sanctuary city and a "safe space" for people of all nationalities and immigration status.
The Associated Press contributed to this report.
WEST HOLLYWOOD:


TRUMP'S STAR OUT OVER "TREATMENT OF WOMEN", KEEP BILL COSBY'S STAR
August 7, 2018
The Walk of Fame is a joke. On more levels than can be counted. All you have to do is walk through the area to realize that the whole thing is as phony as an actual Hollywood production. And that's even without contemplating the behind the scenes stuff that explains how these "stars" are set.
So is the sanctimonious seriousness with which the West Hollywood City Council is taking this gimmick. Not to mention its hypocrisy.
West Hollywood City Council has voted "unanimously" to approve a resolution urging Los Angeles City Council and the Hollywood Chamber of Commerce to permanently remove Donald Trump's Walk of Fame star.

The star, which was unveiled in 2007, has been vandalized numerous times and completely destroyed twice. The most recent destruction came in late July when 24-year-old Austin Mikel Clay allegedly took a pickaxe to it. For his actions, he was booked on felony vandalism and jailed on $20,000 bail. He has since been released.

The council considered the removal of the star at a meeting on Monday evening. The agenda item read: "The City Council will consider adopting a resolution urging the Los Angeles City Council and Hollywood Chamber of Commerce to remove President Donald J. Trump's star from the Hollywood Walk of Fame, due to his disturbing treatment of women and other actions that do not meet the shared values of the City of West Hollywood, the region, state, and country"
Where's the Bill Cosby resolution?
The approval of a resolution urging the removal of Trump's star, however, does not necessarily mean that L.A. City Council and the Hollywood Chamber of Commerce will follow through. In December 2015, there were widespread calls for the removal of Bill Cosby's star from the Walk of Fame amid multiple sexual assault claims leveled against the comedian. Hollywood Chamber of Commerce president and CEO Leron Gubler emailed THR that the chamber did not remove stars over public backlash and cited historical landmark status.

Gubler stated: "The Hollywood Walk of Fame is a registered historic landmark. Once a star has been added to the Walk, it is considered a part of the historic fabric of the Hollywood Walk of Fame. Because of this, we have never removed a star from the Walk."
Raping dozens of women isn't a problem for Trump-hating lefties who claim to care about the "treatment of women". Just like Harvey Weinstein did.