No Justice for Taxpaying Americans
By Howie Carr
The Boston Herald, August 08, 2018
But the real double standard kicks in when the undocumented Democrat gets to the courtroom. A taxpaying American can only dream of the kid-gloves treatment these Third World fiends get.
Here's a 2016 headline: "If Springfield market owner illegally cashing food stamps had been U.S. citizen punishment would have been greater, judge says."
This one involved a 56-year-old Dominican bodega owner who was running an EBT-card scam for illegal immigrants in Springfield — stop me if you've heard this one before. He stole $38,000 and didn't do a day in jail. As Judge Tina Page said, "Had he been a citizen of the U.S. he would in all likelihood be serving a substantial sentence."
But if he'd been imprisoned he'd have been deported, and God knows we don't want to deport Dominican welfare fraudsters — or Dominican heroin dealers.
Freeing Dominican heroin dealers (and future cop killers) is the specialty of Superior Court Judge Timothy Feeley, who cut loose a Dominican heroin dealer with no prison time, as the prosecutor put it, "to help him avoid deportation."
Are you starting to notice a pattern here? Sometimes law-abiding taxpayers get murdered because of this double standard of justice for welfare-collecting noncitizens.
http://www.bostonherald.com/news/columnists/howie_carr/2018/08/carr_no_justice_for_taxpaying_americans
Trump's Welfare Ban for Immigrants Would Be $57.4B Tax Cut for Americans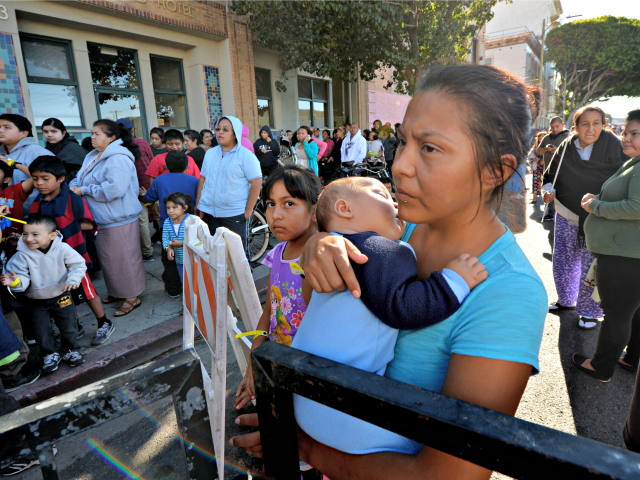 President Trump's ban on allowing welfare-dependent legal immigrants to resettle permanently in the United States would likely save American taxpayers about $1,600 a year per immigrant.
As
Breitbart News
reported, the Trump administration is set to roll out a plan in the next month that bars foreign nationals who need government welfare in order to live from resettling in the U.S. Such a ban on welfare importation through immigration has been eyed by the Trump White House
since
February.
Such a plan would be a boon for American taxpayers, who currently spend about
$57.4 billion
a year on paying for the welfare, crime, and schooling costs of the country's mass importation of 1.5 million new, mostly low skilled legal immigrants every year. In the last decade, the U.S. has imported more than
10 million foreign
nationals and is on track to import the same amount in the coming decade if legal immigration controls are not implemented.
The National Academies of Science released a report two years ago, noting that state and local American taxpayers are billed about $1,600 each year per immigrant to pay for their welfare, where immigrant households consume 33 percent more cash welfare than American citizen households.
Trump's seeking to end the "public charge" that mass legal immigration from mostly the poor and developing world would translate to an annual tax cut for American taxpayers.
Illegal and legal immigrant-headed households use
nearly 60 percent
more taxpayer-funded food stamps than households headed by native born Americans, a
study
conducted by the Center for Immigration Studies (CIS) revealed in 2016.
Harvard University economist
George Borjas says
the country's decades of importation of more than 1.5 million legal immigrants every year is the world's "largest anti-poverty program" that comes at the expense of American citizens who are forced to subsidize the cost.
"Since 1965, we have admitted a lot of low-skilled immigrants, and one way to view that policy is that we were running basically the largest anti-poverty program in the world. That is actually not a bad thing at all," Borjas said in an interview last year. "Except someone is going to have to pay the cost for that."
John Binder is a reporter for Breitbart News. Follow him on Twitter at
@JxhnBinder
.
POPULATION EXPLOSION FOR GRINGO WELFARE
THE HORDES OF ILLEGALS KEEP COMING…. Despite America's jobs, housing and Mexican crime tidal wave.
"If the racist "Sensenbrenner Legislation" passes the US Senate, there is no doubt that a massive civil disobedience movement will emerge. Eventually labor union power can merge with the immigrant civil rights and "Immigrant Sanctuary" movements to enable us to either form a new political party or to do heavy duty reforming of the existing Democratic Party. The next and final steps would follow and that is to elect our own governors of all the states within Aztlan."
LA made $1.3B in illegal immigrant welfare payouts in just 2 years
THE STAGGERING COST OF THE WELFARE STATE MEXICO AND THE LA RAZA SUPREMACY DEMOCRAT PARTY HAVE BUILT BORDER to OPEN BORDER'
According to the
Federation for American Immigration Reform's 2017 report,
illegal immigrants, and their children, cost American taxpayers a net $116 billion annually -- roughly $7,000 per alien annually. While high, this number is not an outlier: a recent study by the
Heritage Foundation
found that low-skilled immigrants (including those here illegally) cost Americans trillions over the course of their lifetimes, and a study from the
National Economics Editorial
found that illegal immigration costs America over $140 billion annually. As it stands, illegal immigrants are a massive burden on American taxpayers.
Previous generations of immigrants did not believe they were racially superior to Americans. That is the view of
La Raza Cosmica
, by Jose Vasconcelos, Mexico's former education minister and a presidential candidate. According to this book, republished in 1979 by the Department of Chicano Studies at Cal State LA, students of Scandinavian, Dutch and English background are dullards, blacks are ugly and inferior, and those "Mongols" with the slanted eyes lack enterprise. The superior new "cosmic" race of Spaniards and Indians is replacing them, and all Yankee "Anglos."
WE CAN'T TAKE CARE OF OUR OWN, AND YET WE LET MEXICO BUILD THEIR BILLION DOLLAR WELFARE STATE ON OUR BACKS!!!
70% OF ILLEGALS GET WELFARE!
"According to the Centers for Immigration Studies, April '11, at least 70% of Mexican illegal alien families receive some type of welfare in the US!!! cis.org"
So when cities across the country declare that they will NOT be sanctuary, guess where ALL the illegals, criminals, gang members fleeing ICE will go???? straight to your welcoming city. So ironically the people fighting for sanctuary city status, may have an unprecedented crime wave to deal with along with the additional expense.
$17 Billion dollars a year is spent for education for the American-born children of illegal aliens, known as anchor babies.
$12 Billion dollars a year is spent on primary and secondary school education for children here illegally and they cannot speak a word of English.
$22 billion is spent on (AFDC) welfare to illegal aliens each year.
$2.2 Billion dollars a year is spent on food assistance programs such as (SNAP) food stamps, WIC, and free school lunches for illegal aliens.
$3 Million Dollars a DAY is spent to incarcerate illegal aliens.
30% percent of all Federal Prison inmates are illegal aliens. Does not include local jails and State Prisons.
2012 illegal aliens sent home $62 BILLION in remittances back to their countries of origin. This is why Mexico is getting involved in our politics.
$200 Billion Dollars a year in suppressed American wages are caused by the illegal aliens.
Nearly One Million Sex Crimes Committed by Illegal Immigrants In The United States.