Obama Center Breaks Pledge Not to Remove Trees in Jackson Park
The Obama Presidential Center has already started destroying dozens of age-old trees in Chicago's Jackson Park, despite a pledge not to start removing trees until all legal paths are cleared.
The City of Chicago, the park district, and the Obama Center agreed to wait until a handful of lawsuits have developed before beginning preparations for construction, but the Chicago Sun-Times reports that the Obama Center's promise has essentially been broken because the Chicago Park District has already begun destroying baseball diamonds and tearing out trees as part of the work associated with the Obama complex construction.
In January, the Obama Center promised that until the foundation had all permits secured and all lawsuits were satisfied, "there will be no trees removed or cut down." But now, the Center claims that only the 19.3 acres upon which the center will sit is included in that promise, and the trees destroyed by the Park District are not on that acreage.
The Center's claim is technically accurate. But the paper explains that the decades-old trees are being destroyed to make room for a track field that is being displaced by the impending construction of the Obama Center. One did not need to transpire without the other, so the moving of the track field is inextricably tied to the Obama Center, critics note.
The paper also points out that the Obama Center is impacting far and away more acreage and city facilities than just the area upon which the complex will eventually sit.
The Times wrote:
Since former President Barack Obama picked Jackson Park for his center in August 2016, a series of intertwined projects in and around Jackson Park has made the impact much larger than just the 19.3 acres to be occupied by the center, including retooling roadways and relocating athletic fields.
Despite claims by Obama representatives, the famed Jackson Park, designed by landscape architects Frederick Law Olmsted and Calvert Vaux in 1893, will see major alterations even though the park was placed on the federal National Register of Historic Places in 1972. And preservationists say the Obama Center is destroying the carefully planned parklands across the city's Lake Shore region.
The claim that the Center will not force the city, state, or federal governments to spend tax dollars on the complex is also coming up false.
According to the Wall Street Journal, taxpayers are now being asked for nearly two hundred million dollars for costs resulting from the Obama Center.
"Now comes news that Illinois taxpayers will put up at least $174 million for roadway and transit reconfigurations needed to accommodate the Obama Center. If you don't live in Illinois, you may be smirking — but you'll be footing the bill, too," the Journal reported on August 10. "Eighty percent of such spending is generally reimbursed by the federal government, and Illinois officials confirmed to me that they expect to receive $139 million from Washington if they request it."
Former Obama chief of staff and current embattled Chicago Mayor Rahm Emanuel thinks the $174 million in tax dollars to be spent on the center is "money well spent."
Oddly, the city will not even enjoy rent money from the sprawling Obama Center because another sweetheart deal the city agreed to when it entered into the pact with the Obama Foundation maintains that the Center will pay only one dollar for the land. And that is one dollar only, in perpetuity–not per month or even per year, just one single dollar.
The one-dollar rent and the $174 million in taxpayer funds certainly do seem like great deals, indeed–but for Obama, not for the American people or the citizens of Chicago.
Follow Warner Todd Huston on Twitter @warnerthuston.
PSYCHOPATH BARACK OBAMA HAS LONG CONCEALED HIS PATH TO RICHES AND POWER BECAUSE MOST OF THESE PATHS WANDER DOWN THE TRAILS OF HIS CRONY BANKSTERS AND MUSLIM DICTATORS
"Obama's presidential papers will not be housed there, and no scholars will be afforded the opportunity to explore the history of his presidency."
August 11, 2018
Obama Foundation's monumental rip-off
The Obama Presidential Center planned for Chicago is nothing more than a personal monument to Barack Obama and a center for political indoctrination in his radical views. It serves no public purpose the way that a presidential library would.
Obama's presidential papers will not be housed there, and no scholars will be afforded the opportunity to explore the history of his presidency.
And, this is receiving vast public subsidies, despite assurances that it would be privately funded. Barack and Michelle Obama have been playing a major role in its design, in a fashion reminiscent of a dictator putting up monuments to himself in some third world country. As the revised design stands, it will look like a cenotaph bizarrely erected before the death and burial of its principal.
I have written several pieces about the folly of the OPC. But I am delighted to be joined in this by the Wall Street Journal. In an article there, Mark Glennon challenges the vast subsidies that all American taxpayers will be affording this personal and political endeavor:
Illinois taxpayers will put up at least $174 million for roadway and transit reconfigurations needed to accommodate the Obama Center. If you don't live in Illinois, you may be smirking—but you'll be footing the bill, too. Eighty percent of such spending is generally reimbursed by the federal government, and Illinois officials confirmed to me that they expect to receive $139 million from Washington if they request it.
Taxpayers were softened up by a bait and switch strategy:
In a 2014 request for proposal, the Obama Foundation said that the planned presidential library "will include an Institute that will enhance the pursuit of the President's initiatives beyond 2017." This institute now seems to have taken over the project. As the Chicago Tribune reported in February: "Obama said he envisions his center as a place where young people from around the world can meet each other, get training and prepare to become the next generation of leaders." No doubt, his definition of "leaders" will be political.

Which raises the question of why the state and city are giving the Obama Center official support. Back when it was still being sold as an official presidential library, the city of Chicago took steps to allow the project to be built in Jackson Park. Under a deal approved by the City Council in May, the Obama Foundation will lease 19.3 acres in perpetuity for $1.
One dollar for perpetual use of a huge amount of priceless lakefront land.
Fortunately, this is not going to happen without a legal challenge:
A nonprofit group called Protect our Parks has filed a federal lawsuit alleging that this violates state law. The suit calls the Obama Center a "bait and switch," since the "public purpose" of a presidential library no longer exists.
Promises made, promises broken
Last fall WTTW, a Chicago public television station, was reporting skeptically on "preliminary plans" for Illinois to cough up $100 million to "assist" the Obama Center: "How could a public financing proposal fly in a state that is bleeding red ink, especially when the Obamas have promised 100 percent private funding?"
The Obama Foundation responds that no public money will flow into its coffers (the tax deductibility of donations is another matter). But a hundred and seenty-four million taxpayer dollars spent on construction specifically designed for the facility is a subsidy, period.
HEATHER MAC DONALD
WINDOW INTO THE DEPRAVED GHETTO BLACK CULTURE of VIOLENCE, HATE AND RACISM
Chicago Pastor on Rahm Emanuel's Role in City's Violence: He Has 'Neglected' and 'Oppressed Us'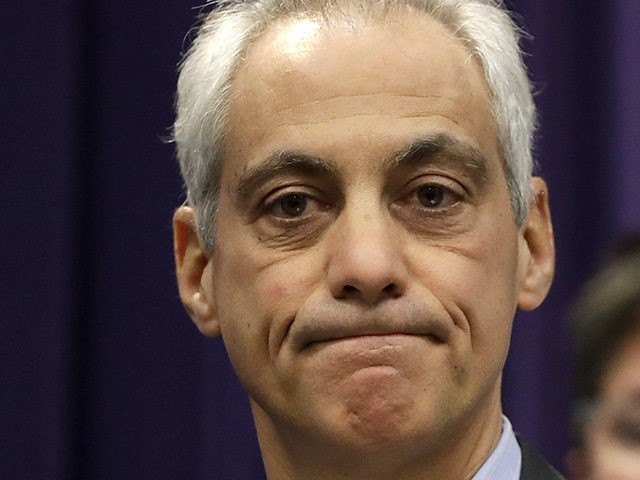 Criticism surrounding Chicago Mayor Rahm Emanuel's role in the violence that has gripped the city that just last weekend saw 72 people shot–12 fatally–includes a black pastor who said Emanuel is responsible because he has "neglected" and "oppressed" people who live in crime-ridden neighborhoods.
Rev. Ira Acree, pastor of the Greater St. John Bible Church on Chicago's West Side, was interviewed on National Public Radio's (NPR) Morning Edition on Thursday. Host Rachel Martin played a clip of Emanuel at a press conference saying there are too many guns on the street and a lack of values.
"I am taken aback by the arrogance of this mayor," Acree said. "In the midst of a crazy, horrifying week of violence, he blames the victim."
"He's talking about values," Acree said. "He needs to consider the fact when he closed 50 schools in black and brown neighborhoods, that was a statement of his values."
"When he closed mental health institutes, that was a statement of his values," Acree said. "When he sits on a half a billion dollars of HUD money, and we have homeless people in Chicago, that's a statement of his values."
"He needs to take ownership and begin to stop his neglect of an entire side of town," Acree said.
Martin tried to defend Emanuel, who was also treated kindly by the left wing, taxpayer-funded NPR when he was former President Barack Obama's chief of staff.
"Well, as you know, he would paint it differently," Martin said, adding:
He would say that this is a priority for him, and what he is suggesting is that he needs help from people like you, from people who live in these neighborhoods, to call out the crimes, not just call when the crime happens and report the crime but to report the criminal, the perpetrator, if they know who it is.
"Is that a problem?" Martin asked.
Acree answered that Chicago is a "tale of two cities."
"Just this same weekend, one Chicago's enjoying outdoor meals and watching shows and attending Lollapalooza while another one is being shot down, filling up trauma centers and preparing funeral arrangements," Acree said. "Of course we have these conditions that he has helped expand the disparity on."
Martin again came to Emanuel's defense, stating the violence pre-dates the mayor's tenure.
"It does," Acree said. "But while the violence has gone down all across the country in the last couple of years, unfortunately, it has not been duplicated here in Chicago at the same percentage – still has not."
Acree finally confronted Martin and had his say about Emanuel.
"I cannot take him serious because for 7 1/2 years he has neglected us," Acree said. "He has oppressed us. He has disinvested in us."
"So what guidance do you give your parishioners? I mean, when people come to you and are clearly suffering an emotional toll because of all this violence who have – which has taken so many loved ones from people, do you just say…"
"We walk by faith. We walk by faith. You know, we trust in God," Acree said. He continued:
And we also know what the Scripture says – without a vision, people perish. And even though this mayor does not have a vision that has inclusivity for us, we must have a vision for ourselves. We must pull ourselves up from our own bootstraps and keep persevering forward.
Martin then asked if, beyond faith, Acree had any practical advice for his parishioners.
"Yeah, we can vote out these politicians that don't have any interest for us, who just want our support on Election Day and then support other communities afterwards," Acree said.
President Donald Trump also criticized Emanuel on Thursday while at a meeting in New Jersey about prison reform.
"I guess you have to take it from the leadership," Trump said. "It's called bad leadership."
At a press conference and on Twitter, Emanuel said everyone in Chicago has a responsibility to end the violence in the city.
"Today we have a heavy heart, and our souls are burdened," Emanuel said. "We are a better city than what we saw this weekend. We as a city, in every corner of Chicago, have a responsibility":
Shooting Up Chicago
Thugs terrorize their neighbors in the Windy City.
August 6, 2018
An explosion of drive-by shootings erupted on Chicago's South and West sides this weekend. At least 74 people were shot, and 12 killed, between 3 p.m. on Friday and 6 a.m. on Monday. In one seven-hour stretch, starting around midnight on Saturday, at least 40 people were shot, four fatally, as gunmen targeted a block party, the aftermath of a funeral, and a front porch, reports the Chicago Tribune. Over two and a half hours that morning, 25 people were shot in five multiple-injury shootings, including a 17-year-old who died after being shot in the face. An 11-year-old boy, a 13-year-old boy, and a 14-year-old girl were also hit over the course of the weekend's bloodbath. Mt. Sinai's emergency room shut down for several hours due to the overload of bodies; in May, the entire hospital went into lockdown following a virtual riot in its lobby among gangbangers, reported Tribune columnist John Kass.
Meantime, Chicago mayor Rahm Emanuel and Illinois attorney general Lisa Madigan recently celebrated the issuance of a 232-page draft consent decree for the Chicago Police Department, possibly the longest police consent decree ever written. Among numerous other red-tape-generating provisions, it requires the CPD to revise its protocols regarding "transgender, intersex, and gender non-conforming individuals," to make sure that the CPD policies properly define these terms and that officers address intersex, transgender, and the gender non-conforming with the "names, pronouns and titles of respect appropriate to that individual's gender." Last Thursday, a so-called anti-violence march shut down Lake Shore Drive to demand that the CPD hire more black officers and that City Hall spend more on social programs in the black community. Few voices, in other words, are tackling the actual cause of Chicago's violence: the breakdown of the black family structure and a demoralized police department.
If the mayor signs the consent decree, the police department will have to divert further resources from on-the-ground enforcement toward collection of racial data and training in the phony theory of implicit bias. A court granted the ACLU of Illinois and Black Lives Matter Chicago permission to intervene in the consent decree negotiations. This is the same ACLU that muscled the CPD into introducing a new three-page stop, question, and frisk form in January 2016 that contributed to Chicago's shooting spike, already accelerating due to Black Lives Matter-driven anti-cop hatred. The ACLU and BLM Chicago will also be able to enforce the new consent decree in court, spelling further trouble for professional policing.
To be sure, shootings are down this year, compared with the high-water marks of 2016 and 2017, but that's cold comfort for the 1,700 people—more than eight daily—shot through the end of July. But while shootings have crested at least temporarily, other indications of chaos and disorder are up. Carjackings have nearly tripled since 2015, with an increasing share committed by juveniles, thanks to a law exempting young carjackers from adult penalties. In downtown Chicago, youth mobs have been running riot. Large groups of teens regularly swarm across major intersections, jumping on the tops of cars caught in the stampede. Over the 2018 Memorial Day weekend, teens ran down Michigan Avenue, punching people and vandalizing stores; a group of eight to ten boys knocked a fifteen-year-old boy to the ground, then stomped on his head and kicked his ribs, back, and face, before emptying his pockets and taking his shoes. The police made almost no arrests during the melee, preferring to avoid confrontation. In March, gunfire erupted during a fight between two groups of youths in the Water Tower Place mall.
"The city is lost," a federal prosecutor tells me. "We have never had crimes like this downtown—people getting shoved and robbed at 3 p.m. It's just brazen." This prosecutor has started avoiding the Magnificent Mile on Saturday afternoons. "I'm scared to be downtown," she says. A Chicago police detective with 24 years on the job observes: "The kids who are mobbing downtown are the same ones doing the carjackings. This generation of kids has grown up with no one daring to touch them."
Chicago's mayoral contenders seized on this weekend's violence to further their campaigns. Sadly for Chicago, a leader in Black Lives Matter, Ja'Mal Green, is one of those mayoral candidates. If Green has ever seen a police officer whom he supports, he is not letting on. Black Lives Matter was front and center during the protests against the CPD following an officer shooting of an armed man last month. Predictably, Green called for more government "investment" in inner-city neighborhoods.
Garry McCarthy, who headed the CPD when Laquan McDonald was infamously shot in 2014, blasted Emanuel for ignoring the violence in favor of downtown development. (The McDonald shooting triggered the consent-decree process, initially prosecuted by the Obama Justice Department but thankfully halted by U.S. Attorney General Jeff Sessions, only to be resurrected by Madigan and Emanuel.) But McCarthy engaged in some fake news, suggesting that the public should not buy the fact that the murder rate is actually down, in light of this weekend's violence. McCarthy ran Compstat (the revolutionary police-accountability system) for the New York Police Department; he of all people should know that both facts can be true: murder and shootings can be down from the 2016 and 2017 rates and still be unacceptably high.
McCarthy should be talking about two things on the campaign trail: getting out of the street-stop agreement that he himself signed with the ACLU, and halting the impending consent decree. Until the shooting of McDonald, the academic Left had celebrated the CPD as a model of progressive policing. It still is. What it needs is support from the public and Chicago's political class and the confidence to go back to proactive enforcement.
But policing is only a second-best solution to the anarchy in inner-city communities. The best solution is a culture of marriage that expects boys to take responsibility for the children they conceive. As long as more than three-quarters of Chicago's inner-city children are raised without their fathers, black-on-black violence will continue. And the national press will take notice only when the numbers are too egregious to ignore.
Photo by Joshua Lott/Getty Images
In Chicago, nearly 33,000 juveniles arrested over last two decades designated as gangbangers
Police data obtained by the Chicago Tribune after an open records request shows that almost 33,000 Chicago juveniles have been arrested over the past two decades and identified as gang members.
The data is controversial. Activists say that too many young people are misidentified as gang members and are forced to carry that designation all through their lives. But police defend the data, saying it assists them in fighting the war against gangs, who have unleashed an unprecedented level of violence in the city.
The records released to the Tribune through a Freedom of Information Act request included 20 years of arrest data in all for adults as well as juveniles, giving a glimpse at how the department gathers and stores information on the tens of thousands it says have been gang-affiliated.

It's a controversial practice that has led to an ongoing audit by the city's Office of Inspector General, a federal lawsuit against the city and a proposed city ordinance to limit its impact.

Critics and experts say that the gang labels are often too easily attached, racially skewed and out of date, yet the harm can be lasting when the Police Department shares flawed gang intelligence with other law enforcement agencies such as immigration officials. It can also be a damaging label during criminal investigations or at sentencings.

While the department released adult gang records to the newspaper in April, it had refused to provide similar data on juveniles, citing privacy laws. After the Tribune appealed to the Illinois attorney general's office for the juvenile records, though, the department's Bureau of Technical Services released a new set of data.

The department said its most recent search took a more thorough look at arrest data, but it still didn't capture everyone labeled a gang member by Chicago police because it excluded street stops that didn't result in arrests. That means the department could have far more than 33,000 juveniles listed as gang members in its databases.
Gang members are usually members for life - or death - so the value of this database should be immediately clear to anyone concerned about gang violence. Tracking the rise of juvenile offenders to gang kingpins makes it easier to track offenders, gather intelligence, and arrest perpetrators.
There are almost certainly mistakes in the database. But anyone who has been misidentified is not likely to lose employment or be denied entrance to a school because the data isn't publicly available. Only if someone is suspected of committing a crime will the database be employed.
The point being, there are very few "innocent" people in that database. If you avoid getting arrested, the records won't come into play.
The idea that the data is "racially skewed" is absurd. Nothing is skewed when the arrests or police stops occur in neighborhoods where there a few to no white faces. Bringing up race is a typical distraction used by activists that makes it appear as if they want to obstruct the police in their efforts to crack down on gangs.
It's frightening to contemplate that despite the database, gang violence is way out of control, making the city a shooting