more than 2,000 californians have been murdered by mexicans who then fled back over the narcomex border!
WHERE WERE ALL THE OPEN BORDERS HOWLERS WHEN KATE WAS MURDERED BY A 5XS MEX WHO HAD NEVER EVEN SPOKEN TO HER???
Everyday there are 12 Americans murdered and 8 children molested by Mexicans!
Steinle's murderer, Jose Zarate and been deported 5xs!
"While walking with her father on a pier in San Francisco in 2015, Steinle was shot by the illegal alien. Steinle pleaded with her father to not let her die, but she soon passed in her father's arms."
WHAT ABOUT THE CHILDREN OF LEGALS LEFT ORPHANED DUE TO A MEX MURDER???
Instead Francis Hernandez, an illegal alien driving 81 miles an hour, slammed into a pickup truck, killing the two women inside, and smashing it through the glass wall of the Baskin Robbins.
Francis Hernandez had been arrested 16 times in 5 years without ever being turned over to immigration authorities. That failure to enforce immigration law separated a little boy from his family forever. DANIEL GREENFIELD – FRONTPAGE
NBC Sitcom 'The Good Place' Raising Money to Aid Illegal Aliens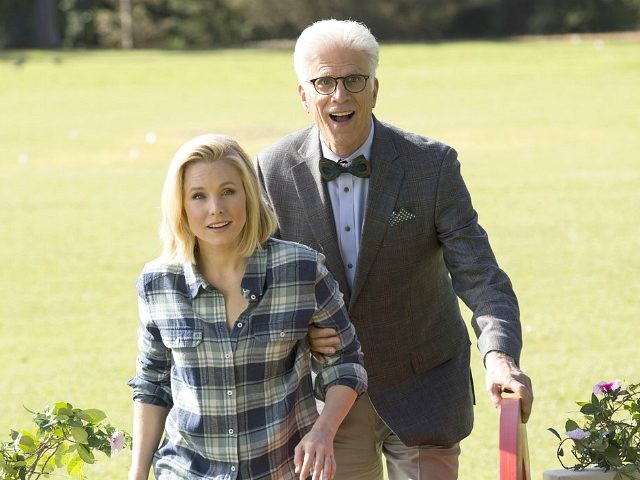 The producers of the NBC sitcom The Good Place recently launched a campaign to raise money to aid illegal aliens caught trying to sneak across the U.S.-Mexico border.
A Crowdrise page was
launched
this week by Andrew Law, a writer for
The Good Place.
According to the page, the producers of the series are seeking $25,000 and they will then match that amount.
Signed by "the cast and crew" of the show, the crowd funding page insists that raising money for illegals is "doing the most good for the most people."
"[A]ll proceeds will go directly to KIND (Kids In Need of Defense), which provides high-quality legal services to immigrant children," the page continues, "ensuring that no child appears in an immigration court without an attorney."
"Hopefully our contributions will add a little more kindness and a little less division to an already forked up world. Please give if you can, and thanks in advance for helping this worthy cause. Let's do something good together," the message concludes.
Several of the show's writers shared the campaign on social media.
As the left continues to come to the support of illegals, a shocking report out of Philadelphia reveals the
story
of a five-year-old girl who was viciously raped by a previously deported illegal who went to Philly specifically because he knew his crimes would go un-prosecuted by authorities in the City of Brotherly Love, a self-declared sanctuary city.
Follow Warner Todd Huston on Twitter @warnerthuston
.
Honduran National Convicted of Child Rape Pleads Guilty to Illegal Re-Entry
A previously deported Honduran national, who was convicted of child rape after Philadelphia authorities released him from custody, pleaded guilty to re-entering the U.S. illegally on Tuesday.
The U.S. Attorney's Office for the Eastern District of Pennsylvania announced Tuesday that Juan Ramon Vasquez, 45, faces a maximum penalty of two years in federal prison for illegal re-entry.
U.S. Immigration and Customs Enforcement (ICE) officials deported Vasquez from the U.S. in 2009, but the illegal alien re-entered the U.S. in March 2014 when officials took him into custody.
When Philadelphia officials dropped the local criminal charges against him, they did not honor an ICE detainer and released Vazquez, according to the U.S. Attorney's Office.
Once authorities released Vazquez in 2015, authorities re-arrested him and later convicted him on one count of child rape and one count of unlawful sexual contact with a minor, according to a statement from ICE.
Vasquez is currently serving eight to 20 years in a Pennsylvania state prison for the child rape charges.
"The facts of this case highlight the danger posed by the City of Philadelphia's decision to disregard ICE detainers and release previously deported aliens from local custody," U.S. Attorney William McSwain said in a statement.
The Philadelphia Inquirer reported that Vazquez used multiple aliases — including Ramon Aguirre-Ochoa — and falsified birth dates to evade authorities.
In a court hearing over Philadelphia's sanctuary city policies this year, First Deputy Managing Director Brian Abernathy testified that the city arrested Vasquez in 2015 but released him because the charges were dropped even though ICE placed a detainer on the suspect.
City officials argued they would have handed over Vazquez to federal immigration authorities if they obtained an arrest warrant.
ICE knew about his recent arrest through the agency's Priority Enforcement Program when the agency matched his fingerprints against a set of fingerprints within a database.
The city of Philadelphia has not been shy about its support for sanctuary city policies. In June, Philadelphia's mayor was caught on video dancing with joy when a U.S. District Court judge ruled that the Trump administration cannot withhold grants to law enforcement agencies in cities with sanctuary city policies.
The city also announced last month that it would end its information-sharing contract with ICE, caving to pressure from left-wing interest groups.
how many legals are murdered, raped or molested by the invading mexicans every year?
DHS: Illegal Alien Smuggled 'Daughter' into U.S. and Raped Her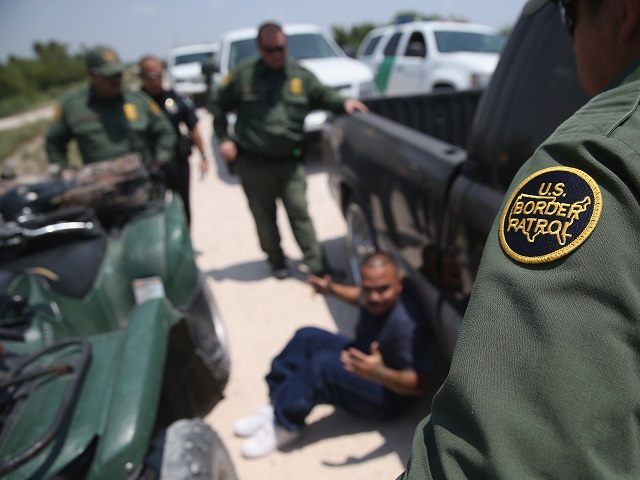 An illegal alien smuggled a woman's daughter into the U.S. and sexually abused her after promising her mother a job, Department of Homeland Security (DHS) officials said Tuesday.
Ramon Pedro arrived at a land border crossing at the Ysleta Port of Entry in Texas with his alleged daughter in April when U.S. Customs and Border Protection officials took him and his daughter into custody.
BLOG: HERE'S YOUR LAUGH FOR THE DAY!
Both were released under
the condition that they would show up for their immigration court hearings.
Pedro and his alleged daughter were admitted to Fresno Community Regional Hospital in Fresno, California, on July 26 to undergo screening for Tuberculosis when doctors determined the girl had been raped.
Once hospital staff notified the police, they determined that Pedro was not related to the girl, according to a DHS official.
The DHS official said the victim had been told by her mother "to accompany Pedro to the United States" so he could find the mother a job.
The Huron Police Department in California arrested Pedro the following day and charged him with rape, forcible sexual penetration, oral copulation, and endangering/causing injury to a child. The illegal alien is currently being held in Fresno County Jail on $310,000 bond.
It is unclear whether U.S. Immigration and Customs Enforcement (ICE) officials have issued a detainer request on Fresno County Jail for Pedro, given California's support of sanctuary policies protecting illegal aliens from being detained and deported by ICE.
Fresno County Sheriff Margaret Mims, however, stated in May during a roundtable discussion with President Donald Trump that she opposes California's sanctuary laws and has allowed ICE agents access to the Fresno County Jail.
This latest case of an illegal alien allegedly claiming to be part of a family to exploit loopholes within the country's immigration laws comes as the U.S. debates over whether illegal migrant families should be separated when they are apprehended at the border.
The number of illegal alien families arriving at the border increased when smugglers figured out that adults carrying children over the border would be less likely to be deported than single adults. In the past year alone, the number of illegal migrants using minors to cross the U.S.-Mexico border increased by 315 percent.
Trump implemented a "zero-tolerance policy" directing officials to criminally prosecute all illegal migrants who entered the U.S. illegally. The policy resulted in illegal alien adults who crossed the border with children to be separated — federal officials detained the adults and the Department of Health and Human Services (HHS) took custody of the children and housed them in shelters.
President Trump signed an executive order keeping illegal migrant adults and children detained together until federal immigration officials deport them, but U.S. District Judge Dana M. Sabraw ordered the Trump administration to reunite the roughly 2,500 migrant parents separated from their children by July 26.
HHS challenged Judge Sabraw's July 26 deadline to reunite the migrant children separated at the border with the adults who brought them over, claiming the unification deadline posed a problem because it did not allow proper time to verify the adults' claims of parental guardianship.
The California judge, however, announced that the Trump administration must not only reunite the migrant parents already separated by law enforcement but also find deported migrant parents who separated themselves from their children in the U.S.
Judge Sabraw announced Friday that he would appoint a federal official to assist lawyers with the American Civil Liberties Union (ACLU) who are counseling the deported migrants on how to meet their children in the U.S.
Yuma Sector Busts Child Rapist for Illegal Re-Entry – 2nd Time Since March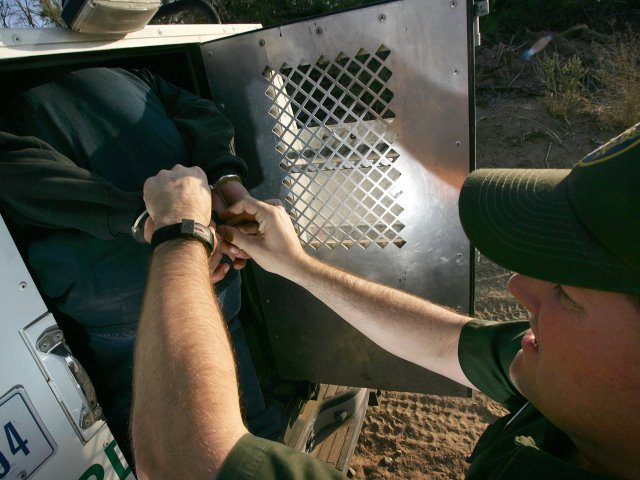 Border Patrol agents in the Yuma Sector arrested a Mexican national who has been deported on numerous occasions. It is at least the 2nd time this year the convicted child-rapist has been arrested in the Yuma Sector after being deported.
Yuma Sector agents patrolling in the area of Andrade, California, arrested a Mexican national, 55-year-old Hector Gutierrez-Perez, after he illegally crossed the border with another man. A records check at the station revealed the man has a lengthy history of criminal convictions, including the rape of a minor under the age of 14, and immigration violations, according to information provided to Breitbart Texas by Yuma Sector Border Patrol officials.
Border Patrol agents previously arrested Gutierrez-Perez in March for illegal re-entry after removal as a sex offender and convicted felon, Breitbart Texas reported at the time.
Law enforcement database records stated that Gutierrez-Perez had previous felony convictions in Bakersfield and Santa Cruz, California. Those convictions include "unlawful sexual intercourse with a minor," obstructing a public officer, and battery.
His criminal history goes further with convictions for drug possession, transporting/selling narcotics, hit and run, and driving under the influence of alcohol or drugs, CBP officials stated.
Gutierrez-Perez was traveling with a 33-year-old man from Honduras who is also expected to be removed from the U.S.
Court records obtained by Breitbart Texas show that following the March arrest of the previously deported Mexican national, Gutierrez-Perez pleaded guilty to illegal re-entry after removal. The charge carried a Class C enhancement that could have provided a sentence of up to 10 years in federal prison.
Under a plea bargain agreement, the dangerous criminal alien received a sentence of 4 months in prison on June 25. He also received 3 years of probation. He received credit for time served and sometime after June 25, Gutierrez-Perez was again deported from the U.S.
In addition to the rape of a minor under the age of 14 and Gutierrez-Perez's other felony convictions, the Mexican national also has a long history of deportations. His first deportation occurred following an order of removal in October 1990. He was removed again on March 16, 2018, and then re-entered the U.S. near San Luis, Arizona, on March 19.
Border Patrol agents said that Gutierrez-Perez said he was traveling to North Hollywood, California, where he planned to live and work.
Gutierrez-Perez could now face additional felony charges for illegal re-entry for removal with sentencing enhancements for his previous felony convictions and removals. He could also face a probation revocation from his June 2018 immigration violation conviction.
Bob Price serves as associate editor and senior political news contributor for Breitbart Texas. He is a founding member of the Breitbart Texas team. Follow him on Twitter
@BobPriceBBTX
,
GAB
, and
Facebook
.
Illegal Alien from Mexico Accused of Raping 11-Year-Old Girl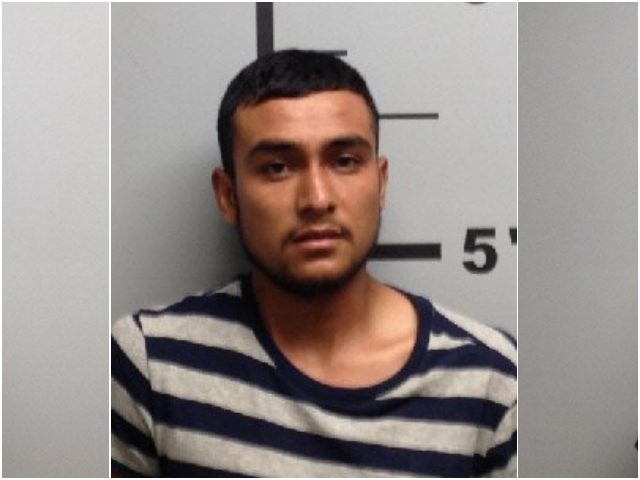 An illegal alien living in northwest Arkansas is accused of raping an 11-year-old girl after convincing her to meet up with him through the messaging app known as "Snapchat."
Luis Mario Rodriguez-Torres, a 21-year-old illegal alien from Mexico, allegedly messaged the 11-year-old girl through Snapchat and convinced her to meet up with him,
according
to KFSM.
When the illegal alien and the girl met up, Rodriguez-Torres allegedly held the girl against her will and raped her, according to police.
BLOG: THERE ARE MORE THAN 11 MILLION MEXICANS LIVING IN SOUTHERN CALIFORNIA ALONE!
The illegal alien was working in the Cave Springs region as a framer in the housing construction industry, where many of the 12 million illegal aliens living across the U.S. often hold jobs, illegally.
Benton County Sheriff officials say Rodriguez-Torres allegedly used Snapchat to solicit nude photos of underage girls as well.
Since being arrested, the illegal alien is being held at the Benton County Jail and is set to stand trial on Sept. 4. If convicted of the child sex crime, Rodriguez-Torres faces life in prison. He is currently being held on a $100,000 bond.
John Binder is a reporter for Breitbart News. Follow him on Twitter at @JxhnBinder.
Jailed: Ari Morales, left, who told the witness that he had urinated on the girl during the attack, and Manuel Ortega, right, and agreed to plea deals and are serving 32 and 27 years respectively
EVERY DAY THERE ARE 12 AMERICANS MURDERED AND 8 CHILDREN MOLESTED.
HOW "CHEAP" IS ALL THAT INVADING "CHEAP" LABOR?
Natalio Vitervo-Vasquez was deported twice but returned to provide "cheap" labor. He can't read or write and raped his 10-year-old daughter.
"Prosecutors say the girl, who was 11-years-old at the time, went to a medical center where it was determined she was pregnant. Officials say she would have conceived the child at ten years of age."
MEX GIVES 7-YEAR-OLD CHILD HERPES AFTER REPEATEDLY RAPING HER
"The molestation was reported after the child was taken to a hospital for an outbreak of g enital h erpes early this month. When asked how she might have contracted the disease, the child claimed that Morales had molested her "a lot of times."
"The legal age of sexual consent in Mexico is 12 years old. Sex with children at this age and younger is socially acceptable in Mexico. For example: A Mexican Lopez-Mendez pleaded guilty to sexual assault on a 10-year-old-girl in West Virginia." FROSTY WOOLDRIGE
AMERICA vs MEXICO: CLASHING CULTURES
By Frosty Wooldridge
Mexicans cheat, distribute drugs, lie, forge documents, steal and kill as if it's a normal way of life. For them, it is. Mexico's civilization stands diametrically opposed to America's culture.
The legal age of sexual consent in Mexico is 12 years old. Sex with children at this age and younger is socially acceptable in Mexico. For example: A Mexican Lopez-Mendez pleaded guilty to sexual assault on a 10-year-old girl in West Virginia.