OPERATION OBOMB:
DESTABILIZE AMERICA TO LAY GROUNDS FOR A MUSLIM-STYLE DICTATORSHIP
"Obama's new home in Washington has been described as the "nerve center" of the anti-Trump opposition. Former attorney general Eric Holder has said that Obama is "ready to roll" and has aligned himself with the "resistance." Former high-level Obama campaign staffers now work with a variety of groups organizing direct action against Trump's initiatives. "Resistance School," for example, features lectures by former campaign executive Sara El-Amine, author of the
Obama Organizing."
Democrats Move Towards 'Oligarchical Socialism,' Says Forecaster Joel Kotkin
https://www.breitbart.com/big-government/2018/09/04/democrats-move-towards-oligarchical-socialism-says-joel-kotkin/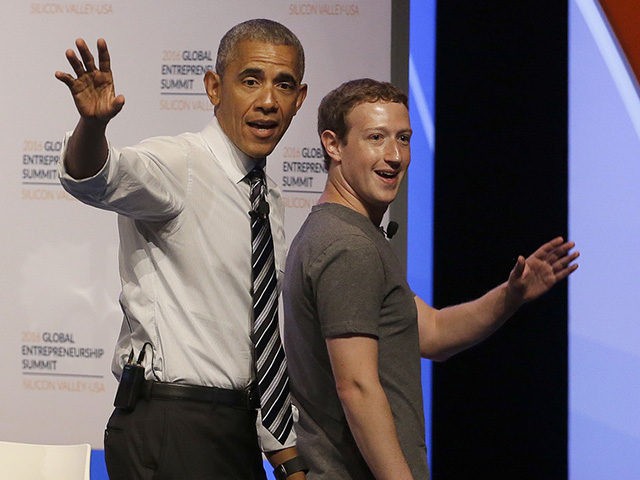 Left-wing progressives are embracing a political alliance with Silicon Valley oligarchs who would trap Americans in a cramped future without hope of upward mobility for themselves or their children, says a left-wing political analyst in California.
Under the headline "America is moving toward an oligarchical socialism," Joel Kotkin writes:
Historically, liberals advocated helping the middle class achieve greater independence, notably by owning houses and starting companies. But the tech oligarchy — the people who run the five most capitalized firms on Wall Street — have a far less egalitarian vision. Greg Fehrenstein, who interviewed 147 digital company founders, says most believe that "an increasingly greater share of economic wealth will be generated by a smaller slice of very talented or original people. Everyone else will increasingly subsist on some combination of part-time entrepreneurial 'gig work' and government aid."

Numerous oligarchs — Mark Zuckerberg, Pierre Omidyar, founder of eBay, Elon Musk and Sam Altman, founder of the Y Combinator — have embraced this vision including a "guaranteed wage," usually $500 or a $1,000 monthly. Our new economic overlords are not typical anti-tax billionaires in the traditional mode; they see government spending as a means of keeping the populist pitchforks away. This may be the only politically sustainable way to expand "the gig economy," which grew to 7 million workers this year, 26 percent above the year before.

Handouts, including housing subsidies, could guarantee for the next generation a future not of owned houses, but rented small, modest apartments. Unable to grow into property-owning adults, they will subsist while playing with their phones, video games and virtual reality in what Google calls "immersive computing."
This plan, however, is being challenged by the return of populism and nationalism when President Donald Trump defeated the GOP's corporatist candidates and the progressives' candidate in 2016. In his 2017 inauguration, Trump declared:
For too long, a small group in our nation's capital has reaped the rewards of government while the people have borne the cost. Washington flourished, but the people did not share in its wealth. Politicians prospered, but the jobs left and the factories closed. The establishment protected itself, but not the citizens of our country. Their victories have not been your victories. Their triumphs have not been your triumphs. And while they celebrated in our nation's capital, there was little to celebrate for struggling families all across our land.

That all changes starting right here and right now because this moment is your moment, it belongs to you …

What truly matters is not which party controls our government, but whether our government is controlled by the people.
For several years, Kotkin has been dissecting the Democrats' shift from working-class politics toward a tacit alliance with the billionaires in the new information-technology industries that are centralizing wealth and power through the United States. In 2013, for example, he argued that California's politics were increasingly "feudal":
As late as the 80s, California was democratic in a fundamental sense, a place for outsiders and, increasingly, immigrants—roughly 60 percent of the population was considered middle class. Now, instead of a land of opportunity, California has become increasingly feudal. According to recent census estimates, the state suffers some of the highest levels of inequality in the country. By some estimates, the state's level of inequality compares with that of such global models as the Dominican Republic, Gambia, and the Republic of the Congo.

At the same time, the Golden State now suffers the highest level of poverty in the country—23.5 percent compared to 16 percent nationally—worse than long-term hard luck cases like Mississippi. It is also now home to roughly one-third of the nation's welfare recipients, almost three times its proportion of the nation's population.

Like medieval serfs, increasing numbers of Californians are downwardly mobile, and doing worse than their parents: native born Latinos actually have shorter lifespans than their parents, according to one recent report. Nor are things expected to get better any time soon. According to a recent Hoover Institution survey, most Californians expect their incomes to stagnate in the coming six months, a sense widely shared among the young, whites, Latinos, females, and the less educated.
Read Kotkin's "oligarchal socialism" article here.
HEATHER MAC DONALD
WINDOW INTO THE DEPRAVED GHETTO BLACK CULTURE of VIOLENCE, HATE AND RACISM
BIBLE OF THE MUSLIM TERRORIST:
Koran 2:191 "slay the unbelievers wherever you find them"
Koran 3:21 "Muslims must not take the infidels as friends"
Koran 5:33 "Maim and crucify the infidels if they criticize Islam"
Koran 8:12 "Terrorize and behead those who believe in scriptures other than the Koran"
Koran 8:60 " Muslims must muster all weapons to terrorize the infidels"
Koran 8:65 "The unbelievers are stupid, urge all Muslims to fight them"
Koran 9:5 "When the opportunity arises, kill the infidels wherever you find them"
Koran 9:123 "Make war on the infidels living in your neighborhood"
Koran 22:19 "Punish the unbelievers with garments of fire, hooked iron rods, boiling water, melt their skin and bellies"
Koran 47:4 "Do not hanker for peace with the infidels, behead them when you catch them".
ANTI-SEMITE LOUIS FARRAKHAN SPOTTED IN THE FRONT ROW AT ARETHA FRANKLIN'S FUNERAL
Amber Athey | Media and Breaking News Editor
Louis Farrakhan, the anti-Semitic leader of the Nation of Islam, managed to snag a front-row seat at Aretha Franklin's funeral on Friday.
A live broadcast of the Queen of Soul's funeral shows Farrakhan seated in the same row with Rev. Al Sharpton, Rev. Jesse Jackson and President Bill Clinton.
"Some of you think that I'm just somebody who's got something out for the Jewish people. You're stupid. Do you think I would waste my time if I did not think it was important for you to know Satan? My job is to pull the cover off of Satan so that he will never deceive you and the people of the world again," Farrakhan said in 2011.
In 2015, he asserted, "White people deserve to die, and they know, so they think it's us coming to do it."
(RELATED: Louis Farrakhan Issues A Sunday Call For An End To White Men)
Bill Clinton Sits on Stage with Louis Farrakhan At Aretha Franklin's Memorial Service
Perhaps Slick Willy was too enamored by Ariana Grande's rendition of "Natural Woman" by the late Aretha Franklin to notice that he was sitting on stage with the infamous, Anti-semite and hate-monger, Louis Farakahn. But really, this

video

Bill watching Grande is one you need to see to believe. What a pervert. Whatever the case, the 42nd president of the United States, Bill Clinton, gleefully shared floor space with arguably one of the most divisive and bigoted American figures in recent memory at yesterday's memorial service to the Queen of Soul.
President Bill Clinton, Rev. Al Sharpton, Rev. Jesse Jackson, and Min. Farrakhan were all given special seats in the front row at Aretha Franklin's funeral service. Franklin passed away on August 16th from pancreatic cancer. As noted by the

Washington Examiner,

"Franklin was awarded the National Medal of the Arts and Humanities by Clinton in 1999. She sang at Clinton's inauguration in 1993, in addition to the White House Correspondents' Association dinner in 1999." The two had mutual respect and admiration for each other.
Since at least the early 70s, Franklin and Farrakahn have had some sort of friendship. Farrakhan, who became the leader of the Nation of Islam in 1977, wrote after her death that,"'In 1972 when I was a minister in New York City, Temple No 7, the police attacked our mosque. Within a few hours, Aretha Franklin came to the mosque, to my office, and said that she saw the news and came as quickly as she could to stand with us and offer us her support.'"
Farrakhan is notorious for making hateful comments against Jewish people, white people, and virtually anybody not black. As noted by the

Daily Caller

, Farrkahn said in 2011, "Some of you think that I'm just somebody who's got something out for the Jewish people. You're stupid. Do you think I would waste my time if I did not think it was important for you to know Satan? My job is to pull the cover off of Satan so that he will never deceive you and the people of the world again."
And in,

February of 2018

Farrakhan said, "White folks are going down. And Satan is going down. And Farrakhan, by God's grace, has pulled the cover off of that Satanic Jew and I'm here to say your time is up, your world is through," while at a speech in he gave in Chicago.
There are countless other examples of his derogatory speech from across the decades. Farrakhan's hateful remarks are so universally disavowed, the Nation of Islam was even designated as a hate group by the left-wing Southern Poverty Law Center.
So, where's the outrage from the left against Bill Clinton for sitting on stage with this man? Keep in mind this funeral occurred just days after Ivanka Trump was lambasted by

media outlets

for posing with a photo with Jimmy Garlow, an evangelical pastor who is against gay marriage and said that, "if I were Satan, if I were the devil, I'd want to destroy the imagery of male and female coming together with the light and joy, covenantal marriage on earth." Surely, some will argue that President Clinton was simply honoring the respects of the deceased Aretha Franklin and was sitting there because she requested him alongside Farrakhan, but it's fairly obvious that if a conservative or a republican had taken the stage with such a divisive and hateful figure that they would not have been given the benefit of the doubt by the left.
DETROIT (AP) — As Aretha Franklin was remembered at her funeral Friday as a proud black woman who also used her magnificent voice to stand up for the black community she loved, several speakers used the moment to continue to demand respect for black America.
Amid the gospel, personal reflections and grief were calls to register and turnout to vote in November and condemnation of President Donald Trump, who, upon her death, referred to Franklin as "someone who worked for me" — a comment that rankled many African-Americans.
"No — she used to perform for you," the Rev. Al Sharpton said to cheers and applause from the crowd. "She worked for us. Aretha never took orders from nobody but God."
Franklin's civil rights legacy was mentioned often during the eight-hour service, and was tied to her faith and roots in the black church. Many also mentioned her father, the Rev. C.L. Franklin, and his civil rights leadership, which influenced his daughter from a young age.
Late Friday, Franklin was laid to rest in a mausoleum at Woodlawn Cemetery, the final resting place of her father.
None of the politicians present — including former President Bill Clinton and former Attorney General Eric Holder — took the opportunity to turn the event partisan. Michigan Democratic House Rep. Brenda Lawrence took a moment to recognize Arizona Republican Sen. John McCain, whose funeral is Saturday.
But others seized on Trump's comments and Franklin's message of dignity to speak to the present social and political climate. In pointing out the long lines to pay tribute to Franklin this week, the Rev. Jesse Jackson lamented that the lines to vote often aren't nearly as long.
BLOG: FRANKLIN'S ONLY "BATTLEGROUND" WAS THE TABLE! SHE DID NOTHING FOR BLACK AMERICAN OR ANYONE ELSE!
"Aretha was on the battleground for 60 years," Jackson told the audience. "We have long lines to celebrate death, and short lines for voting. Something is missing. If you leave here today and don't register to vote, you're dishonoring Aretha."
Judge Greg Mathis, one of Franklin's many friends who often talked politics with her, said that his last conversation with Franklin earlier this summer was about the ongoing water crisis in Flint, Michigan, where government negligence has left residents living with lead-tainted water since 2014.
"Her last words to me … were "'Go back up there and sock it to 'em!,'" Mathis told the crowd before vowing that he would in her memory.
Some made a statement without saying a word. When she was shouted out from the stage, California Democrat Rep. Maxine Waters — who has called frequently for Trump's impeachment and is a campaign rally punching bag for the president — acknowledged the crowd with the "Wakanda salute," from the movie "Black Panther," closing her fists and crossing her arms over her chest to applause.
Many in the audience, including President Clinton, stood and cheered.
"Everybody just point over there and tell her, 'We got your back!'" said Bishop Charles H. Ellis III, pastor of Greater Grace Temple, which the audience shouted in Waters' direction.
Georgetown University sociologist Michael Eric Dyson took several shots at Trump in his remarks, assigning the president several nicknames: "orange apparition," "lugubrious leech," "doppleganger of deceit and deceit," "lethal liar," "dimwitted dictator," "foolish facist."
"She ain't work for you," Dyson shouted over applause. "She worked above you. She worked beyond you. Get your preposition right."
Jewish Leaders Slam Anti-Semite Louis Farrakhan's Place of Honor at Aretha Franklin's Funeral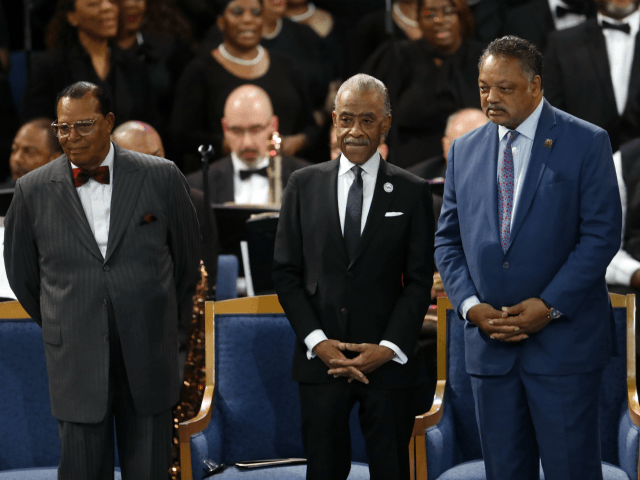 TEL AVIV – American Jewish leaders expressed outrage over the place of honor given to virulently antisemitic Nation of Islam leader Louis Farrakhan at Aretha Franklin's funeral on Friday.
Farrakhan was seated in the front row alongside other controversial African-American figures, Al Sharpton and Jesse Jackson. Former president Bill Clinton sat three places to Farrakhan's left.
Jonathan Greenblatt, CEO of the Anti-Defamation League, said it was "jarring" to see a "hatemonger" like Farrakhan at the funeral.
"It was absolutely jarring to see one of America's leading purveyors of antisemitism given a place of such prominence at Aretha's funeral," Greenblatt told the Algemeiner. "We join the country in mourning the Queen of Soul, but this was an honor that an unapologetic hatemonger like Farrakhan didn't deserve."
Abraham Cooper of the Simon Wiesenthal Center charged Farrakhan with despising America and Jews.
"Like millions of other Americans who grew up listening to Aretha Franklin's amazing voice, I was saddened by her passing. Putting Louis Farrakhan in a seat of honor in the first row on stage, near President Clinton and amidst a generation of African-American political and religious leaders was equally saddening," Cooper said in a statement to the Algemeiner.
"50 years ago Aretha Franklin received an award from Martin Luther King Jr. and toured the country to raise money for the struggling Civil Rights Movement," he added. "For decades Farrakhan has stood against everything MLK lived and died for. He hates America and hates Jews. Aretha Franklin wasn't a hater. The sight of his smiling face on stage soured the heartfelt music and words during the marathon tribute to a great icon."
Betty Ehrenberg , executive director of the World Jewish Congress North America, lamented Farrakhan's status as a role model for activists and candidates for office.
"We were dismayed to learn that Farrakhan was seated in a prominent place at the funeral of a widely revered artist," she said. "And it is equally dismaying to see him being admired by some newly emerging activists and candidates for office who should not associate with an unapologetic antisemite with a long history of racist views."
As Breitbart Jerusalem reported in March, Rep. Danny Davis, an Illinois Democrat, praised Farrakhan as an "outstanding human being."
Abraham Foxman, head of the Center for the Study of Anti-Semitism at New York's Museum of Jewish Heritage, told the Algemeiner, "Sadly the African-American community has a blind spot when it comes to antisemitism. They have always given a pass to Louis Farrakhan's racism and antisemitism. They don't recognize him as a racist and antisemite, and that's sad for the relationship between our two communities."
Renowned law professor Alan Dershowitz expressed his dismay that Clinton appeared alongside Farrakhan.
"I know there was a relationship 30 years earlier between Louis Farrakhan and Aretha Franklin. I don't know if that relationship continued, or whether the family invited him, but I think any president should have said, 'No. If you want me on the stage, you can't have a bigot like Farrakhan sitting next to me,'" he told Fox & Friends.
"You just can't mainstream and allow legitimacy to a man who has expressed the kind of hateful views he's expressed of Jews, of white people, of gays," he added.
Democratic New York State Assemblyman Dov Hikind called the incident "shocking."
"Louis Farrakhan, front and center, treated like royalty? What is this obsession with America's Black Hitler? In spite of his crude, vicious comments about Jews, whites, gays, he is placed up front with President Clinton? Shocking!"
Earlier this year, Farrakhan delivered a rancorous anti-Semitic rant at the 2018 Saviour's Day event in Chicago, calling Jews members of the "Synagogue of Satan" and claiming that Jesus called the Jews "the children of the devil" and "when you want something in this world, the Jew holds the door."
"Jews were responsible for all of this filth and degenerate behavior that Hollywood is putting out turning men into women and women into men. And Farrakhan, by God's grace, has pulled the cover off of that Satanic Jew and I'm here to say your time is up, your world is through," the Nation of Islam leader said.
After Franklin died last month, Farrakhan released a statement saying, "In 1972, when I was minister in New York City, Temple No. 7, the police attacked our mosque. Within a few hours, Aretha Franklin came to the mosque, to my office, and said that she saw the news and came as quickly as she could to stand with us and offer us her support."
"We marveled at her show of courage, fearlessness which was rooted in her profound love for her people and her desire for justice for us," Farrakhan added.
ERIC HOLDER TOOK PHOTO WITH ANTI-SEMITE LOUIS FARRAKHAN AT ARETHA FRANKLIN'S FUNERAL
former Attorney General Eric Holder stood for a photo with Nation of Islam leader Louis Farrakhan.




Farrakhan is a notorious racist and anti-Semite and has ties to several prominent Democrats.




A spokesman for Holder said the photo didn't constitute an endorsement but would not say whether Holder is willing to condemn Farrakhan's bigotry.