Amazon Hits $1 Trillion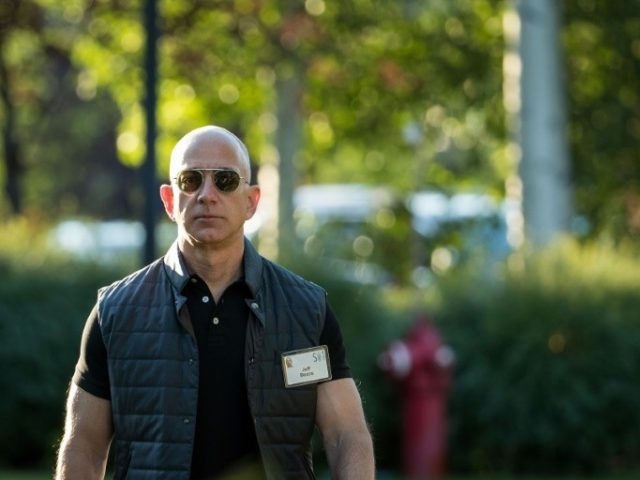 Amazon became the second U.S. company to reach a $1 trillion market valuation, one month after Apple became the first.
The company's stock gained 2 percent on Tuesday, hitting $2,050.27 per share. That puts the company's market capitalization–the number of its outstanding shares multiplied by share price–at $1 trillion.
Amazon's shares debuted at $18 on May 15, 1997. At $2,050.27 its shares are up around 136,584% since its IPO.
Amazon founder Jeff Bezos is the world's richest man, worth over $150 billion. Bezos, Amazon, and the Bezos owned Washington Post have become frequent targets of criticism from President Donald Trump.
"Amazon thinks I'm a piece of trash on the ground and they'll walk all over me"
Amazon Nightmare: Grandmother injured on the job goes homeless, suffers pneumonia
By Eric London and Zac Corrigan
3 September 2018
From a bird's-eye view, the Dallas-Fort Worth area—"the metroplex"—looks nothing like it did 20 years ago. The hundreds of distribution centers and warehouses that have been built since the turn of the century appear as indistinct white and gray rectangles from above.
But up close, these massive facilities are a bustling hive of activity. Both day and night, hundreds of thousands of workers unload, pick, stow, sort, bin, inject, move and pack the millions and millions of products constantly flowing in and out of the region, where over 125 million square feet of new warehouse space has been built in the last seven years alone.
Two of the many warehouse districts in Dallas-Fort Worth metro area
Carol, who did not want to use her real name for fear of retribution, works at one of Amazon's eight Dallas-Fort Worth distribution centers. It would be more precise to say she worked at Amazon, because although she is still on the employment roll at the company, she says she was injured on the job and became homeless when Amazon fought her workers' compensation claim, throwing her away like so much garbage. Her story exposes the nightmarish conditions and brutal exploitation that has fueled the growth of online retailers like Amazon.
Carol exudes toughness, but combines an animated "don't mess with me" attitude with a softness for her children and, especially, for her grandchildren, whom she takes care of and cheers on at their football games. She is a NASCAR fan and jokingly explains that it broke her heart when her favorite driver, Dale Earnhardt, Jr., got married.
She keeps her small apartment neat and organized. Photos of her family line the mantel and she apologizes for the sound of her barking dog. She talks about her father who was killed in a forklift accident on the job many years ago.
She told the World Socialist Web Site she only recently moved in after over six months of living in her car on the street. She had to brave the elements through a cold North Texas winter and contracted a dangerous case of pneumonia.
"The dog is the only thing that kept me going," she says. She doesn't know how much longer she can afford to stay in her current apartment. "My nightmare is still going on."
When Carol first started at Amazon, she was awed by the size of her fulfillment center. Its 20-acre frame hides a maze of conveyor belts weaving for miles and miles throughout the building. The fulfillment center—or "FC"—employs enough workers to constitute a small town.
Amazon has received $287 million in gifts and tax abatements from local governments in Texas alone, according to Good Jobs First, allowing it to construct a network of massive warehouses. Put another way, workers have often paid with their own tax dollars to build the facilities in which they labor.
Carol soon found out that Amazon demands every last drop of sweat from its workers, who are forced to meet "rate" by moving a certain number of items each hour. Packers, who wrap the items after they have been processed, must pack and tape 189 products per hour, she explains.
Carol reports that many workers cannot keep up and are fired after missing rate three times. In the warehouse, the company rules like a dictatorship. Beyond the constant stress of making rate, workers cannot bring in cell phones and are forced to undergo humiliating security checks when leaving their FCs.
By 2017, Carol had been working at Amazon longer than many. Although she was a certified nursing assistant for nearly two decades before starting at Amazon, she is a savvy worker and figured out ways to save time and make her rates. When new hires come in, she would tell them the tricks of the trade to help them make their rates, too.
One day, Carol says she was lifting up an item that weighed about 50 pounds when she felt a sharp pain travel up and down her spine. She knew immediately that something was terribly wrong. She tried to work through the problem, knowing that she couldn't afford to miss work. But she couldn't keep up with the fast pace demanded by the company. A coworker tried to help her get caught up to make rate, but when Carol told him she was in too much pain, he found the PA (assistant manager), who informed her manager.
When she told her manager that the pain was too great to continue, she says the manager gave her "VTO"—voluntary time off without pay—and Carol drove herself to the emergency room. The ER doctor told her it was unsafe to work with her injury and instructed her to rest for five days. The next day, Carol gave Amazon the paperwork from her ER visit and explained to Human Resources (HR) that she could not work.
As Carol recalls, an HR representative responded: "We don't put people off work for five days just because of a doctor's orders." She says Amazon then provided her with a paper called a "certificate of fitness," which she was expected to have her doctor sign to show that she could return to work. The doctor filled out the certificate of fitness but wrote that Carol was not fit to work. He took an x-ray and found that two of the discs in Carol's spine were herniated.
When he later performed an MRI, Carol says he found a third disc was herniated. An orthopedic surgeon also found a fourth broken disc in her lower back that pinched a nerve. For these doctor visits, Carol forked over a $1,000 deductible.
When Carol took these results to Amazon to prove her injury, she says the company responded by forcing her to switch to a different "company-approved" doctor. They did so on the pretense that HR had erred by not asking Carol initially whether her injury was work-related, which they apparently claimed invalidated her own doctor's findings.
The Amazon-approved doctor said she was fit to work and that her injury was just a strain. She says this doctor only glanced at the MRI and that Amazon ignored the note from her original doctor.
Amazon's doctor suggested she take "light duty" for the rest of the year. Soon after, however, Carol explained that Amazon called her off the floor to speak to "Amcare," Amazon's notorious in-house medical and injury program. Carol said an Amcare representative told her that her workers' compensation request had been denied and that she was going back on full, heavy-lifting duty.
Carol told Amcare, "You're screwing my body up more than it is already," but Amazon told her that her only other option was to go on unpaid medical leave. Carol told Amazon they should expect to hear from her lawyer. Carol took Amazon to court for her workers' compensation claim. She says Amazon's lawyer claimed her back problems pre-dated her employment at the FC and tried to blame her for her injury on the witness stand. Earlier, however, Carol says an HR representative told her that they saw the injury take place on security cameras and told her it looked very painful.
Carol won her workers' compensation case when the judge found that her injury was work-related, establishing that Amazon had been wrong in denying her payments. Though months have gone by since this decision, she still has not received any money through the workers' compensation system.
The court decision in Carol's favor
Though roughly a year has passed since she was injured, the pain remains difficult for Carol to bear.
"I have nerve damage in both legs and feet since one of my discs is pinching a nerve in my back. I can't stand for more than 15 to 20 minutes at a time because it hurts my back, it hurts my legs, it hurts my feet. My legs feel like pins and needles are getting stabbed into them. I can't sleep a full night. If I go grocery shopping I can't get more than a few items because I can't walk around the store. I can't eat a home cooked meal anymore because cooking is too difficult. Microwaved stuff is all. I can't eat healthy and I can't afford good food."
She used to take care of her grandchildren, but now they take care of her. Her high school-age grandson has an important football season coming up—he may be recruited to play in college and would he be the first in Carol's family to attend higher education—but she is worried it will be too difficult for her to climb the bleachers and sit still for all four quarters.
"My life has pretty much come to a halt," she says. "I don't have a life."
Carol's back condition was made even less bearable by the fact that she slept in her car all last winter. Before her injury, she was living with one of her adult children, but with her income cut off, she couldn't contribute to the household. All of her children work hard and struggle to provide for their own children, so Carol and her dog moved into her car, moving from park to park each night.
At first, Carol thought she would only be in her car for a week or two until she resolved the confusion with the company. It soon became clear there was no "confusion" on Amazon's part—just the ruthless drive for profit.
She says she received no support for two months as a result of Amazon's efforts to block her workers' compensation. Then meager short-term disability payments from Amazon kicked in at $501 per month for about six months, which was not enough to cover her cost of living.
When her long-term disability triggered in June, that helped her partly pay back debt she had accumulated and gave her just enough to find an apartment. Now, her long-term disability is coming to an end and she is not sure when her workers' compensation payments will begin. She is no longer covered by Amazon's medical plan and was denied Medicaid because she does not have a child living in the house. She currently does not have healthcare.
"I hate Obamacare," she says, noting that deductibles and premiums are far too high for her to afford and it is unfair to tax people who cannot afford to buy a plan. "I think healthcare should be free for everyone."
Around the time of her injury, Carol had several shares of Amazon stock that she says were due to "vest" and become available to her to sell. When she hired in, Amazon provided two shares of stocks to each new worker that only become available when a worker passes a certain seniority threshold. Carol says she had accumulated six total shares and that each was worth roughly $1,000 at the time. For Carol, the $6,000 would have allowed her to put a roof over her head.
But two or three weeks before the shares were scheduled to become available to her, in March 2018, she says Amazon changed the vesting date to the years 2099, 2100 and 2101 [sic].
Carol's stock vesting dates were changed to the next century
"Don't tell me they're not vindictive," she says.
That same month, Carol was diagnosed with pneumonia. Winter temperatures in North Texas can drop to the 20s or 10s (Fahrenheit) and Carol was living and sleeping in her car. Her doctor told her she would have been hospitalized if she had waited to go to the doctor. "I could have died from that," she says.
As the weeks turned into months, Carol got into a routine: "I couldn't keep cold food in the car or it would spoil and I couldn't heat anything, so I just ate cold cans of soup and SpaghettiOs. I slept in parks and picnic areas."
She describes what it was like to be homeless after being employed for her entire adult life.
"I had no dignity, I had no pride. I stopped caring. That's how Amazon made me feel. They walked all over me. I couldn't sleep—I was afraid to go to sleep. I was afraid the cops were going to take me to jail for trespassing. It could be a week or two between showers. Can you imagine how that felt?
"My ex-daughter-in-law and her new husband let me take a shower. I thought, 'This should not be happening.' They fed me before I left. I was losing a lot of weight and was down to about 110 pounds. For someone who has always done things for herself I was broken. I don't think I would have made it if I had to stay homeless for much longer. I would have given up on everything."
She thinks of the parks where she slept and says: "Driving past the picnic areas still brings back memories. It is like PTSD [post-traumatic stress disorder]. I don't want to see those places ever again."
Carol remembers one morning in particular. "Two or three weeks before I got this apartment I was sleeping in a parking lot when my dog woke me up at 2 or 3 in the morning. She was over the top of me growling and barking. At first I tried to get her to be quiet but when I opened my eyes I saw a man standing right there outside my window in the dark. It was a hot night so I had my window down and I got terrified. I turned my car on and sped off. If my dog hadn't have been with me I don't know what would have happened that night."
She thinks about this event for a moment, closes her eyes, and says: "There were plenty of times I thought of giving up my dog, but she was all I had. I have a lot of anxiety now but I didn't have any before. It's hard and it's bad now. I keep telling myself its OK, but Amazon doesn't care. They say, 'We'll just replace that person with another person.' Amazon thinks I'm a piece of trash on the ground and they'll walk all over me. I don't have the money to fight Bezos and he knows it, and that's why he pulls his weight the way he does."
One morning, Carol got a call from her daughter, who reported that a repossession team had come by the daughter's house looking for Carol's car. Without a full income, Carol wasn't able to keep up with her car payments and the lender was trying to find her to take away what had become her home.
She remembers hearing the news. "In my heart it was a panic."
Fearful that a repo team was looking for her, she asked a step-cousin, who offered her help. "They told me they knew someone who would let me park in his barn way out in the middle of nowhere so the repo people couldn't find me. I was there for two weeks. There were wild animals, rabid raccoons, skunks. It was scary."
Carol took this photo of the inside of the barn where she lived for two weeks
Finally, when she was able to rent a modest apartment with her long-term disability, her new neighbors were shocked by her story and are furious at Amazon for what they did to Carol.
But Carol is uncertain about the future. Her long-term disability payments are about to end and her workers' compensation payments are about to begin—a complex process that often leaves many workers without an income for weeks or months. "It's still iffy," Carol says. "Am I going to end up homeless again? I don't know. My nightmare is still going on. If I had those stocks that Amazon has tied up, that would go so far to help me. It's my stock and I own it and they say I can't sell it."
Carol decided to speak out after seeing videos of homeless Amazon worker Shannon Allen, who has given many workers the confidence to speak out about their stories of abuse and exploitation. Now, she wants other workers to have the confidence to tell their stories and expose Amazon for what it really is.
In the wake of 20-year-old college student Mollie Tibbetts' alleged murder by an illegal alien, the Washington Post profiled the small community of Brooklyn, Iowa, which has been shaken by the crime, focusing primarily on the hardships of the town's immigrants.
As Breitbart News has
reported
extensively, 24-year-old illegal alien Cristhian Bahena-Rivera has been
charged
with first-degree murder in Tibbetts' death after police say he admitted to confronting and chasing down the young woman. The illegal alien lived in a region of Iowa that was surrounded by sanctuary cities, as Breitbart News
noted
,
and worked on a dairy farm using a stolen ID and Social Security card after allegedly

crossing

the U.S.-Mexico border as a child.
In the

Washington Post

's profile of Brooklyn, Iowa, reporter Katie Mettler focuses much of the piece on the small town's Hispanic and immigrant population which—as she notes—represents less than 2.5 percent of the community.
"Brooklyn's Latino residents say they have felt welcome in this town, which sits halfway between Iowa City and Des Moines along Interstate 80, but there have been subtle tensions," the

Washington Post

report reads. "Language barriers create some separation, and there are cultural disconnects: In Mexico, quinceañeras are a community affair. Here, they are not."
Later on, the

Washington Post

piece highlights how immigrants in the town are suffering after Tibbetts' death and are allegedly being harassed. Specifically, Mettler notes the hardships of Bahena-Rivera's uncle:
Rivera's uncle, Eustaquio "Capi" Bahena Radilla, said he fears less for himself than for his three school-age children
. Most days, Bahena Radilla socializes only with co-workers at Yarrabee Farms. Even if he spent more time in town, he wouldn't know if neighbors were whispering about him — he doesn't speak English. [Emphasis added]
Adela Fragoso, a 34-year-old Mexican immigrant who babysat for the Tibbetts family and was once an illegal alien, is noted as saying that citizens concerned with illegal immigration are "ignorant."
Now 34 and a permanent U.S. resident, Fragoso said she came from Mexico with her family as a child.

She had never felt unwelcome in Brooklyn, she said — but things seemed suddenly different

. [Emphasis added]
Some of her friends on Facebook were making disparaging remarks about undocumented immigrants.

One man, whom she has seen at nearby Mexican restaurants, wrote after Rivera's arrest: "This is why we need a [expletive] wall."

[Emphasis added]
A hardware store owner interviewed by the

Washington Post

said he feels awful for the Tibbetts family, but also feels the same way for the town's Hispanic and immigrant community. There were other mentions of the hardships of immigrants in the wake of Tibbetts' death, where a high schooler in the town says she was sent hurtful text messages and heard students whispering about immigrants.
The Jeff Bezos-owned

Washington Post

has published such pieces before. Take an op-ed

published

in the

Post

last year where Muslim Americans are described as being the victims of post-September 11 American society.
"When 9/11 came, the community paid a heavy price. As Muslims and Muslim charities were targeted in terrorism investigations, they had to scramble to mount a legal defense," the

Post

op-ed read. "Mosques often had no idea how to respond to media requests. As a result, those labeling Islam a religion of violence spoke far louder than Muslims themselves, and hate crimes against Muslims spiked."
Tibbetts' alleged killer will soon stand trial and is currently in prison on a $5 million bond.
John Binder is a reporter for Breitbart News. Follow him on Twitter at
@JxhnBinder
.
Tucker Carlson on Activist Corporations:
'There's Nothing Free About This Market,'
Corporate America Enables 'Progressive
Lunacy'
Thursday on Fox News Channel's "Tucker Carlson Tonight," host Tucker Carlson explained how corporate America was using the social welfare safety net to subsidize at taxpayer expense its employees without having to pay a higher wage.
According to Fox News host, the top earners at those companies were raking in billions while those they hire have to receive government assistance to get by.
BLOG: THE ENTIRE REASON FOR OPEN BORDERS, AMNESTY or NON-ENFORCEMENT, NO E-VERIY IS TO KEEP WAGES DEPESSED. THE MASSIVE MEX WELFARE STATE ON OUR BACKS IS TO KEEP THEM COMING AND BREEDING FUTURE GENERATIONS OF "CHEAP" LABOR!
Jeff Bezos, the founder of Amazon, is worth about $150 billion. That's enough to make him the richest man in the world, by far, and possibly the richest person in human history. It's certainly enough to pay his employees well. But he doesn't. A huge number of Amazon workers are so poorly paid, they qualify for federal welfare benefits.
According to data from the nonprofit group New Food Economy, nearly one in three Amazon employees in Arizona, for example, was on food stamps last year. Jeff Bezos isn't paying his workers enough to eat, so you made up the difference with your tax dollars. Next time you see Bezos, make sure he says thank you.
Same with the Waltons. The Walton family founded Walmart. Collectively they're worth about $175 billion. That's more than the entire gross domestic product of Qatar, the oil-rich Gulf state. The Waltons could certainly afford to be generous with their workers. Instead, they count on you to take up the slack. In 2013, taxpayers sent more than $6 billion to Walmart's workers, for food stamps, Medicaid, and housing assistance.
And if you think that's shocking, meet Travis Kalanick. He's the youthful founder of Uber. His personal fortune is close to $5 billion. His drivers, by contrast, often make less than minimum wage. One recent study showed that many Uber drivers lose money working for the company. That's not a sustainable business model. The only reason it continues is because of your generosity. Because you're paying the welfare benefits for Uber's impoverished drivers, child billionaires like Travis get to keep buying bigger houses and more airplanes. He's someone else who definitely owes you a thank you note.
If you can think of a less fair system than that, send us an email. We'd love to hear it. It's indefensible. Yet almost nobody ever complains about it. How come? Conservatives, like us, support the free market, and for good reason. Free markets work. But there's nothing free about this market. A lot of these companies operate as monopolies. They hate markets. They use government regulation to crush competition. There's nothing conservative about that, just as there's nothing conservative about most big corporations. Just the opposite. They're the backbone of the left. Pick a leftwing cause that you think is hurting the country. Check the donor list, and you'll find the name of some corporation. Often many corporations. Corporate America enables the progressive lunacy you see every night on this show. They're funding the revolution now in progress.
That's why liberals say nothing as oligarchs amass billions by soaking the middle class.
Because they've been paid off. For example, you probably assumed the people who founded Walmart were conservative. Most of their customers certainly are.
Yet the bulk of the Walton family backed Hillary Clinton in the last election.
They gave the Democratic Party more than $700,000 during the 2016 cycle. Almost every billionaire in Silicon Valley did the same. In return, they got immunity from criticism, and you got to keep paying their employees. Not a bad deal for them.
There is one person in Washington who's offended by this arrangement, and we're sorry to say he's wrong on pretty much everything else. But this is a weird moment, so you take allies where you can find them. Bernie Sanders, of all people, is trying to get your money back from Jeff Bezos. This is especially amazing since Bezos is on Bernie's side on most things. They're both leftwing activists.
But on this question, Bernie's right. He's planning legislation that would force big corporations to return the taxpayer-funded welfare benefits you've paid to their workers.
It's not a perfect solution, and it probably won't pass. No matter what they claim in public, liberals in Congress would never support something like that. Their loyalty isn't to you. It's to Uber and Jeff Bezos. But at the very least it might awaken a sleepy population to the new reality of activist corporate America. And that's a good thing.
America has changed enormously in the last 20 years. A lot of people you thought were your allies are in fact working against your interests. They have contempt for you and your family, your customs and your faith. Included in this group, I'm sorry to say, are a lot of big corporations.
They have no use for you or the country you grew up in. Stand in their way, and they'll crush you.
It's all shocking enough that I recently wrote a book about it. It's called "
Ship of Fools
," and it explains what happened and who did it. The book is out in a month, the first week of October, but you can preorder a copy now, and I hope you will.
ASSAULT ON THE AMERICAN WORKER…. Amazon's JEFF BEZOS PLAN FOR A NEW AMERICAN SLAVERY
"Amazon is a massive wrecking machine consuming American retail. It's looting the economy and leaving behind rubble. " --- DANIEL GREENFIELD FRONTPAGE MAG
AMAZON'S ASSAULT ON AMERICA CONTINUES
Amazon, the multinational online retail conglomerate, is importing more foreign workers to the United States to take coveted tech industry jobs than Facebook and Google combined. JOHN BINDER
"Amazon is a massive wrecking machine consuming American retail. It's looting the economy and leaving behind rubble. " --- DANIEL GREENFIELD FRONTPAGE MAG
"Today, each of the top 5 billionaires owns as much as 750 million people, more than the total population of Latin America and double the population of the US."
"A comprehensive new report released Sunday by the New York-based labor rights watchdog China Labor Watch (CLW) has shed new light on the barbaric and illegal practices that Amazon employs to boost its profits by driving down production costs on the backs of factory workers at the company's electronics assembly plants in China."
JEFF BEZOS of AMAZON DECLARES THAT AMERICAN-BORN SLAVES ARE NOT CHEAP ENOUGH. CHINA MUST DELIVER THE REAL SLAVE LABOR!
"A comprehensive new report released Sunday by the New York-based labor rights watchdog China Labor Watch (CLW) has shed new light on the barbaric and illegal practices that Amazon employs to boost its profits by driving down production costs on the backs of factory workers at the company's electronics assembly plants in China."
Amazon, the multinational online retail conglomerate, is importing more foreign workers to the United States to take coveted tech industry jobs than Facebook and Google combined. JOHN BINDER
"Amazon is a massive wrecking machine consuming American retail. It's looting the economy and leaving behind rubble. " --- DANIEL GREENFIELD FRONTPAGE MAG
AMAZON'S JEFF BEZOS IS THE FACE OF MODERN SLAVERY!
The gains for employees are a novel pain for
the investors
and employers who have been able to hold down wages for decades because the federal government is trying to grow the economy via cheap-labor legal immigration.
"INVESTORS" HAVE AND WILL DESTROY THIS NATION IF IT WOULD IMPACT THE NEXT QUARTER'S EARNINGS!
Amazon, the multinational online retail conglomerate, is importing more foreign workers to the United States to take coveted tech industry jobs than Facebook and Google combined. JOHN BINDER
Justice Dept. Charges Indian CEO With Massive H-1B Fraud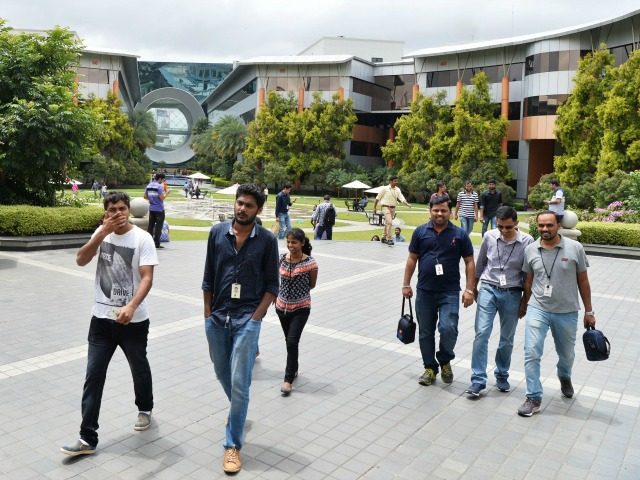 The Department of Justice arrested an Indian CEO when he flew into Sea-Tac airport and charged him with using the H-1B visa-worker program to "compete unlawfully in the market."
The secret investigation and arrest highlight what critics say is endemic fraud and corruption in the Indian-dominated H-1B visa-worker program.

"The criminal complaint describes how two companies incorporated by [CEO Pradyumna Kumar Samal] in 2010 and 2011, engaged in a scheme sometimes referred to as a 'bench-and-switch' scheme, to exploit foreign-national workers, compete unlawfully in the market, and defraud the U.S. government," said the statement from the Department of Justice.

The CEO, Pradyumna Kumar Samal, allegedly lied to federal agencies when he said the visa-workers were imported for existing contracts, and he allegedly effectively forced his Indian employees to work for less than the promised wage-levels, said the statement:


Nearly 200 workers may have been brought in under the phony applications. The employees were forced to pay SAMAL's companies a partially-refundable "security deposit" of as much as $5,000 for the visa filings, regardless of whether they were assigned to any projects that provided them with income.

Since 2014, Samal's two companies have asked for roughly 700 H-1B visas and six green cards, according to MyVisaJobs.com. The 700 requests are likely to have gotten 200 visas for foreign workers who can be subcontracted at very low rates out to other technology firms in the Seattle area.

One of the companies, Divensi, says it has worked with Amazon, Alaska Airlines, Microsoft, Physicians Interactive, Tesla, Nordstrom and the University of Washington.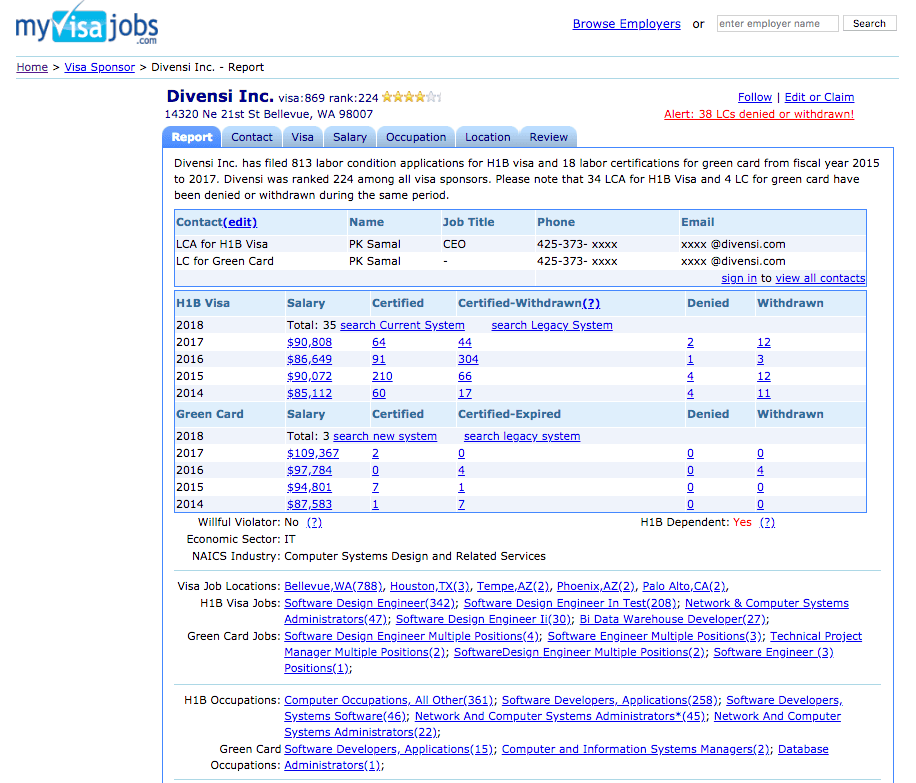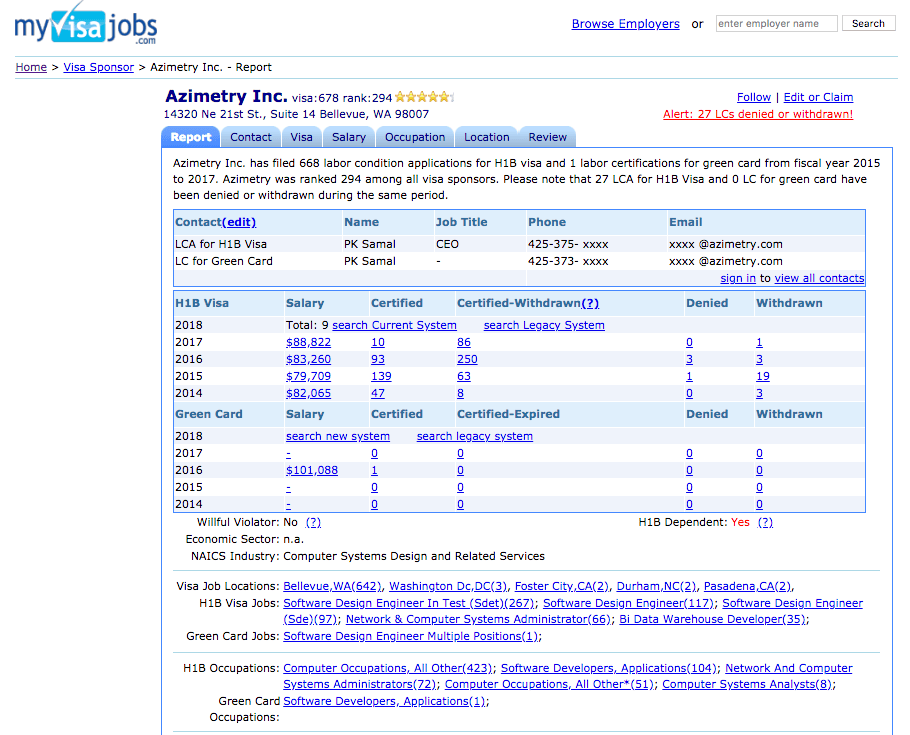 The H-1B visa program was created to allow companies to import temporary workers until Americans could be trained for the jobs. But lobbyists persuaded Congress to gradually convert the program into an outsourcing program that imports roughly 100,000 low-wage foreign college-graduates per year. The estimated number of H-1B workers in the United States ranges from 450,000 up to 900,000, partly because many H-1B workers will extend their work visas — even when they are working for lower wages — because they hope to get the huge bonus of green cards.

The number of former H-1B workers who now have green cards or citizenship is also very large, and it includes the current CEOs of Google and Microsoft.

The cheap-labor program is widely used and strongly defended by many companies, including Amazon and Microsoft, by many universities and hospitals, and by investors' lobby groups, such as FWD.us. These CEOs and investors can use the visa programs to spike their stock prices by outsourcing the jobs held by many mid-career Americans to the Indian companies, which then use their U.S.-based visa-workers to outsource the work to even cheaper workers living in India.

Many GOP and some Democratic legislators support this double-outsourcing program, including Kansas GOP Rep. Kevin Yoder. He is pushing his HR 392 legislation into the 2019 spending bill that would put roughly 400,000 Indian and Chinese H-1B visa-workers — plus their families and relatives — on a fast-track to green-cards. If passed, the Yoder legislation would further increase the supply of white-collar workers competing for jobs in the United States.

The various visa programs, including H-1B, OPT, H4 EAD, L-1, TN, and J-1 programs, keep a population of roughly 1.5 million foreign graduates employed in the United States as managers, recruiters, scientists, programmers, engineers, doctors, accountants, therapists, and designers. These huge labor programs help to lower salaries for many American college graduates and to push many skilled American workers into new, low-tech, lower-wage careers, such as journalism.

The visa-worker programs allow the Indian-born CEOs in the U.S. to transfer many Indian tech-workers to the United States for subcontracting jobs, including many contracts that the companies hope to win during the next year. But the H-1B rules bar this "bench and switch" practice and require companies to justify each new request for a visa against an existing job.

Nonetheless, many Indian and U.S. companies import H-1B workers and use their very low salaries to win a variety of contracts that would otherwise have gone to American consultants.

The Seattle Times cited the federal indictment's description of Samal's alleged violation of those visa rules:


Samal appeared to get pushback from a client after the U.S. Citizenship and Immigration Services (USCIS), part of the Department of Homeland Security, started investigating Samal. The CEO of a client company used in the [H-1B visa] application letters emailed Samal after USCIS contacted him, according to the case.

"I received this email from the Visa office asking if I signed this," the email from a CEO, identified in court documents as V.K., reads. "I did not. I don't even know who this resource is. This is concerning? Pls advise on how this happened?"

Sarah Blackwell, the founder of a pro-American group, Protect US Workers, Tweeted:
Sara Blackwell@4US_Workers
"Bench and switch" - It has a phrase it is so common. We need more policing.
https://www.seattletimes.com/business/technology/redmond-ceo-charged-with-fraud-on-more-than-100-h-1b-visa-applications/ …
2:55 PM - Aug 30, 2018
·
Manhattan, NY


Redmond CEO charged with fraud on more than 100 H-1B visa applications

The Justice Department charged Pradyumna Kumar Samal, the chief executive of Redmond firms Divensi and Azimetry, with using a tactic called "bench-and-switch" to fraudulently get high-tech visas.seattletimes.com
72
56 people are talking about this
Twitter Ads info and privacy
The American critics of the visa-worker programs are trying to block Yoder's
HR 392 fast-track
legislation, partly by arguing that it will allow Indians managers to discriminate against Americans, and so push more Americans away from technology careers. The American groups include
Protect US Workers
and
U.S. Tech Workers
.
Much of the criticism is aimed at Indian firms which receive a huge slice of the H-1B visas each year. For example, QZ.com
reported
in June about a discrimination lawsuit:
A former senior executive at Infosys [Technologies Ltd.] has accused Indian software major Infosys of a racist bias that favors Indian techies over others.
Erin Green, who worked at Infosys's Texas office from October 2011 to July 2016, has alleged that his former employer tilted the scales too far towards Indians in its 200,000-strong workforce in the US. In a
lawsuit filed
(paywall) with the district court in eastern Texas on June 19, Green cites the lack of diversity at the firm as proof of discrimination …
Since then, the lawsuit claims, "…Plaintiff (Green) was not promoted, and no white or black employees on Plaintiff's teams were ever promoted, progressed, or given salary increases." Only the careers of south Asians progressed. Binod Hampapur, whom Nayak reported to, is also called out in the complaint for not curbing the discrimination.
Infosys is the largest user of the H-1B program, and paid a small fine for
discrimination in 2013
: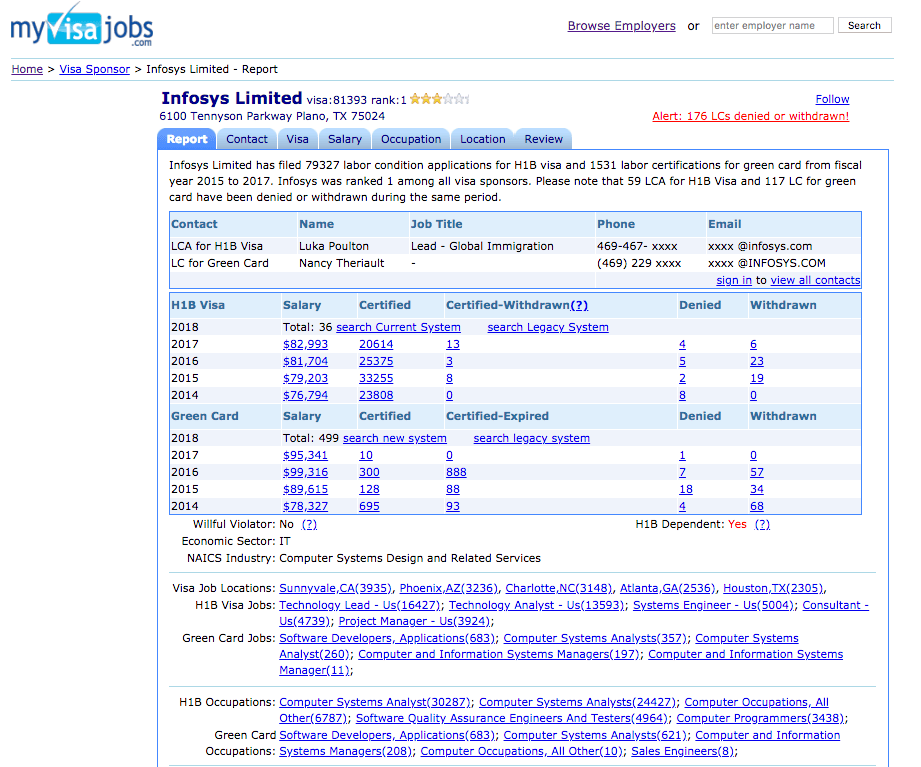 A U.S. government cable
released via Wikileaks
said that:
H-1B fraud is one of the top two visa categories for fraud throughout Mission India. All posts regularly encounter inflated or fabricated educational and employment qualifications. The vast majority of these documents come from Hyderabad. In the 18 months prior to the start-up of consular operations in Hyderabad, FPU Chennai investigated 150 companies in Hyderabad, 77 percent of which turned out to be fraudulent or highly suspect (ref F). Most of those cases slated for site visits were to verify the experience letters for H-1B applicants who did not meet minimum educational qualifications.
Some Indian business leaders admit problems. For example, Infosys' co-founder, N.R. Narayana Murthy,
said
in February 2017 that Indian managers need to learn skills from American graduates:
I think by and large, the Indian mindset is always to take the soft option. … Our managers will have to learn with non-Indian professionals … how to make sure that we understand the rules of crossing cultures. So therefore I think this is a learning opportunity for our senior people. This is not an easy option, it is s very tough option, but the earlier we start, the better it is for us.
But U.S. firms are also facing charges of anti-American discrimination. Bloomberg
reported
this month that Cisco Systems is being investigated by the Department of Labor for using the H-1B visa program to enable discrimination against Americans
The DOL's Office of Federal Contract Compliance Programs determined that the technology firm secured visas for foreign workers instead of hiring U.S. citizens for certain jobs and paid the visa holders at a lower rate than their American counterparts, according to the sources. The federal contractor watchdog, which uncovered the alleged discrimination as part of a routine audit, is currently discussing the settlement of a violation notice issued to Cisco earlier this year …
The probe is one of several ongoing investigations into possible discrimination by federal contractors against visa holders. The OFCCP considers that a form of national origin bias, banned by an executive order first issued in 1965 by President Lyndon Johnson …
American workers are also using Twitter to share evidence of Indian cheating and resume-padding. For example one video shows an Indian in a video job-interview mouthing the answers provided by a hired coach:
Many ads are posted on Indian websites offering people to coach job-seekers during job interviews.
American_desi@America_Desi
Fresh proxy interview postings. Apparently there are separate forums for providers and receivers. 100's of such posting a day folks!
8:23 AM - Aug 13, 2018
22
26 people are talking about this
Twitter Ads info and privacy
American_desi@America_Desi
More proxy requests!
1:37 PM - Aug 27, 2018
18
18 people are talking about this
Twitter Ads info and privacy
Critics and news outlets have frequently reported
widespread resume fraud
and legal gaming of the federal rules used to allocate work visas and green cards.
BM Laid Off 20K Older Americans, Sought to Import 37K Foreign Workers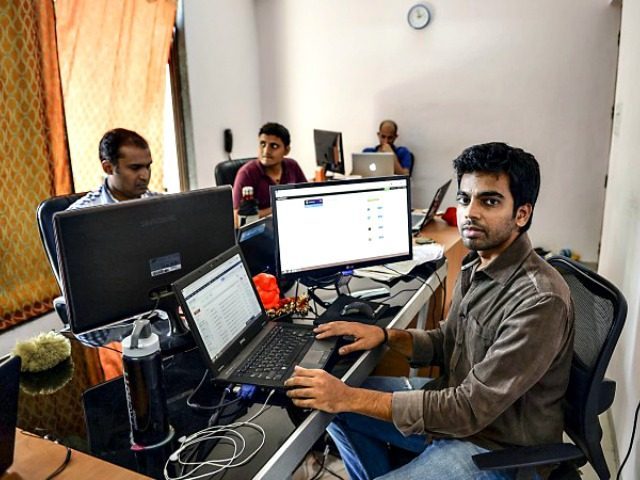 Congress Floods White-Collar Labor Markets
Federal data shows that legal immigrants are filling a growing share of several white-collar professions which have seen little salary growth since 2000.
AT&T Continues Layoffs of More than 16K Americans to Outsource Jobs