BOXER, WHO NEVER GOT ONE BILL THROUGH CONGRESS IN ALL THE YEARS SHE SERVED THE SPECIAL INTERESTS, AMASSED A VAST FORTUNE FROM "campaign contribution" BRIBES SIPHONED OFF AS "CONSULTANT FEES" TO SON LAWYER DOUG BOXER.
Boxer: Kavanaugh 'Transformed' into 'Someone Who You Could Now See Attacking a Woman'
Thursday on MSNBC's "Hardball," former Sen. Barbara Boxer (D-CA) said today during his testimony, Supreme Court associate justice nominee Brett Kavanaugh transformed into "someone who you could now see attacking a woman."
Boxer said, "Let me say, I think it was exhausting for everybody, and especially for women who have had this experience and for women who have had relationships with very angry men. And I think—I've listened to your commentary, I think you're right, all of a sudden we see a man transformed from a choir boy who up until now has said after hours in front of the committee he lived this very perfect life, all of a sudden his anger is triggered and what we saw today is someone who you could now see attacking a woman. It is very frightening."
She added, "I think your guest, who was so good, and said temperament is so important for who you put on the court. He not only showed the personality transformation. What do I think it will happen? We all know it is a few Republicans that hold this decision on their shoulders. I don't know anyone who didn't think that Dr. Ford was credible. And when she said I am 100% sure who this was, I believe her. It's up to them. Do they believe her? And the last point I'll make is if you are undecided, there is only one independent investigation, a FBI background check and frankly anyone who doesn't support that doesn't want to get to the truth and that includes Judge Kavanaugh."
Follow Pam Key on Twitter @pamkeyNEN
You know how stinking in corruption this government is if DIANNE FEINSTEIN hasn't been put away!
WAR PROFITEER and her DADDY WARBUCKS
FEINSTEIN HAS SPENT HER ENTIRE POLITICAL LIFE STALKING THE HALL OF CONGRESS SNIFFING OUT DEALS THAT HAVE PUT MILLIONS IN HER HUSBAND, RICHARD BLUM'S BOTTOMLESS POCKETS!
IN THE November 2006 election, the voters demanded congressional ethics reform. And so, the newly appointed chairman of the Senate Rules Committee, Dianne Feinstein, D-Calif., is now duly in charge of regulating the ethical behavior of her colleagues. But for many years, Feinstein has been beset by her own ethical conflict of interest, say congressional ethics experts.
"All in all, it was an incredible victory for the Chinese government. Feinstein has done more for Red China than other any serving U.S. politician.
"
Trevor Loudon
$ERVANT OF RED CHINA FOR RAW CA$H, $ENATOR FEIN$TEIN'S DRIVER IS A $PY FOR HER CHINE$E PAYMA$TER$!
"All in all, it was an incredible victory for the Chinese government. Feinstein has done more for Red China than other any serving U.S. politician.
"
Trevor Loudon
SENATOR DIANNE FEINSTEIN AND PARASITE HUSBAND RICHARD "BRIBSTERS" BLUM
Blum has long handed out bribes in the form of "campaign contributions" to other corrupt Democrat politicians so they keep their mouths shut about the staggering corruption that has profitably followed Feinstein from day one!
"Our entire crony capitalist system, Democrat and Republican alike, has become a kleptocracy approaching par with third-world hell-holes. This is the way a great country is raided by its elite." ---- Karen McQuillan THEAMERICAN THINKER.com
'He DESTROYED her': Brett Kavanaugh calls Dianne Feinstein out on her bullsh*t, and it's FANTASTIC [video]
Today, he got his chance to tell her exactly what he thinks of her despicable conduct:
You seriously need to watch this:
Wowza, indeed. Dianne Feinstein fully revealed herself to be the lying, corrupt maggot we've always known her to be.
Truth.
Kavanaugh was absolutely right to call Feinstein out.
An eye-opening one.
It's definitely not just you.
Agreed. It couldn't've happened to a nicer gal.
Straightforward from here:
Amen.
***Live Updates*** Brett Kavanaugh, Christine Blasey Ford Testify Before Senate Judiciary Committee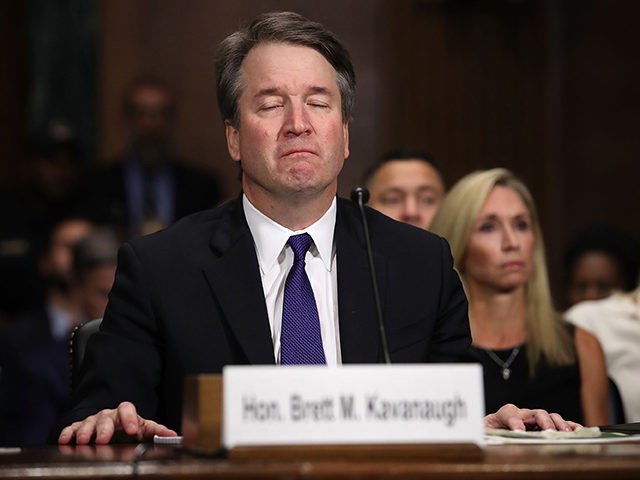 Senators on the Judiciary Committee on Thursday morning will question Supreme Court nominee Brett Kavanaugh and Christine Blasey Ford, the Northern California psychology professor who has accused Kavanaugh of sexual assault when they were teenagers.
Ford will testify first, followed by Kavanaugh. Senators will have five minutes to question Ford and then Kavanaugh. Some Republican Senators are expected to yield their time to Rachel Mitchell, the Arizona prosecutor Senate Republicans hired to help them question Ford. Some Democrats could yield some of their time to Sens. Kamala Harris (D-CA), Amy Klobuchar (D-MN), and Mazie Hirono (D-HI) to question Kavanaugh.
Stay tuned to Breitbart News for live updates. All times eastern.
—
7:20 PM:
7:10 PM: Portman, the epitome of a Bush Republican, is a yes:
6:52 PM:
6:50 PM: Ex-Hillary operative worried Kavanaugh will get confirmed unless left-wing activists "invade" GOP offices tomorrow.
6:48 PM: Cornyn says Republicans will meet at 7:15 PM and see where they are. He says it's time to vote because more false and scurrilous allegations could come forward if the process is further delayed.
6:45 PM:
6:42 PM: Kennedy asks Kavanaugh if he believes in God. Kavanaugh says he does. Kennedy says he wants to ask Kavanaugh before God and country a chance to answer questions about the allegations.
Kennedy asks if Dr. Ford's allegations are true. Kavanaugh responds: "They are not accurate as to me."
He asks if Ramirez's allegations are true. Kavanaugh: "They are not."
He asks about Swetnick's allegations. Kavanaugh says "Those are not" true.
Kavanaugh swears to God all the allegations are false.
6:41 PM: Flake now questioning Kavanaugh. Flake says this is not a good process but "it's all we got." He apologizes to Kavanaugh's and Ford's families for what they've had to go through. Flake says people involved in the process should have more humility. He says there is likely going to be as much doubt as certainty once the Senators leave the room.
6:35 PM: Harris gets to the point and asks whether he has taken a professional polygraph test. Establishes that Kavanaugh has not. Now on to asking about FBI background investigations. She asks: "Are you willing to ask the White House to conduct an investigation by the FBI" to get to the bottom of the allegations made against you? She says she'll take his answer as a no. Harris says he and Gorsuch have similar backgrounds but there were no sexual assault allegations against Gorsuch.