AS FAR AS SELF-SERVING CORRUPTION, FEINSTEIN RANKS JUST ABOVE HILLARY, BILLARY AND THE OBOMBS.
$ERVANT OF RED CHINA FOR RAW CA$H, $ENATOR FEIN$TEIN'S DRIVER IS A $PY FOR HER CHINE$E PAYMA$TER$!
"All in all, it was an incredible victory for the Chinese government. Feinstein has done more for Red China than other any serving U.S. politician.
"

Trevor Loudon
Feinstein's Ties to China Extend Beyond Chinese Spy
August 6, 2018
Last Updated: August 7, 2018
Senate Judiciary Committee Chairman Ranking Member Dianne Feinstein speaks during a Committee hearing on Cambridge Analytica and data privacy in the Dirksen Senate Office Building on Capitol Hill in Washington, D.C. on May 16, 2018. (MANDEL NGAN/AFP/Getty Images)
Last week's revelations that a Chinese spy served on the staff of Sen. Dianne Feinstein (D-Calif.) for almost 20 years, should be shocking no one.
The unidentified agent, who was in place as recently as five years ago, was Feinstein's driver. He also served as a "gofer" in her Bay Area office and a "liaison to the Asian-American community." He sometimes attended functions at the Chinese consulate, as a stand-in for the senator.
At the time the spy was discovered by the FBI, Feinstein was chairwoman of the Senate intelligence committee. Feinstein says she forced the agent into retirement, but no other staff were informed of the circumstances behind his exit, and no charges were filed.
Feinstein had been warned two decades ago that she might be targeted by Chinese intelligence.
The senator issued a statement on March 10, 1997, that the FBI had warned her and five other senators that the Chinese government might try to "funnel illegal contributions to her campaign and other Congressional campaigns, but she said the information had not influenced her position or her vote on any issue," according to The New York Times.
"[Feinstein] said that while 'the information was vague and nonspecific,' she had concluded that she should 'be very cautious' in dealing with Asian-American contributors," the NY Times report stated.
Feinstein would obviously be of interest to Chinese intelligence for the classified information she might possess through her position on the intelligence committee.
She might also be the target of "influence operations"—a subtler approach, by which Chinese operatives would try to steer Feinstein into promoting policies that might benefit the Chinese regime.
According to the article, "For many years, Ms. Feinstein has tried to promote friendship and trade with China, and she has countered critics of the Chinese human-rights record by emphasizing what she described in a Senate speech last year as 'major improvements in human rights' there."
BLOG: KISSING CHINESE ASS WHILE HER HUSBAND RAKES IN THE LOOT FROM BACK-ROOM DEALS WITH RED CHINA!
Conciliatory to Communists
Feinstein's conciliatory approach to communist governments began in the mid-1950s, when she served in the Stanford University student government.
Before her senior year, Dianne Goldman, as she was then known, traveled to Europe on a student trip led by Stanford political science professor, James T. Watkins. The agenda included a possible meeting with Yugoslav communist revolutionary Marshal Josip Broz Tito.
In January 1955, a vigorous debate erupted on the Stanford student executive, over whether to support a proposed visit of seven Soviet journalists to the United States.
According to Stanford Daily reports of the time, executive member Sam Palmer asserted that "nothing can be lost in allowing them to come over."
He was supported by both Goldman and Don Peck, who claimed that it was important to show "Russia that the United States is not an Iron Curtain country—that we are willing to let Communists enter."
The ayes won, and Goldman went on to personally host the delegation from the Soviet Writers Union when they toured Stanford's campus later that year.
Thirty years later, while serving as mayor of San Francisco, Feinstein issued an official city proclamation in support of that year's World Festival of Youth and Students, held in Moscow.
This international propaganda event was organized by the Soviet-controlled World Federation of Democratic Youth and was supported in the United States by the Communist Party USA and similar groups.
Feinstein traveled to Moscow in December of that year as part of a trade delegation of 450 U.S. businessmen and public officials.
A little over a year later, on Jan. 27, 1987, Soviet Consul General Valentin Kamenev presented Feinstein with a Soviet streetcar: "A streetcar named desire." Also present at the ceremony was Viktor Zhelezny, deputy chief of public transport for the Russian Republic.
Bridges to Communist China
Building bridges to the People's Republic of China, however, seems to have been an even higher priority for Feinstein.
One of Feinstein's first acts on becoming mayor of San Francisco in January 1979, was to visit Shanghai to establish sister-city relations.
The next apparent priority was re-establishing passenger airline service between China and the United States. Service was restored on Jan. 8, 1981, after a "32-year hiatus when a Boeing 747 with 139 Chinese passengers arrived exactly on time at San Francisco International Airport," according to The New York Times.
Feinstein and Chinese Consul General Hu Ding-yi held a ribbon-cutting ceremony, "which included a cake, decorated with 'CAAC [Civil Aviation Administration of China] Welcome to San Francisco,' and two bottles of champagne." Feinstein described the landing as "an historic and exciting occasion."
Feinstein went on to visit Shanghai several times in her official capacity and built a close personal relationship with then-Mayor Jiang Zemin.
According to the San Jose Mercury: "He [Jiang] once invited her and her husband to see Mao Tse-tung's bedroom in his old residence, the first foreigners to do so. Feinstein had entertained Jiang in San Francisco, dancing with him as he sang 'When We Were Young.'"
This relationship proved fruitful in 1999, when President Bill Clinton was pushing to bring China into the World Trade Organization.
A visit to Washington that year by Chinese Prime Minister Zhu Rongji, which many had hoped would seal the deal, produced nothing. Relations got even worse after U.S. bombers accidentally destroyed the Chinese Embassy in Belgrade that May.
Feinstein, stepped in to offer assistance to the administration. She volunteered to use her personal relationship with now-Chinese regime leader Jiang, to get negotiations back on track.
In August 1999, the White House dispatched Feinstein to China, with a hand-written note to Jiang from President Clinton, urging a resumption of talks.
"Senator Feinstein played a critical role in paving the way for this critical trade agreement," White House press officer Elizabeth Newman said.
Feinstein and Jiang met Aug. 16 in the Chinese coastal city of Dalian, where the senator handed over President Clinton's letter.
In an interview with the San Jose Mercury in November 1999, Feinstein said, that she felt the only way China would enter into WTO negotiations again was with the backing of Jiang.
Feinstein said, in offering her services as an intermediary to Clinton and national security adviser Sandy Berger, "I said I'd be prepared to do it if they felt it would be helpful, and they said they did think it would be helpful and please do it."
Jiang was "receptive and particularly pleased that Clinton had taken the time to personally write a note to him,'' Feinstein said.
"I think he listened, and we had substantial discussions on the subject. … I was successful in getting the Chinese interested in beginning to resume negotiations on the subject," Feinstein said in the November 1999 interview.
Human Rights
Significantly, Feinstein said she expected approval of the new trade status, which would remove the "annual congressional review that many believe continues to put pressure on China to reform its economy and human-rights record."
In other words, the Chinese Communist Party (CCP) would get the trade status it coveted, without having to do anything of significance to improve its abysmal human-rights record.
China was admitted to the World Trade Organization and has used that trade access to build the world's second-strongest economy, and a world-class military.
If anything, the CCP's human-rights record is worse today. Certainly, their repressive technologies are far more powerful.
At the time, Feinstein's colleague, Rep. Nancy Pelosi (D-Calif.) expressed grave concerns about the deal.
"Once they get permanent (normal trade relations status), all leverage from the US on behalf of business is over because they have what they want permanently," Pelosi said, in the San Jose Mercury article. "They have violated their agreements in terms of proliferation of weapons of mass destruction, they have violated their agreements in terms of trade, they have violated their agreements on international covenants on human rights. Why is that we think they are then going to honor their commitments they make for WTO?"
All in all, it was an incredible victory for the Chinese government.
Feinstein has done more for the CCP than other any serving U.S. politician.
Correction: A previous version of this article misstated who led Dianne Feinstein's student trip to Europe. The trip was led by Stanford political science professor, James T. Watkins. The Epoch Times regrets the error.
KAVANAUGH CLASSMATE NAMED IN #METOO LETTER DENIES ASSAULT ALLEGATION
A former classmate of Judge Brett Kavanaugh's is vehemently denying allegations that the Supreme Court nominee attempted to force himself onto a young woman during a party in high school.
Mark Judge, who attended Maryland's Georgetown Preparatory Academy with Kavanaugh in the 1980s, told The Weekly Standard on Friday that the assault allegations were "just absolutely nuts."
"I never saw Brett act that way," Judge said.
The New Yorker story did not identify the classmate by name, but Judge confirmed to The Weekly Standard that he was the Kavanaugh associate the accuser named. Judge said he had no idea he was named in the allegation until the New Yorker's Ronan Farrow interviewed him about it.
"[Ronan Farrow] said: As you know, you're named in the letter. And I did not know," he told the Weekly Standard.
Judge went on to say the New Yorker refused to tell him the name of the woman who had made the allegation or any details about where and when the assault may have occurred. The unnamed woman has declined to give interviews with other media outlets.
Months before speaking with the New Yorker, the anonymous accuser sent a letter describing the alleged incident to Democratic Rep. Anna Eshoo of California. Democratic Sen. Dianne Feinstein of California has also been in possession of the allegations since July.
Feinstein, the ranking member of the Senate Judiciary Committee, did not raise the allegation during Kavanaugh's confirmation hearing earlier this month. Nor did the matter come up during a closed session where sensitive information was discussed, according to a Judiciary Committee spokesperson.
Feinstein said Thursday that she had forwarded allegations concerning Kavanaugh to the FBI. The referral did not trigger a criminal inquiry, but the FBI provided the information to the White House for placement in Kavanaugh's background check file, USA Today reported.
Kavanaugh denied the allegations against him in a written statement released by the White House on Friday,
"I categorically and unequivocally deny this allegation," he said. "I did not do this back in high school or at any time."
Media Fail: FBI Not Interested in Feinstein's Kavanaugh Hoax — but 'Pro' Journos Take the Bait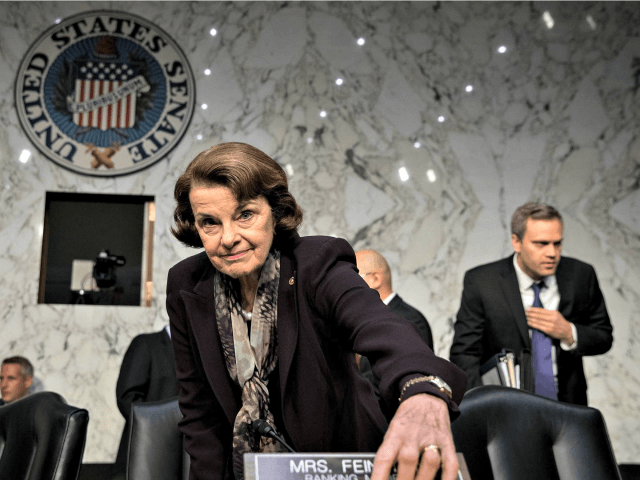 The FBI will not be investigating Sen. Dianne Feinstein's (D-CA) last-second attempt to smear Supreme Court nominee Brett Kavanaugh.
After countless hours of hearings, a number of in-depth background checks, thousands of questions asked and answered, and numerous one-on-one meetings with senators of both parties, at the very last second Feinstein dramatically released a letter (she has reportedly had in her possession for months) to the FBI.
"I have received information from an individual concerning the nomination of Brett Kavanaugh to the Supreme Court,"
she said in a statement
. "That individual strongly requested confidentiality, declined to come forward or press the matter further, and I have honored that decision. I have, however, referred the matter to federal investigative authorities."
According to the far-left
Washington Post,
however, the FBI is not interested and
will not be
investigating the matter. The
Post
, however, was happy to add this: "The information came in a letter that describes an alleged episode of sexual misconduct involving the 53-year-old Kavanaugh when he was in high school, according to a person familiar with the matter."
The "matter," according to
the Guardian
, involves an alleged event that happened when Kavanaugh was still in high school. He stands accused of some mischief involving he and a friend locking a female student in a room. She found a way out. If this happened, Kavanaugh, who is now 53, was 17 years old at the time.
Nevertheless, left-wing outlets like NBC News ran with headlines
that read
, "Sexual allegation against Kavanaugh referred to FBI by top Democrat."
And in that particular story, we have a prime example of what NBC News called "journalism."
Two sources told NBC News the allegation was sexual in nature, but both said the letter writer was not specific in describing Kavanaugh's alleged behavior. One source told NBC News the conduct described could allege sexual assault, but said it could also be a lesser allegation — and added the individual making the allegation would have to be more specific with law enforcement officials for any investigation to be able to move forward. [emphasis added]
To the surprise of no one, the far-left ThinkProgress covered this in the exact same hysterical way NBC News did.
The ThinkProgress headline and sub headline
reads
: "Brett Kavanaugh has a mysterious #MeToo problem" — "And 'federal investigative authorities' are involved."
Here is how the ThinkProgress story opens:
Supreme Court nominee Brett Kavanaugh may have committed a very serious crime — possibly even a sex crime. Or maybe he didn't. [emphasis added]
You can go ahead and laugh at ThinkProgress over the "Or maybe he didn't," but they are just aping the "professional journalists" over at NBC News. One way the far-left outlet did take the mud-slinging further, however, was by illustrating their piece with a
photo
of Kavanaugh standing over a young girl with his hands on her shoulders. They were
shamed into changing
the picture after publication.
According to
the Intercept
, the woman who is the subject of Feinstein's secret letter "is now being represented by Debra Katz, a whistleblower attorney who works with #MeToo survivors. Joseph Abboud, an attorney at Katz's firm, said that the firm was declining to comment."
Two officials familiar with the matter say the incident involved possible sexual misconduct between Judge Kavanaugh and a woman when they were both in high school. They spoke anonymously because they were not authorized to discuss the matter.
How lucky are Democrats that they can use the establishment media to spread unfounded smears on their behalf?
Feinstein releases a vague statement about a vague incident she refers — strictly for dramatic purposes — to the FBI. Then the Democrat leakers run to their confederates in the elite media to whisper about "sexual misconduct" and "MeToo," and the smear machines that are NBC News and the New York Times give the Democrats exactly what they want.
Meanwhile, a decent man is tarred for life.
And over what? Even if it is true — if Kavanaugh, nearly 40 years ago, committed the worst sin of his life, this is still the biggest nothingburger ever.
But that is not the point.
The goal was manipulating a willing media into publishing "sexual misconduct" headlines, which of course they did.
Democrats sure got it good.
Follow John Nolte on Twitter
@NolteNC
. Follow his Facebook Page
here
.
1.
2.
1.
2.
1.
2.
1.
2.
1.
1.
2.
1.
1.
2.
1.
2.
1.
Senator Feinstein's War Profiteering
Senator Feinstein's War Profiteering
I
t happens all the time. If the antiwar movement takes on the Democrats for their bitter shortcomings, a few liberals are bound to criticize us for not hounding Bush instead. It doesn't even have to be an election year to get the progressives fired up. They just don't seem to get it. "How can you attack the Democrats when we have such a bulletproof administration ruling the roost in Washington?" somebody recently e-mailed me. "Don't you have something better to do than write this trash?!"
Well, not really. It's too cold in upstate New York right now to do anything other than fume over the liberal villains in Washington. "Why do I write about the putrid Democratic Party?" I responded, "I'll tell you, there's a reason this Republican administration is so damn bulletproof – nobody from the opposition party is taking aim and pulling the trigger."
And that's why the Dems are just as culpable in all that has transpired since Bush took office in 2000. They aren't just a part of the problem – the Democrats are the problem.
I mean, who is really all that surprised Bush and his boys wanted to conquer the Middle East? Not me.

That's just what unreasonable neocons do: they stomp out the little guy, kill off the weak, and suffocate the voiceless. They only care about the girth of their wallets and the number of scalps they can tack above their mantles.
The Democrats aren't just letting the Republicans get away with murder, however: some of them are also reaping the benefits of the Bush wars. We constantly hear about Dick Cheney's ties to Halliburton and how his ex-company is making bundles off U.S. contracts in Iraq. But what we don't hear about is how Democratic Sen. Dianne Feinstein and her husband are also making tons of money off the "war on terror."
The wishy-washy senator now claims Bush misled her prior to the invasion of Iraq. I don't think she's being honest with us, though. There may have been other reasons she helped sell Bush's lies. According to the

Center for Public Integrity

, Feinstein's husband Richard Blum has racked in millions of dollars from

Perini

, a civil infrastructure construction company, of which the billionaire investor wields a 75 percent voting share.
In April 2003, the U.S. Army Corps of Engineers gave $500 million to Perini to provide services for Iraq's Central Command. A month earlier in March 2003, Perini was awarded $25 million to design and construct a facility to support the Afghan National Army near Kabul. And in March 2004, Perini was awarded a hefty contract worth up to $500 million for "electrical power distribution and transmission" in southern Iraq.
Feinstein, who sits on the Senate
Appropriations Committee as well as the
Select Committee on Intelligence, is reaping
the benefits of her husband's investments.
The Democratic royal family recently
flush Pacific Heights neighborhood of San
Francisco. It's a disgusting display of war
profiteering, and just like Cheney, the leading
Democrat should be called out for her
And that's exactly why the Bush
administration is so darn bulletproof.
The Democratic leadership in
Washington is just as crooked and just
War profiteering
In the United States
[
edit
]
Unacceptable! Senator Profits from War and Post Office
richard blum huckstered and
voted in the senate for any
and all that would benefit red
china and richard blum,
america's war profiteers!
Steven Mosher on Trade Deficit: China 'Might as Well Have Carpet Bombed the American Heartland'
Richard Nixon had "created a monster" by opening America and the West to China, said bestselling author and Asia expert Steven Mosher in a Wednesday interview on SiriusXM's

Breitbart News Tonight

with Senior Editor-at-Large Rebecca Mansour.
Husband's investments entangle Feinstein
LATEST FLAP OVER MEDICARE PAYMENT DENIALS
By David WhitneyMcClatchy NewspapersSan Jose Mercury News
Article Launched:05/19/2007 01:36:54 AM PDT
WASHINGTON - California lawmakers are questioning whether an auditing company in which San Francisco investor Richard Blum, the husband of Sen. Dianne Feinstein, has a major financial stake is rejecting Medicare claims at California rehabilitation hospitals in order to reap millions of dollars in profits at the expense of patient care.
The company, PRG-Schultz International, has a contract with the Centers for Medicare and Medicaid Services, the overseer of the Medicare program, to check payments in California for mistakes. Its only pay is a bounty of up to 30 percent on the "overcharges" it identifies.
The California Hospital Association first raised concerns in November that PRG-Schultz was targeting rehabilitation hospitals that cared for Medicare patients after knee or hip replacement surgery. The hospital association said PRG-Schultz has reviewed thousands of cases dating as far back as 2002 and has rejected nearly all as medically unnecessary. Melinda Staveley, president of the 38-bed Rehabilitation Institute at Santa Barbara, said more than 100 such cases from her non-profit institution had been rejected. The facility could face having to repay more than $2 million.
As difficult as that would be financially for a small hospital with a $12 million annual budget, she said the bigger concern is future patient care. The frail and elderly surgery patients with compound medical problems no longer will have access to rehabilitation hospitals and will have to rely on home or outpatient services.
"This is devastating," Staveley said of the audits.
Her husband's business interests in PRG-Schultz have proved awkward for Feinstein, the state's Democratic senior senator, as the hospital association turns to Congress for relief.
This is not the first time Blum's business interests have collided with his wife's job. Blum Capital Partners is a major investor in Northwest Airlines, which in 1995 won the first contract by an American air carrier to fly to Beijing. Feinstein had been friends with a former Chinese political leader since she was mayor of San Francisco.
More recently, concerns have been raised in Republican circles about some of Blum's investments benefiting from defense contracts at a time when the senator was serving on the Senate military construction appropriations committee.
Feinstein's press aide, Scott Gerber, said the senator played no role in the legislation creating the auditing program and did not intervene with program administrators to help PRG-Schultz get the three-year contract in 2005.
"FEINSTEIN SENT A LETTER EXPRESSING HER CONCERNS...."
THIS IS TYPICAL WHORE FEINSTEIN. SHE LIES THROUGH BOTH SIDES OF HER MOUTH AND STILL COUNTS HER DIRTY MONEY.
THE OLD WHORE HAS BEEN SENDING OUT THE SAME OLD FORM LETTER FOR A DECADES EXPRESSING HER "CONCERN" OVER THE INVASION BY MEXICO. ALL THE WHILE SHE'S IN THE BACK ROOM WORKING OUT NEW BIT BY BIT AMNESTY WITH HER LA RAZA WHORES, PELOSI. BOXER, WAXMAN, ESHOO, LOFGREN, HARMAN, FARR, SANCHEZ, ET AL.
THE OLD WHORE HAS PUBLICALLY MADE COMMENTS ABOUT EVIL WAR PROFITEERS AND THEN WENT TO TOWN SERVICING BUSH WITH HER !NO! IMPEACHMENT, FOR WAR PROFITS. ENOUGH TO BUY HERSELF ANOTHER MANSION, THE 17 MILLION SAN FRANCISCO PLACE.IT'S TIME FEINSTEIN WENT TO PRISON!
On Thursday, after questions from McClatchy Newspapers, Feinstein sent a letter to the Centers for Medicare and Medicaid Services that called the hospital association's concerns "potentially serious." She asked program administrators to investigate, saying the concerns are spreading beyond its determinations on rehabilitation hospitals to other aspects of Medicare-financed hospitalizations for the elderly, including short-stay hospital admissions.
Feinstein made no mention of her husband's interest in PRG-Schultz, which she lists in her annual financial disclosure reports. According to PRG-Schultz, Blum's investment companies own 10.5 percent of its outstanding common stock, 53 percent of its outstanding preferred stock and 28 percent of its notes and securities.
California House members soon will follow with a joint letter of their own asking for an investigation.
Rep. Lois Capps, D-Santa Barbara, is taking the lead among Democrats. Her press aide, Emily Kryder, said 15 members - more than a quarter of the state's congressional delegation - have agreed to sign the letter so far.
"The review and collection practices of PRG-Schultz threaten access to rehabilitation services in California," the letter said. "We urge you to examine the actions taken by PRG-Schultz International, Inc."
The auditing program was set up as a demonstration project initially focusing on the three highest-cost Medicare states - California, New York and Florida. Separate contractors are used for each state. PRG-Schultz is the only for-profit contractor among them, and Medicare administrators believe it has been the most controversial because it alone has been zeroing in on rehabilitation hospitals.
On the brink of financial collapse when it won the contract two years ago, PRG-Schultz has found the job to be enormously lucrative. Government figures indicate that it had rejected $105 million in California Medicare overcharges as of Sept. 30, the end of the 2006 fiscal year.
Medicare managers said they could not release figures for how much PRG-Schultz was claiming as commissions for finding the alleged overcharges, saying the information was proprietary. But based on bounties of 28 percent that were used in establishing the program, PRG-Schultz's entitlement could be as much as $29 million.
The California Hospital Association said in a letter to Medicare administrators in November that PRG-Schultz should be suspended for improperly applying Medicare rules and using unqualified personnel.
PRG-Schultz declined to comment. But officials of the Centers for Medicare and Medicaid Services steadfastly defended PRG-Schultz, saying it's applying rules on medically necessary admissions that probably have been ignored in California for years.
PRG-Schultz "coming to town is probably the first real look at these hospitals in many, many years," said Melanie Combs, senior technical adviser for the federal program.
"These rules have been on the books since 1985," Combs said. "Maybe it's possible some have been overlooking them. Maybe there have been consultants out there helping hospitals to, quote, maximize reimbursements. And maybe perhaps some of that has entailed looking the other way."
A call to Blum Capital Partners - of which Blum is board chairman - asking for comment was not returned.
PRG-Schultz reported a first-quarter profit this year of $1.5 million, compared to a $10 million loss for the same period in 2006.