America is a nation with a severe housing crisis, a million legals who are homeless, tens of millions of legals who have given up finding a job that pays living wages and yet the borders are open to keep the hordes coming simply to keep wages DEPRESSED.
THE INVITED INVADING HORDES: IT'S ALL ABOUT KEEPING WAGES DEPRESSED!
"In the decade following the financial crisis of 2007-2008, the capitalist class has delivered powerful blows to the social position of the working class. As a result, the working class in the US, the world's "richest country," faces levels of economic hardship not seen since the 1930s."
"Inequality has reached unprecedented levels: the wealth of America's three richest people now equals the net worth of the poorest half of the US population."
Welfare for Refugees Cost Americans $123 Billion in 10 Years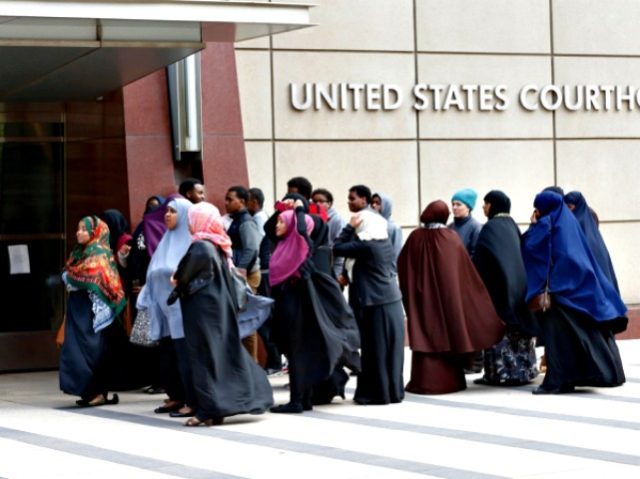 Americans spent almost $100 billion to support 606,000 poor refugees in the 10 years up to 2014, according to a State Department report.
The $96.6 billion cost rises to $126 billion when officials count the extra cost of paying for the refugees' spouses and children, including U.S.-born children.
The $126 billion bill is just for programs managed by the Department of Health and Human Services. It excludes additional taxpayers' spending via state programs, as well as federal spending on Social Security, education, and housing programs, plus tax credits, says the State Department's annual report to Congress on the refugee program.
The one-agency, $126-billion firehose of cash, however, was a huge taxpayer subsidy to the refugee groups which delivered the refugee to cities and towns. It is also a huge subsidy to the low-wage employers who hired the refugees in place of higher-wage Americans, and to the grocery stores and apartments who sold food and rented apartments to the new arrivals.
The huge cost adds up to $670 per working American, not counting the hard-to-assess costs of crowded schoolrooms, flooded labor markets, civic diversity, and shifts in political power away from Americans.
The massive spending will continue because the vast majority of the 606,000 refugees remain in the United States, mostly in low-skilled jobs, and will age into retirement. Since 2014, former President Barack Obama imported an additional 155,000 refugees.
The expenses are high because few of the refugees have the skills to earn a good living. The report noted:
Education level: Respondents age 25 or older averaged 8.7 years of education before arrival; about half did not have a high school diploma upon arrival; and 29 percent of refugees age 25 or older listed their prior educational attainment as "none." Among respondents age 18 and older, 16 percent were pursuing a degree of some kind, with most seeking high school equivalency.

English language proficiency: Respondents improved their English over time, but large deficits remain. Among refugees age 18 or older who had lived in the United States between 4.5 and 6.5 years, 53 percent spoke English "not well" or "not at all," based on self-assessments.

Employment: 59 percent of respondents ages 16 to 64 were employed, lower than the 67.5 percent employment rate for native-born members of the U.S. population. Male respondents were employed at a rate roughly on par with the U.S. population after being in the United States for only two years. Employed refugees age 18 or older earned $12 per hour on average.

Public benefits use: Two percent of respondent households reported public assistance as their only source of income; 27 percent received cash welfare of some kind, most often Supplemental Security Income (SSI); and 56 percent received Supplemental Nutrition Assistance Program (SNAP) benefits. Among respondents age 18 or older, 57 percent reported having health coverage throughout the previous year, while 34 percent reported no health coverage. Among those with coverage, about half received Medicaid or Refugee Medical Assistance.
President Donald Trump has dramatically braked the inflow to 53,000 refugees in 2017 and has promised to accept a maximum of 30,000 organized-inflow refugees in 2019.
Also, the Department of Homeland Security has announced a new regulation to deny visas and green cards to foreigners who poor, unskilled, or old. For the moment, the rule does not apply to refugees.
Trump's slowdown has reduced the impact of refugee migration on Americans cities, such as Lewiston, Maine, or Kansas City, Kansas.
The reduced inflow has also forced many employers, especially meatpackers, to raise wages for Americans. Breitbart News reported:
The State Department's report provided a chart showing how the HHS agency spent the money: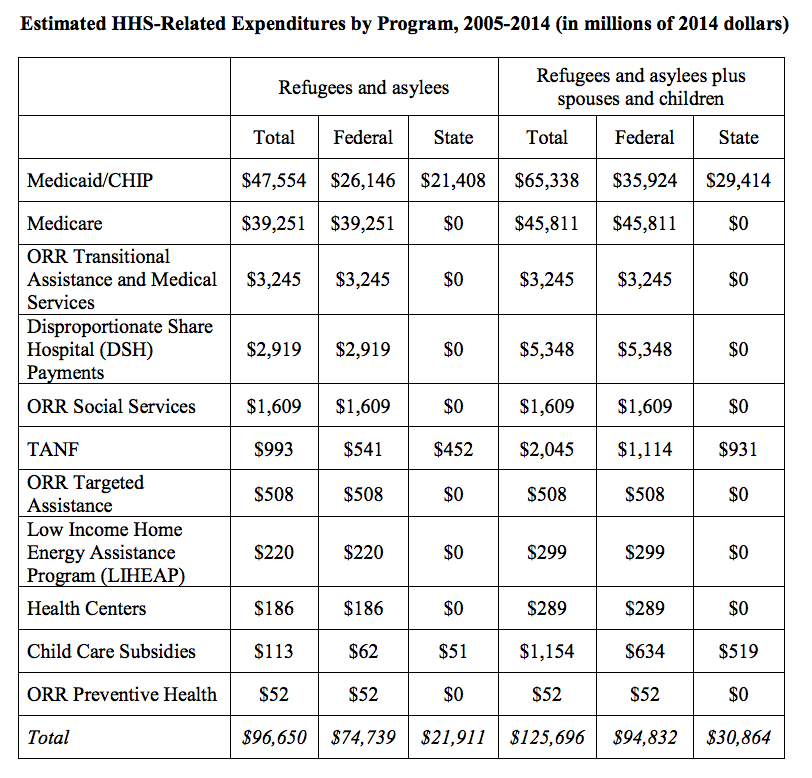 The report detailed which migrants were treated as refugees:
HHS estimated expenditures from the major HHS programs assisting refugees and asylees and their dependents over the 10-year period 2005-2014. For purposes of its analysis, HHS included individuals who entered the United States since 1980 as refugees, asylees, Iraqi and Afghan Special Immigrant Visa (SIV) holders and their spouses and unmarried children under the age of 21, Cuban and Haitian entrants, certain Amerasians from Vietnam, victims of a severe form of trafficking who have received certification or eligibility letters from ORR, trafficking victims family members with T nonimmigrant visas, and some victims of torture. Individuals who later changed their immigration status to legal permanent resident or naturalized as U.S. citizens are included as well.
Four million young Americans will join the workforce this year, but the federal government will also import 1.1 million legal immigrants, and allows an army of at least 2 million blue-collar and white-collar visa-workers to work U.S. jobs, alongside asylum-claiming migrants and illegal aliens.
That flood of outside labor spikes profits and Wall Street values by cutting salaries for manual and skilled labor offered by blue-collar and white-collar employees. The policy also drives up real estate prices, widens wealth-gaps, reduces high-tech investment, increases state and local tax burdens, hurts kids' schools and college education, pushes Americans away from high-tech careers, and sidelines at least 5 million marginalized Americans and their families, including many who are now struggling with opioid addictions. Immigration also pulls investment and wealth away from heartland states because investment flows towards the large immigrant populations living in the coastal states.
New study estimates disturbing number of illegals in USA.
September 26, 2018
New study estimates 16 to 29 million illegals in USA, as false-documented criminals claim American victims such as Mollie Tibbetts and NFL player Edwin Jackson.
"The number of undocumented immigrants living in the United States stayed steady for an eighth straight year in 2016 with 11.3 million people," reported USA Today last year, citing a report from Pew Research that pegs the "unauthorized" population as "no different from the 2009 or 2015 estimates."
Those who view the 11.3 estimate as bogus now have some support.
Last Friday, Guatemalan national Manuel Orrego-Savala was sentenced to 16 years in prison for killing Edwin Jackson, a linebacker for the Indianapolis Colts of the National Football League. The white Guatemalan illegal had a blood-alcohol content nearly two and a half times the legal limit when he crashed his truck into Jackson, killing the African American and his Uber driver Jeffrey Monroe.
Orrego-Savala, or whatever his real name is, was in the country illegally and had been deported in 2007 and 2009, returning with no difficulty. Jackson's mother, Mary Ellen Powell Jackson, got the news as she was leaving church. "Our hearts have been ripped apart and we're always asking, 'Why Edwin?'" she told reporters, a hardworking, caring son with "a heart of gold."
Deborah Monroe, Jeffrey's widow, spoke directly to the Guatemalan illegal. "My family and I are serving a life sentence because of you," Monroe said, "you're a drunk, a liar, a murderer and a coward."
The murder victim's brother, Jake Tibbets, told Fox News his sister, "a beautiful young girl," was killed by a "horrible person that came in from Mexico, illegally." Investigators said he entered illegally between four and seven years ago, evidence that the border is totally porous and that U.S. officials have no clue how many illegals are in the United States.
One of the illegals is Mexican national Luis Bracamontes, who in 2014 in Sacramento gunned down police officers Danny Oliver and Michael Davis. In his trial earlier this year, the Mexican said "I wish I had killed more of the motherfuckers" and called witness Anthony Holmes a "nigger" before yelling at the jury "black lives don't matter!" The racist Mexican had also been previously deported.
So had the Mexican criminal calling himself Garcia Zarate, along with other fake names. He was slated to be handed over to federal officials but in 2015 the sanctuary city of San Francisco released him. The Mexican criminal then gunned down Kate Steinle on a San Francisco pier. A San Francisco jury found Garcia Zarate not guilty and defense attorney Francisco Ugarte called the verdict "a vindication for the rights of immigrants."
Mexican national Juan Corona was deported in 1956 but duly returned and became a labor contractor. Corona wound up killing 25, including Charles Fleming, Melford Sample, Donald Smith, John J. Haluka, Warren Kelley, Sigurd Beierman, William Emery Kamp, Clarence Hocking, James W. Howard, Jonah R. Smallwood, Elbert T. Riley, Paul B. Allen, Edward Martin Cupp, Albert Hayes, Raymond Muchache, John H. Jackson, Lloyd Wallace Wenzel, Mark Beverly Shields, Sam Bonafide and Joseph Maczak.
Not a single one was Mexican and Corona also sodomized the victims and mutilated them with a machete. So the worst murderer in California and possibly U.S. history, now 84, was not even supposed to be in the country. Neither was Mexican national Lorenzo Sanchez, who raped 12-year-old Cally Jo Larson, stabbed her in the chest, then strung up the victim's bleeding body from a staircase banister.
Even those who didn't vote for Donald Trump might think that kind of violent crime calls for tough border security and building the wall. As the president recently tweeted.
"I want to know, where is the money for Border Security and the WALL in this ridiculous Spending Bill, and where will it come from after the Midterms? Dems are obstructing Law Enforcement and Border Security. REPUBLICANS MUST FINALLY GET TOUGH!"
So far they aren't, and the left doesn't want the government to know how many false-documented illegals are criminals or even how many illegals are in the country. The Trump administration has proposed a citizenship question on the 2020 census. The ACLU calls this "a deliberate attempt by President Trump to once again attack immigrants."
70% OF ILLEGALS GET WELFARE!
"According to the Centers for Immigration Studies, April '11, at least 70% of Mexican illegal alien families receive some type of welfare in the US!!! cis.org"
So when cities across the country declare that they will NOT be sanctuary, guess where ALL the illegals, criminals, gang members fleeing ICE will go???? straight to your welcoming city. So ironically the people fighting for sanctuary city status, may have an unprecedented crime wave to deal with along with the additional expense.
$17 Billion dollars a year is spent for education for the American-born children of illegal aliens, known as anchor babies.
$12 Billion dollars a year is spent on primary and secondary school education for children here illegally and they cannot speak a word of English.
$22 billion is spent on (AFDC) welfare to illegal aliens each year.
$2.2 Billion dollars a year is spent on food assistance programs such as (SNAP) food stamps, WIC, and free school lunches for illegal aliens.
$3 Million Dollars a DAY is spent to incarcerate illegal aliens.
30% percent of all Federal Prison inmates are illegal aliens. Does not include local jails and State Prisons.
2012 illegal aliens sent home $62 BILLION in remittances back to their countries of origin. This is why Mexico is getting involved in our politics.
$200 Billion Dollars a year in suppressed American wages are caused by the illegal aliens.
Nearly One Million Sex Crimes Committed by Illegal Immigrants In The United States.
IN AMERICA, YOU'RE MUCH BETTER OFF
BEING AN ILLEGAL!
THE NEW PRIVILEGED CLASS: Illegals!
This is why you work From Jan - May paying taxes to the government ....with the rest of the calendar year is money for you and your family.
Take, for example, an illegal alien with a wife and five children. He takes a job for $5.00 or 6.00/hour. At that wage, with six dependents, he pays no income tax, yet at the end of the year, if he files an Income Tax Return, with his fake Social Security number, he gets an "earned income credit" of up to $3,200..... free.
He qualifies for Section 8 housing and subsidized rent.
He qualifies for food stamps.
He qualifies for free (no deductible, no co-pay) health care.
His children get free breakfasts and lunches at school.
He requires bilingual teachers and books.
He qualifies for relief from high energy bills.
If they are or become, aged, blind or disabled, they qualify for SSI.
Once qualified for SSI they can qualify for Medicare. All of this is at (our) taxpayer's expense.
He doesn't worry about car insurance, life insurance, or homeowners insurance.
Taxpayers provide Spanish language signs, bulletins and printed material.
He and his family receive the equivalent of $20.00 to $30.00/hour in benefits.
Working Americans are lucky to have $5.00 or $6.00/hour left after Paying their bills and his.
The American taxpayers also pay for increased crime, graffiti and trash clean-up.
THE INVISIBLE CALIFORNIA
De facto apartheid world in the Golden State.