Louis Farrakhan: 'I'm Not An Anti-Semite. I'm Anti-Termite.'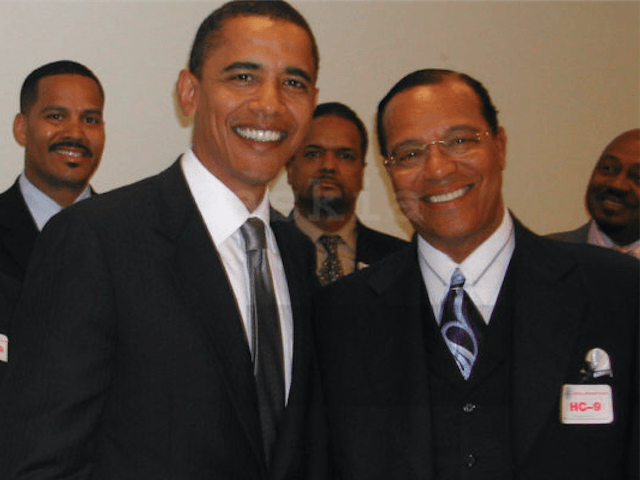 Nation of Islam leader Louis Farrakhan addressed a gathering in Detroit on Sunday to mark the 23rd anniversary of the Million Man March, and used it as a platform to launch yet another attack on Jews, calling them "termites."
Farrakhan posted clips of his speech to his Twitter account on Tuesday.
"To the members of the Jewish community that don't like me, thank you very much for putting my name all over the planet … I'm not mad at you, 'cause you're so stupid," Farrakhan said.
"So when they talk about Farrakhan, call me a hater, you know they do, call me an antisemite — stop it! I'm anti-termite! I don't know nothing about hating somebody because of their religious preference."
Farrahkan also spoke out against Supreme Court Justice Brett Kavanaugh:
New York Assemblyman Dov Hikind (D-Brooklyn) urged fellow Democrats to condemn Farrakhan's statements about Jews.
"Farrakhan's vile statements against Whites and Jews have been ignored by my fellow Democrats," Hikind said in a press release Wednesday. "There is nothing subtle about this modern-day Goebbels' hatred. This racist doesn't even hide behind an anti-Israel statement; he just publicly attacks Jews and the Jewish religion, and works to incite hatred and racism among his followers. Even worse, Democrats continue to give him a pass. Former President Bill Clinton sat next to him at Aretha Franklin's funeral. It was appalling!"
Earlier this year, photographs of Farrakhan meeting with then-Sen. Barack Obama (D-IL) and the Congressional Black Caucus in 2005 were released (see above) after being suppressed to prevent any damage to Obama's presidential ambitions.
Farrakhan's antisemitic tweet remained up on Twitter Wednesday. Twitter removed his "verified" blue checkmark earlier this year for hate speech.
Joel B. Pollak is Senior Editor-at-Large at Breitbart News. He is a winner of the 2018 Robert Novak Journalism Alumni Fellowship. He is also the co-author of
How Trump Won: The Inside Story of a Revolution
, which is available from Regnery. Follow him on Twitter at @joelpollak.
THE OBAMA MARXIST-MUSLIM BANKSTER-FUNDED THIRD TERM for life:
"Cold War historian Paul Kengor goes deeply into Obama's communist background in an article in American Spectator, "Our First Red Diaper Baby President," and in an excellent Mark Levin interview. Another Kengor article describes the Chicago communists whose younger generation include David Axelrod, Valerie Jarrett, and Barack Hussein Obama. Add the openly Marxist, pro-communist Ayers, and you have many of the key players who put Obama into power."
Karin McQuillan
"We know that Obama and his inner circle have set up a war room in his D.C.
home to plan and execute resistance to the Trump administration and his legislative
agenda. None of these people care about the American people, or the fact that
Trump won the election because millions of people voted for him."
BARACK OBAMA'S CONSPIRACY FOR A THIRD TERM FOR LIFE
First, destroy Trump and put away Hillary.
HE PARTNERS WITH ZUCKERBERG, SOROS AND LOUIS FARRAKHAN
"Obama would declare himself president for life with Soros really running the show, as he did for the entire Obama presidency."
"Hillary was always small potatoes, a placeholder as it were. Her health was always suspect. And do you think the plotters would have let a doofus like Tim Kaine take office in the event that Hillary became disabled?"
"Obama has the totalitarian impulse. After all, he went around saying he didn't have Constitutional authority to legalize the illegals, and then he tried anyway. The courts stopped him."
"The bottom line 2 is this: Barack Obama is a Communist. This was all an Obama operation. Why is anyone surprised that a communist (Obama) tried to subvert an election. That is what Communists do. It is Barack Obama and his people like Brennan and Clapper behaving to type. That's what Maduro does in Venezuela. That's what the Castro brothers did. That's what every communist and socialist nation does.

THEY FIX ELECTIONS!!"
"
Hillary kept a secret server overflowing with national security info which, more than likely, was hacked. June 28, 2016, on a Phoenix tarmac, Bill Clinton met with Attorney General Loretta Lynch to seal a deal insuring Hillary would not be prosecuted."
"
Obama, of course, covered up his own role, depicting his presidency as eight years of heroic efforts to repair the damage caused by the 2008 financial crash. At the end of those eight years, however, Wall Street and the financial oligarchy were fully recovered, enjoying record wealth, while working people were poorer than before, a widening social chasm that made possible the election of the billionaire con man and Demagogue in November 2016."
David Bernstein & The Heritage Foundation - "Lawless: The Obama Administration's Unprecedented Assault on the Constitution and the Rule of Law."
"The Lawlessness of the Obama Administration: A never-ending story."
Michael
Barone – American Historian – Washington Examiner
BARACK OBAMA'S NOT SO SECRET PRO-MU$LIM, ANTI-SEMITIC MOVE FOR A THIRD TERM FOR LIFE.
"When former president Barack Obama, former president Bill Clinton and Eric Holder, a top DOJ official in both administrations, have been caught hanging around with Farrakhan, there's a racism problem." DANIEL GREENFIELD

"Then we suffered the rattling election of Barack Obama, whose active membership in a white-, Jewish-, and America-hating church was well known to the electorate. His close personal relationship with the likes of his adored Rev. Jeremiah Wright and Louis Farrakhan was no secret. Obama was open about his goals. He told us he was out to "fundamentally transform America" and the world." ALAN BERGSTEIN
Attorney General Eric Holder: Tim Geithner can be sure he won't be hounded about his tax-dodging by his colleague Eric Holder, US Attorney General. Judicial Watch strongly opposed Holder because of his terrible ethics record, which includes: obstructing an FBI investigation of the theft of nuclear secrets from Los Alamos Nuclear Laboratory; rejecting multiple requests for an independent counsel to investigate alleged fundraising abuses by then-Vice President Al Gore in the Clinton White House; undermining the criminal investigation of President Clinton by Kenneth Starr in the midst of the Lewinsky investigation; and planning the violent raid to seize then-six-year-old Elian Gonzalez at gunpoint in order to return him to Castro's Cuba.

JUDICIAL WATCH
BARCK HUSSEIN OBAMA'S MUSLIM HERITAGE
Earlier this month, jihadists of the Al-Shabaab terror group
hijacked
a bus heading to Garissa and ordered all the passengers to exit the vehicle. The assailants asked for identification cards, then proceeded to separate the Muslims from the Christians.
When two Christians refused to recite the Islamic statement of faith, or Shahada, they were executed.
THE RISE of BARACK OBAMA, sociopath huckster from Chicago, and the FALL of AMERICA
"My guess is that the students and employees at the U of I who listened to Obama's self-righteous speech believe that Obama is ethical because most of the media intentionally hid the mass corruption, or if they reported on it, they downplayed it. The corruption and unethical behavior started as soon as Obama took office." JACK HELLNER / AMERICAN THINKER.com
"They knew Obama was an unqualified crook; yet they promoted him. They knew Obama was a train wreck waiting to happen; yet they made him president, to the great injury of America and the world. They understood he was only a figurehead, an egomaniac, and a liar; yet they made him king, doing great harm to our republic (perhaps irreparable.)" ALLAN ERICKSON
JUDICIAL WATCH TEN MOST CORRUPT
President Barack Obama
:
During his presidential campaign, President Obama promised to run an ethical and transparent administration. However, in his first year in office, the President has delivered corruption and secrecy, bringing Chicago-style political corruption to the White House. JUDICIAL WATCH