SEXUAL PREDATORS AND THEIR ACCOMPLICES GO AFTER KAVANAUGH
From Hillary Clinton to George Soros.
October 1, 2018
Daniel Greenfield, a Shillman Journalism Fellow at the Freedom Center, is an investigative journalist and writer focusing on the radical left and Islamic terrorism
Hillary Clinton, the spouse of a serial sexual predator, did a tour of the morning shows to attack Republicans and Brett Kavanaugh.
On MSNBC, Clinton told Rachel Maddow that the benefit of the doubt belonged not to the accused, but the accuser.
In a smarmy chat session with Stephen Colbert, whose old boss and patron was just forced to resign for numerous counts of sexual harassment and at least one outright sexual assault, Hillary insisted on an FBI investigation.
"It would be very easy for the FBI to go back and finish the background investigation, to investigate these charges," insisted a woman who had described her own husband's accusers as "bimbo eruptions".
Juanita Broaddrick, who had accused Bill Clinton of raping her, also accused Hillary of threatening her.
Bill Clinton's alleged assaults were not carried out in high school. But there will be no investigation of what a powerful politician did. There's no interest among Democrats in revisiting the Clinton case. And yet Hillary's hypocrisy in demanding an investigation of Brett Kavanaugh, despite her work covering up her husband's victimization of women, is typical among the Democrats and their media allies.
Senate Democrats launched their smear of Kavanaugh despite the fact that two top figures within their ranks had become notorious for their abuse of women. Ted Kennedy's crimes were so severe that they have become practically legendary. Al Franken was forced to resign, after numerous women came forward to accuse him of groping them, but retains strong support among the Democrat donor base.
That includes George Soros, who attacked Senator Kirsten Gillibrand over her criticism of Franken.
Senator Whitehouse's staff recently relayed a smear of Kavanaugh falsely claiming that the nominee had raped someone on a boat in Rhode Island in 1985. That smear has since been retracted, and has become the subject of a Senate Judiciary Committee criminal referral of the smearer. But Senator Whitehouse was far less enthusiastic when he was asked about the Democrat attacks on Gillibrand over Franken.
The militant Kavanaugh basher refused to defend Gillibrand against attacks from Dem donors and of Franken, only said, "I think this was a very tough result for Al, but he did make his own choice. And I leave that for him to have made."
While Soros-funded organizations protest Kavanaugh, the leftist grandmaster has been vocal in his support for Franken. Soros complained about due process for Franken, but wants to deny due process to Kavanaugh.
Soros funded groups have been caught handing out cash to anti-Kavanaugh protesters. But where were these protesters, some who claim to be victims of sexual assault, when Franken was in the Senate?
If they're really there to agitate for victims of sexual assaults, why are they taking money from George Soros, who has sided with an accused sexual predator over the women who claim to be his victims?
Soros' MoveOn activist group has been distributing a fundraising letter for Senator Joe Donnelly, after his refusal to approve Trump's Supreme Court nominee, by Senator Kamala Harris. While MoveOn touts the willingness of Dem senators to "believe" Christine Blasey Ford, its funder is quite reluctant to believe the numerous women who came forward to speak out against Franken. Meanwhile Ford's lawyer, Debra Katz, is the vice chair of the board of an organization funded by, among others, George Soros.
Then there's Planned Parenthood, which has been loudly assailing Kavanaugh. That's the same organization which issued a statement mourning the loss of Senator Ted Kennedy, a serial predator whose actions led to the death of at least one woman, and who assaulted a number of other women.
"As Gaviglio enters the room, the six-foot-two, 225-plus-pound Kennedy grabs the five-foot-three, 103-pound waitress and throws her on the table," a GQ story related. "Several glasses and a crystal candlestick are broken. Kennedy then picks her up from the table and throws her on Dodd, who is sprawled in a chair. With Gaviglio on Dodd's lap, Kennedy jumps on top and begins rubbing his genital area against hers, supporting his weight on the arms of the chair."
Dodd is former Senator Chris Dodd. Despite his alleged actions, he got a job heading Hollywood's Motion Picture Association of America (MPAA). That's the same entertainment industry that claims to be battling sexual harassment and whose celebrities rush to outdo each other in attacking Kavanaugh.
The former Senator had allegedly also tried to block the release of a movie critical of Ted Kennedy.
Planned Parenthood had also fiercely touted serial sexual predators like Bob Filner, Bill Clinton and Al Franken. Planned Parenthood had actually described Franken, whose victims included a feminist choir member as, "a leader for women".
"It tells survivors of sexual assault that they don't matter," a Planned Parenthood email now declares. "And it sends a message that partisan politics trumps not only fairness, but basic human compassion. Speak out now: This nomination is a disgrace. Brett Kavanaugh must withdraw."
Planned Parenthood possesses as much "basic human compassion" for women as it does for children. It has repeatedly promoted Democrat serial victimizers of women for purely partisan reasons.
And when Senator Flake and Senator Coons went to take their victory lap for forcing an FBI investigation of Kavanaugh's high school years, they did it on 60 Minutes, a show whose former executive producer, Jeff Fager, was recently forced to resign over sexual harassment allegations, on CBS, whose boss, Les Moonves, was recently also forced out over sexual harassment and sexual assault allegations.
Then Saturday Night Live, Franken's old show whose alumni had issued a statement of support for the alleged groper, then invited Matt Damon, who has admitted, after first denying it, that he was aware of some of what Harvey Weinstein, the serial rapist who made his career, had been doing to women, to mock Kavanaugh.
The gang coming after Kavanaugh consists of sexual predators and their accomplices.
The ranks of the Democrats are rotten with rapists and with their enablers, collaborators and colluders. The news networks taking cheap shots at Kavanaugh are staffed by men who are one story away from being forced to resign. The entertainment industry passionately advocating against Kavanaugh is run by compulsive predators. And the Senate Democrats and the lefty groups attacking Kavanaugh are guilty of the very crimes that they are trying to lay on the heads of Kavanaugh and the Republicans.
When an alleged rapist's wife appears a network formerly run by an alleged rapist to condemn Kavanaugh, it's time for Republicans to stop playing defense and go on the offense instead.
Nolte: Gallup Hides Big News that Hillary Clinton's Favorability Just Hit Record Low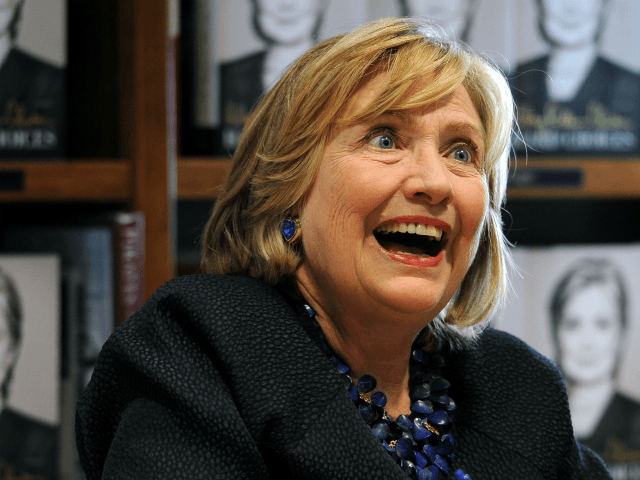 Hillary Clinton's favorability rating hit a record low of 36 percent, Gallup reluctantly reports — even though the polling firm has measured Clinton's favorability going all the way back to 1992.
Obviously, that is not the news in this poll; the news is that Hillary has hit a record low.
Gallup's sub-headlines also bury the lede. The first reads, "Hillary Clinton's favorable rating at 36%."
Again, nothing about this being a record.
The second sub-headline reads "Clinton remains a polarizing political figure," as though 64 percent of Americans not seeing her as favorable is not about as close to a consensus as you will find in a country split 50/50 on pretty much everything else.
Finally, at the end of the first paragraph, we are at long last informed that this is a "record low."
Prior to this poll, Hillary's record low favorable rating was 39 percent.
What's more, President Trump's favorability rating is a full 5 points higher than Hillary's — 41 percent, and this is despite the fact we have a corrupt establishment media battering and blistering him 24/7, while Hillary is treated like the wronged woman who would be president were it not for those damn dirty Russians.
Moreover, Gallup is always an outlier, an unreliable pollster that for some inexplicable reason polls "all adults," instead of aiming for the much more reliable numbers you get when screening for "registered voters" or "likely voters."
Oh wait, it is not "inexplicable" at all — "all adult" polls always come out better for Democrats.
A good example of this is Gallup's weekly poll gauging Trump's job approval. If you look at the Real Clear Politics poll of polls, Gallup is the only pollster polling the utterly useless "all adults." Because of this, Gallup usually comes in with the lowest approval ratings for Trump — at least until the even more unreliable Quinnipiac stumbles in.
But think about how partisan a polling company has to be to hide the big news that a major public figure like Hillary Clinton has just hit a record low in favorability — her lowest in more than a quarter century of polling.
In this world of social media, where headlines are everything, if you want clicks, you put your big news in that headline. So it is obvious Gallup did not want that headline out there — did not want Twitter and Facebook spreading the news that Precious Hillary is scraping an all-new barrel bottom.
Another deception in Gallup's so-called analysis is the ludicrous premise Hillary has retreated from the political stage.
"She has tended to be quite popular when she is no longer seen as a purely political figure," Gallup accurately explains, before adding this bunk: "Clinton's 2016 loss has largely thrust her off the political stage, though she released a memoir of the campaign last year and has made periodic public appearances."
What in heaven's name is Gallup talking about? Hillary is everywhere — on top of her sore loser book tour, she's all over — on Twitter, on talk shows, speaking engagements, interviews, and Murphy Brown cameos.
In my 30-plus years of watching politics, never before have I seen a losing presidential candidate so desperate to remain in the limelight. This even includes John Kerry and John McCain, who returned to the U.S. Senate after their respective '04 and '08 losses.
What makes Hillary's record low even more remarkable is that during the early '90s, most especially in the early days of her husband's '92 presidential campaign and in '93 and '94 when, as First Lady, she lobbied to make Hillarycare (government-run healthcare) the law of the land, few people in America were more disliked than Hillary. She was never more off-putting, dishonest, and polarizing. But even that cannot top her latest era, the era of the sore loser with the secret email server who refuses to leave the stage.
As of now, only 77 percent of Democrats have a favorable opinion of Hillary, which statistically ties with a previous low of 76 percent. Only 30 percent of Independents and four percent of Republicans agree.
Meanwhile, since winning the election, Trump's favorability has climbed from 34 percent to 41 percent — even in this dumb poll.
Kamala Harris Presents Letter Claiming Kavanaugh & Friend Repeatedly Raped 'Jane Doe' in Car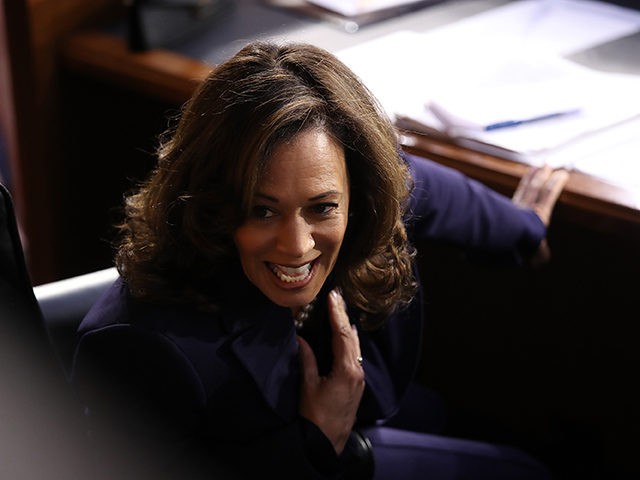 The Senate Judiciary Committee questioned Supreme Court nominee Brett Kavanaugh last Wednesday regarding a letter delivered to Sen. Kamala Harris (D-CA) in which an anonymous woman claims she was repeatedly raped by the judge without providing any details to investigate.
According to committee transcripts released Sunday, the accuser, who signed the mysterious letter as "Jane Doe," alleges Kavanaugh and a friend raped her "several times" after giving her a lift home from a party — making no attempt to claim a time or place for the lurid story.
The accuser claims Kavanaugh groped her, slapped her, and force her to perform sexual acts. "They forced me to go into the backseat and took 2 turns raping me several times each. They dropped me off 3 two blocks from my home," the accuser wrote, claiming the pair told her, "No one will believe if you tell. Be a good girl."
The letter, marked with the word "urgent," did not include a return address, nor did it offer clues regarding the accuser's background. "A group of white men, powerful senators who won't believe me, will come after me" if I reveal the incident, the accuser wrote, prompting observers to speculate the sender could be a minority.
The accusation was met with a vehement denial from Kavanaugh, who characterized the allegation as nothing short of "ridiculous."
"Nothing ever – anything like that, nothing," the Supreme Court nominee told senators concerning the accusation. "I mean, that's – the whole thing is just a crock, farce, wrong, didn't happen, not anything close."
Read the full letter below (Spaces added for easier reading):
Dear, Senator Grassley, et al.

The current situation regarding the accusations made by Dr. Ford against Brett Kavanaugh have prompted me to write you today. I have moved on with my life since he forced himself on me as well. The times were so different, and I didn't expect to be taken seriously, embarrass my family, be believed at all. I was at a party with a friend. I had been drinking. She left with another boy, leaving me to find my own way home. Kavanaugh and a friend offered me a ride home. I don't know the other boy's name. I was in his car to go home. His friend was behind me in the backseat. Kavanaugh kissed me forcefully.

I told him I only wanted a ride home. Kavanaugh continued to grope me over my clothes, forcing his kisses on me and putting his hand under my sweater. 'No,' I yelled at him. The boy in the backseat reached around, putting his hand over my mouth and holding my arm to keep me in the car. I screamed into his hand. Kavanaugh continued his forcing himself on me. He pulled up my sweater and bra exposing my breasts, and reached into my panties, inserting his fingers into my vagina. My screams were silenced by the boy in the backseat covering my mouth and groping me as well. Kavanaugh slapped me and told me to be quiet and forced me to perform oral sex on him. He climaxed in my mouth. They forced me to go into the backseat and took turns raping me several times each.

They dropped me off two blocks from my home. 'No one will believe if you tell. Be a good girl,' he told me. Watching what has happened to Anita Hill and Dr. Ford has me petrified to come forward in person or even provide my name. A group of white men, powerful senators who won't believe me, will come after me. Like Dr. Ford, I'm a teacher, I have an education, a family, a child, a home. I have credibility. Just because something happens a long time ago, because a rape victim doesn't want to personally come forward, does not mean something can't be true.

Jane Doe, Oceanside, California.
On Monday, the White House issued revised guidance to the FBI that agents can interview anyone they deem relevant as part of their investigation of Kavanaugh. President Donald Trump ordered the FBI to reopen Kavanaugh's background investigation Friday after several women accused Kavanaugh of sexual misconduct.
Speaking at a White House Rose Garden event, President Trump told reporters that he continues to support Kavanaugh, describing him as a "fine man." "I think he's a great scholar … he focused on being number one at Yale, on being number one in high school, at being number one at law," the president added. "I can so understand that."
Kavanaugh has strongly denied all allegations, issuing the following statement through the White House on Friday:
"Throughout this process, I've been interviewed by the FBI, I've done a number of 'background' calls directly with the Senate, and yesterday, I answered questions under oath about every topic the Senators and their counsel asked me. I've done everything they have requested and will continue to cooperate."
According to multiple reports, the investigation could wind down as earlier as Monday or Tuesday.
In a Senate floor speech Monday afternoon, Majority Leader Sen. Mitch McConnell (R-KY) vowed lawmakers will vote this week on Kavanaugh's nomination to the Supreme Court. "The goalpost keeps shifting, but the goal hasn't moved an inch. Not an inch," said the Kentucky senator. "Let me make it very clear. The time for endless delay and obstruction has come to a close. Judge Kavanaugh's confirmation is out of committee. We're considering it here on the floor… We'll be voting on it this week."
The Associated Press contributed to this report.