DEMOCRATS DEFEND CARAVAN CRIMINALS ATTACKING BORDER PATROL
Decry U.S. response as the use of "chemical weapons."
November 28, 2018
"Our agents were being assaulted," U.S. Border Patrol chief Carla Provost told Fox News on Monday. "A large group rushed the area and they were throwing rocks and bottles at my men and women, putting them in harm's way, as well as other members of the caravan. We needed to disperse the group, and with that assaultive nature, it was imperative that we dispersed them from the area."
Provost numbered the "migrant" caravan in the Tijuana area at 6,000, with about 1,000 participating in the assault. Department of Homeland Security boss Krystjen Neilsen had identified more than 500 criminals and said they used women and children as "human shields" in the assault. The violence did not bother Democrats, who preferred to target the Border Patrol's response.
Hawaii Democrat Sen. Brian Schatz questioned whether the border patrol had deployed "chemical weapons" and demanded to know who gave the order. Democrats made no such demand when the administration of POTUS 44 deployed tear gas 26 times in 2012 and 27 times in 2013. In 2013, under the same administration, the Border Patrol used Pava Capasaicin, also known as pepper spray, a full 151 times. This willful ignorance was hardly the only lapse of Democrats and their media allies.
Many in the caravan doubtless want jobs but in the left's default view the migrants are asylum seekers fleeing violence and persecution in their own countries. Even if those claims were legitimate, it does not follow that they should move to the United States.
As a glance at the map confirms, Honduras and El Salvador are close to Costa Rica and Panama, where the migrants could find safety. Mexico also offered asylum, which most migrants rejected. Organizers of this caravan, headed by Pueblo Sin Fronteras, aimed for the United States, but not just anywhere.
The closest border point from Honduras is the southern tip of Texas near Brownsville, 1667 kilometers from Honduras. The most distant point is the border region of Tijuana, Mexico, a full 3,652 kilometers and even farther by highway. Why would the migrants travel all that extra distance?
Tijuana borders California, a sanctuary state that welcomes and protects those violate who violate U.S. immigration law, even violent criminals. California gives illegals a host of benefits including public assistance and in-state tuition. When false-documented illegals get a driver's license the DMV registers them to vote, and more than one million have been added to the voter rolls.
Democrats see the caravan as an addition to their imported electoral college, so they favor any challenge to U.S. sovereignty, even if it involves violence. And for the sin fronteras axis, border patrol agents are the ultimate villains.
In March of 1995 U.S. Border Patrol agent Luis Santiago fell to his death pursuing illegals. Voz Fronteriza, an officially recognized student publication at the University of California at San Diego, responded with "Death of a Migra Pig," a page-one editorial that celebrated the death of Santiago and called for the killing of federal agents. As the piece said, "We're glad this pig died, he deserved to die. All Migra pigs deserve death."
The caravan's criminal core believes likewise, and attacks border patrol agents with rocks and bottles, using women and children as shields. Some also breached the old border fence of metal landing mats. As Carla Provost said, that fence needs to be replaced "with a wall."
Mexico reportedly deported 98 migrants and said it would deport 500. President Trump tweeted: "Mexico should move the flag waving Migrants, many of whom are stone cold criminals, back to their countries. Do it by plane, do it by bus, do it anyway you want, but they are NOT coming into the U.S.A. We will close the Border permanently if need be. Congress, fund the WALL."
If Mexico fails to deport the migrants the president might also push for a broad no-go zone on the Mexican side. The administration could look into legal action against caravan organizers, and tie up their funding. Those who aid the caravans should be required to register as agents of a foreign government. That should include the Univision network and its mouthpiece Enrique Acevedo, who charges that any opposition to the migrants is racist.
For their part, the migrants have other options. Havana is only 1,135 kilometers from Honduras, and the Cuban mainland only 123 miles across the Yucatan straits from Mexico. In Cuba's socialist economy everybody gets a job, and as Democrat Connecticut governor Dannel Malloy explains, "the best public health system in the Western Hemisphere is actually in Cuba, not the United States."
Instead of attacking the U.S. Border Patrol, the migrants could fight for political and economic reforms in their own countries. That will never happen if the United States fails to control its own border. The rush is on to enter before it does.
As Carla Provost explained, a caravan of 6,000 is in Tijuana, another 2,000 in Mexicali, and "more on the way." The caravans are Trojan horses for criminals, and the migrants are better described as unwelcome intruders.
A ballpark figure for those the United States should let in is zero. When violent criminals attempt to enter by force, the Border Patrol and U.S. military should repulse the assault by any means necessary.
Tags:
Illegal Immigration
Exclusive–Kris Kobach: DHS Must Enlist Police in Midst of Caravan, Border Wall Needs to Be Funded Immediately
Kansas Secretary of State Kris Kobach says in the midst of a caravan of 7,000 to 10,000 Central American migrants arriving at the U.S.-Mexico border, the Republican-controlled Congress should immediately fund a border wall and the Department of Homeland Security (DHS) must enlist police to aid U.S. Border Patrol.
During an interview with SiriusXM Patriot's
Breitbart News Sunday
, Kobach — who is being
petitioned
to lead DHS — said that the Trump administration, in dealing with a caravan of migrants at the southern border, must enlist state and police to beef up manpower and demand the Republican-controlled Congress fund a border wall.
Kobach said:
Back in 1996, we had a really excellent statute passed by Congress which was called the Illegal Immigration Reform and Immigrant Responsibility Act …

Congress also said that the Secretary of Homeland Security … has the authority to give state and local police the powers, privileges, and duties of ICE officers and Border Patrol officers if there is a mass influx of aliens

, either at a border, a land border, or a sea border. [Emphasis added]

Congress thought ahead 22 years ago and envisioned that something like this might happen and lo and behold, it's happening before our very eyes.

I think it's time for the Department of Homeland Security to use this power because having spoken with ICE and Border Patrol agents … they're saying they are overwhelmed, they need help, they need manpower down there.

And this ability to enlist local and state law enforcement to help is exactly what Congress put into place 22 years and I think we should be using it. [Emphasis added]
Kobach said that rather than focusing on "pet projects" of particular congressmen, the Republican-controlled House and Senate should be spending their last weeks in the majority funding Trump's proposed border wall.
"If there is anything that should be at the top of the list to do, while Republicans control both houses, it should be pushing along the effort to build the wall," Kobach said.
"Whether it be funding, whether it be any legislation that is necessary to strengthen our border in addition to the wall, Kobach continued. "It has to be done right now. That is the number one promise that Donald Trump made and that is the number one thing that pro-Trump legislators in Congress are associated with, that we robustly enforce our laws, that should be at the top of the list."
Listen to Kobach's full interview here:
DHS Secretary Kirstjen Nielsen has overseen enormous illegal immigration
influxes
at the southern border, as Breitbart News recently noted, where last month saw the most southwest border crossings in a single month since April 2014.
At the same time, the Trump administration has failed to effectively lobby the Republican-controlled Congress to fund a wall, more Border Patrol, and more Immigration and Customs Enforcement (ICE) agents to deal with the illegal immigration influx.
John Binder is a reporter for Breitbart News. Follow him on Twitter at
@JxhnBinder
.
Jorge Ramos: US Has Responsibility to 'Absorb' Caravan Migrants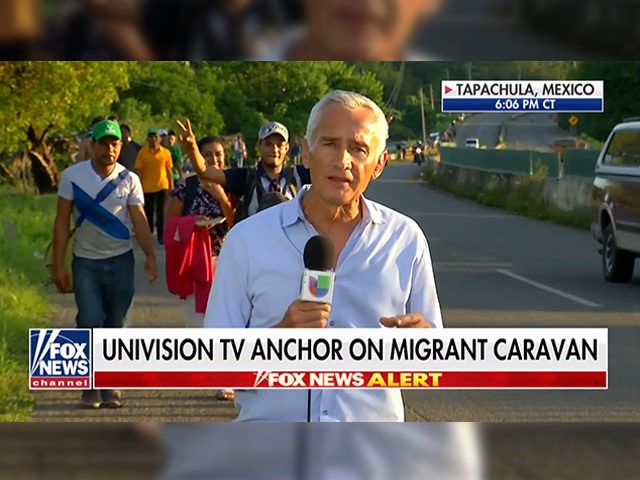 Univision anchor Jorge Ramos said on Monday that America has a responsibility to "easily absorb" the caravan migrants and claimed it can do so "without significant economic consequences."
"It's not an invasion. The U.S. can easily absorb these refugees without significant economic consequences. Many countries in the world help the 65 M people who are displaced," Ramos claimed in an Instagram post. "And the most powerful nation in history also has responsibilities. We simply have to do our share."
As Breitbart News
has been pointing out
, most of the migrants interviewed by mainstream outlets like NBC News, the
New York Times
, the
Washington Post,
the Associated Press, and CBS News have admitted that they are coming to America primarily for economic reasons and thus not eligible for asylum. After interviewing numerous migrants in the caravan,
CBS Evening News
recently
pointed out
: "Most tell us they are fleeing extreme poverty, but that's not a condition for asylum or refugee status in the U.S."
Even migrants Ramos–who was given a platform on Fox News on multiple occasions to promote his pro-migrant activism–interviewed for his Facebook Watch program admitted that they are going to the United States for economic reasons.
On Monday, San Diego Border Patrol Chief Rodney Scott also
noted
that "the vast majority of those, from what we call the northern triangle, they are economic migrants."
"They don't meet the qualifications to get asylum here," Scott said.
legal Immigration Under Trump On Track to Hit Highest Level in a Decade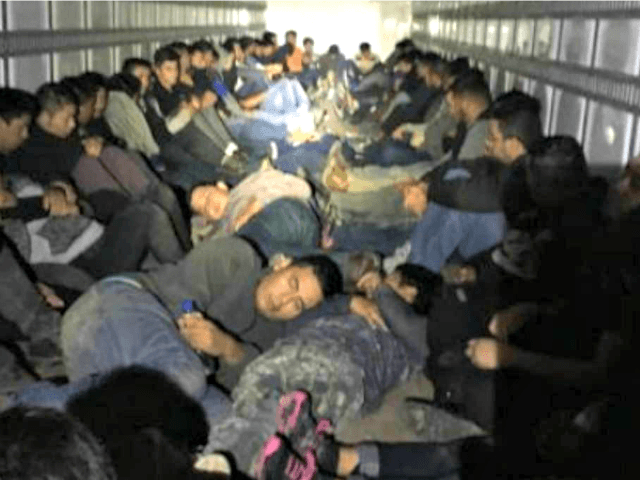 Illegal immigration at the United States-Mexico border is expected to hit the highest level in a decade next year, as border-crossings surged to record levels last month.
Last month, illegal immigration at the southern border
soared to the highest level
for a single month since April 2014, marking the most southwest border crossings since President Trump was elected in 2016 on a platform to reduce immigration to the country.
The record illegal immigration outpaced projections from Princeton Researcher Steven Kopits, who
October 2018 saw nearly 51,000 illegal aliens apprehended at the U.S.-Mexico border with family unit crossings almost doubling what they were in October 2016, under President Obama. More than 23,000 family units crossed the southern border last month, compared to about 13,100 crossing in October 2016.
Last month's illegal immigration totals at the southern border were so high that not since 2007 has the country seen this much illegal immigration in October. In October 2007, there were about 51,300 southwest border crossers.
The October 2018, illegal immigration levels are almost exactly double what southwest border crossings were this same month last year, when 25,488 apprehensions occurred.
Despite claims by the Trump administration that they have effectively curbed illegal immigration, southwest border crossings are back at Obama-era levels.
In Fiscal Year 2018, the country saw nearly 400,000 southwest border apprehensions. This is similar to the illegal immigration levels that occurred under Obama, where there were about 331,000 southwest border apprehensions in Fiscal Year 2015 and about 356,000 in Fiscal Year 2012.
Mass illegal immigration to the country under Trump has kept wage growth slow and minuscule across the board, though particular blue-collar sectors of the economy have seen higher wages for American workers as the labor market tightens.
At the same time, the Department of Homeland Security (DHS) Secretary Kirstjen Nielsen and Trump have failed to secure significant funds for a border wall and infrastructure at the southern border for the second consecutive year thus far. In August, Trump signed a massive $716 billion military budget — a boon for Defense Department contractors — that did not include a penny for his border wall.
DHS has been left to deal with surging illegal immigration by reinforcing border fences with razor wire, far from the "big beautiful wall" to which the president has consistently referred, and through help from the U.S. military.
John Binder is a reporter for Breitbart News. Follow him on Twitter at @JxhnBinder
.
Mexican Cartel Murders Beloved Musicians After Road Rage Incident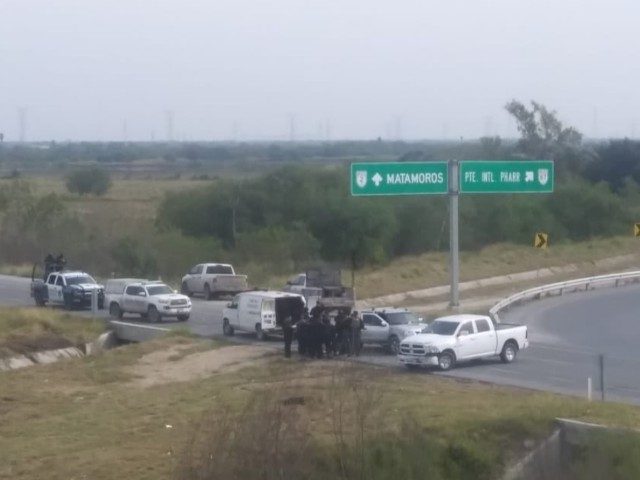 RIO BRAVO, Tamaulipas — The Gulf Cartel once again sparked outrage throughout the border cities of Tamaulipas after kidnapping and murdering two popular musicians over an apparent road rage incident. Unofficial accounts indicate the murders were the result of a roadside fistfight where one musician bested a cartel member.
The fatal kidnapping took place over the weekend when musicians from the local band "Nortenos de Rio Bravo" finished a performance in Rio Bravo. Two of the musicians were kidnapped by a team of gunmen. Their bodies were found hours later by authorities. Cartel gunmen tried to derail the search for the musicians by throwing road spikes in front of police vehicles.
Authorities found the bodies inside a gray truck along a highway between Reynosa and Rio Bravo. Cartel gunmen left a poster board trying to claim the murders were related to organized crime, however, Breitbart News consulted with various sources who say the message was a diversionary tactic. The working theory is that the gunmen are trying to misdirect blame by linking the deaths to a turf war between rival factions of the Gulf Cartel.
Law enforcement sources say the musicians got into a traffic accident with a cartel member, leading to a scuffle where one of the musicians physically bested the criminal until armed reinforcements arrived–killing the victor. Cartel members took the body and kidnapped the second musician from the roadside.