At the same time the top earners seem to accumulate all the wealth:
in 2017 Oxfam reported that the top one percent secured 82 percent of all wealth while the bottom 3.7 billion who make up the poorest of the world saw no increase in their wealth.
Favorable tax policies for the rich in the
U.S
. and
France's recently approved budget
show signs of exacerbating wealth inequality in those countries, leaving people with scarce resources contributing greater amounts of their income to basic necessities like housing, food, health care, education, and transportation.
"To secure these rights, the working class must be organized in a political struggle that takes direct aim at the wealth and prerogatives of the financial aristocracy. Capitalism, which ensures the inalienable right of the rich to profit, must be overthrown and replaced with socialism, the reorganization of society on the basis of equality and social need."
THE SUPER RICH APPLAUD TWITTER'S TRUMP'S TAX CUTS FOR THE SUPER RICH!
"The tax overhaul would mean an unprecedented windfall for the super-rich, on top
of the fact that virtually all income gains during the period of the supposed
recovery from the financial crash of 2008 have gone to the top 1 percent income
bracket."
Macron Losing Police: Interior Minister Meets Unions as Cops Complain of Cuts, Strain, Threaten 'Go Slow'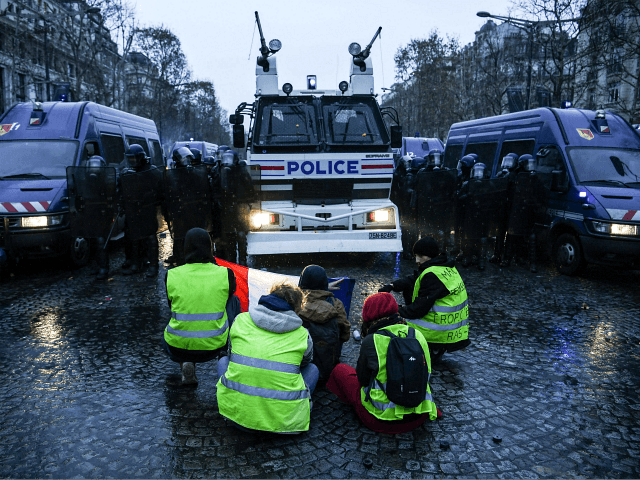 PARIS (AP) – France's interior minister is to meet with representatives of police unions, following complaints about strained resources in the wake of five straight weekends of violent protests.
Christophe Castaner has said on Twitter that he is to meet union representatives Tuesday evening.
Two police unions complained Monday about working conditions and strained resources in light of the past few weeks of protests, which have seen officers sent in to clear road blockades and control demonstrations.
Breitbart TV
The Alliance union has urged the government to invest in law enforcement while calling for a work slowdown Wednesday to protest planned cuts in the national police budget.
Another union, UNSA, said its members would only provide minimum services Tuesday and has asked to meet with French President Emmanuel Macron.
"Kansas City is getting more liberal now. The cancer is
spreading everywhere!" Yesterday, a Townhall columnist
of

Virginia

in the last decade, too. I visited there last year—

it
that there are fewer places where they can flee from
state's oppressive governments.
THE BILLIONAIRES'S GLOBALIST DEMOCRAT PARTY FOR WIDER OPEN BORDERS
the true cost of all that "cheap" labor is passed along to the middle class.
"This doesn't include the
costs of illegal immigration
to society, which provides health care, housing, education, child care, and legal services to illegal aliens. Even though immigration advocates claim that illegal aliens do indeed pay taxes, the dollar amount
pales in comparison
to the cost of the many services they receive."
"A series of recent polls in the US and Europe have shown a sharp growth of popular disgust with capitalism and support for socialism. In May of 2017, in a survey conducted by the Union of European Broadcasters of people aged 18 to 35, more than half said they would participate in a "large-scale uprising." Nine out of 10 agreed with the statement, "Banks and money rule the world."
Americans, Learn From The Yellow Jackets: Stop Running And Start Fighting Back

11 December 2018
The huge inflow of migrants and asylum seekers forced officials to issue 400,000 work permits in 2017. That is roughly one new migrant worker for every 10 Americans who entered the workforce that year. The huge inflow has also jammed the immigration courts, ensuring that new migrants can work for a few years before a judge decides their case.
The inflow of asylum-seeking migrants, nonetheless, is far smaller than the inflow of legal immigrants and temporary visa-workers, which added roughly 2 workers in 2017 for every four Americans who entered the workforce.
Nationwide, the U.S. establishment's economic policy of using legal migration to boost economic growth shifts wealth from young people towards older people by flooding the market with cheap white collar and blue collar foreign labor. That flood of outside labor spikes profits and Wall Street values by cutting salaries for manual and skilled labor that blue collar and white collar employees.
The cheap labor policy widens wealth gaps, reduces high tech investment, increases state and local tax burdens, hurts kids' schools and college education, pushes Americans away from high tech careers, and sidelines at least five million marginalized Americans and their families, including many who are now struggling with fentanyl addictions.