$2.3M in Cocaine, Meth Found in Two Border Busts, Say Feds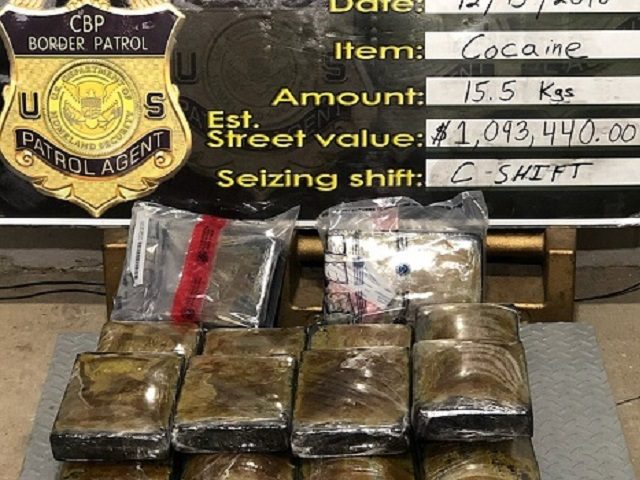 Laredo Sector Border Patrol agents seized more than $1 in cocaine at an immigration checkpoint between the border and San Antonio, Texas. Customs and Border Protection officers also seized $1.3M in methamphetamine in a border crossing smuggling attempt.
Border Patrol agents assigned to the Interstate 35 Immigration Checkpoint observed a Dodge Ram pickup truck approaching on December 15 for a standard immigration inspection. During the initial interview, a Border Patrol K-9 agent alerted to the possible presence of drugs or human cargo in the truck, according to information obtained from Laredo Sector Border Patrol officials.
Breitbart TV
The agents referred the driver and his passenger, both Mexican nationals, to the secondary inspection station for further investigation. Agents discovered 14 bundles they suspected to be drugs, hidden in the vehicle's spare tire. Officials said the bundles were wrapped in clear cellophane and black tape.
In total, the agents seized more than 34 pounds of what tested positive to be cocaine. Officials estimate the value of the cocaine at $1,093,440.
Border Patrol agents arrested the two Mexican citizens on charges related to drug smuggling and seized the Dodge Ram truck. They turned the drugs over to the Drug Enforcement Administration for further investigation and possible prosecution.
Two days earlier, U.S. Customs and Border Protection (CBP) officers assigned to the Juarez-Lincoln International Bridge seized more than $1.3 million in drugs as two Mexican women attempting to enter the U.S. Officers observed a Chevrolet Silverado pickup truck approaching the initial inspection station. The officers referred the 27-year-old female driver and her 28-year-old female passenger to a secondary inspection station, according to information obtained from CBP officials.
A K-9 trained to detect drugs and human cargo alerted to the vehicle. A non-intrusive imaging system confirmed anomalies in the truck. A subsequent search of the vehicle by CBP officers uncovered three sealed buckets allegedly containing 94 pounds of methamphetamine. Officials estimated the value of the drugs at $1,322,848.
The CBP officers arrested the women and seized the vehicle and drugs. The officers turned the drugs over to Homeland Security Investigations for further review and possible prosecution for drug smuggling.
Bob Price
serves as associate editor and senior political news contributor for the Breitbart Border team. He is an original member of the Breitbart Texas team. Follow him on Twitter
@BobPriceBBTX
and
Facebook
.
FIGHTING THE RICH, DEMOCRAT AND GOP POLS FOR OUR JOBS AND BORDERS.
Amnesty is all about keeping wages depressed and passing the true cost along to what is left of the America middle-class.
The huge inflow of migrants and asylum seekers forced officials to issue
400,000 work permits
in 2017. That is roughly one new migrant worker for every 10 Americans who entered the workforce that year. The huge inflow has also jammed the immigration courts, ensuring that new migrants can work for a few years before a judge decides their case.
The inflow of asylum-seeking migrants, nonetheless, is far smaller than the inflow of legal immigrants and temporary visa-workers, which added roughly 2 workers in 2017 for every four Americans who entered the workforce.
Nationwide, the U.S. establishment's economic policy of using legal migration to boost economic growth shifts wealth from young people towards older people by
flooding
the market with cheap white collar and blue collar foreign
labor
. That flood of outside labor
spikes
profits and Wall Street values by
cutting
salaries for manual and skilled labor that blue collar and white collar
employees
.
The cheap labor policy
widens
wealth gaps,
reduces
high tech investment,
increases
state and local tax burdens,
hurts
kids' schools and
college
education,
pushes
Americans away from high tech careers, and sidelines at least five million
marginalized
Americans and their families, including many who are now
struggling
with fentanyl addictions.
THE MEXICAN CRIME TIDAL WAVE:
In Los Angeles, 95 percent of all outstanding warrants for homicide (which total 1,200 to 1,500) target illegal aliens. Up to two-thirds of all fugitive felony warrants (17,000) are for illegal aliens.
"The Obama Administration seems to be heeding to Mexico's request by openly halting the deportation of hundreds of thousands of illegal immigrants. Additionally, the administration has a "backdoor amnesty" plan to legalize millions of undocumented aliens in case Congress doesn't pass legislation to do it." JUDICIAL WATCH