Mexican Uber driver illegally in US is charged with FOUR rapes and first degree burglary in California
Alfonso Alarcon-Nunez, 39, was arrested and charged with raping, assaulting and robbing at least four women in San Luis Obispo, California




He allegedly targeted intoxicated women for Uber rides after parties




Once at their homes, he allegedly assaulted them and stole items from them

Authorities said he was in the US illegal, after a voluntary deportation in 2005



California
prosecutors said an
Uber
driver living in the country illegally has been charged with raping, assaulting and robbing young women.
San Luis Obispo County District Attorney Dan Dow said Monday that Alfonso Alarcon-Nunez's alleged four victims are between 19 and 22 years old and three were intoxicated when they were assaulted.
The 39-year-old Mexican citizen faces 10 criminal charges including forcible rape and first degree burglary for the alleged incidents that occurred on December 17, 2017, January 5 and January 14.
Alfonso Alarcon-Nunez, 39, has been charged with sexually assaulting at least four women in California. The Uber driver allegedly targeted intoxicated women after parties, soliciting them for rides and then assaulting and robbing them once at their homes
Alarcon-Nunez is suspected of having sexually assaulted at least four women in California's San Luis Obispo, but authorities said there could be additional victims in the county and its neighboring Santa Barbara,
KSBY
reports.
Alarcon-Nunez, who has also used the name Bruno Diaz, was arrested at his Santa Maria, California home on January 17.
Authorities then discovered that he is an undocumented immigrant, who had returned to the US illegally after having been voluntarily deported from New Mexico in 2005.
He now faces multiple charges of rape of an intoxicated victim, first-degree burglary and oral copution of an intoxicated victim. He also faces charges of assault with the intent to commit a sex offense, forcible rape and grand theft.
Officials said that Alarcon-Nunez was in the US illegally, after having been voluntarily deported in 2005. It is not known when he reentered the US
Authorities said that while Alarcon-Nunez was on duty as an Uber driver, he specifically targeted parties with the intention of soliciting rides from intoxicated women. Once arriving at their homes, he then allegedly assaulted them and stole items including cell phones, computers and jewelry.
Police said that he used a Venmo app account - under the name 'Brush Bat' - to collect his Uber payments in an effort to obfuscate both his identity and his Uber records.
Dow said detectives are looking for potential witnesses and trying to determine if there are additional victims in San Luis Obispo and Santa Barbara counties northwest of Los Angeles.
At his Monday arraignment, prosecutors asked for $1.48million in bail - a significant increase from the $200,000 bail asked for at his arrest,
The Tribune
reported.
During a press conference Monday, Dow noted that US Immigrations and Customs Enforcement confirmed that Alarcon-Nunez is a Mexican citizen and said that he was using a 2015 California driver's license, although it was not known how long he had been residing in the US.
He is being held at San Luis Obispo County Jail.
Read more:


Read more: http://www.dailymail.co.uk/news/article-5299411/Mexican-Uber-driver-US-illegally-charged-4-rapes.html#ixzz54xxgXpMM
Follow us: @MailOnline on Twitter | DailyMail on Facebook
DEATH OF THE AMERICAN MIDDLE-CLASS AND THE STAGGERING COST OF MEXICO'S WELFARE STATE AND CRIME TIDAL WAVE ON AMERICAN BACKS.
WHEN RACIST ILLEGALS MURDER AMERICANS
"Black lives don't matter," shouts Mexican cop-killer Luis Bracamontes.
January 22, 2018
After shooting Danny Oliver in the head with a 9mm handgun, Bracamontes attempted to commandeer the car of Anthony Holmes. When the African American Holmes refused, Bracamontes shot him five times. Holmes survived but Bracamontes also brandished the AR-15 rifle he used to kill Michael Davis, and he wounded another officer before being captured.
The murder of two police officers is a serious matter but the violent attack prompted no statement from California governor Jerry Brown or attorney general Kamala Harris. Both failed to lament the "gun violence" on display in the case.
In the early going Bracamontes admitted killing the cops but in his current trial in Sacramento he took it to a new level. "I wish I had killed more of the motherfuckers," he boasted, adding, that he would "break out soon and I will kill more," so "there's no need for a fucking trial."
The criminal Mexican also shouted "fuck you all," toward the Oliver and Davis families and said "Fuck Danny Oliver! Fuck Michael Davis!" The criminal illegal also called witness Anthony Holmes a "nigger."
Holmes testified that Bracamontes demanded "give me your car," and when Holmes tried to flee "he just shot me in my head, in my ear," taking other wounds in the hands. As he shot Holmes, Bracamontes wore a smirk on his face "just like he's got right now," Holmes testified.
As he left the witness stand Bracamontes told Holmes, "You're lucky I didn't kill you." The repeatedly deported Mexican then turned his attention to African American family members and jurors, shouting "black lives don't matter!" As it happens, Danny Oliver's wife Susan is African American.
In similar style, black lives did not matter to Mexican nationals Saul Isidro-Aucencio and Francisco Delgado. In 2011 the pair gunned down Jamir Miller, 15, Richard Ward, 16, and Robert Corpos, 20. Isidro-Aucensio used an AK-47 to shoot Miller in the head, and in court, Jamir Miller's mother Melissa Jellison expressed anger that the murderers of her son were in the country illegally. Judge Helena Gweon, a Berkeley alum with a JD from Harvard, told the grieving mother "This case has nothing to with illegal aliens."
The murders prompted no federal, state or local politicians to call for tougher border enforcement or more cooperation with federal law enforcement. That was also the case with the July 2015 shooting of Kate Steinle by Mexican national Jose Inez Garcia Zarate, a repeatedly deported career criminal. State politicians used the case to ramp up defiance of federal law, and have since taken that to a new level.
Under the "Immigrant Protection Act," which also kicked in January 1, employers must notify workers before a federal audit of employee records and cannot voluntarily share information without a subpoena.
"We will prosecute those who violate the law," says Becerra, once on Hillary Clinton's short list as a running mate. The state's "top cop," as the establishment media describe him, remains silent over the murder of police officers Danny Oliver and Michael Davis by Mexican national Luis Bracamontes.
When the cop-killer called Anthony Holmes a "nigger" and shouted at jurors that "black lives don't matter," that brought no comment from attorney general Becerra. Holmes, on the other hand was not going to remain silent in the face of racism. As he finished his testimony, Holmes turned to Bracamontes and told the Mexican, "Fuck you."
Californians could be forgiven for saying the same thing to ruling-class Democrats who turn a blind eye to violent criminal racists and protect false-documented illegals from deportation. Holmes' brave resistance to the cop killer also sets a strong example.
If police get in gun battle with a criminal illegal, they should shoot to kill. That way, as Luis Bracamontes said, "there's no need for a fucking trial." On the other hand, many citizens might agree, there is a need to keep racist murderers like Luis Bracamontes out of the United States of America.
Trump Releases New Ad: Democrats 'Complicit in Every Murder Committed by Illegal Immigrants'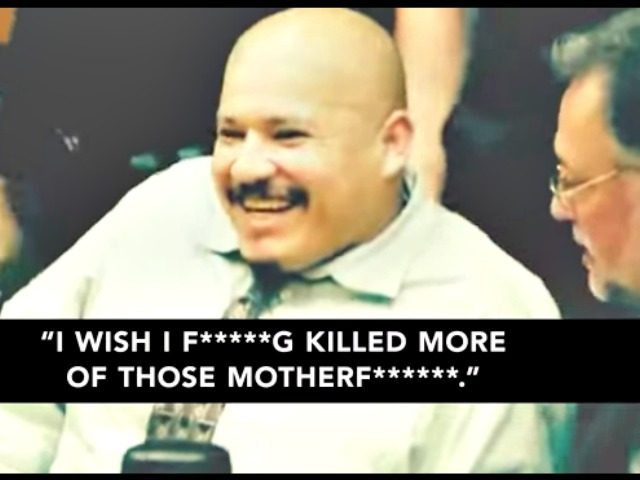 Democrats are "complicit" in illegal immigrant violent crime and murder so long as they continue blocking funding for a border wall along the U.S.-Mexico border and hold up negotiations on pro-American immigration reforms, President Trump's new campaign ad states.
The ad was released a day after Senate Democrats voted to shut down the federal government because the spending bill to keep the government open did not include amnesty for at least 3.5 million illegal aliens, as
Breitbart News
reported.
Luis Bracamontes, a 37-year-old illegal alien from Mexico who allegedly shot and killed Detective Michael Davis and Deputy Sheriff Danny Oliver in October 2017, is featured in the ad, saying in the courtroom during his murder trial that he wished he "had killed more of the motherf*ckers."
"I will break out soon and I will kill more, kill whoever gets in front of me," the illegal alien said as he smiled in the courtroom,
Breitbart News
reported. "There's no need for a f*cking trial."
"It's pure evil," the ad says.
The ad goes on to state that Democrats are "complicit" in illegal alien crime so long as they continue supporting open borders policies like sanctuary cities — which harbor criminal illegal aliens and shield them from deportation — while blocking full funding for a wall on the southern border and legal immigration-cutting reforms to raise the wages of American workers.
"President Trump is right. Build the wall. Deport criminals. Stop illegal immigration now. Democrats who stand in our way will be complicit in every murder committed by illegal immigrants," the ad states as images of House Minority Leader Nancy Pelosi (D-CA), Sen. Dick Durbin (D-IL) and Senate Minority Leader Chuck Schumer (D-NY) flash across the screen.
"President Trump will fix our border and keep our families safe," the ad concludes.
XAVIER BECERRA IS A LA RAZA "The Race" SUPREMACIST FASCIST AND MEMBER OF THE MEX SEPARTIST MOVEMENT OF M.E.Ch.A.
MEChA Supports "Reconquering" California For Mexico And "Urges All Latinos To Resist Assimilation With White Americans"
"Xavier Becerra As Fox News pointed out in a 2003 interview on the Sean Hannitty Show, Becerra has a devout relationship with MEChA, as well as The Fabian Society. But don't go looking for the clip; it is apparent Becerra's people have been busy at work cleaning up his online reputation and record." Katy Grimes and Megan Barth
"Many wonder why Xavier Becerra was chosen by Brown. But all anyone has to do is peek into the radical California Legislature, and fanatical Gov. Jerry Brown, to see the trend of militant Marxist, Socialist, Jesuit, Liberation Theology, Latino activism on the increase."
THE INVADING CRIMINALS:
A county by county chart:
According to the nonpartisan Center for Immigration Studies, the deportations occurred between October 2008 and February 2015. The
three counties
with the most deportations during this period were Los Angeles County, Calif.; Maricopa County, Ariz.; and Harris County, Texas.
*
Heather Mac Donald of the Manhattan Institute has testified before a Congressional committee that in 2004, 95% of all outstanding warrants for murder in Los Angeles were for illegal aliens; in 2000, 23% of all Los Angeles County jail inmates were illegal aliens and that in 1995, 60% of Los Angeles's largest street gang, the 18th Street gang, were illegal aliens.
ZOGY POLL ON MEX RACISM AND VIOLENCE….. Half the murders in CA
are by Mex gangs, and 93% of murders in La Raza-Occupied Los Angeles are by
Mexicans.
ZOGBY
"In Mexico, a recent Zogby poll declared that the vast majority of Mexican citizens hate Americans. [22.2] Mexico is a country saturated with racism, yet in denial, having never endured the social development of a Civil Rights movement like in the US--Blacks are harshly treated while foreign Whites are often seen as the enemy. [22.3] In fact, racism as workplace discrimination can be seen across the US anywhere the illegal alien Latino works--the vast majority of the workforce is usually strictly Latino, excluding Blacks, Whites, Asians, and others."
MEXICANS SIMPLY DO NOT LIKE WORKING WITH THOSE OUTSIDE OFR "THE RACE"
One shop steward, Martha, denounces immigrants for poisoning the atmosphere at the plant:
"[A]fter they'd [the immigrant workers] been there a while, they kind of thought they owned it. And there was more of them. You know, they kind of stay with their group, the family, you know, like aunts and cousins. And just about all of them's kin somehow, you know? They started changing their attitude… You know, and it started causing problems. We had quite a few fights in the break rooms. Then we had them carried out to the parking lot, you know."
WHEN KAMALA HARRIS WAS ATTORNEY GENERAL OF
MEXIFORNIA, SHE DECLARED THAT HALF THE MURDERS IN CA
WERE BY MEX GANGS!
Is amnesty really the answer to that???
JUDICIAL WATCH


THE GRUESOME MS-13 GANGS FROM LOS ANGELES: THEIR MURDER, RAPE, AND CRIME TIDAL WAVE IN AMERICA'S OPEN BORDERS
The illegal stabbed her to death with a screwdriver and then ran her over with her car.
THE ILLEGALS' AND THEIR CRIME TIDAL WAVE!
Heather Mac Donald of the Manhattan Institute has testified before a Congressional committee that in 2004, 95% of all outstanding warrants for murder in Los Angeles were for illegal aliens; in 2000, 23% of all Los Angeles County jail inmates were illegal aliens and that in 1995, 60% of Los Angeles's largest street gang, the 18th Street gang, were illegal aliens.
FOR YEARS MEX GANGS HAVE MURDERED IN COLD BLOOD BLACK AMERICANS TO "CLEANSE" THEIR LA RAZA-OCCUPIED HOODS.
In Mex-occupied CA, Mexican gangs now commit nearly half of all murders. In Los Angeles, Mexicans commit 93% of the murders. Really want open borders?
In just the month of October 2017 CBP Border Patrol San Diego border sector
reported
apprehension of individuals from Bangladesh (12), Brazil (1), Camaroon (3), Chad (1), China (16), El Salvador (76), Eritrea (7), Gambia (4), Guatemala (178), Honduras (54), India (101), Iran (1), Mexico (1,877), Nepal (31), Nicaragua (1), Pakistan (13), Peru (1), Somalia (1), and "Unknown" (1) — a total of 2,379 individuals. These numbers are similar to
volumes
seen in this sector for October since 2012. MICHELLE MOONS
THE MEXICAN DRUG CARTELS OPERATING IN AMERICA'S OPEN BORDERS
Overall, in the 2017 Fiscal Year, officials revealed that a record-breaking 455,000 pounds plus of drugs had already been seized. In 2016, that number amounted to 443,000 pounds. The 2017 haul is worth an estimated $6.1 billion – BREITBART – JEFF SESSION'S DRUG BUST ON SAN DIEGO
http://www.breitbart.com/texas/2017/09/20/ag-sessions-touts-record-breaking-drug-seizure-san-diego/
'
THE MURDEROUS MEXICANS….
Everyday there are 12 Americans murdered and 8 children molested by Mexicans!
Steinle's murderer, Jose Zarate and been deported 5xs!
"While walking with her father on a pier in San Francisco in 2015, Steinle was shot by the illegal alien. Steinle pleaded with her father to not let her die, but she soon passed in her father's arms."
HIGHLY GRAPHIC VIDEO!
HIGHLY GRAPHIC VIDEO!
HIGHLY GRAPHIC VIDEO!
LA RAZA DRUG CARTELS CUT OUT HEART OF LIVING MAN.
NANCY PELOSI SENDS FLOWERS TO VICTIM AND SUGGESTS HE VOTE DEMOCRAT FOR GREATER ANCHOR BABY WELFARE.
MAKING CALIFORNIA MEXICO AGAIN
"No barriers between California and Mexico" for leftist Democrats.
January 18, 2018
After the November 2016 election, California governor Jerry Brown, a three-time presidential loser, denounced the victorious Donald Trump and pledged that the Golden State would go its own way, perhaps even launching its own satellites. Brown's attorney general Xavier Becerra, once on Hillary Clinton's short list as a running mate, also defies the federal government.
BLOG: XAVIER BECERRA IS A MEMBER OF THE MEXICAN FASCIST SEPARATIST MOVEMENT OF M.E.Ch.A.
Senate boss Kevin de León, which is not the name on his birth certificate and voter rolls, authored the state's sanctuary legislation that has made false-documented illegals, even criminals, a privileged, protected class. In early January, after the legislation kicked in, California's Assembly speaker Anthony Rendon took things to a new level.
So contrary to the "Calexit" crowd, which seeks independence, Rendon wants to hook up the state with Mexico. In that cause, he touts the "historically linked governments" of Mexico City and Sacramento. The statement was not a departure from the vision of speaker Rendon, who earned a PhD in political science at UC Riverside.
On November 9, 2017, one day after the election of Donald Trump, Rendon and de Leon said in a statement: "Today, we woke up feeling like strangers in a foreign land, because yesterday Americans expressed their views on a pluralistic and democratic society that are clearly inconsistent with the values of the people of California."
BLOG: CA IS NOT A REFUGE FOR LEGALS. JUST ASK KATE STEINLE WHO WAS MURDERED BY AN ILLEGAL WHO HAD BEEN DEPORTED 5XS AND JUMPED THE BORDER TO SAN FRANCISCO BECAUSE IT WAS A "SANCTUARY CITY".
California "is – and must always be – a refuge of justice and opportunity for people of all walks, talks, ages and aspirations – regardless of how you look, where you live, what language you speak, or who you love." After several paragraphs of anti-Trump boilerplate comes the key line:
BLOG: 49 MORE MEXIFORNIAS TO GO!
"California was not a part of this nation when its history began, but we are clearly now the keeper of its future."
Speaker Rendon doubtless knows that Maine, Michigan, Illinois, Iowa, Wisconsin, Louisiana and more than two dozen other states were "not part of this nation when its history began." The focus on California reflects the belief, common among ruling-class Democrats, that California is part of Mexico.
For the record, California became part of the United States 170 years ago in 1848, a full 13 years before the Civil War, when the Ottoman Empire, Austrian Empire, and Prussia were major players on the global stage and the Kingdom of the Two Sicilies still existed. Speaker Rendon and senate boss de Leon seek to turn back the clock to 1846, before Mexico lost the war.
That is why Rendon and de Leon say "we are proud to be Californians," not Americans, because they don't see the Golden State as part of the USA. That is why Rendon proclaims "there is no sensible place for barriers between California and Mexico."
In this view, Mexicans who violate U.S. immigration law are only entering their own country and not illegal in any sense. They are therefore entitled to education, medical care, drivers' licenses, welfare, and in-state college tuition. False-documented illegals also vote in federal, state and local elections, the imported electorate of California's ruling class Democrats. California secretary of state Alex Padilla conveniently refuses to reveal voter information and will not cooperate with federal probes of voter fraud.
Meanwhile, millennials and such might not be aware of the back story here. Speaker Rendon was born in 1968, year of the Olympic Games in Mexico City. In the run-up to the games, Mexican students held demonstrations demanding more democracy. On October 2, 1968, Mexican troops gunned down hundreds of students in Tlatelolco Square, and Mexico's Partido Revolucionario Institucional (PRI) regime has been covering it up ever since, with collaboration from Vincente Fox of Mexico's PAN party.
In 2014, students at a Mexican teacher college commandeered busses to attend demonstrations commemorating the Tlatelolco massacre. Mexican police attacked the students, killing six and dragging off more than 40 others. The PRI government claimed they had been taken by a drug gang and incinerated in a garbage dump. As in 1968, Mexicans decline to accept the official story.
The PRI atrocities proved no obstacle to Rendon, who appears to believe he represents the entire state. Californians might note that the speaker did not propose a 2018 ballot initiative allowing the people to vote on whether to "step up and work with Mexico" instead of their own American federal government.
When Californians voted to make English the state's official language (Proposition 63, 1986); denied benefits for false-documented immigrants (Proposition 187, 1994); ended racial preferences in college admissions (Proposition 209, 1996) and stopped bilingual education (Proposition 227, 1998), Mexican flags suddenly appeared by the thousands.
Now, with the ruling Democrats essentially a division of the PRI, Californians feel like strangers in a foreign land. This is what happens when rule by one political party replaces the rule of law.
California, Poverty Capital
Why are so many people poor in the Golden State?
KERRY JACKSON
https://www.city-journal.org/html/california-poverty-capital-15659.html?utm_source=City+Journal+Update&utm_campaign=3bb6b8d9f2-EMAIL_CAMPAIGN_2018_01_18&utm_medium=email&utm_term=0_6c08930f2b-3bb6b8d9f2-109360857
California—not Mississippi, New Mexico, or West Virginia—has the highest poverty rate in the United States. According to the Census Bureau's Supplemental Poverty Measure—which accounts for the cost of housing, food, utilities, and clothing, and which includes non-cash government assistance as a form of income—nearly one out of four Californians is poor. Given robust job growth in the state and the prosperity generated by several industries, especially the supercharged tech sector, the question arises as to why California has so many poor people, especially when the state's per-capita GDP increased roughly twice as much as the U.S. average over the five years ending in 2016 (12.5 percent, compared with 6.27 percent).
It's not as if California policymakers have neglected to wage war on poverty. Sacramento and local governments have spent massive amounts in the cause, for decades now. Myriad state and municipal benefit programs overlap with one another; in some cases, individuals with incomes 200 percent above the poverty line receive benefits, according to the California Policy Center. California state and local governments spent nearly $958 billion from 1992 through 2015 on public welfare programs, including cash-assistance payments, vendor payments, and "other public welfare," according to the U.S. Census Bureau. Unfortunately, California, with 12 percent of the American population, is home today to roughly one in three of the nation's welfare recipients. The generous spending, then, has not only failed to decrease poverty; it actually seems to have made it worse.
In the late 1980s and early 1990s, some states—principally Wisconsin, Michigan, and Virginia—initiated welfare reform, as did the federal government under President Bill Clinton and the Republican Congress. The common thread of the reformed welfare programs was strong work requirements placed on aid recipients. These overhauls were widely recognized as a big success, as welfare rolls plummeted and millions of former aid recipients entered the workforce. The state and local bureaucracies that implement California's antipoverty programs, however, have resisted pro-work reforms. In fact, California recipients of state aid receive a disproportionately large share of it in no-strings-attached cash disbursements. It's as if welfare reform passed California by, leaving a dependency trap in place. Immigrants are falling into it: 55 percent of immigrant families in the state get some kind of means-tested benefits, compared with just 30 percent of natives, according to City Journal contributing editor Kay S. Hymowitz.
Self-interest in the social-services community may be at work here. If California's poverty rate should ever be substantially reduced by getting the typical welfare client back into the workforce, many bureaucrats could lose their jobs. As economist William A. Niskanen explained back in 1971, public agencies seek to maximize their budgets, through which they acquire increased power, status, comfort, and job security. In order to keep growing its budget, and hence its power, a welfare bureaucracy has an incentive to expand its "customer" base—to ensure that the welfare rolls remain full and, ideally, growing. With 883,000 full-time-equivalent state and local employees in 2014, according to Governing, California has an enormous bureaucracy—a unionized, public-sector workforce that exercises tremendous power through voting and lobbying. Many work in social services.
Further contributing to the poverty problem is California's housing crisis. Californians spent more than one-third of their incomes on housing in 2014, the third-highest rate in the country. A shortage of housing has driven prices ever higher, far above income increases. And that shortage is a direct outgrowth of misguided policies. "Counties and local governments have imposed restrictive land-use regulations that drove up the price of land and dwellings," explains analyst Wendell Cox. "Middle income households have been forced to accept lower standards of living while the less fortunate have been driven into poverty by the high cost of housing." The California Environmental Quality Act (CEQA), passed in 1971, is one example; it can add $1 million to the cost of completing a housing development, says Todd Williams, an Oakland attorney who chairs the Wendel Rosen Black & Dean land-use group. CEQA costs have been known to shut down entire home-building projects. CEQA reform would help increase housing supply, but there's no real movement to change the law.
Extensive environmental regulations aimed at reducing carbon-dioxide emissions make energy more expensive, also hurting the poor. On some estimates, California energy costs are as much as 50 percent higher than the national average. Jonathan A. Lesser of Continental Economics, author of a 2015 Manhattan Institute study, "Less Carbon, Higher Prices," found that "in 2012, nearly 1 million California households faced 'energy poverty'—defined as energy expenditures exceeding 10 percent of household income. In certain California counties, the rate of energy poverty was as high as 15 percent of all households." A Pacific Research Institute study by Wayne Winegarden found that the rate could exceed 17 percent of median income in some areas. "The impacts on the poorest households are not only the largest," states Winegarden. "They are clearly unaffordable."
Looking to help poor and low-income residents, California lawmakers recently passed a measure raising the minimum wage from $10 an hour to $15 an hour by 2022—but a higher minimum wage will do nothing for the 60 percent of Californians who live in poverty and don't have jobs, and studies suggest that it will likely cause many who do have jobs to lose them. A Harvard study found evidence that "higher minimum wages increase overall exit rates for restaurants" in the Bay Area, where more than a dozen cities and counties, including San Francisco, have changed their minimum-wage ordinances in the last five years. "Estimates suggest that a one-dollar increase in the minimum wage leads to a 14 percent increase in the likelihood of exit for a 3.5-star restaurant (which is the median rating)," the report says. These restaurants are a significant source of employment for low-skilled and entry-level workers.
Apparently content with futile poverty policies, Sacramento lawmakers can turn their attention to what historian Victor Davis Hanson aptly describes as a fixation on "remaking the world." The political class wants to build a costly and needless high-speed rail system; talks of secession from a United States presided over by Donald Trump; hired former attorney general Eric Holder to "resist" Trump's agenda; enacted the first state-level cap-and-trade regime; established California as a "sanctuary state" for illegal immigrants; banned plastic bags, threatening the jobs of thousands of workers involved in their manufacture; and is consumed by its dedication to "California values." All this only reinforces the rest of America's perception of an out-of-touch Left Coast, to the disservice of millions of Californians whose values are more traditional, including many of the state's poor residents.
California's de facto status as a one-party state lies at the heart of its poverty problem. With a permanent majority in the state senate and the assembly, a prolonged dominance in the executive branch, and a weak opposition, California Democrats have long been free to indulge blue-state ideology while paying little or no political price. The state's poverty problem is unlikely to improve while policymakers remain unwilling to unleash the engines of economic prosperity that drove California to its golden years.
ILLEGALS & WELFARE
WE CAN'T TAKE CARE OF OUR OWN, AND YET WE LET MEXICO BUILD THEIR BILLION DOLLAR WELFARE STATE ON OUR BACKS!!!
70% OF ILLEGALS GET WELFARE!
"According to the Centers for Immigration Studies, April '11, at least 70% of Mexican illegal alien families receive some type of welfare in the US!!! cis.org"
So when cities across the country declare that they will NOT be sanctuary, guess where ALL the illegals, criminals, gang members fleeing ICE will go???? straight to your welcoming city. So ironically the people fighting for sanctuary city status, may have an unprecedented crime wave to deal with along with the additional expense.
*
$17 Billion dollars a year is spent for education for the American-born children of illegal aliens, known as anchor babies.
*
$12 Billion dollars a year is spent on primary and secondary school education for children here illegally and they cannot speak a word of English.
*
$22 billion is spent on (AFDC) welfare to illegal aliens each year.
*
$2.2 Billion dollars a year is spent on food assistance programs such as (SNAP) food stamps, WIC, and free school lunches for illegal aliens.
*
$3 Million Dollars a DAY is spent to incarcerate illegal aliens.
30% percent of all Federal Prison inmates are illegal aliens. Does not include local jails and State Prisons.
*
2012 illegal aliens sent home $62 BILLION in remittances back to their countries of origin. This is why Mexico is getting involved in our politics.
*
$200 Billion Dollars a year in suppressed American wages are caused by the illegal aliens.
*
Nearly One Million Sex Crimes Committed by Illegal Immigrants In The United States.
JOHN BINDER
CALIFORNIA MOVES CLOSER TO FINAL SURRENDER TO LA RAZA SUPREMACY DE FACTO CITIZENSHIP PER LA RAZA:
NO TEST, NO BACKGROUND CHECKS ON CRIMINALITY, NO BACK TAXES, NO
FINES.... JUST JUMP STRAIGHT TO VOTING BOOTHS! AND VOTE OFTEN!!!
In 2013, California lawmakers passed legislation that allowed illegal aliens to obtain driver's licenses if they can prove to the Department of Motor Vehicle (DMV) their identity and state residency. The plan was one of the largest victories to date by the open borders lobby.… JOHN BINDER – BREITBART.com
CALIFORNIA: NOW THE MEXICAN CRIME COLONY
THE MURDEROUS MEXICANS….
Everyday there are 12 Americans murdered and 8 children molested by Mexicans!
Steinle's murderer, Jose Zarate and been deported 5xs!
"While walking with her father on a pier in San Francisco in 2015, Steinle was shot by the illegal alien. Steinle pleaded with her father to not let her die, but she soon passed in her father's arms."
'Dreamer'-age Illegals Have Crime Rate Double Young Americans, Says Report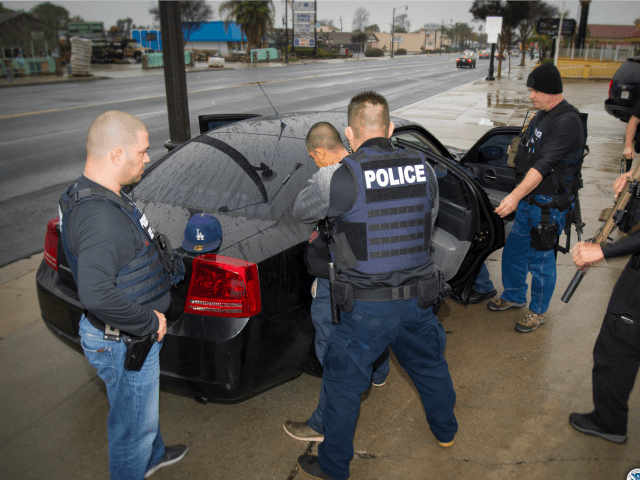 DACA-aged illegals commit crimes at twice the rate of young Americans, says a comprehensive summary of crimes and convictions in Arizona during the past 32 years.
The report punctures claims by pro-amnesty advocates that young 'dreamer' illegals are vital to U.S. industry and civic life, and indicate that any amnesty will ensure that many more crimes — including murders and rapes — will be inflicted against Americans and legal immigrants, including Hispanics and blacks.
Unfortunately, if the goal of DACA is to give citizenship to a particularly law-abiding group of undocumented immigrants, it is accomplishing the opposite of what was intended. As Table 8 shows, DACA age eligible undocumented immigrants are 250% more likely to be convicted of crimes than their share of the population. Those too old for DACA status are convicted at a relatively low rates (45.7% more than their share of the Arizona population).
The summary of the report, titled "Undocumented Immigrants, U.S. Citizens, and Convicted Criminals in Arizona," says:
Using newly released detailed data on all prisoners who entered the Arizona state prison from January 1985 through June 2017, we are able to separate non-U.S. citizens by whether they are illegal or legal residents. These data do not rely on self-reporting by criminals. Undocumented immigrants are at least 142% more likely to be convicted of a crime than other Arizonans. They also tend to commit more serious crimes and serve 10.5% longer sentences, more likely to be classified as dangerous, and 45% more likely to be gang members than U.S. citizens …

If undocumented immigrants committed crime nationally as they do in Arizona, in 2016 they would have been responsible for over 1,000 more murders, 5,200 rapes, 8,900 robberies, 25,300 aggravated assaults, and 26,900 burglaries.
The report was prepared by John R. Lott Jr.
at the
Crime Prevention Research Center, in Alexandria, Va. He told Breitbart News:
The data there shows the convictions for everybody who entered the prisons system from January 1985 through June of this last year … It just shows that certain groups are convicted at much higher rates than their share of the population … [roughly 75 percent] of the crime committed by undocumented immigrants or illegal aliens is committed by those who are 15 to 35 years of age.
Legal immigrants are very different from illegal immigrants, he said.
Illegal immigrants are being convicted at very high rates compared to their share of the population. Legal immigrants appear to be fairly law-abiding, and are convicted at low rates compared to their share of the population.
The database used for the report does not describe the race or ethnic identity of the victim, but national data shows that most victims are part of the same group as their criminals, he said. Lott added:
What tends to happen across all the different racial groups is that criminals are of the similar race as the victim … the crime literature [shows] that victims tend to be similar to the perpetrators of the crimes … Obviously, a larger share of the victims will also be undocumented illegal aliens.
Unsurprisingly, polls show that many legal immigrants want stronger border security. In 2014, for example, a pro-amnesty poll funded by Mark Zuckerberg showed that 78
percent of Hispanic respondents support "substantially increasing security among US-Mexican border."
Asked to rebut likely criticisms of the crime report, Lott said he had seen few criticisms so far. "I don't know what people will say — it seems like a straightforward set of numbers," he said.
However, he noted that the report does not include any data about unreported crimes. "That raises the possibility that a lot of crimes are not reported … looking at convictions might provide you with an underestimate of the crime these illegals have committed."
Lott's report sheds more light on the 3.25 million 'dreamers' who would be the beneficiaries of an amnesty now being pushed by Democratic politicians, business-first GOP legislators, and cheap-labor business groups.
Pro-amnesty groups frequently portray the young illegals as a gain for the American society. Illegal migrants "embody the best of our nation," Rep. Nancy Pelosi, the leader of the Democrats in the House of Representatives, said in December.
But that pitch is contradicted by Lott's crime data, by the self-reported earnings of the migrants, their very poor education [less than 2 percent have college degrees) and by the very beneficial economic impact for Americans of excluding illegal immigrants.
In Arizona, for example, labor and immigration reforms began in 2004, and the state's population of roughly 450,000 illegals gradually dropped by roughly 180,000 people from 2007 to 2012. Because of the 40 percent drop in illegal labor, the wages earned by Americans rose significantly, said a subsequent study by Moody's Analytics. According to the Wall Street Journal report on the study:
The median income of low-skilled whites who did manage to get jobs rose about 6% during that period, the economists estimate … wages rose about 15% for Arizona farmworkers and about 10% for construction between 2010 and 2014 … Some employers say their need for workers has increased since then, leading them to boost wages more rapidly and crimping their ability to expand … graduates [at a federal job-training center] now often mull two or three jobs offers from construction firms and occasionally start at $14.65 an hour instead of $10 … At DTR Landscape Development LLC, the firm's president, Dick Roberts, says he has increased his starting wage by 60% to $14.50 an hour because he is having trouble finding reliable workers.
The departure of foreign migrants also cut the state government's welfare costs by roughly $430 million per year, the WSJ reported.
The number of students enrolled in intensive English courses in Arizona public schools fell from 150,000 in 2008 to 70,000 in 2012 and has remained constant since. Schooling 80,000 fewer students would save the state roughly $350 million a year, by one measure … annual emergency-room spending on noncitizens fell 37% to $106 million, from $167 million. And between 2010 and 2014, the annual cost to state prisons of incarcerating noncitizens convicted of felonies fell 11% to $180 million, from $202 million.
Housing costs also dropped, making it much easier for better-paid young Americans to marry, have children and launch themselves into a middle-class life.
"It was like, 'Where did everybody go?' " says Teresa Acuna, a Phoenix real-estate agent who works in Latino neighborhoods. Real-estate agent Patti Gorski says her sales records show that prices of homes owned by Spanish-speaking customers fell by 63% between 2007 and 2010, compared with a 44% drop for English-speaking customers, a difference she attributes partly to financial pressure on owners who had been renting homes to immigrants who departed.
The rising wages and loss of cheap labor also forced local companies to invent or buy new machinery that will boost productivity and allow farms to beat their low-wage, labor-intensive, foreign competition.
After Arizona passed a series of tough anti-immigration laws, Rob Knorr couldn't find enough Mexican field hands to pick his jalapeño peppers. He sharply reduced his acreage and invested $2 million developing a machine to remove pepper stems. His goal was to cut the number of laborers he needed by 90% and to hire higher-paid U.S. machinists instead …
He says mechanization is his future. He continues to pour time and money into a laser-guided device to remove stems from peppers, which pickers now do by hand in the field. Another farmer in the area developed a mechanical carrot harvester.

Mr. Knorr says he is willing to pay $20 an hour to operators of harvesters and other machines, compared with about $13 an hour for field hands. He says he can hire skilled machinists at community colleges, so he can rely less on migrant labor.
Four million Americans turn 18 each year and begin looking for good jobs in the free market.
But the federal government inflates the supply of new labor by annually accepting 1 million new legal immigrants, by providing work-permits to roughly 3 million resident foreigners, and by doing little to block the employment of roughly 8 million illegal immigrants.
The cheap-labor policy has also reduced investment and job creation in many interior states because the coastal cities have a surplus of imported labor. For example, almost 27 percent of zip codes in Missouri had fewer jobs or businesses in 2015 than in 2000, according to a new report by the Economic Innovation Group. In Kansas, almost 29 percent of zip codes had fewer jobs and businesses in 2015 compared to 2000, which was a two-decade period of massive cheap-labor immigration.
Because of the successful cheap-labor strategy, wages for men have remained flat since 1973, and a large percentage of the nation's annual income has shifted to investors and away from employees.
Will 500-Plus Ex-DACA Criminals & Gang Members Get Amnesty Too?
More than 500 individuals who obtained DACA benefits that were later revoked due to criminal and/or gang involvement apparently are still living in the country and at large, according to statistics provided by USCIS to Sen. Chuck Grassley, chairman of the Senate Judiciary Committee. These cases are 25 percent of those who lost DACA status due to criminal and/or gang activity as of November 2017. Only about 30 percent of the ex-DACA criminal aliens have been removed or were in ICE custody as of November 2017.
According to USCIS, a total of 2,127 individuals had their DACA status terminated for criminal activity and/or gang activity as of November 22, 2017. In no more than 3 percent of these cases did the termination occur merely because of gang involvement; nearly all of the terminations followed criminal convictions or arrests, according to related data on the USCIS
website
.
USCIS provided the following breakdown of the outcome of the cases of these DACA terminations:
Removed from the United States: 562
In ICE Custody: 90
Released from ICE Custody: 535
No Record of Removal, Detention or Release by ICE: 940
Total: 2,127
While it is reassuring that USCIS is revoking DACA benefits for criminal gang members it identifies, it is concerning that almost as many criminal alien DACA beneficiaries have been released as have been removed to their home country. Most of the terminations occurred more than a year before these statistics were compiled. I assume that at least some of the 940 criminals who had DACA but who have not been removed are still in state or local custody serving time, but it is possible, even likely, that some were released by sanctuary jurisdictions, and ICE has not re-apprehended them.
USCIS also provided a list of more than 45 gang affiliations of the ex-DACA criminals. It includes some of the most violent and dangerous gangs in the United States, such as MS-13, 18th Street, the Latin Kings, and the Trinitarios. It includes some lesser-known gangs as well, with names like Last Generation Korean Killers and Maniac Latin Disciples.
USCIS has not released information on where these gang members were living, but the gang names sometimes identify their location: Oakland 30 Nortenos, Orange County, Angelino Heights Surenos, East San Diego, Inland Empire, Pacoima Van Nuys Boys, and West Merced Nortenos, all of which are presumably in California.
Under current law, gang members are not automatically barred from receiving immigration benefits such as green cards, work permits, and Temporary Protected Status, and clearly many have obtained these benefits in recent years. A fix to this loophole should be a non-negotiable element of any bill that gives amnesty to DACA recipients. The bill sponsored by several House Republican immigration committee leaders (including Goodlatte, Labrador, McCaul, and McSalley), known as the
Securing America's Future Act
, includes a section that would update the law so that criminal gang members would be barred from all immigration benefits, including the DACA amnesty, and be inadmissible and deportable. This fix also is on the White House list of
urgent priorities for immigration reform
.
Jessica M. Vaughan is Director of Policy Studies at the Center for Immigration Studies, a research institute in Washington DC.