IMAGES OF AMERICA UNDER LA RAZA MEX OCCUPATION…

gruesome!
California: A 'Sanctuary' for Criminals
The state threw out the rule of law, but Orange County will join the resistance.
The Wall Street Journal, April 3, 2018
I was born in South Korea and raised in Japan. My family moved to the U.S. when I was a teenager and worked through the legal immigration process. It was difficult and time-consuming, but we achieved our version of the American Dream—like the millions who came before us. Today this system is being threatened as California moves closer to becoming a sanctuary state, with local law enforcement under order to disregard federal law and protect illegal aliens. That's why, as a member of the Orange County Board of Supervisors, I...
. . .
https://www.wsj.com/articles/california-a-sanctuary-for-criminals-1522793743
EXCLUSIVE — Rep. Steve King: Send National Guard 'to California to Secure the Streets'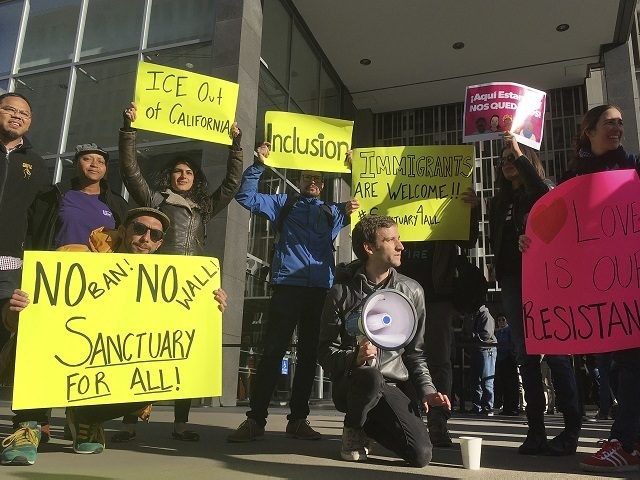 Rep. Steve King (R-IA) joined SiriusXM host Rebecca Mansour
and guest host Frances Martel for a Friday interview on Breitbart News Tonight during which he called for the deployment of the National Guard to "sanctuary cities" in California to combat immigration-related "lawlessness."
King began by expressing support for President Donald Trump's decision to deploy the National Guard to parts of the southern border. "I am absolutely in favor of deploying the national guard down to the border," he said. "I don't know that there's another alternative that matches up to that as far as the effectiveness is concerned."
LISTEN:

"We're in a situation where you have an invading army — mostly unarmed — but an invading army of 1,500 that starts off 1,500 miles away," said King. "It says, 'We are marching to America. We're going to sneak into the country. We're going to storm her borders, and once we set foot on U.S. soil, they have to treat us as asylees.' And they've all been trained to say all the right words: 'I fear going back to my home country because I have a credible fear that I'll be killed if I go back home.'"
Trump and the GOP missed an opportunity to begin construction of the wall via March's omnibus spending bill negotiations. "As far as the wall, I don't know how we get that leverage right now, not until coming to the fall when we need to get new appropriation bills with leverage," King remarked.
"I think the president should've used more leverage to get a wall built. I think he backed away from that a little too soon, and I continue to believe the president received a mandate to build a wall, not just a few miles of it, but 2,000 miles of it if he so chose. He also has a mandate to end sanctuary cities, Kate's Law, Sarah's Law, the Davis Oliver Act, which honored the lives of the two sheriff's deputies that were killed by the murderer who laughed at his sentencing and his conviction and now has been sentenced to death in California."
Rep. Dave Brat (R-VA) shared discontent with the most recent omnibus bill along the same lines as King's.
King said Democrats view illegal aliens as part of their political support base. "Democrats are looking at the illegal aliens coming into America as undocumented Democrats," he said. "As long as there's a political benefit for them, be counting those folks on their side of the ledger, we're going to have them pushing back in a place where we can't get this legislation through the Senate."
King warned that California's defiance of federal immigration law via "sanctuary" laws is sowing seeds of "civil conflict."
King stated, "Also, we get to the question of the census, and the very idea that we can't ask people, 'Are you a citizen of the United States?' without being sued by Xavier Becerra and Jerry Brown out of California and others, I mean, America has digressed so far away from the clarity of the Constitution being the supreme law of the land. When the federal government has legislation passed that is within the boundaries of the Constitution, that becomes a supreme statute of the land."
"We're being pushed back on by states that defy federal law, so the path towards a civil conflict is being drawn now by states like California," King added. "We have to be bold and strong. I would send the National Guard to the border. I'd send them to California to secure the streets of those cities so that we didn't have the lawlessness of the sanctuaries that they have created out in California."
Breitbart News Tonight broadcasts live Monday through Friday on SiriusXM's Patriot channel 125 from 9:00 p.m. to midnight Eastern (6:00 p.m. to 9:00 p.m. Pacific).
Illegal Aliens Climb Border Wall into U.S. to Taunt Trump
Four illegal aliens climbed the wall on the U.S.-Mexico border between Ciudad Juarez in Mexico and Sunland Park, New Mexico, Friday to taunt President Trump's tough-on-immigration stance.
The
Daily Mail
reported
that one migrant, with the help of three other men, leaped over the border wall and ran into U.S. territory in less than two minutes.
"He couldn't get over! He was taking forever," one of the men who helped the migrant told AFP, adding that he has seen others climb the 20-foot wall in one minute.
The Mexican man then ran off towards a group of houses before U.S. Customs and Border Protection officers could spot him.
The actions of these illegal aliens come after Trump directed the Defense Department to send thousands of troops to the U.S.-Mexico border to ramp up border security.
Trump signed a
proclamation
Wednesday directing Defense Secretary James Mattis to "request use of National Guard personnel to assist" with the Department of Homeland Security's existing efforts to secure the border.
The president's tough-on-immigration policy has prompted the organizers of a caravan of more than 1,500 Central American migrants
traveling
through Mexico toward the U.S. border to request refugee status from the U.S. to call off their group expedition.
Trump deploying token border force to fool core supporters
When President Trump said he was deploying the military to our southern border, I thought, "Finally!" Congress has blocked Trump's attempts to build a border wall and hire more border guards, but President Trump has found a unilateral action he can take to finally secure the border!
It turns out that President Trump is talking about deploying only between 2,000 and 4,000 National Guardsmen to the border. That's a tiny token force. How do we know this?
Consider that there are about 18,000 Border Patrol agents at our southern border. In light of that, an increase of only about 3,000 is tiny.
Furthermore, it's been tried before.
Past presidents, including George W. Bush and even Barack Obama, have sent guardsmen to the border. In "Operation Jump Start," President Bush sent 6,000 troops to the border – twice as many as our great presidente is proposing right now!
The Administration calls their deployment a success, citing a 24% reduction in illegal entrant arrests during the course of the mission. But what does that 24% reduction really say? Of course no one knows for sure, but up to a million illegal aliens are estimated to infiltrate the U.S. each year across the southern border. So with 6,000 Guardsmen in place, only 760,000 illegal aliens successfully infiltrated the United States.

Let's review. We deployed the National Guard to secure the southern border against illegal entry. As many as three-quarters of a million unidentified foreign nationals – five times our military deployment in Iraq – got through anyway.

That's not a success. That's a colossal failure, unless you count photo ops of the National Guard on the border as the real mission.
So Bush's 6,000 troops couldn't secure the border; but Trump expects to the same with half that number.
Why doesn't Trump draw on the necessary numbers to secure the border? The troops are there to be drawn on; the president is not limited to calling up troops from border states to guard the southern border. And President Trump certainly has the power to call up 36,000 national guardsmen.
But for some reason, President Trump is calling up a fraction of the number President Bush called up.
The only explanation I can think of is that Trump is not serious about securing the border and is taking this action to shore up his political standing with his core supporters.
President Trump is embarrassed that conservative supporters like Anne Coulter have called him out for signing a spending bill that, although funding abortion, Obamacare, and other Democratic priorities, offered him only 33 miles of new fencing, no border wall money, and virtually no money for additional border guards.
This gesture is meant to placate President Trump's supporters, who will see the headlines showing that President Trump is sending the military to the border but won't be curious enough to find out exactly how many soldiers he is sending.
For me, this is the final proof I need to be convinced that President Trump is not serious about dealing with illegal immigration or securing our southern border.
o The president agreed to end DACA but called on Congress to reinstate it legislatively.
o The president called for amnesty for at least 1.8 million illegal aliens, putting him to the left of Barack Obama.
o The Obama-era holdover running ICE is arresting illegals at a somewhat faster pace but also conducting "show raids" where businesses are warned in advance and arrests are few to none.
o The president signed legislation outlawing his border wall and providing money for only 33 miles of fencing for a 2,000-mile border.
And by the way, these guardsmen Trump is calling up? They will be totally unarmed and unable to detain a single illegal without the help of the border patrol. If drug-smugglers fire at them, they will be helpless to defend themselves. Good thinking, President Trump!
Actions have consequences. So do elections. Republicans will be demoralized from turning out for the 2018 elections because Congress hasn't moved to secure our borders and the president hasn't fought for it (remember the veto, anyone?). President Trump is positioning himself to be a one-term president by his failure to act in any significant way to secure the border or deal with illegal immigration.
Ed Straker is the senior writer at Newsmachete.com.\
50,308 Stopped at Mexican Border Last Month, Up 203% From March '17
(CNSNews.com) - More than fifty thousand people -- 50,308 -- were either apprehended or deemed inadmissible at the Southwest border last month, U.S. Customs and Border Protection said on Wednesday. It's the highest monthly total of the Trump presidency.
The 50,308 apprehended/inadmissibles in March is a 37 percent increase from the 36,695 counted in February, but a whopping 203 percent increase from March 2017's 16,588.
CBP said the number of family units increased by 49 percent from February to March, and the number of unaccompanied children increased by 41 percent compared to February.
"The traffickers and smugglers know that, if you arrive with a family, under our current legal and court system, you have a much better chance of being released into the United States," Homeland Security Secretary Kirstjen Nielsen told the White House press briefing on Wednesday. "We have seen the smugglers advertise this as an enticement. And we have seen traffickers, unfortunately, fraudulently use children to gain entry into our country."
In a conference call with reporters on Wednesday, a senior administration official, speaking on background, noted that in April 2017, the number of apprehended/inadmissibles dropped to a historic low of 15,766.
"We are no longer at that point," the official said. "The numbers we'll be releasing for March...will indicate a staggering increase from last year. And they clearly emphasize the need for additional actions."
According to CBP, last month, 37,393 individuals were apprehended between ports of entry on the Southwest border, compared with 26,662 in February and 25,978 in Janury.
Another 12,915 people were deemed inadmissible at ports of entry on the Southwest border last month, compared with 10,021 in February, and 9,839 in January.
Looking at annual totals, CBP said in Fiscal Year 2017, USBP apprehended 303,916 individuals along the Southwest Border, compared with 408,870 in FY16; 331,333 in FY15; and 479,371 in FY14.
In FY 2017, 111,275 individuals were deemed inadmissible compared to 150,825 in FY16; 114,486 in FY15; and 90,601 in FY14.
"Given the importance of secure borders to our national security, the National Guard, in coordination with governors, will remain in a support role until Congress takes the action necessary to close the loopholes undermining our border security efforts, including ending the practice of Catch and Release," the announcement said.
The Trump White House noted that President Barack Obama sent National Guard trooops to the border in 2012, and President George W. Bush did so as well during his term.
The announcement said Trump is taking action "because congressional Democrats have obstructed efforts to secure our border."