President Trump says he plans to offer foreign workers imported to the United States by Silicon Valley tech conglomerates and multinational corporations every year a "potential path to citizenship" to encourage so-called "highly skilled" migration.
Every year, more than 100,000 foreign workers are brought to the U.S. on the H-1B visa and allowed to stay for up to six years. There are about 650,000 H-1B visa
foreign workers
in the U.S. at any given moment. Americans are
often laid off
in the process and forced to train their foreign replacements, as highlighted by
Breitbart News
. More than 85,000 Americans a year potentially lose their jobs to foreign labor through the H-1B visa program.
In a tweet Friday morning, Trump reversed course on his "Buy American, Hire American" executive order, saying he wants to offer a pathway to U.S. citizenship to the hundreds of thousands of foreign workers living in the country on the H-1B visa.
Breitbart TV
"H1-B holders in the United States can rest assured that changes are soon coming which will bring both simplicity and certainty to your stay, including a potential path to citizenship," Trump said. "We want to encourage talented and highly skilled people to pursue career options in the U.S."
Trump
most recently
told the media he wanted technology corporations to import and hire more H-1B foreign workers for coveted, high-paying white-collar jobs instead of those companies seeking American graduates in the tech fields.
"It is contradictory that Trump wants to raise wages for Americans and also bring in more workers who will cut salaries," an American technology professional told Breitbart News' Neil Munro. "It is political suicide … because the tech workers believed [in 2016] he was the only one who stood up for them."
While Trump is now looking to streamline the H-1B visa to make it easier for employers to import foreign workers to take American jobs, the United States Citizenship and Immigration Services (USCIS)
had been considering
a regulatory change to tighten the program in order to ensure that American workers are not being readily replaced by mostly Indian male nationals.
Trump's tweet comes as business attempted to
outsource nearly 420,000
American jobs in Fiscal Year 2018 to H-1B foreign workers rather than hiring U.S. workers.
On the campaign trail and in his "Buy American, Hire American" executive order, Trump promised to reform the H-1B visa program to stem the tide of American workers being laid off by multinational corporations and forced to train their foreign replacements.
The most famous case was that of the laid-off American Disney workers
who rallied with Trump
on the 2016 presidential campaign trail, trusting that he would stop companies from importing foreign workers instead of hiring qualified Americans.
Last year, the laid-off Americans who sued Disney for replacing them with foreign H-1B workers
announced
they would be dropping their lawsuit after years of attempting to hold the corporation accountable.
As Breitbart News
previously reported
, more than 2.7 million H-1B foreign workers have been approved to come to the U.S. to take American jobs between 2007 and 2017. During that same period, businesses tried to outsource almost 3.5 million American jobs to foreign workers instead of hiring Americans.
About four million young Americans enter the workforce each year, many looking for white-collar jobs in the STEM fields. Those Americans' prospects of finding work are crippled by the country's legal immigration process, which admits more than 1.5 million immigrants and hundreds of thousands of foreign visa workers annually. Already, the wage-cutting business scheme has led to foreign-born workers
overwhelmingly outnumbering
Americans in the tech industry in Silicon Valley, California.
John Binder is a reporter for Breitbart News. Follow him on Twitter at @JxhnBinder.
Michelle Malkin: 'So-Called Worker Shortage' Is a 'Manufactured Crisis'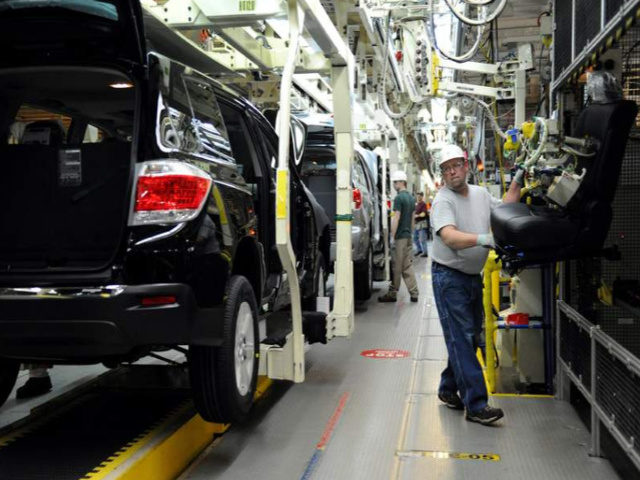 Michelle Malkin told Breitbart News Daily host Alex Marlow in an interview Friday that the "so-called worker shortage" in America is a "manufactured crisis."
Malkin said the political establishment is uninterested in "immigration enforcement."
Breitbart TV
"Having covered immigration policy and politics for more than a quarter-century, one truism about the Beltway is that the establishment of both parties do not want to prioritize immigration enforcement at the border, at the ports of entry, or at the consular offices," reflected Malkin.
Malkin continued, "Every time we've had a wake-up call that puts the blaring light on the failures of systemic immigration enforcement, we get this temporary bipartisan agreement that there should be something the government does as a basic duty, and then they hit the snooze button again. That's because all of the financial and ideological incentives entice these establishment politicians to do nothing. That's the default."
Malkin said Donald Trump amplified the importance of immigration as an issue of concern among Americans.
"I've had to fight within my own newsrooms that I've worked for to make [immigration] a priority, and so when you have a White House that is willing to speak Ronil Singh's name, for example, and to put a human face on the toll, yeah, there have been breakthroughs, and yeah, you're seeing people beyond the base finally concerned about this problem."
Malkin cast immigration as a multifaceted issue affecting culture, economics, and national security.
"This has been the third rail for Republican politicians because, of course, immigration is not just a national security and a public safety issue," stated Malkin. "It is a cultural issue. It is an economic security issue."
Malkin went on to say, "It's not just blue-collar American workers, of course–a lot of high-tech American workers who worked really hard and are the best in their industry and business in high tech, and then discover by the time that they're 40 or 45 — and by no means over the hill — that they're priced out of the market by a horde of cheap, foreign, inferior labor in an industry that so many American politicians say that there's a so-called worker shortage in. That's a manufactured crisis, if you want to talk about a manufactured crisis."
Malkin praised Donald Trump's refusal to acquiesce to left-wing and partisan Democrat charges of "racism," "xenophobia," and "ethnophobia" in response to the president's calls for immigration reform and border security.
Malkin said, "President Trump [is willing] to push back against the old, tired racism, xenophobia, ethnophobia card in the face of this and really to show how disingenuous the open borders left is."
Malkin continued, "Their hearts bleed for every last illegal family trying to get across the border, throwing rocks at our border patrol and burning our flag, and the likes of Ana Navarro and Seth Meyers and every one of these California Democrats who have written letters, lobbied, and protested about the human rights violations at the border have nothing to say about American victims of illegal alien crime, and law-abiding immigrants, for that matter."
Breitbart News Daily broadcasts live on SiriusXM Patriot 125 weekdays from 6:00 a.m. to 9:00 a.m. Eastern.