Beware the Morality of the Democrats
The Democrats have laid claim to be the new arbiters of "morality." They declare "immoral" anything that has the potential to thwart them, whether it's a wall, a hat, a facial expression, or even religion itself, particularly Christianity. This has invited soul searching on the question of whether Democrats are right or wrong in their selective declaration of morality. Some are led to ask whether Democrats might be right -- could a wall be evidence of immorality? What if my desire to protect my country, my family and myself is actually bigoted, and therefore immoral?
Such navel gazing by an objectively decent person is foolish. It is intended to bring about either a flawed acceptance of the left's version of morality, or a subtle coercion to offer no further support for something that arguably offends others, presuming their good faith in being offended. The accusation of immorality, whether express or implied, represents a distraction from the Democrats' efforts to subvert the country and its inherently moral principles.
While the Democrats don't actually care about true morality, they know you do. The very people that Democrats smear and belittle constantly as hate-filled bigots are usually self-critically evaluating their own actions and beliefs on an ongoing basis. Most normal people have been raised, or choose of their own accord, to avoid behaving unethically or immorally in relation to fundamental objective principles of right and wrong. At least, that used to be largely so.
They do not depend on politicians or activists to guide them, but look instead to a just God whom they believe morally guides them to behave with honesty and goodness. They act in ways that they believe preserve their souls, and those with whom they interact, for the eventual judgment of God. They do not believe in or practice seeming honesty and goodness toward some, while practicing virulent rage and hatred toward others. Morality is not a political sliding scale. The God of moral people is not a political party or political philosophy. Those are instruments of subjective power, making them invalid instruments of subjective justice. Raw political power, manifested in dominating and subjugating largely voiceless people to a political future of servitude to the state, is not a wellspring of morality.
Indeed, to behave morally is often the antithesis of self-interest. Because morality is about what is right, rather than what is subjectively most advantageous for the decider, true morality requires self-denial. It requires considering the welfare of others and the suffering of others, as those will flow from one's actions, and placing the interests of others over one's own when to do so is morally right. This is not social justice, or socialist justice, but moral justice. This cannot be accomplished by those given to lie about their underlying greed or self-interest, or even about how what is best for them might coincidentally be good for others when that is not their purpose.
Americans animated by actual morality make hard choices every day, even if subconsciously, not because their political affiliation or social justice colleagues will demand that they be punished if they do not but because their own souls and those of others matter to them. They care more about behaving ethically and morally than dominating. What the left calls morality a sane person sees as often-vicious intimidation driven by hyper-emotional hatred cultivated to crush others. Politically driven actors cannot owe elective fealty to a corrupt political machine, which commits objectively immoral acts and promotes policies that destroy lives, and still pretend to be moral.
Against this history, which has become increasingly portentous over decades, it is a wonder that any decent person would still entertain the possibility that the accusation of a Marxist Socialist Democrat is worthy of five seconds of thought as to its validity. In even making the accusation, the Democrats betray the cynicism of their propaganda. They tap the morality of decent people to trick them into thinking that their morality is the problem, at least when compared to the new group morality of Marxists who will say and do anything to seize total political control over millions who would not otherwise trust them to give correct change.
It defies logic to entertain the accusation of immorality from those who know that the unborn are human children, but gleefully promote their murder anyway. They lie with an ease that is both fascinating and horrifying. Their corruption is limitless, and their capacity for dishonesty is monumental. They are the embodiment of soulless cynicism, masquerading as care and concern for what is moral, knowing all the time that their words and deeds are false and poisonous. One is left to wonder how such people can even pretend to morality while practicing such evil.
The answer is simple. They, unlike moral people, do not believe in a God from whom true morality and accountability derives. Removal of God from the Democrat platform was no accident. They are perfect heirs to their atheistic Socialist and Communist forefathers. Their sense of justice is crass and corporeal rather than spiritual. Their ethics are determined by what best serves their illicit drive for power here and now, regardless of who must pay with pain and heartbreak for their gain. For them, morality permits countless rapes of women and girls trying to come here at their invitation. Socialist morality permits vast death and destruction of the lives of innocent people caused by an open border. Drugs, gangs, criminals, terrorists, all are morally acceptable in Socialist secular theology, because the lives and safety of others are irrelevant. What matters is how many new illegal Democrat voters will be enabled in our near future to negate the voices of citizens, and vote Democrats into totalitarian power in perpetuity.
For this objective, Democrats will say anything. It is up to truly moral people to stop listening to their lies and stop asking themselves whether they are moral people when powerful Democrats try to shame them. If anything, the disapproval of Democrats is a sign you are on the right track. Do not be conned when they gaslight you about what is moral. They care about making you their servants by whatever immoral means they can. Gone are the days when most Democrats in positions of authority could be considered Americans like many of the rest of us, or even remotely interested in the well-being of the United States. They serve themselves and their agenda. They are not only disinterested in the well-being of the country, but are actively working against it. They are in America, but are no longer of it.
If you really want to ponder morality, ask yourself this: What has been the fate of those who challenged previous totalitarian regimes on truly moral grounds? They were re-educated, or worse. There is no place for morality in an atheistic power cult. Don't be fooled by those who insist that your morality should conform to theirs. Listen to your soul, and keep fighting back.
Washington, D.C. (February 5, 2019)
– New analysis from the Center for Immigration Studies highlights how a new bill drafted by Democrats in the House majority reflects just how unserious they are on the subject of border security and immigration control.
Dan Cadman, a Fellow at the Center and the author of the analysis, said, "This new proposal from the Democrats is full of objectionable features. Clearly, House Democrats have no interest in real border security. It freezes Border Patrol agents' resources, severely limits detention space by cutting from the funding requests, and radically expands 'alternatives to detention' instead, a feel-good measure that would fix nothing."
Part 1 of the analysis:
https://cis.org/Cadman/House-Democrats-Outdo-Themselves-Unserious-Border-Security-Proposal-Part-1
Part 2 of the analysis:
https://cis.org/Cadman/House-Democrats-Outdo-Themselves-Insincere-Disingenuous-Border-Security-Proposal-Part-2
Among other changes, the proposal would limit ICE to 16,500 beds by October 1, when federal fiscal year (FY) 2019 ends. This is so limiting that ICE agents would be in the invidious position of not even having enough space to lock up the hardened criminals it encounters in the interior.
Further, the House bill would apportion massive amounts of funding to radically expand use of alternative-to-detention (ATD) programs instead of actual confinement for immigration law violators. Alternatives to detention have a range of issues. The "pilot program" that demonstrated ATD's effectiveness had various flaws that make it unreliable. ATD can be costly to the taxpayer because it often lasts years. Finally, unlike actual detention, ATD fails to dissuade additional families from making the incredibly perilous journey to the U.S. In fact, it does the opposite, because it ensures the prompt release of detained aliens into the country, many of whom will fail to show up for their court date years later.
In sum, the House Democrats' version of a "smart" border security and immigration control bill is a fraud.
"Our entire crony capitalist system, Democrat and Republican alike, has become a kleptocracy approaching par with third-world hell-holes. This is the way a great country is raided by its elite." ---- Karen McQuillan THEAMERICAN THINKER.com
"Attorney General Eric Holder's tenure was a low point even within the disgraceful scandal-ridden Obama years." DANIEL GREENFIELD / FRONTPAGE MAG
OPERATION OBOMB:
DESTABILIZE AMERICA TO LAY GROUNDS FOR A MUSLIM-STYLE DICTATORSHIP
*
"Obama's new home in Washington has been described as the "nerve center" of the anti-Trump opposition. Former attorney general Eric Holder has said that Obama is "ready to roll" and has aligned himself with the "resistance." Former high-level Obama campaign staffers now work with a variety of groups organizing direct action against Trump's initiatives. "Resistance School," for example, features lectures by former campaign executive Sara El-Amine, author of the

Obama Organizing."
STILL SUCKING THE BLOOD OUT OF AMERICA
This manufactured crisis has, in turn, been exploited by the Obama administration and both big business parties to hand over trillions in pension funds and other public assets to the financial kleptocracy that rules America.
"Our entire crony capitalist system, Democrat and Republican alike, has become a kleptocracy approaching par with third-world hell-holes. This is the way a great country is raided by its elite." ---- Karen McQuillan THEAMERICAN THINKER.com
"This was not because of difficulties in securing indictments or convictions. On the contrary, Attorney General Eric Holder told a Senate committee in March of 2013 that the Obama administration chose not to prosecute the big banks or their CEOs because to do so might "have a negative impact on the national economy."
BARACK OBAMA'S NOT SO SECRET PRO-MU$LIM, ANTI-SEMITIC MOVE FOR A THIRD TERM FOR LIFE.
"When former president Barack Obama, former president Bill Clinton and Eric Holder, a top DOJ official in both administrations, have been caught hanging around with Farrakhan, there's a racism problem." DANIEL GREENFIELD

"Then we suffered the rattling election of Barack Obama, whose active membership in a white-, Jewish-, and America-hating church was well known to the electorate. His close personal relationship with the likes of his adored Rev. Jeremiah Wright and Louis Farrakhan was no secret. Obama was open about his goals. He told us he was out to "fundamentally transform America" and the world." ALAN BERGSTEIN
Attorney General Eric Holder: Tim Geithner can be sure he won't be hounded about his tax-dodging by his colleague Eric Holder, US Attorney General. Judicial Watch strongly opposed Holder because of his terrible ethics record, which includes: obstructing an FBI investigation of the theft of nuclear secrets from Los Alamos Nuclear Laboratory; rejecting multiple requests for an independent counsel to investigate alleged fundraising abuses by then-Vice President Al Gore in the Clinton White House; undermining the criminal investigation of President Clinton by Kenneth Starr in the midst of the Lewinsky investigation; and planning the violent raid to seize then-six-year-old Elian Gonzalez at gunpoint in order to return him to Castro's Cuba. JUDICIAL WATCH
BARCK HUSSEIN OBAMA'S MUSLIM HERITAGE
Earlier this month, jihadists of the Al-Shabaab terror group
hijacked
a bus heading to Garissa and ordered all the passengers to exit the vehicle. The assailants asked for identification cards, then proceeded to separate the Muslims from the Christians.
When two Christians refused to recite the Islamic statement of faith, or Shahada, they were executed.
THE RISE of BARACK OBAMA, sociopath huckster from Chicago, and the FALL of AMERICA
"My guess is that the students and employees at the U of I who listened to Obama's self-righteous speech believe that Obama is ethical because most of the media intentionally hid the mass corruption, or if they reported on it, they downplayed it. The corruption and unethical behavior started as soon as Obama took office." JACK HELLNER / AMERICAN THINKER.com
"They knew Obama was an unqualified crook; yet they promoted him. They knew Obama was a train wreck waiting to happen; yet they made him president, to the great injury of America and the world. They understood he was only a figurehead, an egomaniac, and a liar; yet they made him king, doing great harm to our republic (perhaps irreparable.)" ALLAN ERICKSON
JUDICIAL WATCH TEN MOST CORRUPT
President Barack Obama
:
During his presidential campaign, President Obama promised to run an ethical and transparent administration. However, in his first year in office, the President has delivered corruption and secrecy, bringing Chicago-style political corruption to the White House. JUDICIAL WATCH
"Of course, one of the main reasons the nation is now "divided, resentful and angry" is because race-baiting, Islamist, class warrior Barack Hussein Obama was president for eight long years." MATTHEW VADUM
"But the Obamas are the center of the most delusional cult of personality that the media has yet spawned. And so we get bizarre pieces like these." MONICA SHOWALTER
"Along with Obama, Pelosi and Schumer are responsible for incalculable damage done to this country over the eight years of that administration." PATRICIA McCARTHY
Eric Holder: Northam Should Resign, National Conversation Needed About 'Racist Symbols'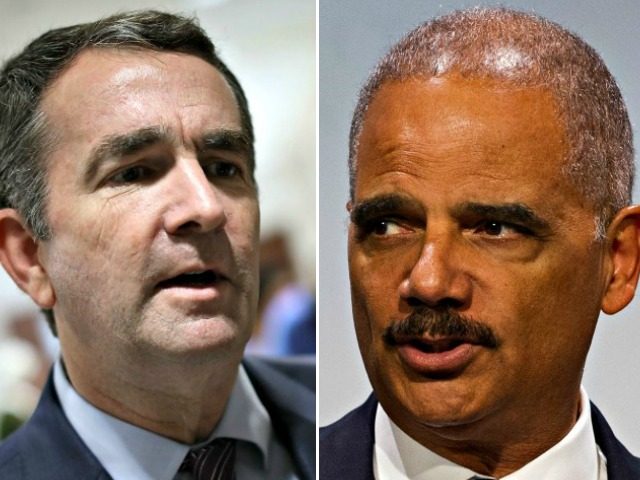 Former Attorney General Eric Holder called for Gov. Raph Northam (D-VA) to resign over an unearthed photo with racist imagery, and he said a nationwide discussion about modern-day racism is needed in America.
"I have come to know Ralph Northam as a good, very decent man," Holder's statement shared to Twitter began. "I regretfully conclude that he does not now have the ability to effectively govern and effectively stand for the issues – moral and political – that Virginia and the nation must confront. The Governor should resign."
Holder then went on to say that while Northam's resignation would be "correct," it would not put an end to the matter. "We still need to have a difficult and necessary conversation about how racism and racist symbols still pervade too much of our society – and the pain they cause," Holder said.
"What have we learned as a nation?" he concluded his statement by asking.
Earlier Saturday, Northam denied being in a photo with another individual in blackface and a Ku Klux Klan robe and hat featured in his 1984 Eastern Virginia Medical yearbook.
The stunning reversal came after Northam admitting and apologizing for being in the photo, which he called "clearly racist and offensive."
Despite denying he was in the photo, Northam did reveal that he once darkened his face as part of a Michael Jackson costume for a dance contest in the same year the yearbook was published.
Holder joins a slew of leading Democrats and Republicans calling for Northam to resign over the flap.
Late Friday night, the Virginia Legislative Black Caucus issued a statement calling on the embattled governor to leave his post.
Democrat presidential contenders, including Sens. Kamala Harris (D-CA) and Elizabeth Warren (D-MA) joined the fray, both saying that the time had come for the state's chief executive to step aside.
House Speaker Nancy Pelosi (D-CA) criticized Northam over the phone, yet stopped short of calling on him to exit his post.