3 Democrat Policies that Must Die for America to Survive
In 1838, Abraham Lincoln spoke before the Young Men's Lyceum of Springfield, Illinois. There, Lincoln observed that "America will never be destroyed from the outside. If we falter and lose our freedoms, it will be because we destroyed ourselves." While Lincoln was talking about the dangers of slavery, his message also applies today. More particularly, congressional Democrats are so obsessed with defeating the president that they have lost touch with reality. Some of the proposed policies by those on the far left will serve to destroy the country from within by leaving the country more porous, more vulnerable, and in dire financial shape. For this reason, these far-left policies must be rejected.
Almost three weeks ago, President Trump announced a three-week temporary end to the partial government shutdown that did not include funding for a border wall. In doing so, he put country over politics and put the onus on the Democrats to negotiate in good faith and to put partisan politics aside on the issue of border security. The three-week period ends today. According to the Washington Examiner, just days away from another potential government shutdown, House and Senate negotiators reached a "bipartisan" deal "in principle" that provided 1.375 billion dollars in funding for physical barriers along 55 miles of the Rio Grande Valley. In addition, per PBS, the deal would include "funding for U.S. Immigrations and Customs Enforcement (ICE) to detain an average of 45,274 people a day for the rest of this fiscal year, which Democrats assert would force ICE to cut daily detentions for the rest of the year.
If the president does not have adequate funds to build the wall, our borders will remain highly porous, and people who are in the country illegally could be set free. In addition, "Senate Democrats recently introduced legislation to prevent the president from using military and disaster relief funds to construct the U.S.-Mexico border wall should he declare a national emergency," according to The Hill. In other words, they blatantly attempted to circumvent the president's powers under the National Emergency Act.
The Democrats' refusal to adequately fund the border wall simply to get back at the president is dangerous and leaves the country more porous and more vulnerable.
According to some of the far left, the time has come to significantly raise taxes on the wealthy. There is no better example than the State of New York. According to the New York Post, Massachusetts senator Elizabeth Warren (D) and New York Democrat Alexandria Ocasio-Cortez recently proposed that "Americans who happen to be very rich pay upward of 70 percent tax on their incomes." Ocasio-Cortez intended to use the tax hike to fund her Green New Deal. According to Americans for Tax Reform, "[t]he current top federal income tax rate is 37 percent, so the Ocasio-Cortez plan will nearly double the tax rate for the top bracket. New York State has a top income tax rate of 8.82 percent while New York City has a top rate of 3.876 percent. So under this proposal, her constituents would pay a top combined income tax rate of 82.7 percent."
While some might argue that the "very rich" should pay more in taxes, the "progressive" proposals by Warren and Ocasio-Cortez have historically failed and carry certain risks. For example, the wealthiest people in New York (and elsewhere if other states follow suit) could decide to leave the state for a more tax-friendly environment. Additionally, companies could decide against setting up shop in New York if they face exorbitant taxes, making for fewer job opportunities. This socialistic approach was previously implemented in Sweden and failed miserably.
The impact of such exorbitant tax hikes would hurt individuals, businesses, and jobs throughout the country. Sadly, these failures would be the byproduct of our own policies and decisions.
Medicare for All sounds nice on paper. Senator Bernie Sanders (I-Vt.) and several other Democrats have strongly pushed for this type of system. In essence, this system abolishes Medicare and outlaws private insurance. Therefore, the government controls everyone's medical care and decides on the payment schedules, treatment options, and coverage (and limitations thereto).
However, because the government will be paying for all medical care, it will pay doctors and hospitals at reduced rates. As such, since doctors can't make up their losses by billing private insurance (which is barred), they will have to see more patients, thereby reducing the quality of care. This would ultimately hurt everyone. Elderly patients would be hit particularly hard because their medical conditions are typically more complicated, and doctors would push them to the end of the line, given the amount of time it would take to see them. According to The Hill:
Sanders himself offered several tax-hike proposals, including a job-killing hike in the capital gains rate to as much as 64.2 percent, but all of his tax-hike proposals together would bring in less than half the revenue needed.

Here's the bitter truth: According to Congressional Budget Office data, raising $32 trillion in tax revenue would require adding 36 percentage points to the marginal tax rate of every federal income taxpayer in the United States. Not just the rich — everyone. The single woman earning $82,500 and the couple earning $165,000 would see their rates soar from 24 percent to 60 percent. Ouch.
As is evident, this far-left system (proposed by some within the United States), is virtually impossible to maintain and is un-sustainable.
The United States is a melting pot with people from all over the world. It is a country that welcomes people with open arms and gives them the opportunity to live the American dream. Our freedoms rely on our nation's laws and policies, the majority of which are just and fair. Unfortunately, some of the proposed policies by those on the far left will serve to seriously hurt the country by leaving the country more porous, more vulnerable, and in dire financial shape. For this reason, these far-left policies must be rejected.
Mr. Hakim is a writer, commentator, and practicing attorney. His articles have been published in The Washington Examiner, The Daily Caller, The Federalist, The Western Journal, American Thinker, and other online publications.
https://thoughtfullyconservative.wordpress.com
Trump Pledges to 'Take Care of ICE,' Then Signs Bill Crippling Agency's Power to Deport Illegal Aliens
AP/Getty Images
During a press conference in the White House Rose Garden on Friday morning, President Trump pledged to "take care" of Immigration and Customs Enforcement (ICE) agents moments before signing policy into law that strips the agency of deportation powers.
"ICE is abused by the press and by the Democrats," Trump said. "And by the way, we're going to be taking care of ICE. Whether we talk about the new bill … we're going to be taking care of ICE. They wanted to get rid of ICE and the bill is just the opposite of that."

The bipartisan spending package, however, dismantles ICE agents' power to deport illegal aliens living in the U.S. who have either relatives or friends of Unaccompanied Alien Children (UACs).

A provision signed off by Trump bans ICE agents from deporting any illegal alien sponsor who takes in a UAC after the child has been trafficked across the U.S.-Mexico border. The spending bill now codifies into law, indefinitely, that federal immigration officials are not allowed to deport not only illegal alien sponsors of UACs, but also any illegal alien living in the household of a UAC or those who claim to be "potential sponsors" of UACs.

The measure provides a legal shield, or de facto amnesty, to any illegal alien claiming to be part of a household that is sponsoring a UAC, even those affiliated with the MS-13 gang.

Trump's signing the bill into law also paralyzes ICE agents' ability to readily detain and deport illegal aliens who have just arrived in the U.S. By 2,293 program, Trump's law forces ICE agents to release more border crossers into the interior of the country, making it close to impossible to ever deport these foreign nationals in the future. About 99 percent of these illegal aliens are never deported.

The UAC program has resettled close to 13,000 young migrants across the U.S. in the last three months of 2018, alone. Assuming that each of these UACs was resettled in a household where at least two illegal aliens reside, this would account for a de facto amnesty for about 26,000 illegal aliens.

Nearly 35,000 UACs were resettled in the U.S. in Fiscal Year 2018, with the vast majority going to live with sponsors in California, Florida, Georgia, Maryland, New Jersey, New Mexico, New York, Tennessee, and Virginia.

John Binder is a reporter for Breitbart News. Follow him on Twitter at @JxhnBinder.
Washington Post: Democrats Hid Their Border Security Wins from Trump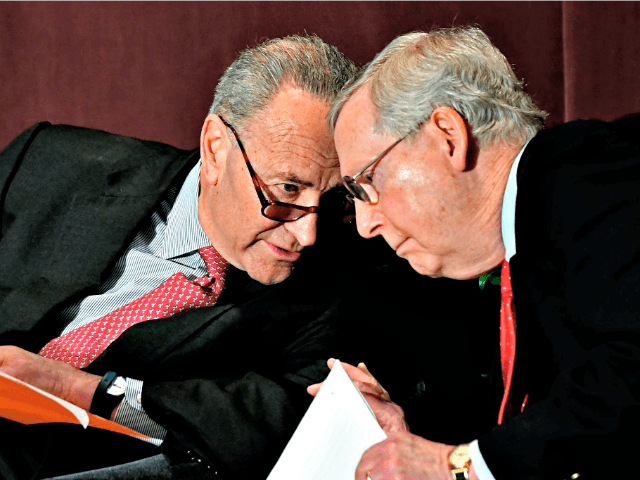 Democratic leaders directed their deputies on the 2019 border security panel to hide their negotiating victories from President Donald Trump, according to the Washington Post.
Democrats, privately, were amused but made a conscious decision not to gloat — concerned that if they celebrated what they considered a victory Thursday they might anger Trump enough to veto the deal.

One conferee summarized the instructions from Democratic leaders: "Don't poke the bear."
The Democrats followed the same 'don't gloat yet' strategy in 2015 as they blocked then-House Speaker Paul Ryan's GOP agenda. RollCall.com reported in 2015 that Rep. Nancy Pelosi:
had instructed members in a closed-door meeting to "keep on their long faces" and not speak publicly about everything Democrats won in the omnibus, according to a senior House aide. She wanted them to avoid speaking about provisions they fought to include, as well as poison pill policy riders they insisted be removed, instead suggesting they just say they were "still reading the language" when asked how they planned to vote.

"Now they're done, that's it. There's no way they can change the rule or anything like that; the speaker said it's closed," said Pelosi on Friday, "so we feel pretty good about bragging about what's in the bill to get our votes and also not risking changing anything in the bill."
The Democrats' 2019 win came after Senate leader, Sen. Chuck Schumer got Senate Majority Leader Mitch McConnell in January to delegate immigration policy to the top leaders on the House and Senate appropriations committees.
The decision was a tactical win because it allowed Democratic immigration experts — including Vermont Sen. Patrick Leahy — to corner the top two GOP appropriations leaders. The GOP appropriations leaders care little about Trump's immigration priorities, the impact of minor legal changes on migration patterns, or the voters' preferences on immigration policy because their focus is on spending money.
In an article headlined "How Schumer and McConnell kept Trump out of the shutdown talks," Schumer boasted to Politico:
"I said, 'Here's my proposal to you. Let's do a conference committee. They are good at it, they get along, they've done the other six budget bills, they can do this,'" Schumer recounted in his office Thursday as a months-long funding crisis was concluding. "And he accepted. And I think that paved the way to getting this done."
Also, Trump's liaison deputies did not push Trump's immigration priorities into the legislators' negotiating room, Politico reported. Instead, GOP Sen. Richard Shelby, who heads the Senate's appropriations panel, periodically briefed Trump on negotiations.
Trump's Hill liaison chief, Shahira Knight, describes herself as an "honest broker" between the President and Congress, not as a champion for the President's priorities.
McConnell's agreement with Schumer is just one way in which the Democrats' 2019 win was aided by GOP leaders.
Those GOP leaders also saved the deal once Trump realized his priorities were being discarded.
On the weekend before the draft budget was completed and passed on Thursday, Trump objected to the Democratic demand for a cutback in detention cells. In response, Democrats prepared a temporary budget if the GOP leaders failed to get Trump to sign the lopsided deal, according to Politico.
House Democratic staffers were busy preparing a stop-gap funding bill they could file as soon as Monday night if the last-ditch effort went nowhere.

"We thought the talks had completely blown up," said one Democratic source familiar with the negotiations.
Amid Trump's opposition, Democrats dropped the detention cutback to preserve their other gains, which include many curbs on enforcement, a temporary veto on wall construction for Texas Democrats, and a new amnesty hidden under the guise of protection for "Unaccompanied Alien Children."
Press reports do not say that Shelby admitted those giveaways to Trump before Thursday morning when the final ten pages to the 1,169-page bill were released several hours before the Senate voted.
Republican leaders tried to hide their failure to get much money for the wall — after having House and Senate majorities in 2017 and 2018 — and also to hide the Democrats' insertion of many policy wins for their side into the 2019 budget document.
According to the Washington Post:
In the House, Minority Leader Kevin McCarthy (R-Calif.) and Minority Whip Steve Scalise (R-La.) — Trump allies — wondered if they could get enough House Republicans to vote for the deal, considering it included less wall money than what Senate appropriators agreed to in December, before the shutdown, according to people close with them.

The pair set out to spin the agreement as a win nonetheless.
McConnell negotiated with Trump and promised to back a national emergency if Trump accepted the lopsided deal, despite his long opposition to the emergency plan. According to the New York Times,
President Trump awoke in a rage Thursday, feeling cornered into accepting a bipartisan funding deal struck earlier in the week that would deprive him once again of money for his long-promised wall along the southwestern border. Conservative commentators who had been cajoled into accepting the deal Wednesday were breaking their silence on Thursday.

By midmorning, after a particularly unpleasant meeting with the secretary of homeland security, Kirstjen Nielsen, the president was threatening to torpedo the deal, according to two people briefed on the exchange. Several hours and several phone calls later, McConnell had persuaded Mr. Trump to once again agree to sign the bill to avert another government shutdown looming at midnight Friday.

But persuasion came at a price: The president would declare a national emergency to try to secure wall funding without congressional approval, he told the majority leader — and Mr. McConnell would have to back him.
The tacit cooperation between GOP and Democratic leaders against Trump reflects the establishment's bitter opposition to Trump's policy of reducing immigration and of "Hire American." Those two policies threaten to redirect money and political power away from the combination of Washington and Wall Street, and to boost Americans' wages and independence from government.
According to the Post, "Democrats decided in the final days they needed to be careful with their language, worried they could provoke Trump into another shutdown. 'He doesn't seem to work on a totally rational basis,' Schumer said in the Post interview. 'Little comments throw him off.'"