MEX MURDERS MOTHER IN PELOSI, FEINSTEIN, KAMALA HARRIS, GAVIN NEWSOM'S ! SANCTUARY ! CITY OF SAN FRANCISCO!
Steinle's murderer, Jose Zarate and been deported 5xs!

"While walking with her father on a pier in San Francisco in 2015, Steinle was shot by the illegal alien. Steinle pleaded with her father to not let her die, but she soon passed in her father's arms."
*
In the last two years, ICE officers made 266,000 arrests of aliens with criminal records, including those charged or convicted of 100,000 assaults, 30,000 s ex crimes, and 4,000 violent k illings. Over the years, thousands of Americans have been brutally k illed by those who illegally entered our country, and thousands more lives will be lost if we don't act right now.
Exclusive–California Refused 5.6K Requests to Turn over Criminal Illegal Aliens to Federal Officials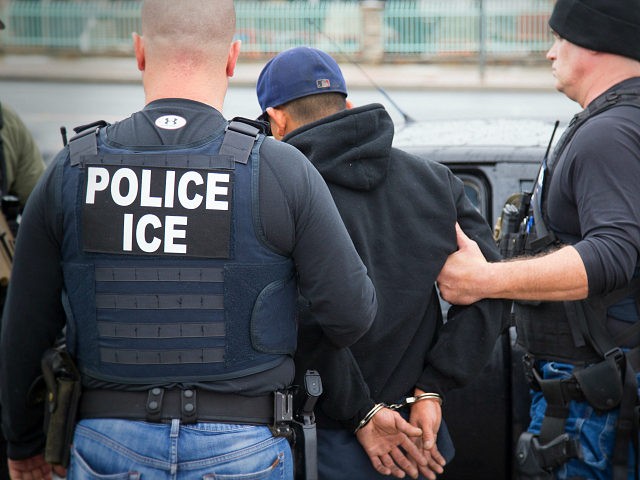 The sanctuary state of California refused 5,600 requests by federal immigration officials over two years to turn over criminal illegal aliens, state data finds.
In an exclusive interview with SiriusXM Patriot's Breitbart News Tonight, Immigration Reform Law Institute (IRLI) Executive Director Dale Wilcox revealed that within a 27-month period, the state of California had failed to honor about 5,600 Immigration and Customs Enforcement (ICE) detainers which are the holds ICE agents file to local jails and police to request that an illegal alien be turned over to them for arrest and deportation.
Of these 5,600 failed ICE detainers, more than 3,400 were lodged against an illegal alien who had been classified "level 1" and "level 2" offenders — meaning that these illegal aliens had been charged with crimes like homicide, kidnapping, sexual assault, robbery, aggravated assault, drugs, and fraud.
"The bottom line is, sanctuary cities are neither humane or compassionate," Wilcox told Breitbart News Tonight. "They're dangerous policies that cost Americans lives … what will it take for these anti-borders politicians to wake up and put the safety and security of their citizens, their legal residents before the interests of criminal aliens."
About 250 of the ICE detainers not honored had been filed to Napa County and Sonoma County law enforcement officials. These two California counties had sanctuary city policies before the state's statewide sanctuary policy.
The 5,600 failed requests by ICE to have criminal illegal aliens turned over to them came before California enacted their statewide sanctuary policy, where all local jails and counties are prohibited from cooperating with federal immigration officials.
IRLI researchers said records after the passage of California's sanctuary state policy are likely to show an increased number of cases where local jails and law enforcement officials refused to turn criminal illegal aliens over to ICE.
In a specific case, most recently, Wilcox noted that Napa County, California deputy Riley Jarecki was nearly killed by three-time deported illegal alien Javier Hernandez-Morales during a traffic stop after local officials refused to turn him over to ICE agents for deportation.
"Its own deputy almost got killed as a result of its refusal to honor ICE detainer requests," Wilcox said. "And this individual had been deported three times in the past … so they say there's no need emergency or need for a wall, this criminal alien is just walking back into the country."
ICE had requested four separate times that Hernandez-Morales be turned over to them to be arrested and deported back to Mexico. Three of the detainers were placed with the Napa Couty Sheriff's Department and one was placed with the Sonoma County Sheriff's Department. None of the ICE detainers were honored.
Wilcox said Americans' lives are being put at risk in sanctuary cities and sanctuary states like California, all so that Democrats are able to import potential voters.
"With the Democrats, it's about potential, future voters," Wilcox said. "They have an interest in bringing in new voters so that they can win elections. That's what that's all about. I mean, 10 years ago, Democrats weren't out preaching sanctuary cities and open borders, that just wasn't their party platform. They've swallowed this belief that if you want to stay in power, if you want to win future elections, more voters and diverse voters is the way to go."
"Sanctuary cities are dangerous. They're not humane, they're not compassionate," Wilcox continued. "People are dying. It's senseless and avoidable deaths. There's no excuse for politicians to sell out their constituency for potential, future voters."
Listen to Wilcox's full interview here:
THE STAGGERING COST OF THE WELFARE STATE MEXICO AND THE LA RAZA SUPREMACY DEMOCRAT PARTY HAVE BUILT BORDER to OPEN BORDER'
According to the
Federation for American Immigration Reform's 2017 report,
illegal immigrants, and their children, cost American taxpayers a net $116 billion annually -- roughly $7,000 per alien annually. While high, this number is not an outlier: a recent study by the
Heritage Foundation
found that low-skilled immigrants (including those here illegally) cost Americans

trillions

over the course of their lifetimes, and a study from the
National Economics Editorial
found that illegal immigration costs America over $140 billion annually. As it stands, illegal immigrants are a massive burden on American taxpayers.
AMERICAN POVERTY and the LA RAZA MEXICAN WELFARE STATE on AMERICA'S BACKS.
"Congress must prioritize four repairs for the immigration system before contemplating any DACA-style amnesty negotiation, said Brat:
1. Ending chain migration and the visa lottery;
3. Construction of a southern border wall; and
4. Interior enforcement of immigration law."
MEXICAN ANCHOR BABY FACTORIES FOR WELFARE IN AMERICA'S OPEN BORDERS
THE STAGGERING COST OF MEXICO'S INVASION, OCCUPATION AND EVER
FACTS ON THE "REAL LATINO AMERICA" IN MEXICO'S SECOND LARGEST CITY OF LOS ANGELES:
(these are highly DATED stats)
This is another "fact" spun from the 2004 op-ed by Heather Mac Donald, whose article refers to a single Los Angeles gang and the conjecture of an unnamed federal prosecutor.
1.
"40% of all workers in L.A. County are working for cash and not paying taxes. . . . This is because they are predominantly illegal immigrants working without a green card." The Mexican tax-free economy in Los Angeles County is estimated to be in excess of $2 billion dollars a year.
2.
"95% of warrants for murder in Los Angeles are for illegal aliens . . . "
3.
"75% of people on the most wanted list in Los Angeles are illegal aliens."
4.
"Over 2/3 of all births in Los Angeles County are to illegal alien Mexicans on Medi-Cal, whose births were paid for by taxpayers." The County of Los Angeles hands Mexico's anchor baby breeders more than a BILLION DOLLARS a year in welfare.
5.
"Nearly 35% of all inmates in California detention centers are Mexican nationals here illegally." California has the largest and most expensive prison system in the country. Half the inmates are now Mexicans. Half the murders in California are by Mexican gangs.
6.
Over 300,000 illegal aliens in Los Angeles County are living in garages.
7. "The FBI reports half of all gang members in Los Angeles are most likely illegal aliens from south of the border."
8. "Nearly 60% of all occupants of HUD properties are illegal."
9. 21 radio stations in L. A. are Spanish speaking.
10. In L. A. County 5.1 million people speak English, 3.9 million speak Spanish.
THE NEW PRIVILEGED CLASS: Illegals (unregistered democrats)!
This is why you work From Jan - May paying taxes to the government ....with the rest of the calendar year is money for you and your family.
Take, for example, an illegal alien with a wife and five children. He takes a job for $5.00 or 6.00/hour. At that wage, with six dependents, he pays no income tax, yet at the end of the year, if he files an Income Tax Return, with his fake Social Security number, he gets an "earned income credit" of up to $3,200..... free.
He qualifies for Section 8 housing and subsidized rent.
He qualifies for food stamps.
He qualifies for free (no deductible, no co-pay) health care.
His children get free breakfasts and lunches at school.
He requires bilingual teachers and books.
He qualifies for relief from high energy bills.
If they are or become, aged, blind or disabled, they qualify for SSI.
Once qualified for SSI they can qualify for Medicare. All of this is at (our) taxpayer's expense.
He doesn't worry about car insurance, life insurance, or homeowners insurance.
Taxpayers provide Spanish language signs, bulletins and printed material.
He and his family receive the equivalent of $20.00 to $30.00/hour in benefits.
Working Americans are lucky to have $5.00 or $6.00/hour left after Paying their bills and his.
The American taxpayers also pay for increased crime, graffiti and trash clean-up.
Cheap labor? YEAH RIGHT! Wake up people!
LA RAZA AMERICA: A Mexicans welfare state
MEXICO INVADES, OCCUPIES, PLUNDERS AND VOTED DEM FOR MORE!
There is also financial and political carnage perpetrated against our nation:
(FIGURES ARE HIGHLY DATED AND GOING UP EVERY WAVE OF INVASION)

1. $11 Billion to $22 Billion is spent on welfare to illegal immigrants each year by state governments (CALIFORNIA SPENDS $30 BILLION PER YEAR IN SOCIAL SERVICES TO ILLEGALS. LOS ANGELES COUNTY CHIPS IN A BILLION PER YEAR FOR THE LA RAZA ANCHOR BABY BREEDERS).
*
2. $22 Billion dollars a year is spent on food Assistance programs such as
food stamps, WIC, and free school lunches for illegal immigrants.
*
3. $2.5 Billion dollars a year is spent on Medicaid for illegal immigrants.
*
4. $12 Billion dollars a year is spent on Primary and secondary school
education for children here illegally and they cannot speak a word of
English!
*
5. $17 Billion dollars a year is spent for Education for the American-born
Children of illegal immigrants, known as Anchor babies.
*
6. $3 Million Dollars a DAY is spent to incarcerate illegal immigrants.
*
7. 30% percent of all Federal Prison Inmates are illegal immigrants. Nearly half the inmates in CA are Mexicans.
*
8. $130 Billion Dollars a year is spent on Illegal immigrants for Welfare & Social Services by the American taxpayers.
*
9. $400 Billion dollars a year in suppressed American wages are caused by the illegal immigrants.
*
10. In 2006, illegal immigrants sent home $45 BILLION in remittances to their Countries of origin.
*
11. The Dark Side of Illegal Immigration: Nearly One million sex crimes committed By Illegal Immigrants In The United States.
12. From $40 to $60 billion hauled back to Mexico from heroin sales!
JOE LEGAL v LA RAZA JOSE ILLEGAL (registered Democrat voter)…
Which do you think has it much, much, much better in America's open borders?
You should know! Your taxes are paying for his anchor baby welfare even as Jose Illegals enjoys a tax-free underground economy. Hey, Jose voted Democrat for more!
7K Migrants Apprehended in One Week in Texas Border Sector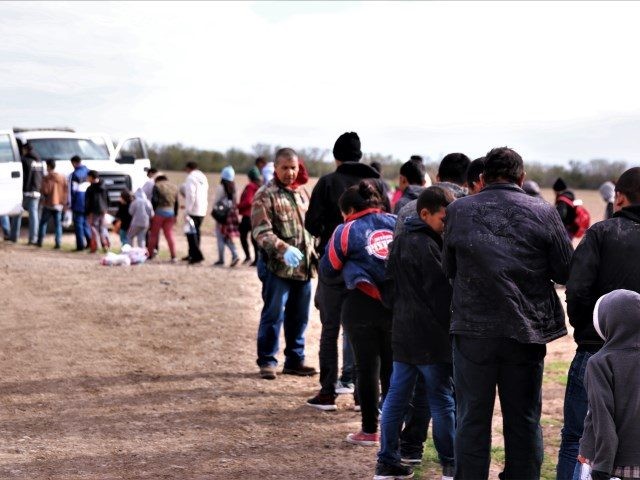 U.S. Border Patrol agents in the Rio Grande Valley Sector reported apprehending nearly 7,000 migrants in a single week who illegally crossed the border from Mexico into Texas.
The Rio Grande Valley (RGV) Sector is ground zero for the influx of migrants illegally crossing the border between ports of entry. The sector accounts for the largest percentage of all migrant apprehensions for all of the migrants apprehended in the nine southwest Border Patrol sectors, according to information provided by Border Patrol officials.
On Wednesday alone, RGV Sector agents apprehended more than 1,300 migrants — marking the second time in as many weeks this milestone has been achieved, officials stated.
Reports indicate that a majority of the migrants apprehended in the RGV sector are family units and unaccompanied minors from Central and South America. The massive number of apprehensions and the associated time required for Border Patrol agents to process and medically clear each of these migrants greatly impacts the sector's resources normally utilized for carrying out the border security mission of the region.
During the first four months of Fiscal Year 2017, RGV agents apprehended 77,549 migrants who illegally crossed the border between ports of entry, according to the January Southwest Border Migration Report. This represents an average of 630 migrants apprehended per day. It also accounts for nearly 40 percent of all migrants apprehended in the nine southwest border sectors since October 1, 2018.
So far this fiscal year, RGV agents apprehended 43,588 Family Unit Aliens (FMUA) and 8,685 Unaccompanied Alien Children (UAC). This represents an increase of 180 percent and 34 percent respectively over the same period in FY2018.
Nationally, Border Patrol agents apprehended 99,901 FMUAs and 20,123 UAC in the nine southwest Border Patrol sectors, officials reported. The families mostly originated from Guatemala (50,593) — followed by Honduras (36,009), El Salvador (9,146), and Mexico (883). Minors also mostly came from Guatemala (9,522) — followed by Honduras (4,833), Mexico (3,007), and El Salvador (2,292).
"At the current rate, the Rio Grande Valley Sector is on pace to reach 240,000 apprehensions for this fiscal year," officials said in a written statement.
Bob Price
serves as associate editor and senior political news contributor for the Breitbart Border team. He is an original member of the Breitbart Texas team. Follow him on Twitter
@BobPriceBBTX
and
Facebook
.
Group of 90 Migrants Cross Border into Texas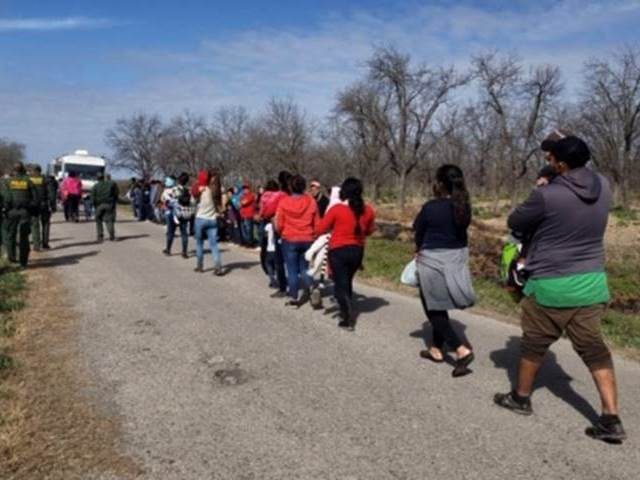 Agents assigned to the Eagle Pass Border Patrol Station encountered a large group of migrant families and unaccompanied minors after they illegally crossed the border from Mexico.
Del Rio Sector agents patrolling near the small border community of Quemado, Texas, on Monday encountered a group of 90 migrants who had just crossed the Rio Grande River from Mexico. Border Patrol officials reported that the migrants were all Honduran nationals. Many of the group were women and children. Officials said the children ranged from one to 17 years of age.
The group surrendered to the agents without incident, officials reported. The agents arranged for a transport bus and took the migrants to the Eagle Pass Station for processing and a biometric background investigation.
"Although groups of this size, until recently, have been uncommon in the Del Rio area, our agents are encountering larger groups of immigrants with women and young children," Del Rio Sector Acting Chief Patrol Agent Matthew J. Hudak said in a written statement. "Our highest priority will always be the safety of all people involved, no matter the situation. However, it is a criminal offense to enter the United States at a place other than a designated port of entry. Those who choose to enter illegally will be arrested and handled accordingly."
Officials said that one of the women reported abdominal pain. She told the agents she was pregnant. The agents rushed her to the Duncan Regional Medical Center where she went into labor and gave birth.
Eagle Pass is the scene where 1,700 mostly Honduran caravan migrants gathered across the river in Piedras Negras to await an opportunity to request asylum in the U.S. Earlier this month, Breitbart News reported that a group of the migrants attempted to rush the border and illegally cross into Texas.
Mexican officials began shutting down some of the shelters for the caravan migrants last week. Officials said many of the migrants moved to west Sonora and Chihuahua where they hoped to cross in the El Paso area. About 300 migrants remain in the Piedras Negras area, officials stated.
Bob Price
serves as associate editor and senior political news contributor for the Breitbart Border team. He is an original member of the Breitbart Texas team. Follow him on Twitter
@BobPriceBBTX
and
Facebook
.
Murders On Texas Soil Linked to Mexico's Gulf Cartel, Says FBI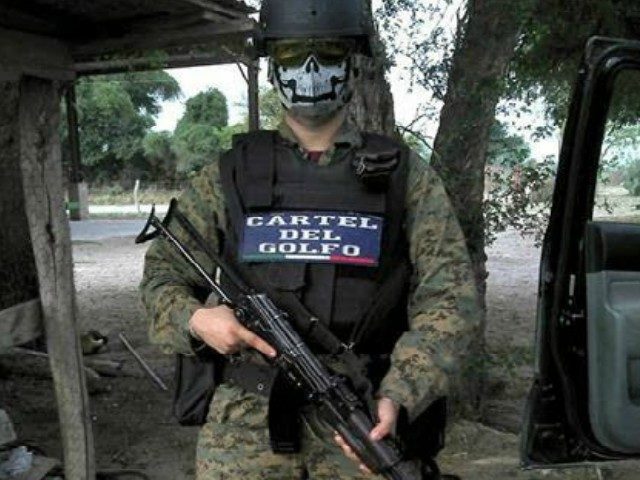 McALLEN, Texas – Federal authorities are offering a reward for a man tied to Mexico's Gulf Cartel for his alleged roles in various murders, kidnappings, and home invasions in South Texas. The fugitive, believed to be in Mexico, is also wanted on various trafficking charges for reportedly moving drugs from the Texas border to Fort Wayne, Indiana.
"We have reason to believe that Mr. Mendez is could be in Playa Del Carmen, Cancun, Monterrey, or Reynosa," FBI Special Agent in Charge Chris Combs told Breitbart News, adding that the reward is also available to individuals in Mexico. "Someone out there knows where he is, we hope that this gives them 25,000 reasons to call the FBI."
Mendez, a native of Mission, Texas, and an alleged member of the Gulf Cartel appeared on the FBI's radar in 2015 as part of a racketeering investigation into the Tri-City Bomber gang (TCB), Combs said during the interview. At the time, Mendez owned a trucking business and investigators believe he used it to move large quantities of marijuana, cocaine, and heroin to Indiana and other areas.
"He may be involved in the trucking business in Mexico or he may also own a nightclub," Combs said.
The criminal indictment alleges that Mendez personally ordered the murder of a man in the Rio Grande Valley on September 24, 2013. The indictment also alleges that Mendez ordered the kidnapping and subsequent murder of another man on April 25, 2014, also in South Texas.
The indictment linked various members of the TCB to numerous home invasions where gunmen searched for drugs and cash, at times assaulting or killing those inside. While not mentioned in the indictment, there have been various cases where gunmen raided the wrong house and injured innocent victims.