A county by county chart:
According to the nonpartisan Center for Immigration Studies, the deportations occurred between October 2008 and February 2015. The
three counties
with the most deportations during this period were Los Angeles County, Calif.; Maricopa County, Ariz.; and Harris County, Texas.
Heather Mac Donald of the Manhattan Institute has testified before a Congressional committee that in 2004, 95% of all outstanding warrants for murder in Los Angeles were for illegal aliens; in 2000, 23% of all Los Angeles County jail inmates were illegal aliens and that in 1995, 60% of Los Angeles's largest street gang, the 18th Street gang, were illegal aliens.
ILLEGALS CLIMBING CALIFORNIA'S BORDERS FOR JOBS AND WELFARE: SAN DIEGO …
Mexicans (unregistered democrat anchor baby breeders (1,877).
In just the month of October 2017 CBP Border Patrol San Diego border sector
reported
apprehension of individuals from Bangladesh (12), Brazil (1), Camaroon (3), Chad (1), China (16), El Salvador (76), Eritrea (7), Gambia (4), Guatemala (178), Honduras (54), India (101), Iran (1),
Mexico (1,877),
Nepal (31), Nicaragua (1), Pakistan (13), Peru (1), Somalia (1), and "Unknown" (1) — a total of 2,379 individuals. These numbers are similar to
volumes
seen in this sector for October since 2012. MICHELLE MOONS
Washington, D.C. (February 5, 2019)
– New analysis from the Center for Immigration Studies highlights how a new bill drafted by Democrats in the House majority reflects just how unserious they are on the subject of border security and immigration control.
Dan Cadman, a Fellow at the Center and the author of the analysis, said, "This new proposal from the Democrats is full of objectionable features. Clearly, House Democrats have no interest in real border security. It freezes Border Patrol agents' resources, severely limits detention space by cutting from the funding requests, and radically expands 'alternatives to detention' instead, a feel-good measure that would fix nothing."
Part 1 of the analysis:
https://cis.org/Cadman/House-Democrats-Outdo-Themselves-Unserious-Border-Security-Proposal-Part-1
Part 2 of the analysis:
https://cis.org/Cadman/House-Democrats-Outdo-Themselves-Insincere-Disingenuous-Border-Security-Proposal-Part-2
Among other changes, the proposal would limit ICE to 16,500 beds by October 1, when federal fiscal year (FY) 2019 ends. This is so limiting that ICE agents would be in the invidious position of not even having enough space to lock up the hardened criminals it encounters in the interior.
Further, the House bill would apportion massive amounts of funding to radically expand use of alternative-to-detention (ATD) programs instead of actual confinement for immigration law violators. Alternatives to detention have a range of issues. The "pilot program" that demonstrated ATD's effectiveness had various flaws that make it unreliable. ATD can be costly to the taxpayer because it often lasts years. Finally, unlike actual detention, ATD fails to dissuade additional familiesfrom making the incredibly perilous journey to the U.S. In fact, it does the opposite, because it ensures the prompt release of detained aliens into the country, many of whom will fail to show up for their court date years later.
In sum, the House Democrats' version of a "smart" border security and immigration control bill is a fraud.
Donald Trump Promises 'Human Wall' of Troops to Block Migrant Caravans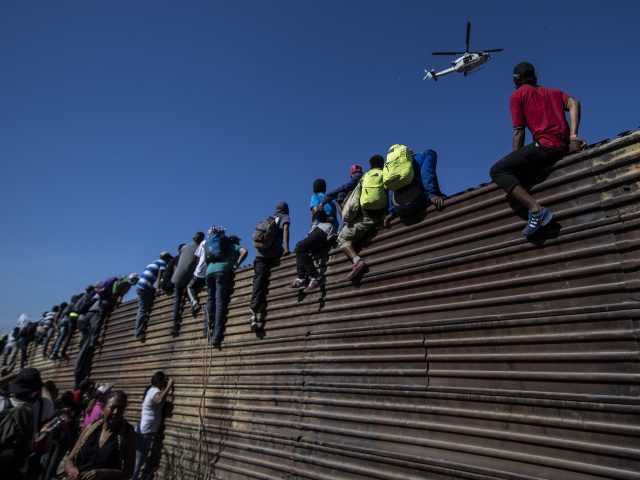 President Donald Trump promised Tuesday to keep a flood of migrants from the southern border by sending in more military forces.
"We will build a Human Wall if necessary," Trump wrote. "If we had a real Wall, this would be a non-event!"
The Pentagon
announced
Sunday that they are sending 3,750 troops to help secure the border as additional caravans of migrants from Central American countries are making their way to the border.
One caravan of mostly migrants from Honduras has
already swelled
to over 12,000 migrants.
Mexican Government Busing 1700 Caravan Migrants to Unsecured Texas Border Area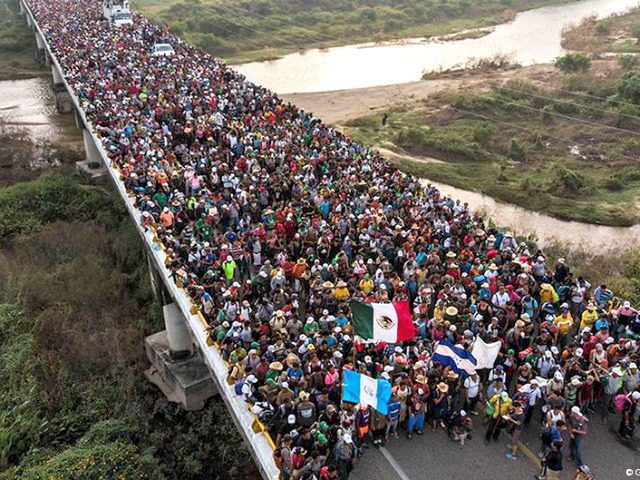 Coahuila officials deployed 49 private buses and dozens of police vehicles to help transport and safeguard more than 1,700 migrants to an unsecured part of the Texas border. The caravan recently departed from Honduras.
Over the weekend, hundreds of migrants began arriving in southern Coahuila as state officials began setting up temporary shelters and providing food. Governor Miguel Riquelme oversaw operations at one of the camps. The official count from Sunday stood at 1,674 migrants.
In Nuevo Leon, a border state just east of Coahuila, officials outfitted shelters for 1,400 as smaller groups of caravan migrants began to arrive on their journey to the Texas border.
Riquelme ordered that state police forces travel with the caravan to the cities of Piedras Negras and Acuna to ensure their safety. Piedras Negras is immediately south of Eagle Pass, Texas, while Ciudad Acuna is immediately south of Del Rio, Texas. As Breitbart News reported, both cities
lack any form of physical barrier other than the ports of entry
.
In Coahuila, private companies provided 49 buses at the request of the government to move the migrants in a safe and efficient manner. The buses are funded by local businessmen and municipal governments, said Coahuila Secretary of State Jose Maria Frausto Siller in an interview with
Vanguardia
.
Ildefonso Ortiz is an award-winning journalist with Breitbart Texas. He co-founded the Cartel Chronicles project with Brandon Darby and Stephen K. Bannon.
You can follow him on
Twitter
and on
Facebook
. He can be contacted at
Iortiz@breitbart.com
.
150K Migrants Apprehended During 1st Quarter 2019 — Up 84 Percent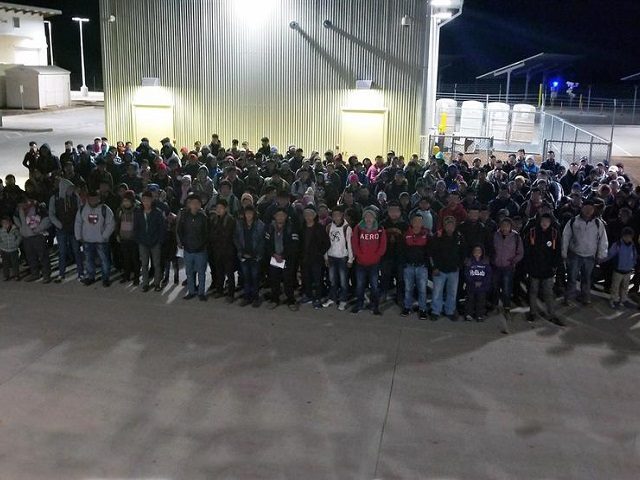 U. S. Border Patrol agents apprehended more than 150,000 migrants who illegally crossed between ports of entry during the first quarter of Fiscal Year 2019. Of those, nearly 100,000 consisted of families and unaccompanied minors.
For the third straight month, Border Patrol agents apprehended more than 50,000 migrants who crossed the border between ports of entry in December. During the first quarter of the new fiscal year, agents apprehended a total of 153,609 who illegally crossed the border, according to the December Southwest Border Migration report released Monday morning. The partial government shutdown delayed the release of the December report.
The apprehension of the more than 150,000 migrants represents nearly 40 percent of the total number of migrant apprehensions during the entire previous fiscal year. The first quarter apprehensions represent a nearly 84 percent increase over the prior year's 1st quarter total of 83,568.
The apprehension of Family Unit Aliens (FMUA) and Unaccompanied Alien Children (UAC) during the first quarter jumped to 90,807 — an increase of more than 190 percent over the same period last year, the report indicates. Looking at the FMUA apprehensions exclusively (75,794) shows a massive 280 percent increase over the prior year and represents more than 70 percent of the previous year's entire FMUA apprehensions (107,212).
While the Rio Grande Valley Sector continues to see the largest number of FMUA apprehensions of the nine southwestern Border Patrol sectors, the El Paso Sector witnessed a massive 1,602 percent increase over the previous December, officials reported. Much of this is in the tiny section of the border known as the New Mexico Bootheel. Agents apprehended 1,114 family units in the El Paso Sector during December 2017. In December 2018, that number jumped to 18,957.
Six other Border Patrol sectors witnessed triple-digit percentage increases in the apprehension of family units, mostly Central American migrants, who crossed the border illegally in December 2018. Those sectors are: San Diego (667 percent), Del Rio (330 percent), El Centro (310 percent), Tucson (244 percent), Rio Grande Valley (178 percent), and Yuma (174 percent). The Laredo Sector only saw a 72 percent increase over the previous December and the Big Bend Sector actually saw a 50 percent decrease over the prior year.
Of the 75,794 migrant families apprehended during the first quarter of the fiscal year came to the U.S. mainly from Guatemala (38430), Honduras (27,180). and El Salvador (7,283). The families from these countries (72,893) represented 96 percent of all family units apprehended along the southwest border between ports of entry.
Bob Price
serves as associate editor and senior political news contributor for the Breitbart Border team. He is an original member of the Breitbart Texas team. Follow him on Twitter
@BobPriceBBTX
and
Facebook
.
Latest Group of Central American Migrants Proceed With Northern Trek
February 1, 2019
Updated: February 1, 2019
MEXICO CITY—Thousands of U.S.-bound Central American migrants resumed their northern journey on Jan. 31. Mexico City officials said,these are a part of a growing group of would-be asylum-seekers who said they are fleeing violence and poverty back home.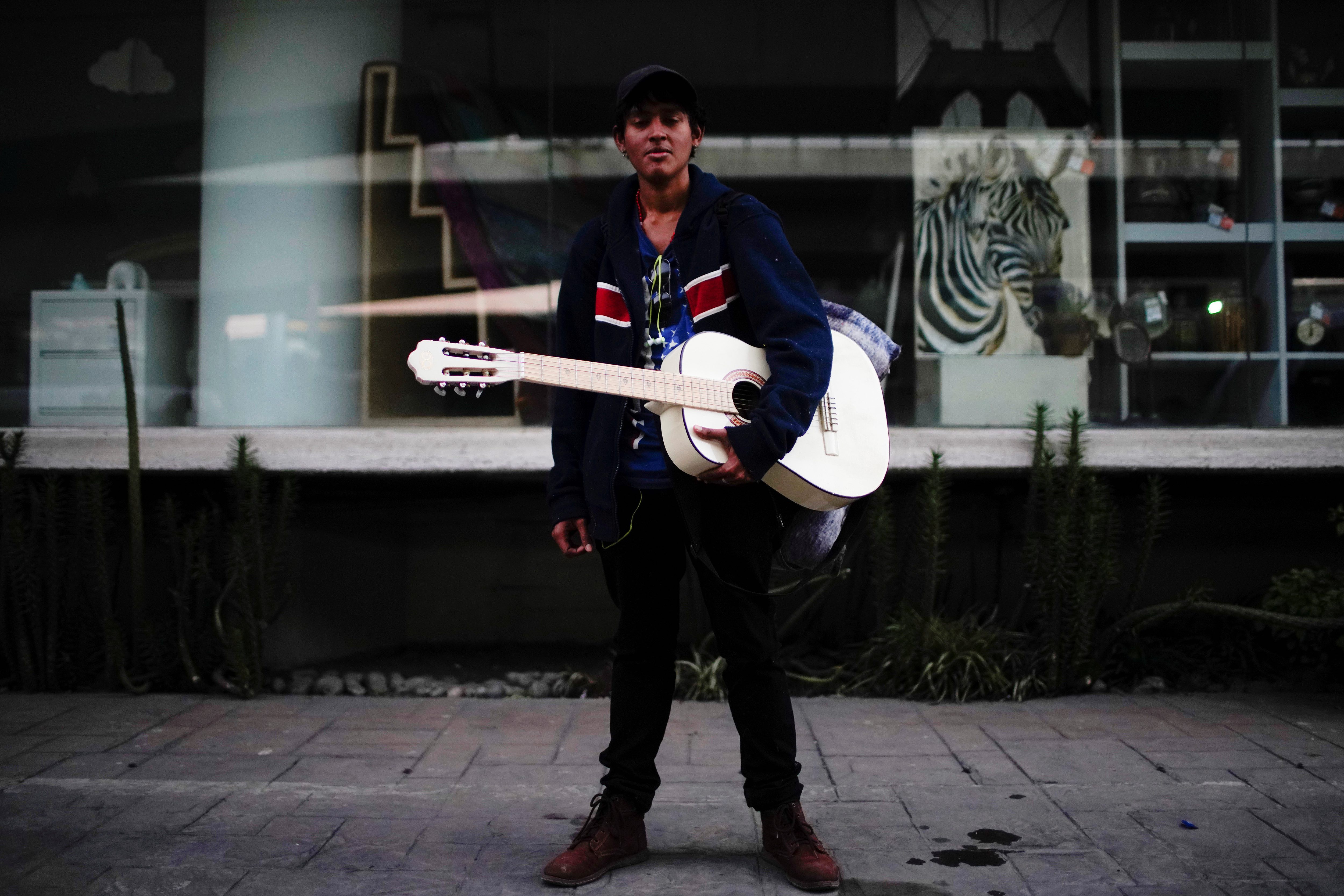 Around 2,400 migrants left a city shelter to begin the journey from the Mexican capital in the early morning hours on Jan. 31. It is the latest caravan to embark upon the risky path to the U.S.-Mexican border.
Since last October, thousands of mostly Central American migrants have sought to cross into the United States, many traveling in caravans in order to minimize the risks of kidnapping and attacks by members of criminal gangs while in Mexican territory.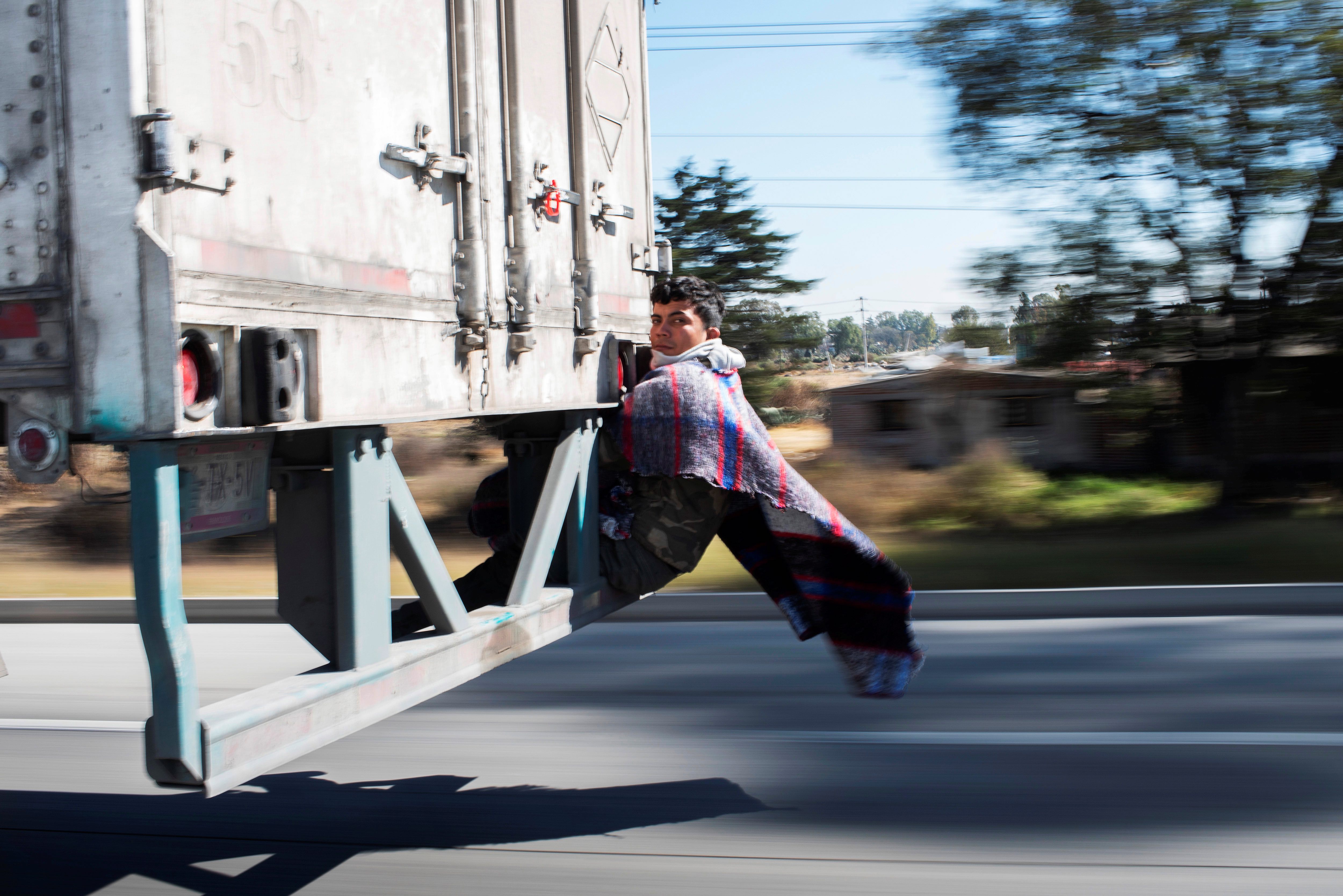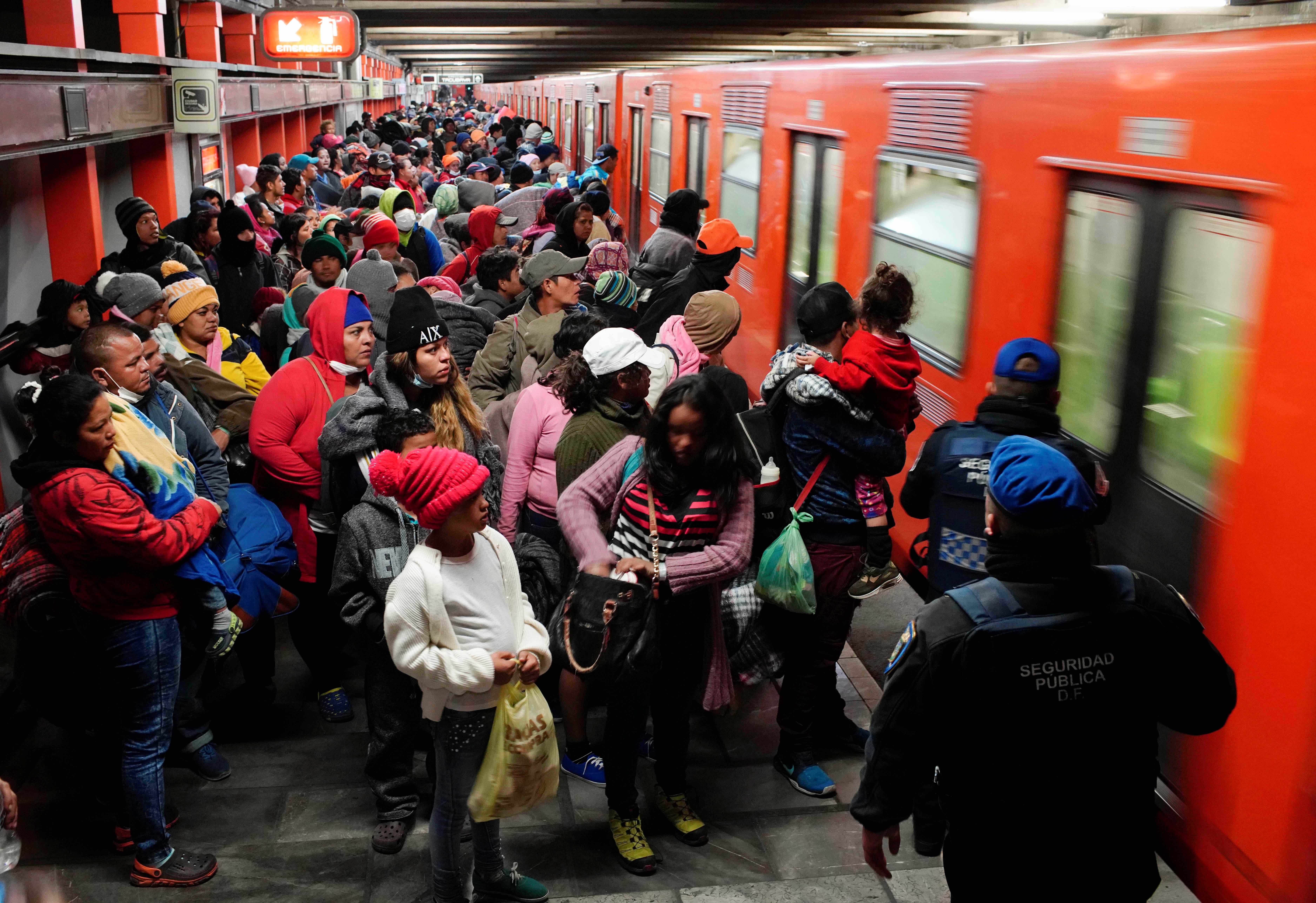 The likelihood of having to wait weeks or even months at the border, where migrants face high rates of violent crime, has not deterred the group's enthusiasm.
"I know it's violent at the border, but I have to take that risk. I don't have any more money and my family is waiting for me in the United States," said Honduran migrant Maria Murillo alongside her young son, as she waited to leave the shelter.
Other migrants were carefully studying their options, hoping to improve their chances of crossing the border and being able to stay.
"I'm not thinking of going to (Mexican border city) Tijuana, but I will make it to Monterrey," said fellow Honduran Oscar Lopez, referring to the northern city, which he thinks may offer easier access to cross the border.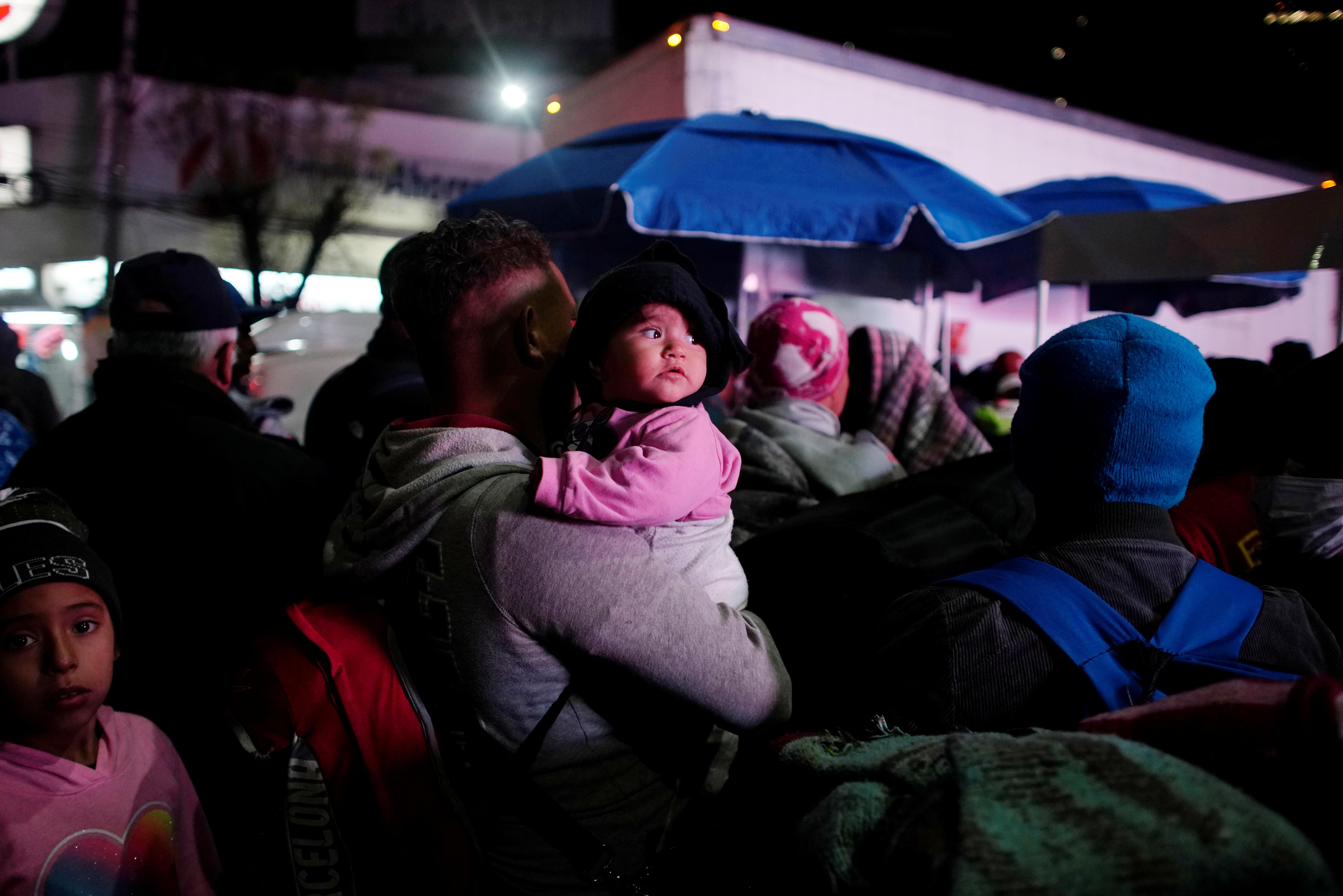 Lopez, 33, was traveling with his wife and two children.
On Jan. 29, the United States government sent the first Central American asylum-seeker back to Mexico through the Tijuana border crossing, part of the new immigration policy pursued by the Trump administration.
Many migrants expressed their opposition to the new U.S. policy, arguing that it will expose them to more risks at increasingly violent border towns, while others said they may eventually try to cross illegally.
"I'm not thinking of returning to Honduras, and if it's necessary, I'll pay to have a (smuggler) help me cross," said Mauricio Gomez.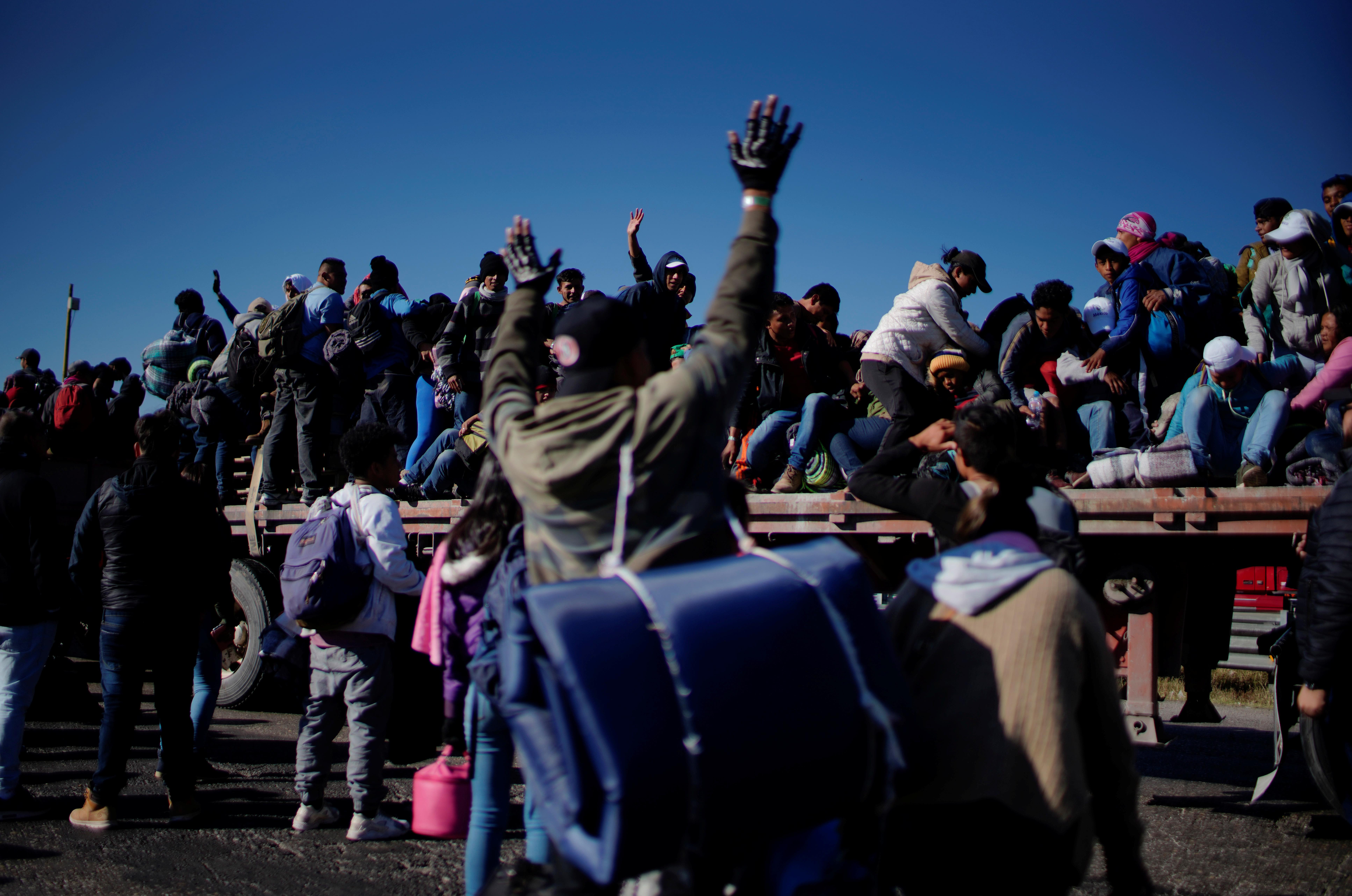 Immigration advocates fear Mexico is not safe for U.S.-bound migrants, who are often kidnapped by gangs and smugglers. They have also raised concerns that applicants sent back to Mexico will not have access to proper legal counsel in U.S. courts.
By Lizbeth Diaz
Clearly the Democrats have no interest in actually securing our borders or in the enforcement of our immigration laws.
WORLD-WIDE THREAT ASSESSMENT MAKES POWERFUL CASE FOR BORDER SECURITY
Senate hears from leaders of the intelligence community.
February 1, 2019
Timing is everything. Congress is currently in the midst of debating the construction of a "border wall" or "border barrier" to protect the dangerous U.S./Mexican border as the clock ticks down to another possible partial shutdown of our government if an agreement cannot be reached.
Meanwhile, on Tuesday, January 29, 2019 the Senate Intelligence Committee conducted a hearing on Worldwide Threats that was predicated on a just-released paper, "World-Wide Threat Assessment," that was issued by Daniel Coats, the Director of the Office of National Intelligence, which oversees the U.S. intelligence community.
As we will see, elements of that report addressed issues that have a clear nexus to border security and immigration law enforcement.
However, the leaders of the Democratic Party have thus far made it clear that they will oppose any and all efforts to construct a barrier to block the uninspected entry of aliens and cargo into the United States while simultaneously claiming that they don't oppose border security -- even as some Democrats call for disbanding Immigration and Customs Enforcement (ICE).
While the Democratic Party leaders claim that a wall or barrier on the southern border is a waste of money and find all sorts of other absurd excuses to oppose it, House Speaker Nancy Pelosi outrageously and infamously claiming that any such structure would be "immoral," the leaders of the U.S. Border Patrol as well as the leaders of the Border Patrol Council, the union that represents our valiant Border Patrol agents, have publicly and repeatedly stated that a wall or barrier is essential to help them to secure our nation's borders.
Clearly the Democrats have no interest in actually securing our borders or in the enforcement of our immigration laws.
Now we come to that hearing conducted by the Senate Intelligence Committee and the report that served as the predication for that hearing.
Inasmuch as the report contains material furnished by all of the elements of the U.S. Intelligence Community, the leaders of these agencies were witnesses at the hearing.
This is the Witness List:
Director Daniel Coats
Office of the Director of National Intelligence
ODNI
Director Christopher Wray
Federal Bureau of Investigation
FBI
Director Gina Haspel
Central Intelligence Agency
CIA
Director General Robert Ashley
Defense Intelligence Agency
DIA
Director General Paul Nakasone
National Security Agency
NSA
Director Robert Cardillo
National Geospatial-Intelligence Agency
NGA
Several areas of concern about national security vulnerabilities addressed in the report have a clear and unmistakable nexus to immigration, border security and related issues.
Page 4 of the report included this paragraph:
Migration is likely to continue to fuel social and interstate tensions globally, while drugs and transnational organized crime take a toll on US public health and safety. Political turbulence is rising in many regions as governance erodes and states confront growing public health and environmental threats.
Page 10 included the following excerpt:
Global jihadists in dozens of groups and countries threaten local and regional US interests, despite having experienced some significant setbacks in recent years, and some of these groups will remain intent on striking the US homeland. Prominent jihadist ideologues and media platforms continue to call for and justify efforts to attack the US homeland.
Page 18 of the report focuses on Transnational Criminal Organizations and provided vital information about drug trafficking and human trafficking.
Here is an excerpt of the material provided in this chapter of the report:
TRANSNATIONAL ORGANIZED CRIME
Global transnational criminal organizations and networks will threaten US interests and allies by trafficking drugs, exerting malign influence in weak states, threatening critical infrastructure, orchestrating human trafficking, and undermining legitimate economic activity.
The foreign drug threat will pose continued risks to US public health and safety and will present a range of threats to US national security interests in the coming year. Violent Mexican traffickers, such as members of the Sinaloa Cartel and New Generation Jalisco Cartel, remain key to the movement of illicit drugs to the United States, including heroin, methamphetamine, fentanyl, and cannabis from Mexico, as well as cocaine from Colombia. Chinese synthetic drug suppliers dominate US-bound movements of so- called designer drugs, including synthetic marijuana, and probably ship the majority of US fentanyl, when adjusted for purity.
Approximately 70,000 Americans died from drug overdoses in 2017, a record high and a 10-percent increase from 2016, although the rate of growth probably slowed in early 2018, based on Centers for Disease Control (CDC) data.
Increased drug fatalities are largely a consequence of surging production of the synthetic opioid fentanyl; in 2017, more than 28,000 Americans died from synthetic opioids other than methadone, including illicitly manufactured fentanyl. The CDC reports synthetic opioid- related deaths rose 846 percent between 2010 and 2017, while DHS reports that US seizures of the drug increased 313 percent from 2016 to 2017.
Other Organized Crime Activities
Transnational criminal organizations and their affiliates are likely to expand their influence over some weak states, collaborate with US adversaries, and possibly threaten critical infrastructure.
Mexican criminals use bribery, intimidation, and violence to protect their drug trafficking, kidnapping-for-ransom, fuel-theft, gunrunning, extortion, and alien-smuggling enterprises.
Gangs based in Central America, such as MS-13, continue to direct some criminal activities beyond the region, including in the United States.
Transnational organized crime almost certainly will continue to inflict human suffering, deplete natural resources, degrade fragile ecosystems, drive migration, and drain income from the productive—and taxable—economy.
Human trafficking generates an estimated $150 billion annually for illicit actors and governments that engage in forced labor, according to the UN's International Labor Organization.
This is not the first report or the first hearing to provide clear evidence that the porous U.S./Mexico border creates national security, public safety, and public health vulnerabilities for Americans.
I have written a number of articles about this issue; one of my recent articles took on the bogus claim that technology is better than a wall: "Why Trump's Wall Is A Must" - And why a "virtual fence" will stop no one.
A failure to stop the flow of illegal alien workers also undermines the U.S. economy, and costs American and lawful immigrant workers jobs and suppresses their wages. That fundamental fact was the basis for my commentary, "OPEN BORDERS FACILITATE AMERICA'S RACE TO THE BOTTOM" - "Cheap labor" is anything but cheap.
As I have noted ever so many times in my articles and in my Congressional testimony, simply securing the problematic border against the illegal (uninspected) entry of aliens won't end the immigration crisis but would close one of the major holes in what I have come to refer to as the Immigration Colander. I have come to conceptualize the wall on the U.S./Mexican border as the equivalent of a wing on an airplane. Without a wing the airplane will not fly, but the wing by itself would go nowhere.
The immigration system has never had a meaningful program to enforce the immigration laws from within the interior of the United States. The need to enforce the immigration laws from within the interior of the United States is commonsense and was noted as an important issue by the 9/11 Commission. The dirty secret is that our political leaders understand just how important interior enforcement is but have intentionally never provided the resources to enforce those laws from within the interior. Consider that, in the wake of the terror attacks of 9/11 President George W. Bush created the Department of Homeland Security (DHS ) and in so doing, broke the former Immigration and Naturalization Service (INS) into multiple components that then blended immigration with other agencies such as Customs.
However, while the leadership of neither the Democrats nor the Republicans have been willing to take the necessary measures to finally save the immigration crisis through effective but fair law enforcement, unhinged members of the Democratic Party are now calling for dismantling ICE altogether. They are calling for immigration anarchy even as yet another hearing, involving the leaders of the U.S. intelligence community, are clear about the nexus between threats confronting America and border security and immigration law enforcement.
Meanwhile cities and states that are controlled by the Democrats have created "Sanctuary Cities" and "Sanctuary States" that shield illegal aliens from detection from ICE including criminals, members of transnational gangs and drug trafficking organizations. These jurisdictions also shield international fugitives and terrorists and, in shielding aliens who were smuggled into the United States, protect the human traffickers who smuggled them here.
If these politicians were really concerned about the plight of trafficked aliens, they could cooperate with ICE and make certain that ICE provides these aliens with visas that are available for aliens who cooperate with investigations into human trafficking and major crimes.
As we have seen with the trial of Joaquin "El Chapo" Guzman, New York City -- the American city with the largest, best-trained and -equipped police department in the United States -- became the hub for the Mexican Sinaloa Drug Cartel that purportedly moved hundreds of tons of drugs including heroin, cocaine, meth, fentanyl, and marijuana into the U.S. across the Mexican border.
The only rational reason that NYC would have been selected as the hub, given the nature and reputation of the NYPD is the fact that NYC is a "Sanctuary City." This was the focus of my article, "NEW YORK CITY: HUB FOR THE DEADLY DRUG TRADE" - "Sanctuary" policies attract foreign drug traffickers, fugitives and terrorists.
For far too long America has been bleeding red (blood) and green (money). Truly secure borders wold represent a giant step on the road to resolving the immigration crisis. Failure to secure the border costs innocent lives, each and every day.
House Gives Victims of Illegal Alien Crime Bipartisan Standing Ovation on Chamber Floor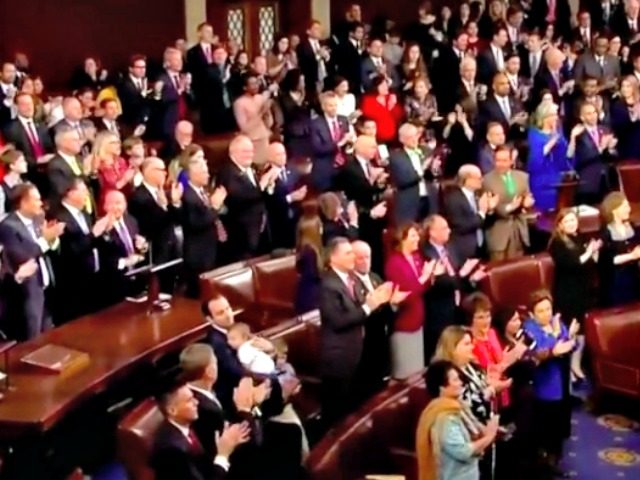 The U.S. House of Representatives on Wednesday gave victims of illegal alien crimes a bipartisan standing ovation on the floor of the chamber as House Minority Leader Kevin McCarthy read out the names of Americans killed by illegal aliens in a lengthy speech.
McCarthy began his speech bashing House Speaker Nancy Pelosi's strategy on the government funding battle that has protected the "status quo" on immigration, a system that has led to serious consequences for American citizen victims of illegal immigration.
McCarthy said on the House floor:
At a time when the country expects its leaders in Washington to look forward, this House majority is looking backward. When our country expects solutions, they are using this chamber to settle political scores. As hundreds of thousands of Americans painfully experienced, portions of our federal government were shut down for 35 days. A shameful record under this majority's watch. It was a shutdown that never had to happen.
McCarthy continued by recounting how the shutdown happened in large part due to obstruction from Pelosi and Senate Minority Leader Chuck Schumer. He also walked through how President Donald Trump made a number of concessions and offers to Democrats to have an honest deal to end the shutdown and secure the border with a wall along the border but Democrats rejected them every time:
After the President signed a three-week continuing resolution the Speaker gloated with a Presidential-style enrollment ceremony. Democrats marveled at her exercise of raw political motivation. And many in the media responded like they were beat reporters for their hometown team. This all sounds like a historic moment! What exactly was everyone celebrating? Nothing. 
They were celebrating achieving nothing. They were celebrating a status quo that suits their political interests and personal pursuits of self-righteousness. A status quo that causes pain and suffering for Americans across this country.
From there, McCarthy walked through the statistics of American victims of illegal alien crimes and the effects that an insecure border has on the American public:
There have been 266,000 criminal aliens arrested the last two years. This includes charges or convictions of 100,000 assaults, nearly 30,000 sex crimes, and 4,000 violent killings. Three hundred Americans die every week from heroin. And More than 90 percent of heroin comes across the Southern border. And roughly 10,000 children are being smuggled into the U.S. every year to be sold for human trafficking.
McCarthy called it "zero sum politics," and lamented how in Washington, D.C., "nothing ever changes."
"Well I'd like to spend some time and reflect on Americans and their families who might not have been celebrating the status quo preserved by this majority," McCarthy said.
At that stage, McCarthy then began reading off 50 names of Americans who were killed by illegal aliens–including many police officers. It was during McCarthy's reading of these names that the powerful moment happened on the House floo, in whih all Republicans and all Democrats present–approximately 60 members in total, as the full House was not present for this speech–stood in unison, along with their staff members with them on the floor and people watching from the gallery–giving the Americans slain by illegal aliens a bipartisan standing ovation from the full House of Representatives.
"All members on the floor–both Republicans and Democrats–rose and solemnly stood as McCarthy read the victims' names one by one," a senior GOP aide who was on the floor at the time and witnessed the powerful moment told Breitbart News. "Even onlookers from the gallery joined. It was a very emotional and powerful moment."
McCarthy was the GOP Speaker, and as he gave this speech, the House was split between Republicans and Democrats among the approximately 60 members present at about even, the GOP staffer present on the floor told Breitbart News, though as it went on there were more Republicans than Democrats there.
Rep. William Lacy Clay (D-MO), a Democrat and top member of the Congressional Black Caucus, was managing the floor for the Democrat majority in the House and, according to the senior GOP aide who was present, joined in with everyone else, including all the Democrats, Republicans, and staff present in standing to honor the Americans killed by illegal aliens.
Here is a full list of the 50 names that McCarthy read out on the House floor:
Jerry David
Sherri David
Deputy Josie Greathouse-Fox
Pierce Corcoran
Officer Ronil Singh
Clinton Howell
Robert Page
Justin Lee
Ellie Bryant
Grayson Hacking
Dominic Durden
Edwin Jackson
Grant Ronnebeck
Kenneth Scott-Mahr
Officer Kevin Will
Sergeant Brandon Mendoza
Sergeant Cory Wride
Josh Wilkerson
Spencer Golvach
Kate Steinle
Detective Michael Davis
Deputy Danny Oliver
Bob Barry
Parker Moore
Officer Andy Chavez
Lauren Bump
Louise Sollowin
Serenity Reedy
Vanessa Pham
Kathleen Byham
Agent Brian Terry
Officer Henry Canales
Donald Mayle
Breanna Schneller
Amanda Thomas
Jennifer Lee Hampton
Officer Andrew Widman
Officer Rodney Johnson
Buddy Mason
Adrienne Shelly
Mollie Tibbetts
Ronald da Silva
Sarah Root
Drew Rosenberg
Kara Willingham
Oscar Navarro
Margaret Kostelnik
Andres Duran
Rock Jones
Michael Grubbs
And here is video of McCarthy's full House floor speech posted by the Minority Leader's office:
"These are just 50 names of Americans whose lives have been lost to illegal immigration," McCarthy said after he finished reading their names. "They no longer have their voice. But we can and must be their voice today."
McCarthy also read off the names of various so-called DREAMers whom he says should be upset because the Democrats have refused to make a deal with President Trump–and then he rounded out his speech saying that he implores Congress to consider the impact that its refusal to solve the problem once and for all has on all Americans and the broad effect that congressional inaction causes.
"Mr. Speaker as this House adjourns for the week today — after just one rule bill — I implore my colleagues to take some time and think deeply about these individuals, their families, and what our country stands for," McCarthy said. "It certainly isn't this political stunt by this majority and it certainly isn't the status quo they are so proud to protect. As members of the U.S. House of Representatives we are a very small group with a very large responsibility. The burden on us 435 Americans is to represent 325 million Americans faithfully. To work together so that tomorrow is better than today. Let us not let these political distractions get in the way of our duty. Instead – lets actually get to work.

"
There Really Is a Crisis at the Border
by Armando Simón (February 2019)
Strangers, Edel Rodriguez, 2018
In the present showdown with Democrats, Trump laid out his case for a border wall whereas the two vulture-looking Democrats, significantly, did not address his main point: that the wall would keep out drugs and illegal aliens who committed crimes. The media, vigorously attacked Trump's speech
—
evenbefore he delivered it (Jonathan Karl at CBS almost threw a tantrum prior). Since then, the hive-mind of MSM journalists have avoided the central issue of crime and have instead focused at length on bureaucrats' paychecks and ignored crimes by illegal aliens.
There is a game that philosophers like to toss back and forth: if a tree falls in the forest and no one hears it, has it made a sound? The mainstream media (MSM), both in the USA and abroad, has the firm belief that if an event is not reported (as news) then it didn't happen and no one is the wiser. Dictatorships adhere to this principle.
Illegal immigrants are, of course, being protected and sanitized by liberals in various ways while deliberately ignoring inconvenient facts, such as that 70%"asylum seekers" don't bother to show up to court). Amazon's Jeff Bezos set aside $33 million for scholarships for illegals (nothing for Americans, or legal immigrants) with New York State allocating $27 million, while Los Angeles has legalized street vendors for illegal immigrants' benefit and Denver legalized public defecating in the streets for their benefit.
Meanwhile, mass deportations and border patrols have proven to curtail criminal gang activity. But the media doesn't report it. They're pushing the mantra that the issue is Trump's "fake crisis."
The tree has fallen in the forest and many people have heard it.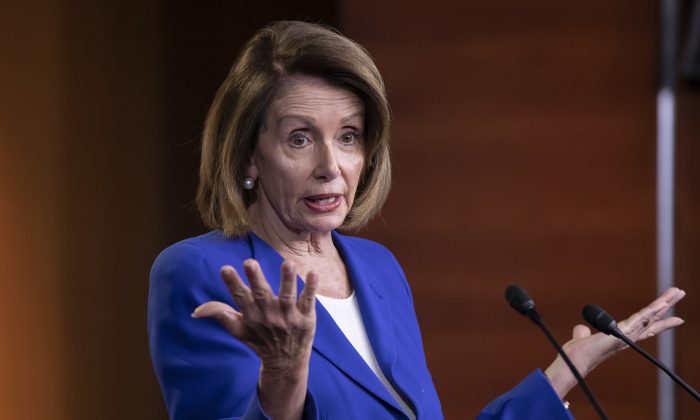 Pelosi Declines to Negotiate on Wall Money Even With Government Reopened
January 31, 2019
Updated: January 31, 2019
House Speaker Nancy Pelosi (D-Calif.) said that she would not negotiate on funding for the southern border wall, going back on her promise to negotiate with President Donald Trump if he agreed to end the partial government shutdown.
"There's not going to be any wall money in the legislation," Pelosi told reporters on Jan. 31, reported The Associated Press. She suggested she'd be open to vehicle barriers known as "Normandy fencing" instead.
"If the president wants to call that a wall, he can call that a wall. … Is there a place for enhanced fencing? Normandy fencing would work," Pelosi said.
She also said that she was open to negotiating on other points, such as border technology, but Trump has said for weeks that he wouldn't agree to anything without funding for the wall, making Pelosi's supposed openness to negotiation ring hollow.
A short time later, Trump was asked at a bill signing about Pelosi's comments.
"I'm not waiting for this committee and I've told a lot of people I don't expect much coming out of the committee because I keep hearing the words that 'We'll give you what you want but we're not going to give you a wall,'" Trump said. "And the problem is if they don't give us a wall it doesn't work. Without a wall, it doesn't work."
Pelosi's comments came after a committee composed of Republican and Democrat representatives and senators met for the first time on Wednesday, Jan. 30, seeking to hammer out an agreement that satisfies both sides.
Democrats have for the most part refused to budge on giving no funding for the wall, led by Pelosi.
Republicans, meanwhile, are seeking to obtain funding to keep building the southern border wall, as Trump has refused to sign appropriations that don't include funding.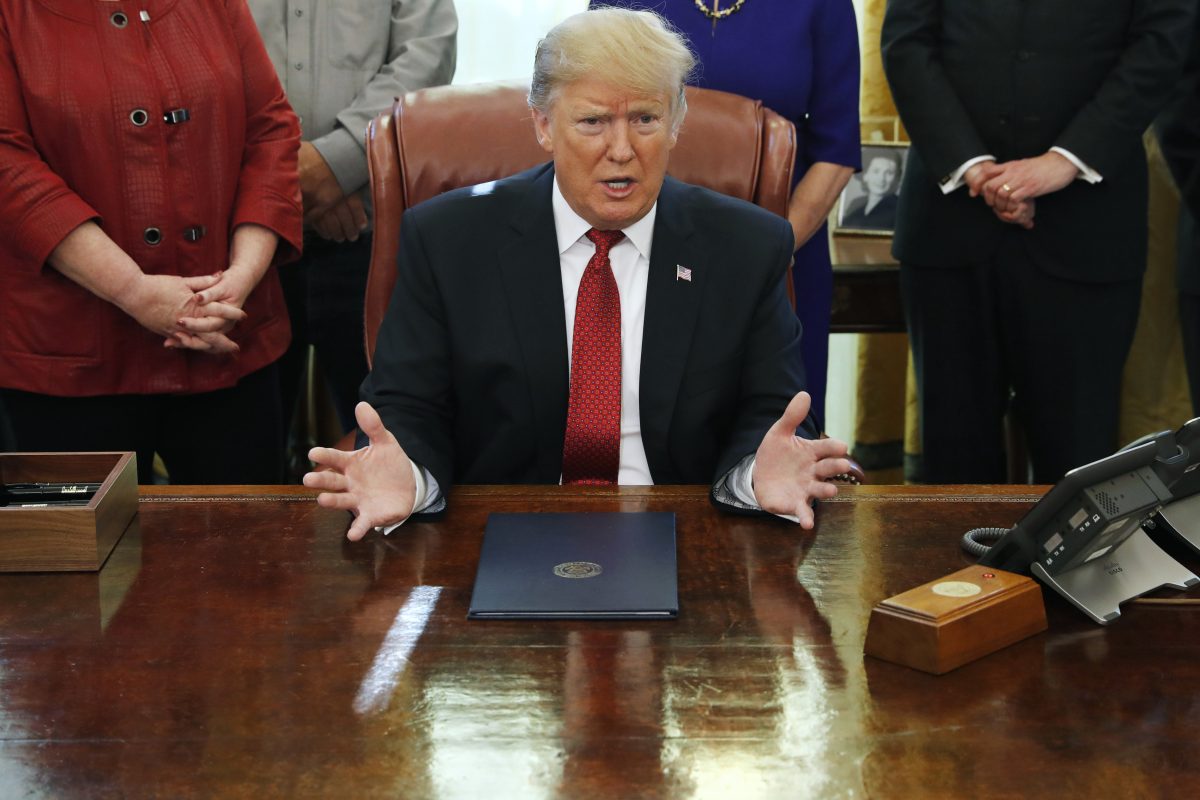 After a shutdown that started in December 2018 stretched past a month, Trump agreed to temporarily reopen the 25 percent of the federal government affected by the standoff, noting that Democrats had repeatedly promised to negotiate with him if the government was reopened.
The committee is expected to wrap up around Feb. 10 as under the temporary funding the government agencies in question will shut down against on Feb. 15 if an agreement isn't reached.
On Thursday, House Democrats also released a detailed summary of their opening offer in the negotiations, which didn't include any money for building the wall,
reported Reuters
. Instead, they proposed giving Customs and Border Protection $98 million more than the agency received last year, enough to hire about 1,000 more Border Patrol agents, as well as giving $77 million more than the $353 million that Trump requested for buying and deploying security technology.
But the president has argued that while technology and agents are crucial to border safety, it's impossible to keep the country secure without a wall stemming the flood of illegal aliens that agents have had to deal with in recent years.
Earlier he took to Twitter to say that whatever happened, he'd get the wall built.
"Large sections of WALL have already been built with much more either under construction or ready to go. Renovation of existing WALLS is also a very big part of the plan to finally, after many decades, properly Secure Our Border. The Wall is getting done one way or the other!" he said in one tweet.
In another, he added: Let's just call them WALLS from now on and stop playing political games! A WALL is a WALL!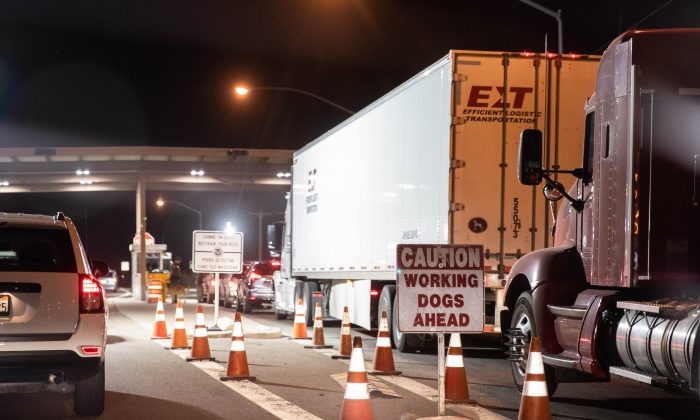 Ex-DHS Agent: 10,000 Children Trafficked Into US as Sex Slaves Each Year
January 31, 2019
Updated: February 1, 2019
About 10,000 children are smuggled into the United States every year to be sold as sex slaves, according to a former Homeland Security agent who worked in the child-trafficking unit.
"For a decade of that service, I was stationed at the border office in Calexico, California," Timothy Ballard wrote in a Jan. 30 opinion article published on the
Fox News website.
"Based on my extensive experience fighting transnational crime along the southern border, I know that we should absolutely finish building the wall, for the sake of the children."
Ballard is now founder and CEO of Operation Underground Railroad, an organization dedicated to rescuing children from sex trafficking.
"Human trafficking is the fastest growing criminal enterprise on the planet, with millions of child victims stuck in its clutches," Ballard wrote. "Indeed, this is no peripheral issue—this alone should be front and center in our border and immigration debate."
Ballard said his organization rescued a young girl who was 13 when she was kidnapped from her village in Central America and then trafficked to New York City, where she was raped 30 to 40 times a day.
"Had there been a wall, Liliana's traffickers would have likely been compelled to try their luck at any given port of entry, which are armed with advanced technology and well-trained officers," Ballard wrote.
He said at the same time the young girl was being trafficked across an unprotected part of the U.S.–Mexico border, a young boy was rescued as his kidnappers tried to smuggle him through a port of entry. The 5-year-old boy had been kidnapped in Mexicali, Mexico, and traffickers attempted to cross the border at the Calexico port of entry to California.
"Alert officers, using their sharp skills and high-tech monitoring equipment, snagged the American trafficker … rescued the boy, and then identified an entire trafficking network, allowing us to rescue many more children," Ballard said.
"The U.S. is one of the highest, if not the highest, consumers of child sex. As such, traffickers know they will become very wealthy by getting their enslaved children into our country. We do these traffickers a great favor by leaving our border virtually wide open."
The
National Center on Sexual Exploitation
has collected evidence from numerous studies that prove that pornography and America's hypersexualized culture are driving the insatiable desire for sex and the purchase of sex, including that with children.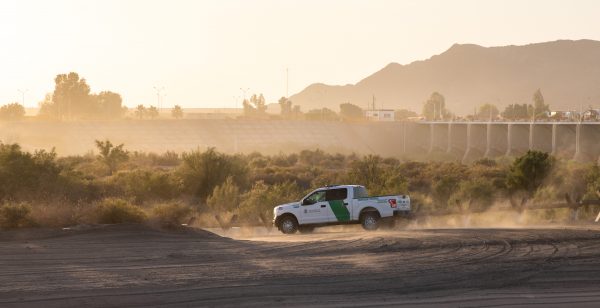 Arrests and Rescues
In California last week, an annual anti-sex-trafficking operation by law enforcement netted 339 arrests and rescued 48 victims—including 14 minors.
The Los Angeles County
Sheriff's Department
announced the effort on Jan. 29 and said among the arrests were 36 suspected traffickers and exploiters, and 156 males charged with solicitation.
"To the Johns: Sex with a minor is nothing short of child molestation and we aim to treat it as such. Buying sex adds to the exploitation of those involved," Assistant Sheriff Maria Gutierrez said at the press conference.
Los Angeles County District Attorney Jackie Lacey said, "We must help the young victims who are lured into sex trafficking and prosecute both the people who pay for sex with children and the traffickers who benefit financially from these horrendous crimes."
In Atlanta, ICE Homeland Security Investigations agents made 33 arrests and rescued four victims in the past few days, according to a message from Homeland Security Secretary Kirstjen Nielsen on
Twitter
Jan. 30.
In December, Jason Daniel Gandy of Houston was
sentenced
to 30 years in federal prison for trafficking children for commercial sex, according to ICE.
Gandy, 41, was convicted on four counts of sex trafficking of minors, one count of transporting a minor, one count of sexually exploiting a child, and one count of transporting child pornography.
Gandy flew with an unrelated 15-year-old boy from Houston to London, where he intended to make the child perform massages during the 2012 Olympics, according to ICE. Gandy had also molested the child on more than one occasion and intended to continue doing so.
ICE identified or rescued 904 sexually exploited children in fiscal 2017. In fiscal year 2018, ICE made more than 1,500 human-trafficking arrests. Most were for sex trafficking.
In 2017, more than 8,500 cases of human trafficking were reported to the National Human Trafficking
Hotline
, with 6,000 of the cases related to sex trafficking. Reports are most commonly from California, Texas, and Florida.
State of the Union
President Donald Trump is expected to make border security a top feature during his State of the Union address at the Capitol on Feb. 5.
"I will say that some of them [guests] will be border-related, some of them will be people who have suffered very badly because we didn't do what we should've done in a very dangerous part of our country, and so that's going to be a part of it, absolutely." Trump said in an interview with the
Daily Caller
on Jan. 30.
The president has been outspoken about human trafficking, saying the main victims are women and children.
"Women are tied up. They're bound. Duct tape put around their faces, around their mouths. In many cases, they can't even breathe," Trump said at an event in the Rose Garden on Jan. 25. "They're put in the backs of cars or vans or trucks. They don't go through your port of entry. … There's nobody to catch them. There's nobody to find them."
Congress is currently negotiating border-security funding before a Feb. 15 deadline, when a government shutdown will go into effect if no deal is reached.
Trump has said he won't sign legislation that doesn't include funding for more border wall. He is asking for $5.7 billion to go toward 234 miles of fencing along the almost-2,000-mile southwest border. Currently, 654 miles is fenced.
Senate Minority Leader Chuck Schumer (D-N.Y.), in his rebuttal to Trump's national address Jan. 8, said that, "This president just used the backdrop of the Oval Office to manufacture a crisis, stoke fear, and divert attention from the turmoil in his administration."
Speaker of the House Nancy Pelosi (D-Calif.) said in
early January
that "a wall is an immorality between countries; it's an old way of thinking."
She reiterated in a Jan. 31 press conference that "there's not going to be any wall money in the legislation."
Trump responded by saying Pelosi was "just playing games."
For Help
Contact the National Human Trafficking Hotline at 1-888-373-7888
or text HELP or INFO to BeFree (233733)
Report: Democrats' 2019 DHS Spending Bill Opens the Border to Migrants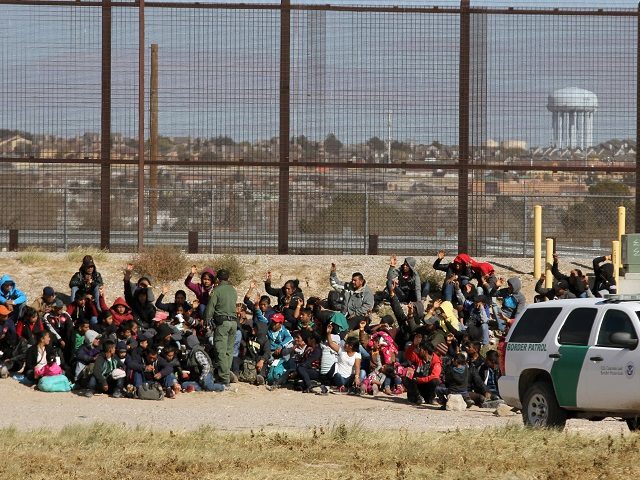 The House Democrats' proposed 2019 homeland security budget reopens the nation's southern border to migrant inflows, while it also dangles the promise of cheap labor in front of GOP legislators and donors.
The draft budget adds $1.75 billion in extra border spending to President Donald Trump's $58.7 billion budget request for the Department of Homeland security in 2019, according to a
copy
published by the
Washington Post
.
But Democrats' draft bill does not include any funding for the wall, and it uses the extra money to help migrants bypass border protections and then win jobs in the U.S. labor market.
Judging by the draft bill, "the Democrats want to limit the government's ability to keep people out of the country," said Mark Krikorian, director of the Center for Immigration Studies. In the Democrats' provisions become law, he said, adding that "e
nforcement would be weakened and people abroad would every quickly learn of that, and then illegal immigration would dramatically increase, especially of people with children."
Any flood of new migrants will force down wages for Americans, raise profits for donors, and will pressure some Americans to seek welfare from the government. In 2017, under rules set by former President Barack Obama and Congress, roughly 400,000 migrants got work permits to compete against Americans for jobs.
The Democrats' bill does not include any money for fences or walls, and it bars officials from setting barriers in major migrant pathways across the border:
[The bill] prohibits the use of funds from this and prior year Acts to construct physical barriers, as follows: Within or north of the Santa Ana Wildlife Refuge; Within or north of the Bentsen-Rio Grande Valley State Park; Within or north of La Lomita Historical Park; Within, south of, or north of the National Butterfly Center; or Within, north of, or east of the Vista del Mar Ranch tract of the Lower Rio Grande Valley National Wildlife Refuge.
The bill blocks Trump's rules which deny asylum to migrants who say they are afraid of gangs or domestic violence. It commits the DHS to end the detention of migrants who bring children to the border even though many migrants openly tell reporters that they bring children to trigger Obama's catch and release rules. The bill also cuts funding needed to keep migrants in detention until their legal claims are resolved, and it spends at least $75 million to encourage the catch-and-release of migrants.
The bill allocates $502 million for "humanitarian concerns" to welcome and aid migrants as they push their way through the border.
It also reopens Obama's pipeline for relaying Central American "UAC" youths from the cartels' coyotes at the border up to their parents and relatives who are living illegally in the United States while cutting ICE personnel levels and enforcement operations.
The bill also reauthorizes the EB-5 law which allows wealthy Chinese and Indian families to effectively buy green cards if they lend cash to American real-estate developers. The citizenship-for-sale program has strong supporters in both parties, including from New York's Democratic Sen. Chuck Schumer and Texas' GOP Sen. John Cornyn.
The bill also diverts border security funds into pork-barrel spending in members' districts, such as the purchases of aircraft, extra construction projects, $403 million for disaster spending, and a requirement that federal agencies clean up debris from forest fires.
The Democrats' border-opening legislation comes after the GOP Hill leadership — and the White House's Hill liaison team — failed last winter to enact a DHS funding bill for 2019. During the entire year of 2018, the Senate's GOP leadership did not publicly use any carrots or sticks to win Democratic acceptance to a border security plan acceptable to President Donald Trump, who must now pressure Hill legislators to pass much of the 2018 border security bill which was not passed in 2018.
But Democrats do not want to recognize the economic and civic damage from their tacit support of mass migration, said Krikorian. He continued:
I

t is becoming increasingly mainstream on the left to reject the concept of immigration controls. Not that criminals should be let in, or terrorists, but the principle [they support] that everyone has the right to move here — unless there is some specific reason to keep them out— is now at the center of the Democratic Party.
"Our elites are increasingly dangerous — they are a danger to the health of their society," he added.
Democrats have plenty of tools to pressure GOP legislators to accept the Democrats' border-opening legislation.
The bill denies any funding for walls. When GOP legislators push for wall funding, Democrats can demand offsetting cutbacks in enforcement and border rules.
Democrats also can offer more cheap labor to GOP donors if the GOP legislators agree to the Democrats' border opening plans.
For example, the bill does not include several expansions of visa-worker programs which were included in the July 2018 draft budget by Rep. Kevin Yoder and many GOP and Democratic appropriators. Yoder was defeated in November, but the border security panel is dominated by House and Senate appropriators.
Yoder's provisions would have roughly doubled the inflow of H-2B seasonal laborers, so forcing down salaries for American seasonal workers and blue collar workers.
Yoder also pushed for a rule which would allow all farm companies — including dairies — to use the fast-growing H-2A agricultural worker program. If adopted, the measure would shrink farmers' incentives and ability to buy American made, labor-saving machines, such as robotic cow-milkers.
Most dramatically, Yoder and his fellow appropriators offered the hugely valuable prize of green cards to at least 50,000 additional low-wage Indian and Chinese graduates per year if they take middle-class jobs from American graduates. The green card offer is being marketed by lobbyists as the fair removal of "country caps." But it is being backed by U.S. Fortune 500 companies who wish to raise their stock values by hiring more cheap visa-workers in place of American graduates.
U.S. companies already employ roughly 1.5 million college trained visa workers, mostly in jobs that were not advertised to American graduates. Many of those workers accept very low wages from their employers in the hope of winning green cards from the government.
Throughout the next several weeks, the GOP legislators will face pressure behind closed doors from business groups that want the cheap H-2A, H-2B, and H1B visa workers.
Yet few reporters ever ask legislators why they are eager to import cheap labor which forces down wages and salaries for Americans — including the wages and salaries paid to the journalists' children, friends, relatives, and college roommates.
Nationwide, the U.S. establishment's economic policy of using legal migration to boost economic growth shifts wealth from young people towards older people by
flooding
the market with cheap white-collar and blue-collar foreign
labor
.
That flood of outside labor
spikes
profits and Wall Street values by
cutting
salaries for manual and skilled labor of blue-collar and white-collar
employees
.
The cheap labor policy
widens
wealth gaps,
reduces
high tech investment,
increases
state and local tax burdens,
hurts
kids' schools and
college
education,
pushes
Americans away from high tech careers, and sidelines at least five million
marginalized
Americans and their families, including many who are now
struggling
with fentanyl addictions.
Immigration also steers investment and wealth away from towns in Heartland
states
because coastal investors can more easily hire and supervise the large
immigrant
populations who
prefer
to live in coastal cities. In turn, that investment flow
drives
up real estate prices in New York, California, and elsewhere, pricing poor U.S. Latinos and
blacks
out of prosperous cities, such as
Berkeley
and
Oakland
.