'Beto' O'Rourke Not Sure if He's 'Bi-Cultural'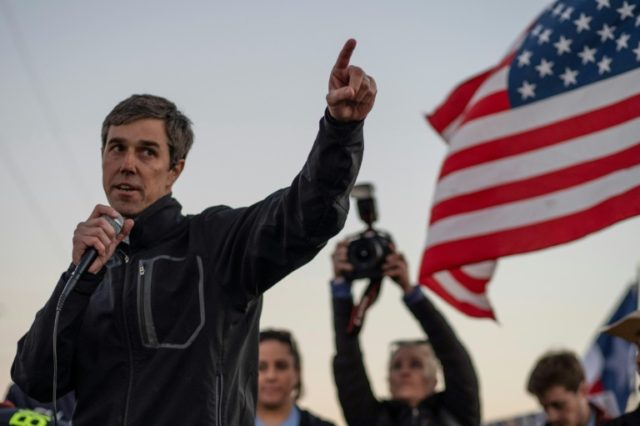 Robert Francis "Beto" O'Rourke said this weekend that he is not sure if he is "bi-cultural."
"I live in a bi-cultural community. My folks and their parents and generation that preceded them were from all over Europe so I don't know if I would consider myself bi-cultural if you're asking US and Mexico, but I'm very proud to live in a bicultural community," O'Rourke reportedly told reporters days after formally entering the 2020 presidential race. "And for my kids to be going to a dual language public school where they are learning math in English and Spanish."
White liberal media reporters have gushed over how O'Rourke can speak Spanish on the stump, signaling to white audiences that he is bilingual, and have written countless profiles about how O'Rourke comes from a "bi-cultural" community in El Paso, Texas.
But as he has done with numerous questions since he launched his candidacy—Medicare for all, impeachment, reparations—O'Rourke gave a non-answer clouded in soaring rhetoric, which already seems to be one of his trademarks on the stump.
Earlier in the year, O'Rourke called for the border wall along the U.S.-Mexico border in El Paso to be torn down. He then later partly walked back those remarks.
"I think there are in some places a need for a physical barrier, and here's what I would do: I would work with local stakeholders, the property owners, the communities, those who actually live there, to determine the best security solution," O'Rourke reportedly later said after receiving the "El Pasoan of the Year" award, according to CNN. "We saw in El Paso a solution in search of a problem imposed on us by people who did not live here."
On Meet the Press on Sunday, O'Rourke claimed that he could best talk about immigration issues in the 2020 election cycle–even though other candidates like former San Antonio Mayor Julian Castro and Sen. Kamala Harris (D-CA) are also from border states–because he is "the only candidate from the United States/Mexico border at a time that that dominates so much of our national conversation and legislative efforts and the things that the president talks about."
"There's one candidate who's there who can talk about the profoundly positive impact that immigrants have had on our safety and our security, as well as our success and our strength," O'Rourke claimed.
Beto: 'If Immigration Is a Problem, It's the Best Possible Problem for This Country to Have'
(CNSNews.com) - Newly minted presidential contender Robert Francis "Beto" O'Rourke wants to open lawful paths of immigration to potentially millions more people.
"And all of us, wherever you live, can acknowledge that if immigration is a problem, it's the best possible problem for this country to have. And we should ensure that there are lawful paths to work, to be with family and to flee persecution," O'Rourke, from the border city of El Paso, said in his video announcement.
With continuous and energetic hand-gesturing, and his wife Amy looking on, O'Rourke echoed the "Yes we can" campaigns of Barack Obama:
"This is a defining moment of truth for this country and for every single one of us. The challenges that we face right now, the interconnected crises in our economy, our democracy and our climate have never been greater, and they will either consume us or they will afford us the greatest opportunity to unleash the genius of the United States of America.
"In other words, this moment of peril produces perhaps the greatest moment of promise for this country and for everyone inside of it."
And here starts the "we can" theme:
We can begin by fixing our democracy and ensuring that our government works for everyone and not just corporations.

We can invest in the dignity of those who work and those who seek to work.

We can ensure that every single American can see a doctor and be well enough to live to their full potential.

And all of us, wherever you live, can acknowledge that if immigration is a problem, it's the best possible problem for this country to have. And we should ensure that there are lawful paths to work, to be with family and to flee persecution.

We can listen to and lift up rural America.

We can work on real justice reform and confront the hard truths of slavery and segregation and suppression in these United States of America.

We can reassert our global leadership and end these decades-long wars, and be there for every woman and man who has served in them.

And perhaps most importantly of all, because our very existence depends on it, we can unleash the ingenuity and creativity of millions of Americans who want to be ensure that we squarely confront the challenge of climate change before it's too late.
He promised to run a "positive" campaign that seeks to unite a divided country.
The video announcement came out just before the morning cable shows began at 6 a.m.; and it coincides with a gushing profile in Vanity Fair, complete with photographs by celebrity photographer Annie Liebovitz.
O'Rourke, a former U.S. congressman, lost his 2018 campaign for the U.S. Senate to incumbent Republican Ted Cruz.
The 2020 Democrats: Beto O'Rourke
Beto O'Rourke Immigration Plan: No Walls; Amnesty for Dreamers, Parents, 'Millions More'
Former Rep. Beto O'Rourke (D-TX) isn't yet a candidate for the Democrat presidential election, but he is already making clear his stance on immigration — open borders and amnesty for all of the people in the country illegally.
What's Beto's Problem with the Constitution?
Texas Finds 95,000 Non-US Citizens Registered To Vote -- 58,000 Have Actually Voted In Recent Elections
Top 5 Voter Fraud Cases Along Texas Border in 2018… which are the only counties that voted for La Raza Beto!
In a year fraught with voter fraud allegations, many of which resulted in prosecutions across Texas, counties along the Mexican border stood out as hotbeds for investigative activities.
FORMER MEXICAN PRESIDENT ENDORSES BETO O'ROURKE
Texas Democrats asking non-citizens to vote
Safe Spaces: How Sanctuary Cities are Giving Cover to Noncitizens on the Voter Rolls
Public Interest Legal Foundation, August
Immigration and Customs Enforcement (ICE) has released hundreds of migrants in El Paso, Texas over the past few days, including 186 on Christmas Day.
Beto: 2020 Will Be 'Mother of All Tests' for Democracy
Saying "there's never been a darker moment" in America in his lifetime, Rep. Robert Francis "Beto" O'Rourke (D-TX), a potential 2020 presidential candidate, said on Friday that President Donald Trump's reelection campaign will be the "mother of all tests for this democracy."
GLOBALIST FOR BANKSTERS, THE SUPER RICH and OPEN BORDERS
ADVOCATES TO FINISH OFF THE AMERICAN MIDDLE-CLASS.
There's a reason why Soros, Bezos, Zuckerberg, Bloomberg, Gates and the Koch Brothers love the Obomb!
"Democrats Move Towards 'Oligarchical Socialism,' Says Forecaster Joel Kotkin."
MULTI-CULTURALISM and the creation of a one-party globalist country to serve the rich in America's open borders.
"Open border advocates, such as Facebook's Mark Zuckerberg, claim illegal aliens are a net benefit to California with little evidence to support such an assertion. As the CIS has documented, the vast majority of illegals are poor, uneducated, and with few skills. How does accepting millions of illegal aliens and then granting them access to dozens of welfare programs benefit California's economy? If illegals were contributing to the economy in any meaningful way, CA, with its 2.6 million illegals, would be booming." STEVE BALDWIN – AMERICAN SPECTATOR
GEORGE SOROS PARTNERS WITH BARACK OBAMA and ERIC HOLDER TO CREATE A GLOBALIST REGIME FOR THE BILLIONAIRE CLASS and CRONY BANKSTERS…. Open borders and endless hordes of illegals will make it happen!
YOU WONDERED WHY OBAMA-HOLDER WORKED SO HARD TO SABOTAGE AMERICAN VOTING FOR MORE ILLEGALS???
Those are the subliterate, low-skill, non-English-speaking indigents whose own societies are unable or unwilling to usefully educate and employ them. Bring these people here and they not only need a lot of services, they are putty in the hands of leftist demogogues as Hugo Chavez demonstrated - and they are very useful as leftist voters who will support the Soros agenda.
JAMES WALSH
BARACK OBAMA'S HISPANICAZATION of AMERICA…
first ease millions of illegals over our borders and into our voting booths!