400 Migrants Apprehended Within Five Minutes in El Paso Sector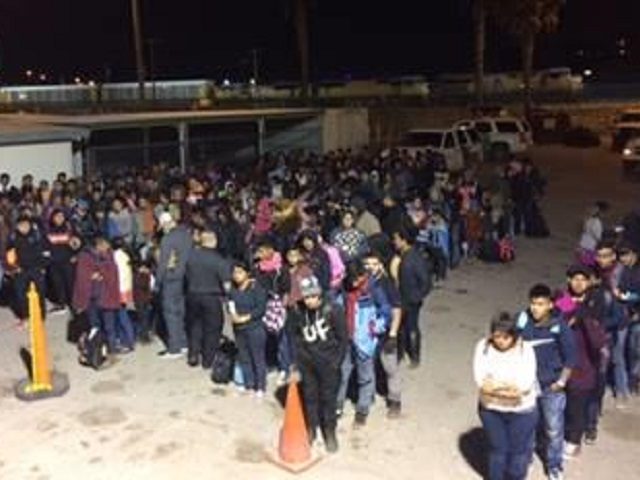 El Paso Sector Border Patrol agents apprehended two large groups of Central American migrants after they illegally crossed the border from Mexico. Agents apprehended the two groups totaling more than 400 during a five-minute period early Tuesday.
Agents patrolling near Bowie High School came upon a group of 194 migrants at about 2:45 a.m. Tuesday. Approximately five minutes later, other agents patrolling the border further west came upon a second group consisting of 252 migrants. The second group crossed the border near downtown El Paso, according to U.S. Customs and Border Protection officials.
Officials said that during the first three hours of Tuesday morning, their agents apprehended more than 430 people. Officials called it just "another busy day for the El Paso Sector Border Patrol."
"In the last 30 days, the U.S. Border Patrol El Paso Sector is averaging 570 apprehensions a day, with 90 percent of those being in the El Paso Metropolitan Area," officials stated. "These numbers continue to stretch the resources available to the U.S. Border Patrol to deal with this influx and the challenges that come with it."
During the first five months of Fiscal Year 2019 (which began on October 1, 2018) El Paso Sector officials reported a 1,689 percent increase in the number of Family Unit Aliens apprehended in the sector, according to the February Southwest Border Migration Report. In February alone, the agents apprehended 13,744 migrants including 10,509 family units and 1,517 unaccompanied minors.
So far this year, agents in the nine southwest Border Patrol sectors apprehended more than 268,000 migrants including 136,150 family units and 26,937 unaccompanied minors. All sectors except for the Big Bend and Laredo Sectors reported increases of more than 200 percent in family unit apprehensions. The Laredo Sector reported only a 77 percent increase and the Big Bend Sector reported only a 17 percent increase.
Bob Price
serves as associate editor and senior political news contributor for the Breitbart Border team. He is an original member of the Breitbart Texas team. Follow him on Twitter
@BobPriceBBTX
and
Facebook
.
The Heritage Foundation
records
over a thousand successfully
prosecuted cases of voter fraud in the U.S. Not included in their
records is a recent example near me. It was a vote-harvesting
scheme using absentee ballots perpetrated by the previous mayor of
Waverly, a small town about an hour from the Va. capitol. It was
not listed because Richmond's infamous attorney, Joe Morrissey,
traveled to the sticks to get a fellow Democrat acquitted.
Beto O'Rourke Demands End Of "Racist" Voter ID Laws
Speaking at Keene State College on Tuesday, the former Texas congressman also called for expanding same-day voter registration across the nation, as well as federal oversight of the voting system.
He says, "We have kept too many people out for too long."
Republicans have pursued voter ID laws aimed at preventing in-person voter fraud, including by people in the country illegally. Many experts say such voter fraud is extremely rare, and critics contend the efforts are meant to suppress turnout from groups who tend to back Democrats, including racial minorities and college students.
IS BETOMATIC A CLONE OF BANKSTER-OWNED BARACK OBAMA, THE LA RAZA SUPREMACIST WHO SURRENDERED OUR BORDERS FOR 8 YEARS AS HE AND HOLDER SERVICED THEIR CRONY CRIMINAL BANKSTERS.
*
"Our entire crony capitalist system, Democrat and Republican alike, has become a kleptocracy approaching par with third-world hell-holes. This is the way a great country is raided by its elite." – Karen McQuillan AMERICAN THINKER.com
Further, nearly 60% think that the next generation will be
worse off
than they are. And few have any faith that the economic outlook for the country will improve in the near or distant future.
There are many parallels between "Betomania" and "Obamamania," and O'Rourke has been called the "white Obama."
He is married to the
daughter of a billionaire
, so if nominated, Democrats would have a hard time attacking Republicans for supporting a billionaire president without being accused of hypocrisy.
"Beto also questioned whether the Constitution was still relevant, which makes one wonder how seriously he would take the oath to "preserve, protect and defend the Constitution of the United States" should he be sworn in as president."
WORDS OF A PSYCHOPATH BARACK OBAMA:
"In his 2006 autobiography
The Audacity of Hope
, then-Senator Obama wrote, "I serve as a blank screen on which people of vastly different political stripes project their own views." That is why Obama won the presidency, and should O'Rourke win too, that is why he will have won"
BETO O'ROURKE HAS BEEN ENDORSED BY MEXICO. HOW IMPORTANT WILL THE ILLEGALS' VOTES BE?
"In 2018, a volunteer for the Beto campaign urged followers to transport undocumented aliens (ILLEGALS) to the polls."
"Many liberals believe that anyone in the United States – citizen or non-citizen – should be able to vote. If they want to make that argument and change the law to make it happen, they are more than welcome to try. Of course, if they run on that issue, they will get slaughtered at the polls. So instead of going to the American people and working to change the law, they try an underhanded dirty trick to achieve the same goal." APOLO VILLALOBOS
"American elites continue focusing on a global order while ignoring the decline of the United States. A broken America will be unable to meet any geopolitical threats abroad. Any national security strategy that does not begin with securing our own national security at home will be doomed to fail." DANIEL GREENFIELD
Knowing that the wall will become a reality if the President gets the cash brings out the cheap-labor-express, wealthy power brokers like the
Billionaires for Open Borders
: Michael Bloomberg; Rupert Murdoch; other distinguished members of the Forbes 500; and, as Lou Dobbs often
reminds
us, the "globalists, the Chamber of Commerce, the Business Roundtable,
Koch brothers
and Wall Street."
LA RAZA SUPREMACIST BETO "BETOMATIC" O'ROURKE… openly endorsed by Mexico!
https://mexicanoccupation.blogspot.com/2018/12/rep-beto-orourke-celebrates-his.html
O'Rourke tweeted his support for hundreds of undocumented people into American communities.
"Many thanks to volunteers & donors who ensure that we take care of families being released by ICE in El Paso. 200 to be released today. Over 500 tomorrow." BETO O'ROURKE
We've got an even more ominous enemy within our borders that promotes "Reconquista of Aztlan" or the reconquest of California, Arizona, New Mexico and Texas into the country of Mexico….. AND THE ENEMY IS THE LA RAZA SUPREMACIST GLOBALIST DEMOCRAT PARTY!
Democrats are Changing to Rules on Voting to Ensure Permanent Majorities for Them
Attorney General Eric H. Holder Jr. on Tuesday vowed to be "aggressive" in challenging voting laws that restrict minority rights, using a speech in Texas to make his case on the same day a federal court was considering the legality of the state's new voter ID legislation.

"Let me be clear: We will not allow political pretexts to disenfranchise American citizens of their most precious rights," Holder said in the speech to the National Association for the Advancement of Colored People. "I can assure you that the Justice Department's efforts to uphold and enforce voting rights will remain aggressive."
The Justice Department said Thursday that it will file a new lawsuit against Texas to try to block the state's voter ID law.

"Today's action marks another step forward in the Justice Department's continuing effort to protect the voting rights of all eligible Americans," Attorney General Eric Holder said in a statement accompanying the announcement of the lawsuit.

"We will not allow the Supreme Court's recent decision to be interpreted as open season for states to pursue measures that suppress voting rights."
House Democratic leaders on Friday unveiled the outline of a broad political overhaul bill that will include provisions for public financing of elections, voting rights reforms and new ethics strictures for federal officials.

The bill has been in the works for months as part of Democrats' "For the People" campaign platform, a framework that helped them win the House majority in this month's midterm elections. [snip]

"It's folks from across the political spectrum that are demanding this," said Rep. John Sarbanes (D-Md.), the principal author of the plan, who stood alongside Pelosi and several members of the incoming freshman class at a news conference.
An investigation by Texas officials into potential voter fraud that critics said threatened to jeopardize voting rights of naturalized citizens illustrates how important ballot box protections are, U.S. House Speaker Nancy Pelosi said in Austin on Tuesday.

The activity in Texas "shows only more importantly the need" for voting rights legislation the House will take up this week, Pelosi, D-Calif., said at an event in East Austin.

H.R. 1, the "For the People Act," is designed to make voting easier, reduce partisan redistricting and limit what Pelosi called "the influence of big, dark money" in campaigns.

Critical of moves in Washington and Texas revolving around voting, Pelosi said the state investigation was "part of a whole picture of undermining the Constitution."

She was joined by Julieta Garibay, the lead plaintiff in a lawsuit accusing Texas officials of illegally targeting her and others because they are foreign-born.