THE DEMOCRAT PARTY AND THE WASTELAND OF AMERICAN CITIES THEY CONTROL AND SURRENDER TO LA RAZA
A

study

by Tom Wong of the University of California at San Diego discovered that more than 25 percent of DACA-enrolled illegal aliens in the program have anchor babies. That totals about 200,000 anchor babies who are the children of DACA-enrolled illegal aliens. This does not include the anchor babies of DACA-qualified illegal aliens. JOHN BINDER

"The Democrats had abandoned their working-class base to chase what they pretended was a racial group when what they were actually chasing was the momentum of unlimited migration". DANIEL GREENFIELD / FRONT PAGE MAGAZINE

"It extends to each issue the Democrats embrace. Every city that has come under Democrat control is proof positive that instead of raising the standard of living for the occupants, the city falls to crime, gangs, and drugs. In fact, "America is awash with troubled, dysfunctional cities that have been electing

Democrat Party

mayors for decades." EILEEN F TOPLANSKY

In the last two years, ICE officers made 266,000 arrests of aliens with criminal records, including those charged or convicted of 100,000 assaults, 30,000 s ex crimes, and 4,000 violent k illings. Over the years, thousands of Americans have been brutally k illed by those who illegally entered our country, and thousands more lives will be lost if we don't act right now.
DHS Secretary: Every Migrant Girl Over 10 Gets Pregnancy Test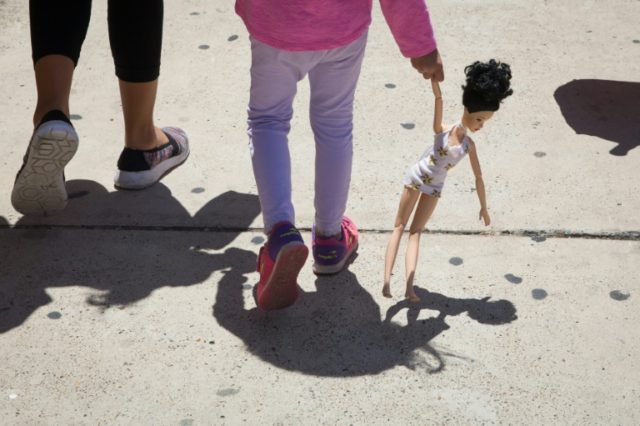 Every migrant girl over 10-years of age that reaches the U.S. is receiving a pregnancy test, said Department of Homeland Security Secretary Kristjen Nielsen during her testimony before the House Homeland Security Committee.
Nielsen spoke about the dangers that migrants face–especially females who are often subjected to significant abuse at the hands of human smugglers.
According to recent statistics shared by DHS, one in three females are victims of a sexual assault on the journey to the border. This figure is similar to the one used in January by President Donald Trump during a speech. The figure used by Trump is almost half of the one cited by Doctors without Borders who claimed as many as 68 percent suffer sexual abuse.
Soon after Trump's speech, Politifact and other news organizations moved to debunk the claim, calling it a half-truth since no reliable metrics reportedly existed. For years, Breitbart Border and Cartels documented similar cases to the contrary.
"Women and young girls from Central America are routinely given birth control or morning-after pills by their mothers in anticipation of the likely sexual assaults that will occur on their illicit journey to the United States," Breitbart's Brandon Darby and Bob Price reported on the article, Rape Trees, Dead Migrants and the Consequences of an Open Border. They continued:
These females are often raped immediately upon making it to their first stop once they arrive in a Mexican stash house from Guatemala. They then are shipped to the U.S.-Mexico border, usually to Reynosa, Mexico, immediately south of McAllen, Texas. In the process of making it from the first stash house to the second, the women and young girls are often sexually assaulted or raped again by the smuggler–or group of smugglers–taking them between the two locations. The sexual assaults and rapes then often happen again in the second Mexican stash house of their journey.
Ildefonso Ortiz is an award-winning journalist with Breitbart Texas. He co-founded the Cartel Chronicles project with Brandon Darby and Stephen K. Bannon. You can follow him on Twitter and on Facebook. He can be contacted at Iortiz@breitbart.com.
Brandon Darby is the managing director and editor-in-chief of Breitbart Texas. He co-founded the Cartel Chronicles project with Ildefonso Ortiz and Stephen K. Bannon. Follow him on Twitter and Facebook. He can be contacted at bdarby@breitbart.com.
MEXICO'S INVASION, OCCUPTION and LOOTING OF AMERICA by INVITATION OF THE LA RAZA SUPREMACY DEMOCRAT PARTY
"Fox's Tucker Carlson noted Thursday that Obrador has previously proposed ranting AMNESTY TO MEXICAN DRUG CARTELS. "America is now Mexico's social safety net, and that's a very good deal for the Mexican ruling class," Carlson added."
*
*
"And soon, very soon — after the victory of our movement — we will defend all the migrants in the American continent and all the migrants in the world," Obrador said, adding that immigrants "must leave their towns and find a life in the United States." RICK MORAN
FACTS ON THE "REAL LATINO AMERICA" OF MEXICAN OCCUPIED LOS ANGELES:
(these are highly DATED stats on Mexico's second largest city)
This is another "fact" spun from the 2004 op-ed by Heather Mac Donald, whose article refers to a single Los Angeles gang and the conjecture of an unnamed federal prosecutor.
1.
"40% of all workers in L.A. County are working for cash and not paying taxes. . . . This is because they are predominantly illegal immigrants working without a green card." The Mexican tax-free economy in Los Angeles County is estimated to be in excess of $2 billion dollars a year.
2.
"95% of warrants for murder in Los Angeles are for illegal aliens . . . "
3.
"75% of people on the most wanted list in Los Angeles are illegal aliens."
4.
"Over 2/3 of all births in Los Angeles County are to illegal alien Mexicans on Medi-Cal, whose births were paid for by taxpayers." The County of Los Angeles hands Mexico's anchor baby breeders more than a BILLION DOLLARS a year in welfare.
5.
"Nearly 35% of all inmates in California detention centers are Mexican nationals here illegally." California has the largest and most expensive prison system in the country. Half the inmates are now Mexicans. Half the murders in California are by Mexican gangs.
6.
Over 300,000 illegal aliens in Los Angeles County are living in garages.
7. "The FBI reports half of all gang members in Los Angeles are most likely illegal aliens from south of the border."
8. "Nearly 60% of all occupants of HUD properties are illegal."
9. 21 radio stations in L. A. are Spanish speaking.
10. In L. A. County 5.1 million people speak English, 3.9 million speak Spanish.