AMERICA HAS A HOMELESS AND HOUSING CRISIS THAT IS NEVER GOING TO GET BETTER!
EVERY AMERICAN IS ONE PAYCHECK AND ONE THOUSAND ILLEGALS AWAY FROM BEING HOMELESS AND YET THEY KEEP THE BORDERS WIDE OPEN FOR MORE!
"When we hear stories about the homelessness in California and elsewhere, why don't we hear how illegal aliens contribute to the problem? They take jobs and affordable housing, yet instead of discouraging illegal aliens from breaking the law, politicians encourage them to come by lavishing free stuff on them with confiscated dollars from this and future generations."
JACK HELLNER


D.C. Region Sets Up 'Sanctuary Congregations' to Shield Illegal Aliens from ICE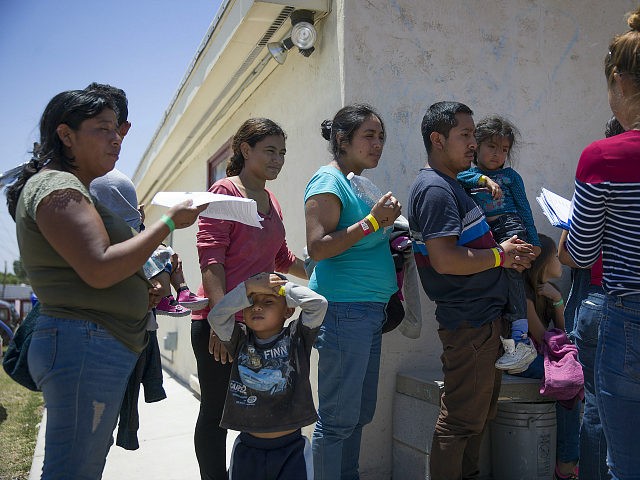 The Congregation Action Network — formerly called the DMV Sanctuary Congregation Network — is working in Washington, DC, Virginia, and Maryland to make churches places where people in the United States illegally can gather to prevent their detainment and deportation.
President Donald Trump
announced
on Saturday he would delay the start of an Immigration and Customs Enforcement (ICE) sweep to detain and deport migrants who had been served deportation orders but have instead disappeared inside the country.
"At the request of Democrats, I have delayed the Illegal Immigration Removal Process (Deportation) for two weeks to see if the Democrats and Republicans can get together and work out a solution to the Asylum and Loophole problems at the Southern Border," Trump tweeted on Saturday. "If not, Deportations start!"
"In response to President Trump's announcement that his administration would deport 'millions' of undocumented immigrants in the coming weeks, the Congregation Action Network asserted its faithful solidarity with immigrant families across the DC Metro area who have been put into a fresh state of fear and trauma," a press release from the network said. "Network clergy are speaking out and urging their communities to stay safe and their congregations to take action."
"Shame on us, U.S., for creating a state of fear for vulnerable people," Rev. Julio Hernandez, of Arlington, Virginia, said. "The community is already struggling for survival. The threats of raids re-traumatizes those who don't have documents and want to live like the rest of us."
"We are all humans," Hernandez said. "If we start to dehumanize one group for political benefit then we are in danger of harming ourselves."
"The Network has urged its members to reach out to local governments and law enforcement and urge them not to cooperate with Immigration and Customs Enforcement (ICE)," the network press release said. "Lack of access to area detention facilities or support from law enforcement will make it harder for ICE to carry out widespread arrests."
"God promises often in the sacred scriptures of my faith to protect, defend, and comfort those in distress," the Rev. Sharon Stanley-Rea, director of Disciples Refugee & Immigration Ministries, said. "I am disturbed, as a Christian and a U.S. citizen, with the need for hardworking, family-focused immigrant friends and neighbors to raise cries for God's protection against terrorizing ICE raids that threaten not only to separate families, but to separate us from our best values of welcome, compassion, and hospitality."
"Instead of spreading fear, we are ready now as faith communities to stand in solidarity with immigrants to offer love, to continue to urge our cities to invest in support for our immigrant neighbors that keeps our cities strong, and to ask our sheriffs and police not cooperate with ICE in such raids," Stanley-Rea said.
The network said that since Trump took office, they have been distributing "Know Your Rights" materials to migrants in the country illegally. It also has developed a "Deportation Defense" program that includes providing sanctuary to migrants inside of church buildings, according to the press release.
But Mark Morgan, acting director of ICE, said the operation planned is not designed to scare people.
"This is not about fear," Morgan, told ABC News. "No one is instilling fear in anyone."
"This is about the rule of law and maintaining the integrity of the system," Morgan said.
The network is also taking advantage of protocol ICE has in place to respect people in what it calls "sensitive locations," including schools, daycare centers, health facilities, churches, and religious or civil ceremonies such as weddings or funerals.
Follow Penny Starr on Twitter.
We are now in the process of destabilizing our own country. FROSTY WOOLDRIGE
Welfare for Refugees Cost Americans $123 Billion in 10 Years ….
YOUR TAX DOLLARS AT WORK!
"Mexican president candidate Andrés Manuel López Obrador called for mass immigration to the United States, declaring it a "human right". We will defend all the (Mexican) invaders in the American," Obrador said, adding that immigrants "must leave their towns and find a life, job, welfare, and free medical in the United States."
"Fox's Tucker Carlson noted Thursday that Obrador has previously proposed ranting AMNESTY TO MEXICAN DRUG CARTELS. "America is now Mexico's social safety net, and that's a very good deal for the Mexican ruling class," Carlson added."
AMNESTY: THE HOAX TO KEEP WAGES FOR LEGALS DEPRESSED!
"Critics argue that giving amnesty to 12 to 30 million illegal aliens in the U.S. would have an immediate negative impact on America's working and middle class — specifically black Americans and the white working class — who would be in direct competition for blue-collar jobs with the largely low-skilled illegal alien population." JOHN BINDER