Free Health Care for Illegal Aliens Could Cost American Taxpayers up to $660B a Decade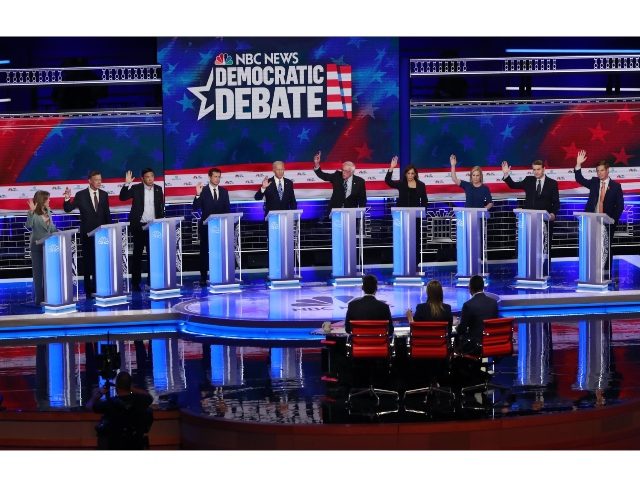 Providing free health care for all illegal aliens living in the United States could cost American taxpayers an additional $660 billion every decade in expenses.
This week, half of the 24 Democrats running for their party's presidential nomination confirmed that their healthcare plans would provide free health care to all illegal aliens at the expense of American taxpayers — including former Vice President Joe Biden, Sen. Bernie Sanders (I-VT), Sen. Kamala Harris (D-CA), Mayor Pete Buttigieg, and Sen. Kirsten Gillibrand (D-NY).
Center for Immigration Studies Director of Research Steven Camarotta told Breitbart News that only rough estimates are available for what health care for illegal aliens will cost American taxpayers, and though a comprehensive study has yet to be conducted on this specific issue, taxpayers can expect to pay a "significant" amount.
"If we offered Medicaid for illegal immigrants, it is possible the costs could be over tens of billions of dollars," Camarotta said. "However, it would depend on eligibility criteria as well as how many illegal immigrants actually sign up for program once it was offered. So while the actual costs are uncertain, the size would be significant for taxpayers."
A reasonable estimate of health care for each illegal alien, Camarotta said, is about $3,000 — about half the average $6,600 that it currently costs annually for each Medicaid recipient. This assumes that a number of illegal aliens already have health insurance through employers and are afforded free health care today when they arrive to emergency rooms.
Based on this estimate, should the full 22 million illegal aliens be living in the U.S. that Yale University and Massachusetts Institute of Technology researchers have estimated there to be, providing health care for the total illegal population could cost American taxpayers about $66 billion a year.
Over a decade, based on the Yale estimate of the illegal population and assuming all sign up for free health care, this would cost American taxpayers about $660 billion.
Even if there are only 11 million illegal aliens living in the U.S., as the Pew Research Center and other analysts routinely estimate, American taxpayers would still have to pay a yearly bill of $33 billion a year to provide them all with free, subsidized health care.
Should only half of the illegal population get health care, it would cost American taxpayers about $16.5 billion a year — almost the price of what it currently costs taxpayers to provide subsidized health care to illegal aliens.
Today, Americans are forced to subsidize about $18.5 billion worth of yearly medical costs for illegal aliens living in the U.S., according to estimates by Chris Conover, formerly of the Center for Health Policy and Inequalities Research at Duke University.
Nearly every Democrat running for their party's presidential nomination has endorsed having American taxpayers pay for free health care for illegal aliens. Those who have endorsed the plan include Biden, Sanders, Gillibrand, Buttigieg, and Harris, along with Sen. Elizabeth Warren (D-MA), Sen. Cory Booker (D-NJ), former Housing and Urban Development Secretary Julian Castro, Rep. Seth Moulton (D-MA), Sen. Michael Bennet (D-CO), author Marianne Williamson, Rep. Eric Swalwell (D-CA), entrepreneur Andrew Yang, and Gov. John Hickenlooper (D-CO).
John Binder is a reporter for Breitbart Texas. Follow him on Twitter at
@JxhnBinder
.
The California dream of taking care of everyone's needs is undermined by the California dream of open borders. State lawmakers were forced to choose between them, and they chose open borders. One must hope that one day the state's voters choose different lawmakers.
California's $215 Billion Budget Includes Health Care for Illegal Aliens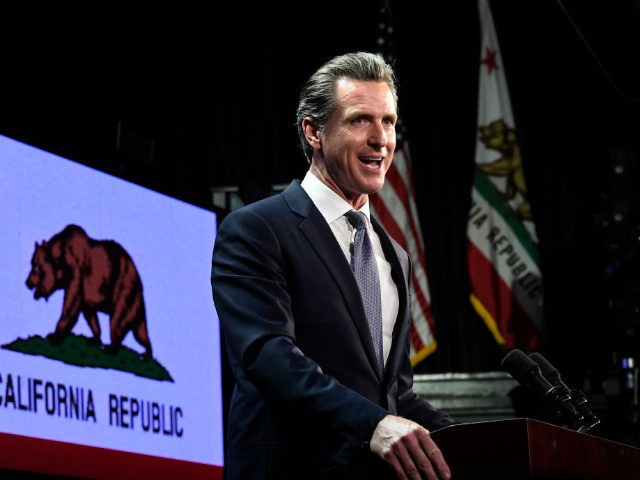 California's Democrat Gov. Gavin Newsom signed a $215 billion budget on Thursday, which includes taxpayer-funded health care for illegal aliens.
Newsom signed the massive $214.8 billion funding bill into law, which includes a provision that would expand health care for people who are illegally in the U.S. and penalizes people who do not purchase health insurance, the Los Angeles Times reported.
The California Democrat had proposed expanding health care for illegal aliens long before he took office.
In an August 2018 interview, Newsom said he would use an executive order to give universal health care to those residing in the U.S. illegally. Once Newsom took office in January, he proposed expanding Medi-Cal, the state version of Medicaid, to illegal aliens up to 26 years old.
The plan sailed through California's Democrat-controlled legislature, although there were concerns over how much money the state should provide for expanding Medi-Cal for low-income illegal aliens.
Newsom proposed that $98 million in the budget should go to expanding taxpayer-funded health care for illegal aliens between 19 and 25 years old, but one state Assembly bill proposed setting aside $3.4 billion to cover all illegal aliens over 19 years old.
The bill is Newsom's first budget since he took office in January, largely helped along by a $21.5 billion surplus carrying over from his fellow Democrat, former Gov. Jerry Brown's, administration.
New York Post Cover on Democrats Promising Illegal Aliens Free Health Care: 'Who Wants to Lose the Election?'
The Friday cover of the

New York Post

mocks 2020 Democrat presidential hopefuls who vowed to give free, taxpayer-funded health care to illegal immigrants.
Nolte: Dems Promise to Take Away Our Health Insurance and Give It to Illegal Aliens
We will have to wait and see how and if the debates move the needle within the Democrat primary. But what these last two nights have done is clarify a Democrat Party that is bound and determined to confiscate our guns, our money and our health insurance. Oh, and then Democrats are going to decriminalize illegal immigration and give our health insurance to illegal aliens.
Tax increases.

Gun confiscations.

Slave reparations

Decriminalize illegal immigration.

No more deporting of illegal immigrants.

Abolish the private health insurance currently held by over 150 million Americans.

Give free health insurance to illegal immigrants.
Fact Check: U.S. Taxpayers Pay $18.5B a Year for Healthcare for Illegal Aliens
As 2020 Democrat presidential primary candidates advocate having American taxpayers provide free health care for illegal aliens, U.S. citizens are already paying billions every year for the expenditure.
Republican Lawmakers React to $100 Million Budget Towards Medi-Cal for Illegal Aliens
Bill Cassidy Proposes to Prevent Americans from Subsidizing Health Care for Illegal Aliens
As California remains poised to adopt a bill that would give full Medicaid benefits to illegal immigrants, Sen. Bill Cassidy (R-LA) and other Senate Republicans proposed legislation to block leftist states from forcing Americans to subsidize programs that expand benefits to illegal immigrants.
How states that provide Medicaid benefits to illegal immigrants keep federal and state dollars separate.

Whether states providing health benefits to illegal aliens use budget gimmicks to bilk the federal government, such as provider taxes and intergovernmental transfers, to launder federal dollars to offset the cost of providing benefits to this population.

Whether illegal immigrants benefit from covered outpatient drugs purchased under the Medicaid Drug Rebate Program and the 340B program, and whether this impacts the prices American citizens pay.
Gavin Newsom: GOP Headed 'Into the Waste Bin of History'
Gov. Gavin Newsom (D-CA), one of the most progressive governors in the country, predicts the Republican Party is headed "into the waste bin of history."
(LA RAZA, DEM INVASION)
3 Key Facts About California's 'Medicare for Illegals' Plan
The State of California is about to pass a new healthcare plan that attempts to support and expand Obamacare, partly by providing free health care to some adult illegal aliens.
Paying for illegals' 'free' health care by fining Californians who can't afford Obamacare
CALIFORNIA UNDER MEXICAN OCCUPATION: Private hospitals are forced to provide more than $1.5 BILLION in "free" healthcare at emergency rooms. You wondered why you were billed $80 dollars for an aspirin you last hospital visit?
Taxing Americans To Give Illegal Aliens Subsidized Health Care
POLITICIANS MUST FACE CONSEQUENCES FOR CRIMES THEY ENABLE
Malfeasant politicians must find no "sanctuary."
Kamala Harris: Medicare for All Includes Illegal Aliens
Rising US "deaths of despair" driven by health care costs, lack of access to care
The opioid crisis, suicide and alcohol-related deaths
Health insurance, access to care, cost
Health care costs
Audio Transcript
California Says: 'Go West, Young Illegals, Go West'
California could use a management change
California Lawmakers Plan to Give Health Benefits to Illegal Immigrants
HANNAH BLEAU
Democrat state lawmakers in progressive California have agreed to a plan that would extend health benefits to qualifying illegal immigrants residing in the state.
Tomi Lahren: Health care for illegal immigrants is here in California
///
What's the matter with California?