"When we hear stories about the homelessness in California and elsewhere, why don't we hear how illegal aliens contribute to the problem? They take jobs and affordable housing, yet instead of discouraging illegal aliens from breaking the law, politicians encourage them to come by lavishing free stuff on them with confiscated dollars from this and future generations."
JACK HELLNER
THE LA RAZA SUPREMACY DEMOCRAT PARTY:
Getting LA RAZA illegals into the voting booths will assure endless hordes of "cheap" labor and destroy the GOP to make America a one-party country and massive, border to open border LA RAZA welfare state.
The Pew Research Center
found
in 2012 that a plurality of Hispanic illegal aliens are Democrats, while only 4 percent said they identified with the Republican Party.
ILLEGALS VOTING IN MASSIVE NUMBERS IN MEX-OCCUPIED CA
'Eleven of California's 58 counties have registration rates exceeding 100% of the age-eligible citizenry.'
'California has the highest rate of inactive registrations of any state in the country. Los Angeles County has the highest number of inactive registrations of any single county in the country'
(THIS IS DATED. MEXICO NOW HAS INVADED ALL STATES )
The Mexican fascist separatist movement of M.E.Ch.A's goal is even more radical: an independent ''Aztlan,'' the collective name this organization gives to the seven states of the U.S. Southwest – Arizona, California, Colorado, Nevada, New Mexico, Texas and Utah."
The letter notes that the percentage in L.A.
County may be as high as 144%.
THE BILLIONAIRES'S GLOBALIST DEMOCRAT PARTY FOR WIDER OPEN BORDERS
the true cost of all that "cheap" labor is passed along to the middle class.
"This doesn't include the
costs of illegal immigration
to society, which provides health care, housing, education, child care, and legal services to illegal aliens. Even though immigration advocates claim that illegal aliens do indeed pay taxes, the dollar amount
pales in comparison
to the cost of the many services they receive."
Meanwhile, despite the highest taxes in the nation, California is $1.3 trillion in debt – unemployment is at a staggering 11%. California's wacko giveaways to illegals include in-state tuition, amounting to $25 million of financial aid. Nearly a million illegals have California driver's licenses. L.A. County has 144% more registered voters than there are residents of legal voting age. Clearly, illegals are

illegally voting

.
Exclusive– Expert: 'Only Matter of Time Before Illegal Alien Voting Is Expanded'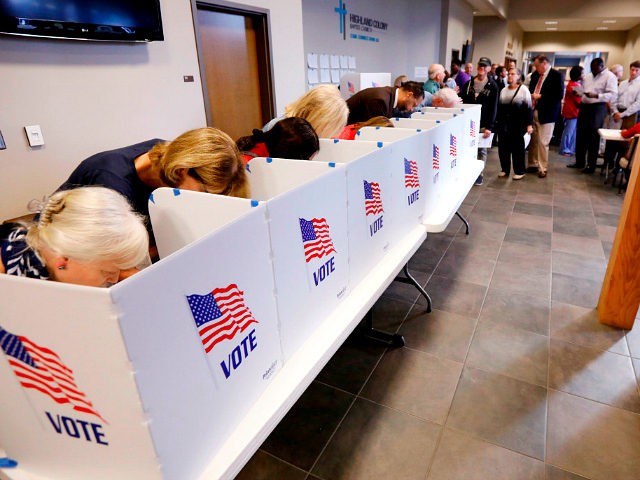 Elected Democrats will soon attempt to expand voting rights in deep blue states for illegal aliens, an election fraud expert says.
Last week, Democrats in New York state
approved
and signed into law a plan to give driver's licenses to illegal aliens with the backing of the business lobby. The law allows for the state's 725,000-strong illegal alien population to be eligible for the same driver's license that American citizens are afforded.
Already, state officials have said the law will effectively
give
illegal aliens the ability to vote as New York registers citizens to vote at state Department of Motor Vehicles (DMV) offices.
Government Accountability Institute (GAI) Director of Research Eric Eggers exclusively told Breitbart News that the new law in New York indicates that it is "only a matter of time" before elected Democrats in states like California, New York, Massachusetts, Oregon, and Maryland expand voting rights for illegal aliens.
"This is the first step towards the expansion of a number of things that normalize the rights of illegal aliens," Eggers said.
"It's only a matter of time before we see the expansion of illegal alien voting in state elections and eventually the Left pushing for illegal alien voting in federal elections," Eggers continued.
Eggers said there are two scenarios to which illegal aliens may register to vote in New York. The first is illegal aliens knowingly registering to vote at the DMV by fraudulently claiming that they are eligible to vote.
"We're now trusting illegal aliens' honor not to register to vote," Eggers said.
The second case is where the state's Democrat officials exploit illegal aliens by coercing them to register to vote without them truly understanding that it is illegal.
"My research shows that illegals get caught up in this by parties that exploit and victimize illegal aliens," Eggers said.
Florida immigration attorney Liz Ricci told Breitbart News that she has had clients get caught up in the easily accessible voting registration system and suffered the consequences in return.
"I've had other clients who were denied naturalization because of this," Ricci said.
The New York effort to add hundreds of thousands of illegal aliens to the state's driver's license rolls comes just before the 2020 presidential election, a calculated move by the Democrat National Committee (DNC), according to Eggers.
"The Democrats are doing this right in time for 2020," Eggers said. "We know that [DNC Chairman] Tom Perez has been advocating for this — the expansion of voting rights to illegal aliens."
The New York law will "potentially increase" the voting impact of illegal aliens across the state and thus diluting the votes of American citizens, Eggers said.
California, where illegal aliens are allowed to obtain driver's licenses as well, has been found to have a growing voter fraud issue across the state. Last year, the California DMV admitted that it had registered 1,500 non-eligible voters, including noncitizens, over the course of just six months.
John Binder is a reporter for Breitbart News. Follow him on Twitter at
@JxhnBinder
.
We are now in the process of destabilizing our own country. FROSTY WOOLDRIGE
Welfare for Refugees Cost Americans $123 Billion in 10 Years ….
YOUR TAX DOLLARS AT WORK!
"Mexican president candidate Andrés Manuel López Obrador called for mass immigration to the United States, declaring it a "human right". We will defend all the (Mexican) invaders in the American," Obrador said, adding that immigrants "must leave their towns and find a life, job, welfare, and free medical in the United States."
"Fox's Tucker Carlson noted Thursday that Obrador has previously proposed ranting AMNESTY TO MEXICAN DRUG CARTELS. "America is now Mexico's social safety net, and that's a very good deal for the Mexican ruling class," Carlson added."
AMNESTY: THE HOAX TO KEEP WAGES FOR LEGALS DEPRESSED!
"Critics argue that giving amnesty to 12 to 30 million illegal aliens in the U.S. would have an immediate negative impact on America's working and middle class — specifically black Americans and the white working class — who would be in direct competition for blue-collar jobs with the largely low-skilled illegal alien population." JOHN BINDER
"Washington, D.C. (May 22, 2018)
– The Center of Immigration Studies analysis of new Bureau of Labor Statistics data for the first quarter of 2018 shows that the labor force participation rate has not returned to pre-2007 recession levels, and relative to 2000 the rate looks even worse. Things are particularly bad for those without a college education. The problem is not confined to one area of the country; in virtually every state, labor force participation is lower in 2018 than in 2007 or 2000 among the less-educated."
Exclusive–Steve Camarota: Every Illegal Alien Costs Americans $70K Over Their Lifetime
JOHN BINDER