Billionaire Kochs to Financially Back Democrats Pushing Amnesty, Free Trade
The pro-mass immigration Koch brothers' network of billionaire, donor-class organizations is readying to financially back Democrats, so long as they promise to support amnesty for illegal aliens and vote to advance free trade at all costs.
In a

memo

to its staff, the Koch-funded Americans for Prosperity (AFP) organization announced that the economic libertarian group is set to back any elected official in Washington, DC, — including Democrats — who support their agenda of amnesty for illegal aliens and endless free trade, and oppose the GOP voter-preferred economic nationalist agenda of less immigration and tariffs to protect American jobs.

The memo read:

The threat of being primaried prevents policymakers from leading on difficult issues and driving principled policy reforms.

AFP or AFP Action will be ready to engage contested U.S. Senate, U.S. House, and state-level primary races, including Republican, Democrat, Independent or otherwise, to support sitting legislators who lead by uniting with others to pass principled policy

and get good things done. [Emphasis added]

The Koch effort to financially support pro-amnesty, anti-economic nationalist Democrats would come to fruition through the creation of multiple issue-specific Political Action Committees (PACs), all under the larger Koch network umbrella.

Support for free trade absolutism, amnesty for illegal aliens, and an anti-economic nationalist voting record are basic requirements for Democrats and Republicans who want financial support from the Koch brothers, as outlined in AFP's memo:

Four new issue specific Political Action Committees (PACs) will be created to make contributions directly to candidates

. We know that candidates will seldom agree with Americans for Prosperity on every issue. But for those who do the politically difficult job of leading on a critical issue, these issue specific PACs will make it clear why millions of Americans support them on that issue, even if they have principled disagreements on others.

The PACs, which will launch in the coming weeks as new entities working with our broader community, are: Uniting for Economic Opportunity, Uniting for Free Expression, Uniting for Free Trade, and Uniting for Immigration Reform

. [Emphasis added]

The initiative is set to put the Koch brothers' network of donor class organizations in line with Democrats such as Joe Biden — who has backed amnesty for all illegal aliens and

continues to support

the NAFTA free trade deal that eliminated nearly five million American jobs — and Republicans such as Justin Amash who opposes the use of tariffs and has previously suggested support for an amnesty for illegal aliens shielded from deportation by President Obama's Deferred Action for Childhood Arrivals (DACA) program.

Meanwhile, the Kochs' doubling down on amnesty and free trade puts them not only at odds with economic nationalists such as President Donald Trump and Sen. Elizabeth Warren (D-MA) — both of whom support tariffs on foreign imports and cracking down on multinational corporations who outsource U.S. jobs — but also with the overwhelming majority of Republican voters, conservatives, and Trump supporters.

The latest Harvard/Harris Poll

revealed

that the vast majority, nearly 8-in-10, Republican voters support tariffs on Chinese imports. Likewise, close to 85 percent of Trump supporters said they support tariffs on China and 76 percent of conservative voters said the same. A majority, 53 percent, of all U.S. voters said they support tariffs on Chinese imports.

On immigration, the billionaire donor class continues to be out of step with Republican voters.

The Koch network's economic libertarian, anti-populist agenda of free trade, mass legal immigration, and entitlement reform has little-to-no

support

among the American electorate. The economic libertarian agenda, once fronted by former House Speaker Paul Ryan,

failed

to sway voters in the 2018 midterm elections.

Previously, the Kochs and their network have

opposed

any reductions to legal immigration to raise American workers' wages, reforms to

save

U.S. taxpayers billions of dollars by ending welfare-dependent legal immigration, and an

end

to the country's birthright citizenship policy that rewards illegal aliens' U.S.-born children with American citizenship.

The nation's Washington, DC-

imposed

mass legal and illegal immigration policy — whereby at least 1.5 million unskilled foreign nationals are admitted to the U.S. every year — is a boon to corporate executives, Wall Street, big business, and multinational conglomerates, as America's working and middle class have their

wealth redistributed

to the country's

top earners

through wage stagnation.

Research by the National Academies of Sciences, Engineering, and Medicine has discovered that immigration to the country shifts about $500 billion in wages away from working and middle-class Americans toward new arrivals and economic elites.

Meanwhile, decades of free trade has spurred mass layoffs, unemployment, and offshoring of high-paying American jobs while surging trade deficits. Since China entered the World Trade Organization (WTO), the U.S. trade deficit with China has

eliminated

at least 3.5 million American jobs from the American economy. Millions of American workers in all 50 states have been

displaced

from their jobs, which have been lost due to U.S.-China trade relations.

John Binder is a reporter for Breitbart News. Follow him on Twitter at @JxhnBinder.
Homelessness surges in southern California
A report released this week by the Los Angeles Homeless Services Authority (LAHSA) chronicles a drastic rise in homelessness in the Los Angeles area over the last year. In 2019, the homeless population of the city increased by 16 percent to 36,000, while the homeless population of the county increased by 12 percent to 59,000. The figures in the report contradict the official narrative that the economy has recovered and that the working class is, despite this or that issue, faring well.
In Los Angeles the growth of homelessness is driven by an exorbitantly high cost of living, dominated by rent. The majority of the homeless people surveyed in this study pointed to economic hardship as the main cause of their vagrancy. Because of the high cost of living, a worker earning the minimum wage of $13.75 per hour would need to work 79 hours per week for a median one-bedroom apartment in the city to be considered "affordable"—defined as costing no more than one third of an individual or family's income.
Many of those on the streets today have only recently lost their homes, with a quarter of the homeless people in the city reporting becoming homeless for the first time in 2018. Young people have been disproportionately affected by the housing crisis, with homelessness increasing among the youth by 24 percent. A net 1 million people have left the state in the last decade for cheaper destinations like Texas, Arizona or Nevada, with the majority of them being working class youth. In 2017, the Los Angeles Unified School District estimated that over 17,000 of its students were homeless.
However, it is not only the scale of the housing crisis that has expanded. It has done so in spite of much vaunted programs promoted as the solution to the crisis. With programs enacted in the last few years such as measure H and proposition HHH, a sales tax and a loan program meant to fund homeless assistance, the LAHSA expanded its activity and provided record levels of support this year.
They were able to provide permanent housing to 21,600 people in 2018, more than double the number for 2014 and up by 4,000 since last year. In a number of other categories including prevention and interim housing, their work has also markedly expanded. In 2018 homelessness in the county decreased by 4 percent.
However, the expansion of the housing crisis has far outpaced relief efforts. The LAHSA says that 1,400 units are scheduled to open this year and that 10,000 will open in the coming years, in accordance with the initial targets of these funding programs. This is barely enough to support a sixth of the county's homeless population.
But despite this modest goal, homelessness has still grown significantly this year. While unemployment is officially low, many workers find themselves in multiple, low-paid, and casual jobs, one reversal away from finding themselves on the streets.
Perhaps more telling than the conditions in Los Angeles are those in the neighboring counties, where the rise in homelessness has been even more drastic. In these less urban areas, statistics are not methodically collected in the same detail, but figures are still available: In neighboring Ventura County the number of homeless people increased this year by 28 percent, in Orange 43 percent, and in Kern 50 percent.
The LAHSA report is also a devastating indictment of the politics of the Democratic Party. Despite being the wealthiest state in the US, and in addition to that being home to more billionaires than any other state, California has the highest poverty rate when the cost of living is accounted for. There is no question that there is an enormous amount of wealth locked up in the bank accounts of the super-rich, but the Democratic Party rejects any moves to use this wealth for the benefit of the working class.
Instead, as prices are driven up, workers are unable to afford to continue living in their old neighborhoods, and many leave the state. Any relief that exists is funded primarily through regressive taxes and loans whose repayments will come from the city's coffers, and ultimately from the working class. Any serious attempt to deal with the housing crisis will by necessity have to confront the ruling class and threaten its immense wealth.
The US jobs report for May, released Friday by the Bureau of Labor Statistics (BLS), showed an increase in non-farm payrolls of only 75,000, far below the 223,000 jobs added in April. While the official unemployment rate remained at 3.6 percent, the lowest figure in half a century, this has not translated into significantly higher wages.
Wages continue to stagnate, with workers seeing an average hourly pay raise of only six cents, or 0.2 percent, in May, the same as in April. Over the last 12 months, average hourly wages have grown by only 3.1 percent. With an annual inflation rate of two percent, the increase in real wages for US workers over the past year is a mere 1.1 percent.
The virtual freeze in real wages has been constant feature of the so-called economic recovery since the Great Recession. In fact, real wages for American workers peaked 46 years ago, in 1973.
The reported net gain of 75,000 jobs in May was offset by a reduction of 75,000 in the BLS' job estimates for April and March. Factory employment is up just 30,000 this year, compared to a gain of 110,000 in the first five months of last year. Overall job increases are likewise sharply down in 2019. In the first five month of this year, the US economy added an average of 164,000 jobs, down from an average gain of 223,000 for all of 2018.
"Following an overly strong April, May marked the smallest gain since the expansion began," said Ahu Yildirmaz, vice president and co-head of the ADP Research Institute, which surveys the payroll data of nearly half a million employers.
ADP said goods-producing employers cut 43,000 jobs in April, including 4,000 in mining and natural resources, 36,000 in construction and 3,000 in manufacturing. The retail sector lost jobs for the fourth month in a row and employment in that sector has dropped by 50,000 since January. Gains in employment were limited to professional and business services and health care.
In a separate report released last week, the Bureau of Labor Statistics found that non-farm business sector labor productivity increased 3.4 percent in the first quarter of 2019, while unit labor costs decreased by 1.6 percent due to negligible increases in wages. Labor productivity rose less in the manufacturing due to a fall in overall output and fewer hours worked, both signs that the US economy is slowing.
Despite the claims of "full employment," the number of workers officially listed as unemployed remained unchanged at 5.9 million in May. Just short of a quarter of these workers—1.3 million—are listed as long-term unemployed because they have been jobless for 27 weeks or more.
Not included in the official unemployed numbers are the 4.4 million workers who were forced to work part-time in May because their hours were reduced or they were unable to find full-time work. Another 1.4 million workers, also not counted as jobless, were those defined by the government as marginally attached to the work force because they had not searched for work in the four weeks preceding the survey, although they wanted and were available for work and had looked for a job sometime in the prior 12 months.
Anemic job growth in the US and a decline in retail sales and factory orders in April all point to a slowing of the US economy. This, along with slowing growth in Europe and China, have led to mounting predictions of a looming global recession. These trends have been exacerbated by the trade war the Trump administration has launched against China, the world's second largest economy, along with protectionist threats against Mexico, Germany, Japan, Australia and other countries.
The US Federal Reserve has made clear its willingness to reduce interest rates to keep the speculative bubble on Wall Street inflated. Last Tuesday, Fed Chairman Jerome Powell signaled that the central bank was prepared to cut rates if trade conflicts adversely affected the stock market. This triggered a jump of 512 points on the Dow Jones Industrial Average that day and further gains on Wednesday and Thursday. On Friday, the markets responded to the unexpectedly poor jobs report with another surge, confident that the Fed would use the slowdown in job growth to justify a rate cut, possibly as soon as its next meeting later this month.
what does it say about a
country that encourages and
abets a foreign invasion???
Nancy Pelosi Opposes Mexico's Promise to Keep Migrants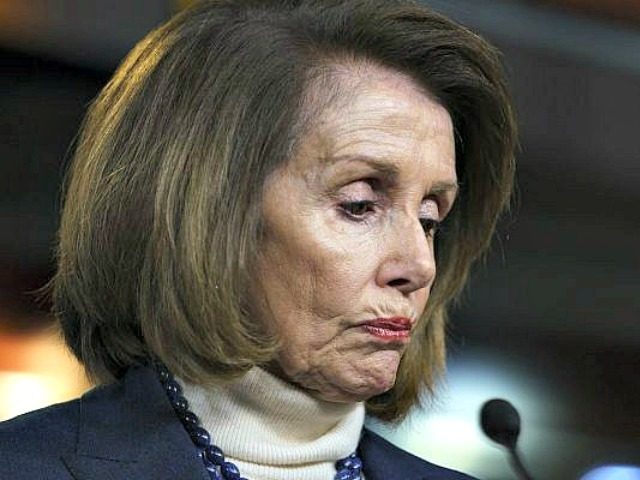 The top Democrat in the House, Rep. Nancy Pelosi, is opposing Mexico's comprehensive immigration reform deal with U.S. President Donald Trump.
The deal expands the "Remain in Mexico" policy which returns illegal migrants back to Mexico until they can be bussed to their asylum-court hearings in the United States. The policy is now keeping just 8,000 migrants in Mexico, out of roughly 330,000 who crossed the border in the last three months.
"We are deeply disappointed by the Administration's expansion of its failed Remain-in-Mexico policy, which violates the rights of asylum seekers under U.S. law and fails to address the root causes of Central American migration," said the statement from House Speaker Pelosi.
But it is not clear how Pelosi can block Mexico's agreement with the "Remain in Mexico" policy. It has already survived one review by judges, and Mexico's offer of jobs and healthcare to the migrants will make it difficult for pro-migration lawyers to argue that Trump's deal violates the legal asylum rights of illegal immigrants.
The expanded Remain in Mexico plan is a political blow to Democrats, who welcomed the Central American migration because it pressured Trump to get a fix with a deal that also offered some form of amnesty for the millions of illegals in the United States.
Trump has used his power over tariffs to cut the deal with the Mexican government, so denying political leverage to Democrats and the cheap-labor lobbies in Capitol Hill's many disputes over migration and wages.
Pelosi's statement showed frustration over the Democrats' loss of political leverage:
President Trump must stop sabotaging good-faith, constructive, and bipartisan efforts in Congress to address this complex problem in a humane manner that honors and respects our most cherished national values.
Pelosi also complained about Trump's successful use of tariffs to cut Democrats out of the deal with Mexico, saying ,"President Trump undermined America's preeminent leadership role in the world by recklessly threatening to impose tariffs on our close friend and neighbor to the south … Threats and temper tantrums are no way to negotiate foreign policy."
The Democrats' leader in the Senate, Sen. Chuck Schumer, sneered at Trump's success:
Pelosi wrapped her partisan complaint in high-minded claims about Trump's supposed refusal to resolve a "humanitarian" emergency. The deal "fails to address the root causes of Central American migration … [so] Congress will continue to hold the Trump Administration accountable for its failures to address the humanitarian situation at our southern border."
In fact, the humanitarian emergency in Central America is subsidiary to the rational recognition by the migrants that the D.C. establishment is inviting them to enter the United States via the various catch-and-release policies.
Trump's deal with the Mexican government likely will allow border officials to end the catch-and-release of Central American migrants.
Ending catch-and-release is a huge win for Americans and Trump because it means border officials now have a legal alternative to the catch-and-release rules that normally allow migrants to legally enter the United States if they bring children and claim asylum.
Those catch-and-release rules are set by Congress and the courts, and they allow the migrants to get work permits before their asylum court hearings, which are now backlogged for two or more years. Instead of catch-and-release, border agencies can now return migrants to Mexico until their asylum claims can be heard by a judge.
The end of catch-and-release will likely wreck the cartels' labor trafficking business, which depends on migrants getting U.S. jobs to repay their smuggling debts. Few poor people in Honduras, El Salvador, or Guatemala will go into debt with the cartels, or mortgage their farms and homes to the cartels, once they know they will be forced to remain in Mexico prior to their asylum hearings.
In 2017 and again in 2018, the cartel's labor trafficking business provided U.S. businesses with roughly 400,000 extra low-wage workers.
That is a ten percent inflation of the nation's annual new labor supply, on top of the four million young Americans who enter the workforce each year.
If Trump blocks the flow of illegal migrant workers, then companies will face greater pressure to compete for American workers by offering higher wages, more training, and better conditions.
Trump's compromise deal allows Mexico to dodge the escalating tariffs that he promised, and it also means that Mexico does not have to formally declare itself a "safe third country."
Trump and his deputies wanted Mexico to declare itself a safe third country because that would give U.S. border officials the permanent legal authority to reject migrants who cross through Mexico. But the Mexican government strongly feared and opposed the "safe third country" proposal, yet their agreement to host the migrants before their U.S. court hearings provide similar legal authority to U.S. border agencies.
Each year, roughly four million young Americans join the workforce after graduating from high school or university.
But the federal government then imports about 1.1 million legal immigrants and refreshes a resident population of roughly 1.5 million white-collar visa workers — including approximately one million H-1B workers — and approximately 500,000 blue-collar visa workers.
The government also prints out more than one million work permits for foreigners, tolerates about eight million illegal workers, and does not punish companies for employing the hundreds of thousands of illegal migrants who sneak across the border or overstay their legal visas each year.
This policy of inflating the labor supply boosts economic growth for investors because it ensures that employers do not have to compete for American workers by offering higher wages and better working conditions.
This policy of flooding the market with cheap, foreign, white-collar graduates and blue-collar labor also shifts enormous wealth from young employees towards older investors, even as it also widens wealth gaps, reduces high-tech investment, increases state and local tax burdens, and hurts children's schools and college educations. It also pushes Americans away from high-tech careers and sidelines millions of marginalized Americans, including many who are now struggling with fentanyl addictions. The labor policy also moves business investment and wealth from the heartland to the coastal cities, explodes rents and housing costs, shrivels real estate values in the Midwest, and rewards investors for creating low-tech, labor-intensive workplaces.
WHERE WAS PELOSI'S BIG MOUTH WHILE OBAMA WAS
TRANSFERRING THE AMERICAN ECONOMY TO HIS
CRONY BANKSTERS AND THE RICH????
"Our entire crony capitalist system, Democrat and Republican
alike, has become a kleptocracy approaching par with third-
world hell-holes. This is the way a great country is raided by its
elite." ---- Karen McQuillan AMERICAN THINKER
Barack Obama created more debt for the middle class than any president in US
history, and also had the only huge QE programs: $4.2 Trillion.
OXFAM
reported that during Obama's terms, 95% of the wealth created went to
the top 1% of the world's wealthy.
"Our entire crony capitalist system, Democrat and Republican alike, has become a kleptocracy approaching par with third-world hell-holes. This is the way a great country is raided by its elite." ----Karen McQuillan AMERICAN THINKER
Barack Obama created more debt for the middle class than any president in US
history, and also had the only huge QE programs: $4.2 Trillion.
OXFAM
reported that during Obama's terms, 95% of the wealth created went to
the top 1% of the world's wealthy.
"Our entire crony capitalist system, Democrat and Republican alike, has become a kleptocracy approaching par with third-world hell-holes. This is the way a great country is raided by its elite." ----Karen McQuillan AMERICAN THINKER
OBAMA: SERVANT OF THE 1%
Richest one percent controls nearly half of global wealth
The richest one percent of the world's population now controls 48.2 percent of global wealth, up from 46 percent last year.
The report found that the growth of global inequality has accelerated sharply since the 2008 financial crisis, as the values of financial assets have soared while wages have stagnated and declined.
PATHOLOGICAL LIAR BARACK OBAMA MOCKS TRUMP
Obama orchestrated the greatest transfer of wealth to the rich in U.S. history!
THE WALL STREET BOUGHT AND OWNED DEMOCRAT PARTY
SERVING BANKSTERS, BILLIONAIRES and INVADING ILLEGALS
"Our entire crony capitalist system, Democrat and Republican alike, has become a kleptocracy approaching par with third-world hell-holes. This is the way a great country is raided by its elite." ----Karen McQuillan AMERICAN THINKER
Income
inequality
grows FOUR TIMES FASTER under Obama-Biden and their bankster regime than Bush.
"By the time of Bill Clinton's election in 1992, the Democratic Party had completely repudiated its association with the reforms of the New Deal and Great Society periods. Clinton gutted welfare programs to provide an ample supply of cheap labor for the rich (WHICH NOW MEANS OPEN BORDERS AND NO E-VERIFY!), including a growing layer of black capitalists, and passed the 1994 Federal Crime Bill, with its notorious "three strikes" provision that has helped create the largest prison population in the world."
"Our entire crony capitalist system, Democrat and Republican alike, has become a kleptocracy approaching par with third-world hell-holes. This is the way a great country is raided by its elite." ----Karen McQuillan AMERICAN THINKER
AMERICA: THE RICH GET MUCH RICHER AND THE MIDDLE CLASS GETS BLUDGEONED…. Illegals get the jobs!
*
Why do the billionaire class all want wider open borders and hordes more "cheap" labor illegals? It's all about keeping wages depressed for greater profits!
*
"Today's society benefits those who shaped it, and it has been shaped not by working men and women, but by the new aristocratic elite
.
Big banks, big tech, big multi-national corporations, along with their allies in the academy and the media—these are the aristocrats of our age
. They live in the United States, but
they consider themselves citizens of the world"
Sen. Josh Hawley
*
*
"This is how they will destroy America from within. The leftist billionaires who orchestrate these plans are wealthy. Those tasked with representing us in Congress will never be exposed to the cost of the invasion of millions of migrants. They have nothing but contempt for those of us who must endure the consequences of
our communities being intruded upon by gang members, drug dealers and human
traffickers. These people have no intention of becoming Americans; like the Democrats who welcome them, they have contempt for us." PATRICIA McCARTHY
"Behind the ostensible government sits enthroned an invisible government owing no allegiance and acknowledging no responsibility to the people. To destroy this invisible government, to befoul the unholy alliance between corrupt business and corrupt politics is the first task of the statesmanship of today." THEODORE ROOSEVELT
"But what the Clintons do is criminal because they do it wholly at the expense of the American people. And they feel thoroughly entitled to do it: gain power, use it to enrich themselves and their friends. They are amoral, immoral, and venal. Hillary has no core beliefs beyond power and money. That should be clear to every person on the planet by now." ---- Patricia McCarthy - AMERICANTHINKER.com
*
"The couple parlayed lives supposedly spent in "public service"
into admission into the upper stratosphere of American wealth, with incomes in the top 0.1 percent bracket. The source of this vast wealth was a political machine that might well be dubbed "Clinton, Inc." This consists essentially of a seedy money-laundering operation to ensure big business support for the Clintons' political ambitions as well as their personal fortunes."
"The tax overhaul would mean an unprecedented windfall for the super-rich, on top
of the fact that virtually all income gains during the period of the supposed recovery from the financial crash of 2008 have gone to the top 1 percent income bracket."
*
Graph from the Economic Policy Institute
Decades of decaying capitalism have led to this accelerating divide. While the rich accumulate wealth with no restriction, workers' wages and benefits have been under increasing attack. In 1979, 90 percent of the population took in 70 percent of the nation's income. But, by 2017, that fell to only 61 percent.
*
Millionaires projected to own 46 percent of global private wealth by 2019
While the wealth of the rich is growing at a breakneck pace, there is a stratification of growth within the super wealthy, skewed towards the very top.
At the end of 2014, millionaire households owned about 41 percent of global private wealth, according to BCG. This means that collectively these 17 million households owned roughly $67.24 trillion in liquid assets, or about $4 million per household.
By Gabriel Black
*
The massive increase in the value of the stock market, which only a small segment of the population participates in, means that the top 10 percent of the population controls 73 percent of all wealth in the United States. Just three men—Jeff Bezos, Warren Buffet and Bill Gates—had more wealth than the bottom half of America combined last year.
America Created Just 20,000 Jobs in February ...and those all went to foreign born!
Exclusive–Mo Brooks: 'Masters of the Universe' Want More Immigration to 'Decrease Incomes of Americans'
Consequently, the pumping of ultra-cheap money into the financial system, fueling speculation and parasitism, together with ever-widening social inequality, is not a temporary measure but must be made permanent.
The declining living standards of the working class are feeding directly into the retail apocalypse and mass layoffs of retail workers will only exacerbate the issue.
Workers' wages have seen little to no growth in the last four decades, and any economic growth experienced since 2008 has gone to
"US household net worth sees biggest fall since crisis"
"Trump Touts Legal
Immigration System for 'Our Corporations' at Expense of
American Workers "– JOHN BINDER
Trump's shift from a wage-boosting legal immigration system to one that benefits corporations and their shareholders coincides with recent big business lobby influence over his White House, at the behest of advisers Jared Kushner and Brooke Rollins.
"Trump Abandons 'America First' Reforms: 'We Need' More Immigration to Grow Business Profits" JOHN BINDER
Additionally, Koch spokespeople at the donors' conference said the network has its sights set on pushing amnesty for millions of illegal aliens this year.
Why do all global billionaires want wider open borders, amnesty and no E-VERIFY?
AMERICA: THE ECONOMY IS RIGGED BY COGRESS SO THE RICH BECOME SUPER RICH.
The American middle class gets the tax bills for Wall Street's crimes and bottomeless bailouts!
Wealth concentration increases in US.
*
*
The latest research on wealth inequality by University of California economics professor Gabriel Zucman underscores one of the key social and economic trends since the global financial crisis of 2008. Those at the very top of society, who benefited directly from the orgy of speculation that led to the crash, have seen their wealth accumulate at an even faster rate, while the mass of the population has suffered a major decline.
The past 40 years have seen the consolidation of a plutocratic elite, which has subordinated every aspect of American society to a single goal: amassing ever more colossal amounts of personal wealth. The top one percent have captured all of the increase in national income over the past two decades, and all of the increase in national wealth since the 2008 crash.
"Our entire crony capitalist system, Democrat and Republican alike, has become a kleptocracy approaching par with third-world hell-holes. This is the way a great country is raided by its elite." ---- Karen McQuillan AMERICAN THINKER
Pelosi: Trump's 'Special Interest Agenda' 'Jeopardizing the Financial Security of Working Families'
(CNSNews.com) - House Speaker Nancy Pelosi (D.-Calif.)
put out a statement today
in response to the May employment report—that showed the unemployment rate holding steady at a 50-year-low of 3.6 percent—in which she said the Trump administration is pursuing a "special interest agenda" that is "jeopardizing the financial security of working families across America."
"The May jobs report is a disturbing sign that the Administration's disastrous special interest agenda is hollowing out our economy, fueling instability and jeopardizing the financial security of working families across America," Pelosi said.
"While the wealthy and well-connected enjoy massive windfalls from the GOP Tax Scam for the rich, countless hard-working Americans are one unexpected expense away from financial ruin," she said.
"Families across the country need decisive action to strengthen their health and financial well-being, not more special interest giveaways and reckless threats from the President that threaten to sow chaos in our economy," she said.
Pelosi Statement on May Jobs Report
Washington, D.C. – Speaker Nancy Pelosi issued this statement after the Department of Labor issued its May jobs report, which showed that the economy created just 75,000 jobs:

"The May jobs report is a disturbing sign that the Administration's disastrous special interest agenda is hollowing out our economy, fueling instability and jeopardizing the financial security of working families across America.

"While the wealthy and well-connected enjoy massive windfalls from the GOP Tax Scam for the rich, countless hard-working Americans are one unexpected expense away from financial ruin. Families across the country need decisive action to strengthen their health and financial well-being, not more special interest giveaways and reckless threats from the President that threaten to sow chaos in our economy.

"House Democrats are fighting For The People, delivering results on issues that matter in their lives. Our House Majority is acting to lower the price of prescription drugs and protect health benefits for Americans with pre-existing conditions, to raise wages by rebuilding America with bold investments in green, modern, job-creating infrastructure, and to clean up corruption to make Washington work for the public interest, not the special interests. We will continue to advance progress so that our communities, our economy and our nation can grow and thrive."
THEY REALLY HAVE NO IDEA HOW MANY HAVE INVADED!
"Meanwhile, Acting Department of Homeland Security
(DHS) Secretary Kevin McAleenan has admitted that his
agency is merely acting as a checkpoint for illegal aliens, with
all adult border crossers arriving with children getting
released into the interior of the U.S. mere months' time, these
adult border crossers — now living freely in the country —
are
receiving work permits to take U.S. jobs."
PUT EMPLOYERS OF ILLEGALS IN PRISONS BUILT ALONG THE OPEN BORDER WITH NARCOMEX AND WE END THE INVASION OF ILLEGALS AND HEROIN
"Birthright citizenship should end, and the law against immigrant welfare use must be enforced. But over the long run, preventing illegal aliens from taking jobs from Americans and lawful immigrants will be the best means of restoring control of U.S. borders and sovereignty." HEATHER MAC DONALD
"If Trump wants to demolish the Democrats' playbook, he should offer to switch federal funding in this round of budget talks from the wall to E-Verify. Doing so would force Nancy Pelosi and Chuck Schumer to go on record opposing a legal workforce." HEATHER MAC DONALD
Foreign Workers See Nearly 5X Job Growth of Americans
YOU EVER HEARD THE TERM E-VERIFY COME OUT OF TRUMP'S BIG MOUTH?


"While legal immigrants continued being admitted to the U.S. to take blue-collar working-class jobs and many white-collar, high-paying jobs, there remain about six million Americans who are unemployed, 12 percent of whom are teenagers and nearly six percent of whom are black Americans." JOHN BINDER
In 2017, visa overstays outnumbered illegal border crossings, leading many restrictionists to prioritize policies such as E-Verify that would discourage overstayers from remaining in the country. THEODORE KUPFER.
The U.S. Created Just 75,000 Jobs in May, Much Worse Than Expected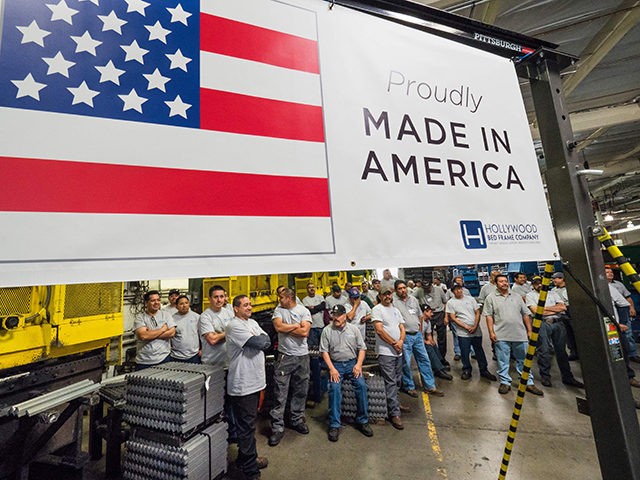 The U.S. economy created only 75,000 jobs in May and the unemployment rate was unchanged at 3.6 percent, the Labor Department said Friday.
Economists had expected the pace of job creation to moderate to 180,000 after April's extremely hot initial report of 263,000. The unemployment rate was expected to rise to 3.7 percent.
The estimate for jobs created in March was revised down to 153,000 from the previously reported 189,000. April was revised down to 224,000.
After revisions, the economy has added 151,000 over the past three months. For the entire year, payroll gains have averaged 164,000, a much slower rate than 2018's 223,000.
Wages gains slightly lagged forecasts. Average hourly earnings were up 3.1 percent compared with a year ago, just below the 3.2 percent expected, and 0.2 percent compared with April. The average work week held steady at 34.4 hours.
Unemployment is at the lowest rate since December 1969. The rate for African Americans declined sharply to 6.2 percent from 6.7 percent.
The lower than expected figure for job creation, however, is likely to intensify expectations that the Federal Reserve will cut its interest rate target sooner rather than later.
Professional and business services was the strongest category for the month, adding 33,000 positions. Health care grew by 16,000. Construction added 4,000. Manufacturing and mining added 3,000.
Retail shrank by 15,000. There was no noticeable bump from Census jobs, which many economists had expected to show up in May's numbers.
Pelosi: If We Close the Door to Immigrants We Won't Be the Country that Leads the World
Thursday on MSNBC's "Andrea Mitchell Reports," Speaker of the House Nancy Pelosi (D-CA) argued Americans place as leader of the world was dependent on immigration.
Pelosi said, "We always have to be optimistic and positive because what they did was so monumental and enables us to have are our debates and differences of opinion. But we do have to remember the values that freedom isn't free. So, and part of that freedom is who we are as Americans. And who we are as Americans no one said it better than Ronald Reagan; Ronald Reagan had the biggest voice for welcoming people to our country and that we cannot close the door or else we won't be the country that leads the world."
Eliseo Medina: Revolution Through Illegal Immigration
Who Is Eliseo Medina?
Medina's Wife and Flexible Socialist Ethics
Changing the Democrat Position to Pro-
Amnesty
'Fast for Families'