Trump: 'How About Taking Care of American Citizens First?'
(CNSNews.com) - President Trump, tweeting from the G-20 summit in Japan Thursday night, summed up the Democrat debate this way:
All Democrats just raised their hands for giving millions of illegal aliens unlimited healthcare. How about taking care of American Citizens first!? That's the end of that race!
At Thursday night's debate, in a "show of hands" question, NBC's Savannah Guthrie asked the ten Democrats on the stage: "Raise your hand if your government plan would provide coverage for undocumented immigrants?"
All the presidential hopefuls raised their hands.
South Bend Mayor Pete Buttigieg was one of two candidates given the opportunity to elaborate:
"Because our country is healthier when everybody is healthier," Buttigieg said. "And remember, we are talking about something people are given a chance to buy into. In the same way that there are undocumented immigrants in my community who pay -- they pay sales taxes, they pay property taxes directly or indirectly.
"This is not about a handout," Buttigieg continued. "This is an insurance program. And we do ourselves no favors by having 11 million undocumented people in our country be unable to access health care. But of course the real problem is we shouldn't have 11 million undocumented people with no pathway to citizenship. It makes no sense..."
Next up, former Vice President Joe Biden:
"You cannot let, as the mayor said, you cannot let people who are sick no matter where they come from and no matter what their status, go uncovered. It's the humane thing to do.

The deal is that he's right about three things. Number one, they in fact contribute to the well-being of the country and also for example increased the lifespan of Social Security. That's what they're doing. It increased the lifespan and do the same in terms of reducing the overall cost of health care by them being able to be treated and not wait until they're in extremis..."
Later, some of the candidates were asked to raise their hands "if you think it should be a civil offense rather than a crime to cross the border without documentation."
All but two of the candidates (John Hickenlooper and Michael Bennet) raised their hands to say they would decriminalize illegal border crossings.
Biden, pressed on that question, said, "That person should not be the focus of deportation. We should fundamentally change the way we deal with things."
Buttigieg said criminalizing undocumented border crossers "is the basis for family separation. You do away with that, it's no longer possible. Of course, it wouldn't be possible anyway in my presidency because it is dead wrong."
Sen. Bernie Sanders said he would rescind every executive order Trump has issued on illegal immigration. Sanders also advocated looking at the root causes of what he called a "hemispheric problem."
Rep. Eric Swalwell said he would not deport people whose only offense is to come here without documents: "That person can be a part of this great American experience. That person can contribute," he said.
Sen. Kamala Harris said no -- "I will say no, absolutely not, they should not be deported."
GOP Rep. Biggs: Senate Border Funding Bill Will Make Situation on Border Worse
On Saturday's broadcast of the Fox News Channel's "America's News HQ," Border Security Caucus Co-Chair Representative Andy Biggs (R-AZ) criticized the Senate's border funding bill and argued that it will make the situation at the border worse.
Biggs said, "I'm not particularly happy with it. I didn't think it was a good bill. I actually think that it will exacerbate the situation, and not make it appreciably better. In fact, I think it will make it worse."
He later added, "[W]e haven't disincentivized anybody to come because we haven't stopped the catch and release, and so, the real humanitarian crisis is going to persist."
Ann Coulter: Surprise! That 'cheap' immigrant labor costs us a lot
BY ANN COULTER, OPINION CONTRIBUTOR —
06/23/19 11:00 AM EDT
1,443
We could pay for every idiotic boondoggle proposed by the 300 Democratic presidential candidates if the current president would simply keep his central campaign promise to build a border wall and deport illegal aliens. (Back off — "illegal alien" is the term used in federal law.)
A 2017 study by the Federation for American Immigration Reform (FAIR) found that illegal aliens cost the American taxpayer — on net —
$116 billion a year
.
That's pretty high, but the actual number is more likely triple that.
Straight out of the chute, FAIR assumes that there are only 12.5 million illegal immigrants in the country, approximately the same number we've been told for the last 15 years as we impotently watched hundreds of thousands more stream across our border, year after year after year.
The 12 million figure is based on the self-reports of illegal aliens to U.S. census questionnaires. (

Hello! I'm from the federal government. Did you break the law to enter our country? Now tell the truth! We have no way of knowing the answer, and if you say yes, you could be subjecting yourself to immediate deportation.)
More serious studies put the number considerably higher. At the low end, a Massachusetts Institute of Technology and Yale study last year put the number of illegals at
22 million
. Yet Bear Stearns investment bank had it at
20 million back in 2005
, and Pulitzer Prize-winning investigative reporters Donald L. Barlett and James B. Steele reported in 2004 that
3 million illegals were crossing each year
— so simple math would put it at well over 60 million today.
So, right there, the FAIR study underestimates the tab for illegal immigration by at least a factor of three, meaning the real cost is about $350 billion a year. That's triple what Sen.
Elizabeth Warren
's (D-Mass.) free college tuition plan will cost in a

decade

.
I don't mean to bash FAIR. It's sweet how immigration restrictionists always bend over backward to be impartial. But their circumspection doesn't mean the rest of us have to ignore reality.
Journalists' usual method of determining the cost of "unauthorized entries" — as they say — is to phone some fanatically pro-illegal immigration group, such as Cato or CASA, and get a quote sneering at anyone else's estimate of the costs.
In a deeply investigated
2017 Washington Post article
, for example, the Post cited the "belief" that illegal aliens "drain government resources." Without looking at any facts or figures, the reporter disputed that "belief" with a quote from Cathryn Ann Paul of CASA: "It's a myth that people who are undocumented don't pay taxes."
So there you have it! Cathryn Ann Paul says it's a "myth." Now let's move on to the vibrant diversity being gifted to us by illegal aliens.
Earlier this year,
The New York Times
mocked
President Trump
's tweet saying illegal immigration costs "250 Billion Dollars a year" by quoting big-business shill Alex Nowrasteh of the Cato Institute: "There's no basis to any of those numbers about the fiscal cost."

Am I doing OK, Mr. Koch?
The Times further explained that Trump's figure "did not take into account the economic benefits of undocumented immigrants" — for example, the surprisingly affordable maids of some reporters.
Randy Capps of the Migration Policy Institute told the Times that studies of the cost of illegal immigration count only the costs or only the benefits. "They tend to talk past each other, unfortunately," he said.
Well, the FAIR study counted both. For every dollar illegal immigrants pay in taxes — fees, Social Security withholding taxes, fuel surcharges, sales and property taxes — they collect $7 in government benefits: schooling, English as a second language classes, hospital costs, school lunch programs, Medicaid births, police resources and so on.
Legal immigrant households also were big winners, receiving $4,344 more in government services than they paid in taxes. (Our government does a

fantastic

job deciding who can immigrate here.)
Only with nonimmigrant households does the government almost break even, doling out a mere $310 more in benefits than those households pay in taxes. (

Surprise! The deficit is on track to hit $1 trillion next year.)
Like FAIR estimates, Rector's study accepted the U.S. Census Bureau's allegation that we've had the same number of illegal aliens in this country since the beginning of the Bush administration. Also like the FAIR study, Rector's examination counted only the obvious costs imposed on us by illegal immigrants — things such as health care, education, fire and police protection, parks, roads, and bridges.
But there are all sorts of costs that no one ever counts. What about Americans' lost wages to illegal immigrants who are willing to work for $7 an hour? Even if they don't apply for unemployment insurance, how do we count the cost of suicide, opioid addiction or other anti-social behavior?
Why not count the lost wages themselves? We want to know the cost-benefit ratio to

those already here

, not to the new total that includes the illegal immigrants. If it's a net negative to those already here — well, that's the point.
And what was the tab of illegal immigration to the family of Kate Steinle, the young woman shot dead by an illegal immigrant in San Francisco in 2015? There were obvious, tragic costs, of course — but there also are hidden costs, such as the lost productivity of the people close to Kate for years to come, the additional police presence around the San Francisco pier where she was killed and the reduction in tourist dollars.
We hear about the great largesse bestowed upon us by illegal immigrants all day long. The only hidden benefits are the warm feelings of self-righteousness that the CASA spokesman gets when bleating about illegals and the happiness that cheap servants bring to the top 10 percent.
In Maine, overdose deaths from opioids, mostly
Mexican heroin
, have skyrocketed in the last decade, up from an already catastrophic 100 to 200 deaths per year to more than double that — 418 in 2018. What is the cost of the state legislature spending weeks debating a bill to provide heroin addicts with Narcan? The cost of more crime and more police?
This isn't to gratuitously mention the fact that completely unvetted, self-chosen illegal immigrants can, in fact, be rapists, drug dealers and cop-killers. It is to say that no analysis of illegal immigration's cost can ever capture the full price.
Free Health Care for Illegal Aliens Could Cost American Taxpayers up to $660B a Decade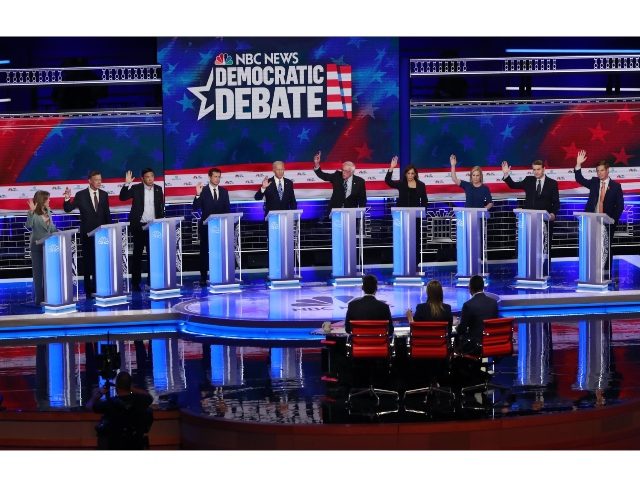 Providing free health care for all illegal aliens living in the United States could cost American taxpayers an additional $660 billion every decade in expenses.
This week, half of the 24 Democrats running for their party's presidential nomination confirmed that their healthcare plans would provide free health care to all illegal aliens at the expense of American taxpayers — including former Vice President Joe Biden, Sen. Bernie Sanders (I-VT), Sen. Kamala Harris (D-CA), Mayor Pete Buttigieg, and Sen. Kirsten Gillibrand (D-NY).
Center for Immigration Studies Director of Research Steven Camarotta told Breitbart News that only rough estimates are available for what health care for illegal aliens will cost American taxpayers, and though a comprehensive study has yet to be conducted on this specific issue, taxpayers can expect to pay a "significant" amount.
"If we offered Medicaid for illegal immigrants, it is possible the costs could be over tens of billions of dollars," Camarotta said. "However, it would depend on eligibility criteria as well as how many illegal immigrants actually sign up for program once it was offered. So while the actual costs are uncertain, the size would be significant for taxpayers."
A reasonable estimate of health care for each illegal alien, Camarotta said, is about $3,000 — about half the average $6,600 that it currently costs annually for each Medicaid recipient. This assumes that a number of illegal aliens already have health insurance through employers and are afforded free health care today when they arrive to emergency rooms.
Based on this estimate, should the full 22 million illegal aliens be living in the U.S. that Yale University and Massachusetts Institute of Technology researchers have estimated there to be, providing health care for the total illegal population could cost American taxpayers about $66 billion a year.
Over a decade, based on the Yale estimate of the illegal population and assuming all sign up for free health care, this would cost American taxpayers about $660 billion.
Even if there are only 11 million illegal aliens living in the U.S., as the Pew Research Center and other analysts routinely estimate, American taxpayers would still have to pay a yearly bill of $33 billion a year to provide them all with free, subsidized health care.
Should only half of the illegal population get health care, it would cost American taxpayers about $16.5 billion a year — almost the price of what it currently costs taxpayers to provide subsidized health care to illegal aliens.
Today, Americans are forced to subsidize about $18.5 billion worth of yearly medical costs for illegal aliens living in the U.S., according to estimates by Chris Conover, formerly of the Center for Health Policy and Inequalities Research at Duke University.
Nearly every Democrat running for their party's presidential nomination has endorsed having American taxpayers pay for free health care for illegal aliens. Those who have endorsed the plan include Biden, Sanders, Gillibrand, Buttigieg, and Harris, along with Sen. Elizabeth Warren (D-MA), Sen. Cory Booker (D-NJ), former Housing and Urban Development Secretary Julian Castro, Rep. Seth Moulton (D-MA), Sen. Michael Bennet (D-CO), author Marianne Williamson, Rep. Eric Swalwell (D-CA), entrepreneur Andrew Yang, and Gov. John Hickenlooper (D-CO).
John Binder is a reporter for Breitbart Texas. Follow him on Twitter at
@JxhnBinder
.
The California dream of taking care of everyone's needs is undermined by the California dream of open borders. State lawmakers were forced to choose between them, and they chose open borders. One must hope that one day the state's voters choose different lawmakers.
California's $215 Billion Budget Includes Health Care for Illegal Aliens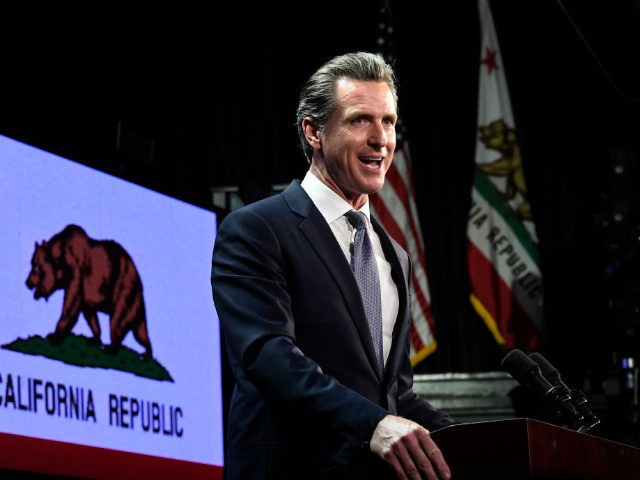 California's Democrat Gov. Gavin Newsom signed a $215 billion budget on Thursday, which includes taxpayer-funded health care for illegal aliens.
Newsom signed the massive $214.8 billion funding bill into law, which includes a provision that would expand health care for people who are illegally in the U.S. and penalizes people who do not purchase health insurance, the Los Angeles Times reported.
The California Democrat had proposed expanding health care for illegal aliens long before he took office.
In an August 2018 interview, Newsom said he would use an executive order to give universal health care to those residing in the U.S. illegally. Once Newsom took office in January, he proposed expanding Medi-Cal, the state version of Medicaid, to illegal aliens up to 26 years old.
The plan sailed through California's Democrat-controlled legislature, although there were concerns over how much money the state should provide for expanding Medi-Cal for low-income illegal aliens.
Newsom proposed that $98 million in the budget should go to expanding taxpayer-funded health care for illegal aliens between 19 and 25 years old, but one state Assembly bill proposed setting aside $3.4 billion to cover all illegal aliens over 19 years old.
The bill is Newsom's first budget since he took office in January, largely helped along by a $21.5 billion surplus carrying over from his fellow Democrat, former Gov. Jerry Brown's, administration.
New York Post Cover on Democrats Promising Illegal Aliens Free Health Care: 'Who Wants to Lose the Election?'
The Friday cover of the

New York Post

mocks 2020 Democrat presidential hopefuls who vowed to give free, taxpayer-funded health care to illegal immigrants.
The

New York Post

cover title, which features five of the presidential hopefuls raising their hands at the second night of the first Democrat presidential debate, reads: "Who wants to lose the election?"
Nolte: Dems Promise to Take Away Our Health Insurance and Give It to Illegal Aliens
We will have to wait and see how and if the debates move the needle within the Democrat primary. But what these last two nights have done is clarify a Democrat Party that is bound and determined to confiscate our guns, our money and our health insurance. Oh, and then Democrats are going to decriminalize illegal immigration and give our health insurance to illegal aliens.
Tax increases.

Gun confiscations.

Slave reparations

Decriminalize illegal immigration.

No more deporting of illegal immigrants.

Abolish the private health insurance currently held by over 150 million Americans.

Give free health insurance to illegal immigrants.
Fact Check: U.S. Taxpayers Pay $18.5B a Year for Healthcare for Illegal Aliens
As 2020 Democrat presidential primary candidates advocate having American taxpayers provide free health care for illegal aliens, U.S. citizens are already paying billions every year for the expenditure.
Republican Lawmakers React to $100 Million Budget Towards Medi-Cal for Illegal Aliens
Bill Cassidy Proposes to Prevent Americans from Subsidizing Health Care for Illegal Aliens
As California remains poised to adopt a bill that would give full Medicaid benefits to illegal immigrants, Sen. Bill Cassidy (R-LA) and other Senate Republicans proposed legislation to block leftist states from forcing Americans to subsidize programs that expand benefits to illegal immigrants.
How states that provide Medicaid benefits to illegal immigrants keep federal and state dollars separate.

Whether states providing health benefits to illegal aliens use budget gimmicks to bilk the federal government, such as provider taxes and intergovernmental transfers, to launder federal dollars to offset the cost of providing benefits to this population.

Whether illegal immigrants benefit from covered outpatient drugs purchased under the Medicaid Drug Rebate Program and the 340B program, and whether this impacts the prices American citizens pay.
Gavin Newsom: GOP Headed 'Into the Waste Bin of History'
Gov. Gavin Newsom (D-CA), one of the most progressive governors in the country, predicts the Republican Party is headed "into the waste bin of history."
(LA RAZA, DEM INVASION)
3 Key Facts About California's 'Medicare for Illegals' Plan
The State of California is about to pass a new healthcare plan that attempts to support and expand Obamacare, partly by providing free health care to some adult illegal aliens.
Paying for illegals' 'free' health care by fining Californians who can't afford Obamacare
CALIFORNIA UNDER MEXICAN OCCUPATION: Private hospitals are forced to provide more than $1.5 BILLION in "free" healthcare at emergency rooms. You wondered why you were billed $80 dollars for an aspirin you last hospital visit?
Taxing Americans To Give Illegal Aliens Subsidized Health Care
POLITICIANS MUST FACE CONSEQUENCES FOR CRIMES THEY ENABLE
Malfeasant politicians must find no "sanctuary."
Kamala Harris: Medicare for All Includes Illegal Aliens
Rising US "deaths of despair" driven by health care costs, lack of access to care
The opioid crisis, suicide and alcohol-related deaths
Health insurance, access to care, cost
Health care costs
Audio Transcript
California Says: 'Go West, Young Illegals, Go West'
California could use a management change
California Lawmakers Plan to Give Health Benefits to Illegal Immigrants
HANNAH BLEAU
Democrat state lawmakers in progressive California have agreed to a plan that would extend health benefits to qualifying illegal immigrants residing in the state.
Tomi Lahren: Health care for illegal immigrants is here in California
///
What's the matter with California?