Democrats in the July 30 CNN Democrat debate promised to welcome foreign migrants, and none mentioned migrants' economic damage to blue-collar Americans' wages and rents.
"Immigrants don't diminish America, they are America," said Minnesota Sen. Amy Klobuchar, who told Fox News in February 2019 that "we need workers" because unemployment was too low for business groups. "W
e have people all over the country who simply want to work and obey the law," she said about the nation's population of illegal immigrants.
"
We need to expand legal immigration,"
said Sen. Liz Warren. "
We need to create a path for citizenship, not just for 'dreamers' but for grandmas, and for people who have worked in the farms and students who have overstayed their visas."
She reaffirmed her promise to end decriminalization of illegal migration:
"We cannot make it a crime when someone comes here."
Migrants are Americans and should not be criminalized, argued
Montana Gov. Steve Bullock.
"You don't have to decriminalize everything [but] what you have to do is have a president in there with the judgment and decency to treat someone who comes to the border like one of our own," he said.
"If [migrants]
are seeking asylum, of course, we want to welcome them. We're a strong enough country to be able to welcome them," said Ohio Rep. Tim Ryan.
"Americans wants comprehensive immigration reform … [with]
protections for 'Dreamers,' [and] making sure we have a pathway to citizenship for the undocumented,
" claimed
Pete Buttigieg, using the establishment's code phrase for mass amnesty.
Buttigieg also reaffirmed his promise to decriminalize illegal migration, saying: "I
f fraud is involved, that is suitable for the criminal statute — if not, then it should be handled under civil law."
His White House would stop
"criminally prosecuting families and children for seeking asylum and refuge," promised Beto O'Rourke. "Asylum" is a legal term, complete with legal tests and deportation rules, but the term "refuge" suggests O'Rourke is making an open-ended promise of welcome.
O'Rourke also promised to decriminalize illegal migration:
"I expect people who come here to follow our laws, and we reserve the right to prosecute them if they do not."
"If a mother and a child walk thousands of miles on a dangerous path,

in my view, they are not criminals," said Sen. Bernie Sanders. "They are people fleeing violence."
Each year, roughly four million young Americans join the workforce after graduating from high school or university. This total includes roughly 800,000 Americans who graduate with skilled degrees in business or health care, engineering or science, software or statistics.
But the federal government then imports about 1.1 million legal immigrants and refreshes a resident population of roughly 1.5 million white-collar visa workers — including approximately one million H-1B workers and spouses — plus roughly 500,000 blue-collar visa workers.
The government also prints out more than one million work permits for foreigners, tolerates about eight million illegal workers, and does not punish companies for employing the hundreds of thousands of illegal migrants who sneak across the border or overstay their legal visas each year.
This policy of inflating the labor supply
boosts
economic growth for
investors
because it transfers wages to investors and ensures that employers do not have to compete for American workers by offering higher wages and better working conditions.
This policy of
flooding
the market with cheap, foreign, white-collar
graduates
and blue-collar
labor
also shifts enormous wealth from
young
employees towards older investors, even as it also
widens
wealth gaps,
reduces
high-tech investment,
increases
state and local tax burdens, and hurts children's schools and
college
educations.
The cheap-labor economic strategy also
pushes
Americans away from high-tech careers and sidelines millions of
marginalized
Americans, including many who are now
struggling
with fentanyl addictions. The labor policy also moves business investment and wealth from the
heartland
to the
coastal
cities,
explodes
rents and
housing
costs,
shrivels
real estate values in the Midwest, and rewards investors for creating low-tech,
labor-intensive
workplaces.
Bernie Sanders: 'Health Care as a Human Right' Applies to Illegal Aliens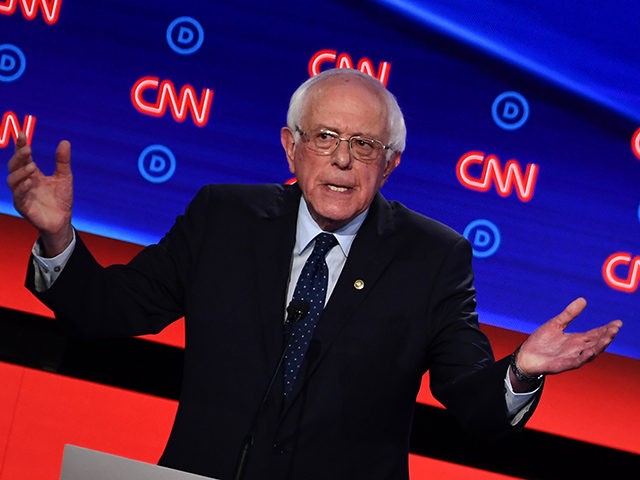 Sen. Bernie Sanders (D-VT) said during the second Democrat presidential debate on Tuesday that he would support giving health care to illegal immigrants.
"I happen to believe that when I talk about health care as a human right, that applies to all people in this country," Sanders said when asked about the issue by CNN's debate moderators.
The self-described Democratic socialist added that "under a Medicare for All, single-payer" system, the U.S. could afford such an expense.
Sanders has long supported the position, though nearly 60 percent of Americans oppose giving health care to illegal immigrants, according to a CNN poll from last month.
Later in the debate, Sanders also signaled he was opening to giving free college tuition to illegal immigrants. When pushed by the moderators why that would not simply incentivize more foreign nationals to enter the country illegally, Sanders mumbled briefly about border security before shifting to an attack on President Donald Trump.
"What Trump is doing through his racism and xenophobia is demonizing a group of people," Sanders said. "These people coming to our country are not criminals, they are human beings."
The kind of Mexico I remember
Central Americans Riot in Mexican Immigration Detention Center
A group of Central American migrants being held in a Mexican immigration detention center in Mexicali began rioting Wednesday afternoon, requiring the deployment of police and troops.
BORDER AGENT RESCUES DROWNING MIGRANT INVADERS…. Mexico ships them back over the border to register Democrat and collect their anchor baby welfare!
*
"The newly elected president, Andrés López-Obrador, was gleeful during the election when he told his compadres they should all move to America, illegally. His encouragement along with his pro-poverty policies will set the stage for another tsunami of illegal immigration." COLIN FLAHERTY
*
"They will destroy America from within. The leftist billionaires who orchestrate these plans are wealthy. Those tasked with representing us in Congress will never be exposed to the cost of the invasion. They have nothing but contempt for us who must endure the consequences of our communities being intruded upon by gangs, drug dealers and human traffickers. These people have no intention of becoming Americans; like the Democrats who welcome them, they have contempt for us." PATRICIA McCARTHY
*
*
bUT DOES FOX BELONG TO THE LA RAZA HEROIN CARTELS?
"Also, Rubin did not mention the moral responsibility of the child's father who brought her through the desert in an apparent effort to use the catch-and-release
Flores
loophole to get past border guards. The loophole was created by Judge Dolly Gee who has ordered border officials to release migrants after 20 days if they bring a child with them."
*
(WHAT DOES MEXICO DO TO THEIR ILLEGALS?)
WHAT DOES MEXICO DO WITH THEIR ILLEGALS???
THEY DEPORT THEM ON THE SPOT!!!
(LA RAZA, DEM INVASION)
"Fox's Tucker Carlson noted Thursday that Obrador has previously proposed ranting AMNESTY TO MEXICAN DRUG CARTELS. "America is now Mexico's social safety net, and that's a very good deal for the Mexican ruling class," Carlson added."
(LA RAZA, DEM INVASION)
*
Two former Mexican presidents publicly denied taking bribes from the Sinaloa Cartel. The statements came after the legal defense for Joaquín "El Chapo" Guzmán Loera made contrary claims this week.
Should We Invade Mexico?
One new Mexican president. Dozens of new reasons to build the wall.
"After six years of the corrupt and brutal rule of the PRI (Institutional Revolutionary Party) administration of President Enrique Peña Nieto, Mexico is mired in pandemic violence, unprecedented social inequality and staggering levels of unemployment as well as deepening poverty for the majority of the population."
The elections in Mexico and the political tasks of the working class
30 June 2018
How to Humanely Reduce Unlawful Immigration and Shut Down Open-Borders Democrats
Mexico: Lopez-Obrador's bizarre statement
The man likely to be the next president of Mexico just called for mass migration to the US
Adios, Sanctuary La Raza Welfare State of California


A fifth-generation Californian laments his state's ongoing economic collapse.

By Steve Baldwin

American Spectator, October 19, 2017

What's clear is that the producers are leaving the state and the takers are coming in. Many of the takers are illegal aliens, now estimated to number over 2.6 million.
The Federation for American Immigration Reform estimates that California spends $22 billion on government services for illegal aliens, including welfare, education, Medicaid, and criminal justice system costs.
MEXICO'S BIGGEST EXPORT TO AMERICA… POVERTY, CRIMINALS, ANCHOR BABY BREEDERS FOR WELFARE and HEROIN
CHRISTIAN SCIENCE MONITOR
"Mexico prefers to export its poor, not uplift them."
Mexico's Immigration Law: Let's Try It Here at Home
*