WE CAN'T TAKE CARE OF OUR OWN, AND YET WE LET MEXICO BUILD THEIR BILLION DOLLAR WELFARE STATE ON OUR BACKS!!!
70% OF ILLEGALS GET WELFARE!
"According to the Centers for Immigration Studies, April '11, at least 70% of Mexican illegal alien families receive some type of welfare in the US!!! cis.org"
So when cities across the country declare that they will NOT be sanctuary, guess where ALL the illegals, criminals, gang members fleeing ICE will go???? straight to your welcoming city. So ironically the people fighting for sanctuary city status, may have an unprecedented crime wave to deal with along with the additional expense.
$17 Billion dollars a year is spent for education for the American-born children of illegal aliens, known as anchor babies.
$12 Billion dollars a year is spent on primary and secondary school education for children here illegally and they cannot speak a word of English.
$22 billion is spent on (AFDC) welfare to illegal aliens each year.
$2.2 Billion dollars a year is spent on food assistance programs such as (SNAP) food stamps, WIC, and free school lunches for illegal aliens.
$3 Million Dollars a DAY is spent to incarcerate illegal aliens.
30% percent of all Federal Prison inmates are illegal aliens. Does not include local jails and State Prisons.
2012 illegal aliens sent home $62 BILLION in remittances back to their countries of origin. This is why Mexico is getting involved in our politics.
$200 Billion Dollars a year in suppressed American wages are caused by the illegal aliens.
THE DISUNITED STATES: The world's welfare office!
America is a nation with a severe housing crisis, a million legals who are homeless, tens of millions of legals who have given up finding a job that pays living wages and yet the borders are wide open to keep the hordes coming simply to keep wages DEPRESSED.


THE SLOW DEATH OF PELOSI'S STATE of CALIFORNIA, A WELFARE STATE AND COLONY OF MEXICO

With crime soaring, rampant homelessness, sanctuary state status attracting the highest illegal immigrant population in the country and its "

worst state in the U.S. to do business

" ranking for more than a decade, California and its expansive, debt-ridden, progressive government is devolving into a third-world country. JANET LEVY

AMERICA: THE WORLD'S WELFARE OFFICE

With crime soaring, rampant homelessness, sanctuary state status attracting the highest illegal immigrant population in the country and its "

worst state in the U.S. to do business

" ranking for more than a decade, California and its expansive, debt-ridden, progressive government is devolving into a third-world country. JANET LEVY
"This is how they will destroy America from within. The leftist billionaires who orchestrate these plans are wealthy. Those tasked with representing us in Congress will never be exposed to the cost of the invasion of millions of migrants. They have nothing but contempt for those of us who must endure the consequences of our communities being intruded upon by gang members, drug dealers and human traffickers. These people have no intention of becoming Americans; like the Democrats who welcome them, they have contempt for us." PATRICIA McCARTHY
"Most Californians, who have seen their taxes increase while public services deteriorate, already know the impact that mass illegal immigration is having on their communities, but even they may be shocked when they learn just how much of a drain illegal immigration has become." FAIR President Dan Stein
Kamala Harris Releases New 'Medicare for All' Plan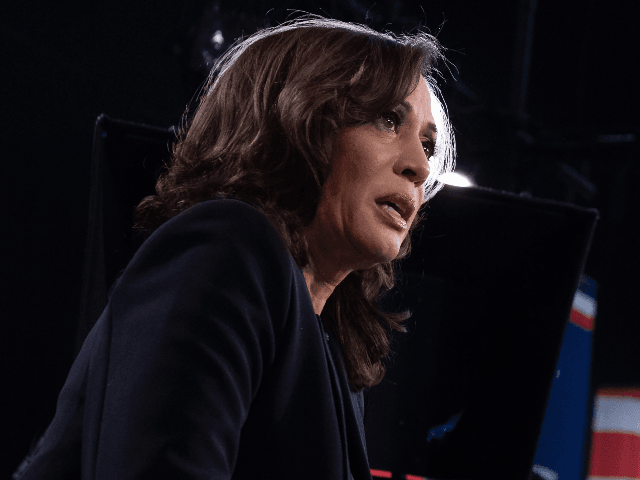 Sen. Kamala Harris (D-CA) released a new version of "Medicare for All" on Monday, ahead of the second Democratic debate in Detroit, Michigan.
Harris had earlier signed on to co-sponsor the "Medicare for All" bill introduced by Sen. Bernie Sanders (I-VT), but
ran into trouble
at the first debate when she raised her hand to indicate that she supported ending private insurance. Harris had previously flip-flopped on the issue, before and
after
the debate.
The new policy,
published at Medium
, begins with the premise that health care is a "right" to be provided by government (and the citizens who must be taxed to provide it).
It also attempts to clarify Harris's stance on private insurance. As the policy indicates (original emphasis):
Medicare for All will cover all medically necessary services, including emergency room visits, doctor visits, vision, dental, hearing aids, mental health, and substance use disorder treatment, and comprehensive reproductive health care services.

It will also allow the Secretary of Health and Human Services to negotiate for lower prescription drug prices.

Under my Medicare for All plan, we will also expand the program to include other benefits Americans desperately need that will save money in the long run such as an expanded mental health program including telehealth and easier access to early diagnosis and treatment, and innovative patient programs to help people identify the right doctor and understand how to navigate the health system.

…

Third, in setting up this plan, we will allow private insurers to offer Medicare plans as a part of this system that adhere to strict Medicare requirements on costs and benefits.

This would function similar to how private Medicare plans work today, which cover about a third of Medicare seniors, and operate within the Medicare system. Medicare will set the rules of the road for these plans, including price and quality, and private insurance companies will play by those rules, not the other way around. This preserves the options that seniors have today and expands options to all Americans, while also telling insurance companies they don't run the show.

…

People will also be able to purchase supplemental insurance covering services not included in Medicare, such as medical insurance for traveling abroad, or cosmetic surgery.
Essentially, this repeats Harris's prior position: private insurance will be eliminated, except for private Medicare, and for benefits not covered by Medicare — which is a very small area of health care.
After a ten-year transition, "every American will be a part of this new Medicare system. They will get insurance either through the new public Medicare plan or a Medicare plan offered by a private insurer within that system," the plan says.
Harris's plan also takes on Sanders directly, disagreeing with his proposal to tax middle-class earners to pay for the new entitlement. (Sanders argues that middle-class families would come out ahead, thanks to cost savings on health care.)
Instead, Harris proposes to "tax Wall Street stock trades at 0.2%, bond trades at 0.1%, and derivative transactions at 0.002%."
Joel B. Pollak is Senior Editor-at-Large at Breitbart News. He earned an A.B. in Social Studies and Environmental Science and Public Policy from Harvard College, and a J.D. from Harvard Law School. He is a winner of the 2018 Robert Novak Journalism Alumni Fellowship. He is also the co-author of
How Trump Won: The Inside Story of a Revolution
, which is available from Regnery. Follow him on Twitter at @joelpollak.