THE FRAUDULENT CLINTON FOUNDATION EXPOSED.
PAY-TO-PLAY FROM THE FIRST DAY!
Is it a signal that she's back in the game because she's selling her president-ability to the world's global billionaire crowd and laying the groundwork for more funds? There are all kinds of ways for foreign billionaires to get money to the U.S. without consequences, after all. What's more, it's pretty much the biggest base of support she has, which is at least one reason why she lost the 2016 election.
"The couple parlayed lives supposedly spent in "public service"
into admission into the upper stratosphere of American wealth, with incomes in the top 0.1 percent bracket. The source of this vast wealth was a political
machine that might well be dubbed "Clinton, Inc." This consists essentially of
a seedy money-laundering operation to ensure big business support for the
Clintons' political ambitions as well as their personal fortunes.
The basic components of the operation are lavishly paid speeches to Wall Street and Fortune 500 audiences, corporate campaign contributions, and donations to the ostensibly philanthropic Clinton Foundation."
"But what the Clintons do is criminal because they do it wholly at the expense of the American people. And they feel thoroughly entitled to do it: gain power, use it to enrich themselves and their friends. They are amoral, immoral, and venal. Hillary has no core beliefs beyond power and money. That should be clear to every person on the planet by now." ---- Patricia McCarthy - AMERICANTHINKER.com
THE DEMOCRAT PARTY'S BILLIONAIRES' GLOBALIST EMPIRE requires someone as ruthlessly dishonest as Hillary Clinton or Barack Obama to be puppet dictators.
1.
Globalism:
Google VP Kent Walker insists that despite its repeated rejection by electorates around the world, "globalization" is an "incredible force for good."
2.
Hillary Clinton's Democratic party:
An executive nearly

broke down crying

because of the candidate's loss. Not a single executive expressed anything but dismay at her defeat.
3.
Immigration:
Maintaining liberal immigration in the U.S is the policy that Google's executives
discussed
the most.
HILLARY CLINTON'S GLOBALIST VISION:
SURRENDER OF OUR BORDERS WITH NARCOMEX AND SUCKING IN GLOBAL BRIBES FOR THE PHONY CLINTON FOUNDATION
Even though it has gone virtually unreported by Corporate media,

Breitbart

News

has extensively documented the Clintons'
longstanding support for "open borders." Interestingly, as the

Los

Angeles

Times

observed in 2007, the Clinton's praise for
globalization and open borders frequently comes when they are
speaking before a wealthy foreign audiences and donors.
THE OBAMA – CLINTON RUSSIA CONNECTION
*
WITH THESE TRAITORS, JUST FOLLOW THE MONEY!
How President Barack Obama and Secretary of State Hillary Clinton aided Russia's quest for global nuclear dominance.
THE SHADY POLITICS OF HILLARY CLINTON and her PAY-TO-PLAY MAFIA
The left cared nothing about that bit of collusion.
Hillary and her campaign aides have long been involved with Russia for reasons of personal gain. Clinton herself got
$145 million
in donations to the Clinton Foundation for allowing Russia to take over twenty percent of all
uranium production in the U.S
. Her campaign chairman, John Podesta, is reaping the financial benefits of being on the board of a Russian company, Joule, which he
did not disclose
. PATRICIA McCARTHY
Had Hillary been elected, the Clinton Foundation would be raking in even more millions than it did before. She would be happily selling access, favors and our remaining freedoms out from under us. PATRICIA McCARTHY
'Just Sing': Barbra Streisand Riles Up Fans After Praising Clintons, Trashing Trump During NYC Concert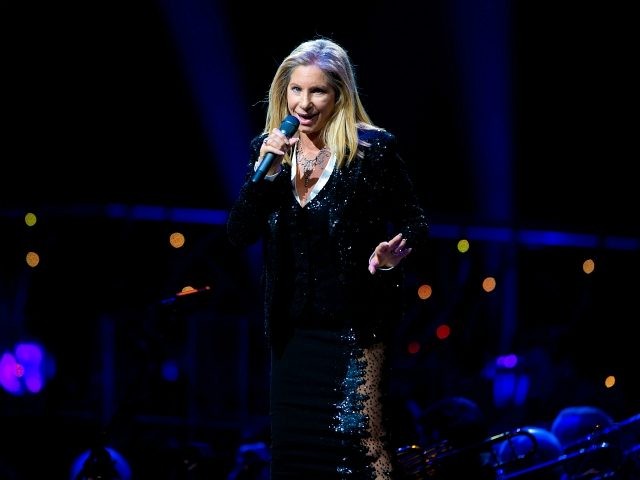 Left-wing pop icon Barbra Streisand made her Madison Square Garden concert Saturday about politics, praising Bill Clinton — who was in attendance alongside Hillary — as "a great president," explaining how badly she wanted to sing at Hillary's inauguration, and targeting President Donald Trump with a remixed rendition of "Send in the Clowns."
"He left this country with a budget surplus!" Barbra Streisand
said
of former President Clinton, adding, "By the way he did that by taxing the highest wage earners."
"A great president needs a sense of history and unquenchable thirst for knowledge," she continued. "And the compassion that would not allow children to be separated from their parents."
New York Magazine Washington Correspondent Olivia Nuzzi gave a play-by-play of Streisand's seemingly impromptu political moment during the concert. According to her tweets, the singer polled the crowd to find out if there were more Democrats or Republicans and proceeded to sing "a parody of Send in the Clowns about Trump." The Trump supporters in attendance, Nuzzi said, were irritated and shouted "Just sing!"
It has
been
over a decade since the "Evergreen" singer performed on an arena stage and her's in NYC was met with a flurry of high-profile attendees
including
Rep. Jerry Nadler (D-NY), Al Sharpton, and Bill and Hillary Clinton — all of whom she gave special shout-outs to.
Nuzzi's play-by-play of Streisand's political moments continued:
According to
Variety,
Streisand
sang
a politically charged rendition of "Send in the Clowns," with its lyrics aimed at President Trump.
Variety
wrote:
About 45 minutes into her show, Streisand paused to salute the high-profile Democrats in the house, including former New York Mayor David Dinkins, Al Sharpton, Congressman Jerry Nadler and Bill and Hillary Clinton, her longtime friends. Streisand praised the 42nd President for balancing the budget and rescuing the economy during his eight years in office. "But being a great President is about more than just dollars and cents," Streisand noted. "A great President needs a sense of history, and an unquenchable thirst for knowledge, and the compassion to not let children be separated from their parents." It was her first dig at Trump, but it wouldn't be the last.

Streisand then addressed Hillary: "Madam Secretary, you gave our allies confidence and our foes unambiguous clarity. You demonstrated that strength and kindness can exist in equal measure. And needless to say, three years ago, I was truly hoping to sing at your inauguration."

Following an intermission, Streisand returned to the stage in a white Donna Karan dress, which she said had been made for her a few days earlier by the designer. She seemed more relaxed, hitting every note of the timeless bummer "Send in the Clowns." Fittingly, she followed it up with a new version of the song, advising the (few) Republicans in attendance to cover their ears. While a picture of Trump as a clown was projected behind the stage, Streisand crooned:

He says he's rich
Maybe he's poor
'Til he reveals his returns
Who can be sure
Who is this clown?

Something's amiss
I don't approve
Now that he's running the free world
Where can we move?
Maybe a town!
Just who is this clown?

This is not a farce
It's not just smoke
Is this his "Art of the Deal" or some awful joke?
You've got to admit
This fraudulent twit
Is so full of …
The Grammy winner has been a long-time advocate for Democrats and left-wing causes. Last month, she
called
for "climate change deniers" to be removed from office, "starting with Trump."