46 Illegal Immigrants from 10 Countries Arrested in Ohio, Michigan ICE Operation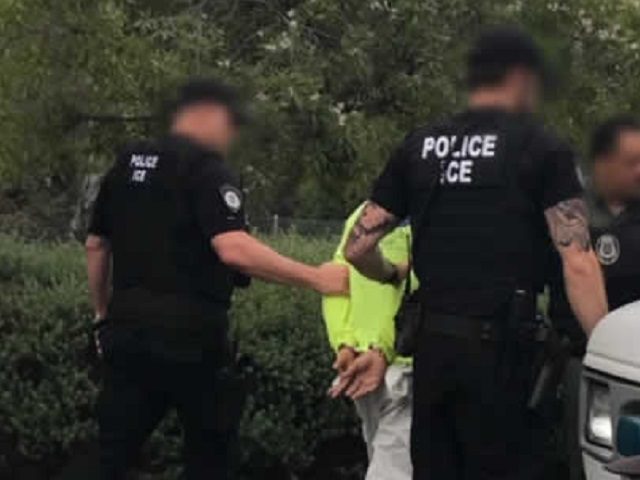 Immigration officers arrested 46 illegal immigrants from 10 countries during a five-day enforcement action in Ohio and Michigan. The operation, which ended on September 25, led to the arrest of mostly criminal aliens with charges or convictions for sex crimes, driving under the influence, and other serious offenses.
U.S. Immigration and Customs Enforcement's (ICE) Enforcement and Removal Operations (ERO) officers in Michigan and Ohio carried out a five-day targeted enforcement action which ended on September 25. During the operation, ERO officers arrested 46 individuals, mostly criminals, from 10 different countries, according to information obtained from ICE officials.
Officers arrested mostly criminals with either charges or convictions for serious crimes after illegally entering the United States. Some also had charges for immigration violations and final orders of removal.
Samples of the offenses committed or alleged to have been committed include gross sexual imposition, attempted felonious sexual penetration, importuning, attempted unlawful sexual conduct with a minor, criminal sexual conduct – second degree, driving under the influence of liquor, operating while intoxicated, operating a vehicle while impaired, child endangerment, burglary, controlled substance – delivery / manufacture of marijuana, controlled substance – delivery / manufacture of marijuana (conspiracy), marijuana possession, possession of drugs, negligent assault, illegal entry, aggravated burglary, receiving burglary tools, attempted receiving and concealing stolen property, criminal mischief, retail fraud, disorderly conduct, solicit prostitution, obstruct official business, reckless operation of a vehicle, operating a vehicle without a license, and driving while license suspended.
As examples, ICE officials disclosed the following:
On Sept. 22, a previously-deported 40-year-old citizen of Mexico in Saginaw, Michigan. The subject has an arrest for criminal sexual conduct – 2nd degree, which remains pending. He will remain detained in ICE custody pending his removal from the United States.
On Sept. 23, a 62-year-old citizen of the United Kingdom in Hudson, Ohio. The subject has convictions including burglary, gross sexual imposition, and attempted felonious sexual penetration. He will remain in ICE custody pending removal proceedings.
On Sept. 24, a 40-year-old citizen of Iraq in Detroit. The subject has convictions including possession of marijuana, attempted receiving and concealing stolen property, controlled substance – delivery/manufacture marijuana, and controlled substance – delivery/manufacture marijuana (conspiracy). He will remain in ICE custody pending removal proceedings.
Officials reported the arrested individuals, all men, came to the U.S. from Mexico, Senegal, El Salvador, Guatemala, Cameroon, Iraq, United Kingdom, South Korea, Tanzania, and Honduras.
"ICE focuses its enforcement resources on individuals who pose a threat to national security, public safety, and border security. However, ICE does not exempt classes or categories of removable aliens from potential enforcement," officials stated. "All of those in violation of the immigration laws may be subject to immigration arrest, detention and if found removable by final order, removal from the United States. ICE does not conduct sweeps."
"Upholding public safety by focusing on removing criminal aliens is at the heart of what ERO officers do every day," Detroit ERO Field Office Director Rebecca Adducci said in a written statement. "These targeted enforcement actions highlight ICE's vital role in keeping our communities safe." The Detroit Area of Responsibility includes Michigan and Ohio.
At the same time as this operation, ERO officers in Texas and Oklahoma arrested an additional 94, Breitbart Texas reported. ERO officers carried out other operations in multiple jurisdictions during this same time period.
Some of the migrants arrested may face federal prosecution for illegal entry after removal. If charged and co
nvicted, the migrant could face up to 2o years in federal prison prior to being removed from the U.S.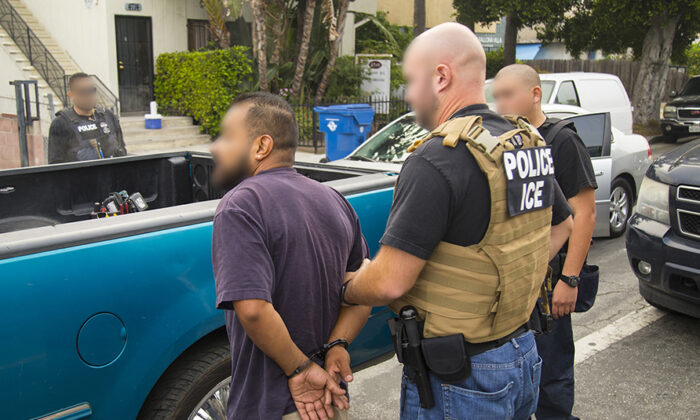 ICE Hits Sanctuaries in Latest Sweep of Illegal Immigrants
Comments
September 29, 2019
Updated: September 30, 2019
WASHINGTON—Immigration and Customs Enforcement (ICE) arrested almost 1,300 illegal immigrants during a weeklong operation that focused on locations that have adopted sanctuary policies—those that shield illegal immigrants, including criminals, from immigration officials.
Commonly, under sanctuary policies, jail officials and local law enforcement officers are forced to release an illegal alien from custody without alerting ICE. An ICE detainer asks local jails to either hold an inmate for up to 48 hours longer to transfer custody, or to alert ICE of when the inmate is going to be released.
In New York, at least three of the 82 aliens arrested in the operation had pending child rape charges and had been released from NYPD jails, despite ICE placing a detainer on them. The men are from Mexico, Jamaica, and Dominican Republic.
In total, ICE had lodged detainers on 42 of the 82 people arrested in New York.
In Philadelphia, ICE arrested Dominican national Edward De Oleo Valdez, after he had been released from jail on Aug. 13. De Oleo Valdez was released from the Curran Fromhold Correctional Facility after serving a sentence for raping a child, according to ICE. The agency had lodged a detainer with the jail.
Of the criminal aliens arrested during the sweep, 100 had convictions for sexual assault or crimes, with the victims of nearly half of them being children, according to acting ICE Director Matt Albence. A further three had convictions for manslaughter or murder; 70 had convictions for drug crimes; and more than 320 had convictions for driving under the influence of drugs or alcohol.
Albence held a press briefing at the White House on Sept. 26 to highlight the recent operation. He blasted politicians who enact sanctuary policies and who say their jails can't legally release an illegal alien to ICE without a judicial arrest warrant.
"Those that say that are either willfully ignorant or patently disingenuous," Albence said. "The truth is that federal law does not provide any mechanism for judicial warrants to be issued for civil immigration violations. There is not a single judge, magistrate anywhere in this country that has a lawful authority to issue a warrant for a civil immigration violation. By statute, Congress has given this authority solely to supervisory immigration officers.
"If law enforcement entities that have criminal aliens in custody want to release their aliens back to the street, as opposed to cooperating with ICE, they should not justify their actions through a flagrant misstatement of federal law."
Albence said ICE had lodged more than 160,000 detainers nationwide in fiscal 2019, but didn't say how many were honored and how many were still pending. ICE didn't respond to a request for those numbers.
Albence highlighted Mecklenburg County, North Carolina, as a known sanctuary. Sheriff Garry McFadden implemented sanctuary policies in Mecklenburg when he took office at the beginning of this year.
ICE lodged a detainer on an illegal alien after he was arrested for DUI earlier this year, Albence said. Mecklenburg ignored the detainer and released the man, who was arrested again in June, this time for two counts of assault on a female—assault by strangulation and assault with a deadly weapon—and another DUI.
"We lodged a detainer again, but it went unanswered, and Mecklenburg County released him from custody," Albence said. "Hopefully, we will find him before he hurts or kills another innocent victim.
"Who are these sanctuary cities really protecting? The answer, sadly—and often tragically—are criminal aliens."
Albence said proponents of sanctuary jurisdictions say sanctuary policies protect immigrant communities by promoting trust with law enforcement, and allowing illegal immigrants to report crime without fear.
"But what these pro-sanctuary advocates do not acknowledge is that when these released criminal aliens commit further crimes, their first target is often the very immigrant communities that sanctuary advocates claim to be protecting," he said.
"ICE actually has a rare ability within the law enforcement community to prevent crime. We can arrest and remove criminal aliens before they can harm anyone else again, immigrant and citizen alike. I would think the more chilling effect, as I mentioned, is that those victims that do come forward asking the local police to take this illegal alien out of their house or out of the community, that the police arrest him and he bonds out and goes right back to the same community to victimize that he was in the first place. What does that do to the victims?"
Sheriff Jim Skinner of Collin County, Texas, spoke at the press briefing with Albence. He urged fellow law enforcement officers to push back against sanctuary policies in their regions.
"My word to them is: 'Push back. Be brave. Remember your oath. Remember that your first responsibility are those citizens that you serve,'" Skinner said. "In these times, it's that collaboration between federal, state, and local law enforcement that best enables us to protect the communities and the citizens that we love."
Albence said in fiscal 2018, ICE made more than 105,000 criminal arrests and removed more than 145,000 criminal aliens. Almost 10,000 of the arrests and 6,000 of the removals were gang members.
Due to the reallocation of ICE agents to the border to deal with that crisis, interior enforcement numbers are down by at least 10 percent in fiscal year 2019, Albence said.