I STILL CAN'T UNDERSTAND WHY PELOSI IS NOT IN PRISON FOR WHAT SHE DID TO MEXIFORNIA!
David is a bestselling author of
three books
exposing the Obama administration and the Washington, D.C. swamp:
David Bernstein & The Heritage Foundation - "Lawless: The Obama Administration's Unprecedented Assault on the Constitution and the Rule of Law."
"The Lawlessness of the Obama Administration: A never-ending story."
Michael
Barone – American Historian – Washington Examiner
Obama has found fortune by greatly benefiting in his post-presidency from companies who coincidentally benefited greatly during his time as president.
They knew he was a catastrophe. They knew ObamaCare was a train wreck. They knew. Yet they proceeded, and they may have destroyed our country. For that, they can never be forgiven.
They knew Obama was an unqualified crook; yet they promoted him. They knew Obama was a train wreck waiting to happen; yet they made him president, to the great injury of America and the world. They understood he was only a figurehead, an egomaniac, and a liar; yet they made him king, doing great harm to our republic (perhaps irreparable.) ALLAN ERICKSON
We are talking about the Clintons, Pelosi, Reid, Schumer, Frank, Wasserman-Schultz, Biden, Leahy, Durbin, Murray, Kennedy, Hagel, Kerry, Dodd, Hoyer, Baucus, and many others.
They all knew Obama was an empty suit; yet for private gain and personal advancement, they trampled on the flag, betraying the very people they claim to serve, preferring Party to principle. During the 2008 campaign, they said he was unqualified, ill-prepared, and unsuited for the office. Yet when his crooked ways carved out primary victory, they jumped on board the Ship of Fools, stoking his engine with lies, deception, and propaganda. Hillary knew he stole victory; but like a good Party operative, she buttoned her lip and took orders, submitting to authority and covering criminality.
For those of us not seduced by pretty words and skillful theatrics, the Obama years were a cesspool of corruption that brought back the stench of the Clinton years in a fashionable new package.
Nancy Pelosi: Donald Trump Is 'the Most Dangerous Person' in Our Country's History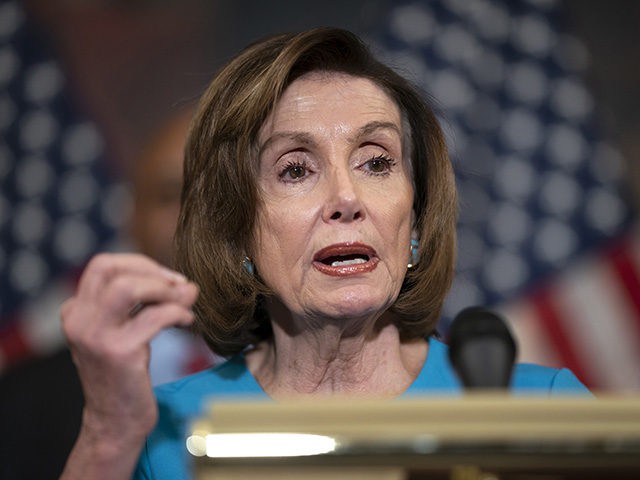 House Speaker Nancy Pelosi (D-CA) called President Donald Trump "the most dangerous person" in our country's history, urging Democrats to show up at the polls in November to defeat Trump.
"We have the most dangerous person in the history of our country sitting in the White House," Pelosi, who appears on the cover of the "Hollywood and 2020 election" issue of Variety, tells the entertainment industry magazine in a long-form profile interview Tuesday.
"That's different from what happened in 2016," Pelosi added."People thought Hillary [Clinton] would win so they didn't all turn out. Nobody could possibly think that somebody like Donald Trump could be elected president of the United States. But if you don't turn out, those who do turn out will call the shots."
The House Speaker says she has a problem with Trump because "he doesn't tell the truth, he doesn't honor the Constitution, and he's harming children."
"My whole message is about children. Anybody who hurts children — I'm a lioness. Watch out," the 17-term lawmaker says.
Pelosi has always been one of Trump's biggest critics, from when it comes to policy to straight-up politics. The House speaker most recently disagreed with Trump on his response to the coronavirus, calling it a "chaotic response" to the global outbreak.
She also made headlines when she ripped up her copy of the State of the Union Address, which she said in a later interview was mainly done to get attention.