"The newly elected president, Andrés López-Obrador, was gleeful during the election when he told his compadres they should
all
move to America, illegally. His encouragement along with his pro-poverty policies will set the stage for another tsunami of illegal immigration." COLIN FLAHERTY
PELOSI - FEINSTEIN'S REAL MEXIFORNIA
"California's public education system, once the envy of the world, now ranks 49th in the nation."
ROBERT J. CRISTANO, Ph.D
Migrant enclaves already are at the top of the U.S. lists for bad places to live - 10 of the 50 worst places in America to live according to
this list
are in California, and all of them are famous for their illegal populations. MONICA SHOWALTER
California Appoints Illegal Alien to State Office
California has its first "unprotected" illegal alien in state office, after Senate President pro Tem Kevin de León (D-Los Angeles) appointed Lizbeth Mateo to the California Student Opportunity and Access Program Project Grant Advisory Committee.
LIZBETH MATEO IS AN ILLEGAL. SHE IS A PRACTICING LAWYER IN CALIFORNIA WHERE BEING UNLAWFULLY IN THE STATE DOES NOT PREVENT YOU FROM BEING AN 'OFFICER OF THE COURT' LAWYER!
HERE SHE WAVES HER MEX FLAG ALONG WITH THE REST OF HER PACK OF ILLEGALS.
We can even hear it today from Mexican nationals and their descendants in the U.S. who glorify La Raza at the expense of their adopted country.
THE REALITY OF THE INVASION:
One in every
eleven persons
born in Mexico has gone to the U.S. The National Review reported that
in 2014
$1.87 billion was spent on incarcerating illegal immigrant criminals….Now add hundreds of billions for welfare and remittances!
MICHAEL BARGO, Jr…… for the AMERICAN THINKER.COM
After all, for Mexico, illegal immigration into America is a great gig, because it acts as a safety valve and a source of funds. If they didn't have unlimited access to America (that is, unlimited by such constraints as visas and immigration policies), Mexican citizens who have been burdened by decades of corruption and mismanagement would have no option but to suffer and then, finally, to rise up in revolution. For decades now, from the government's point of view, it's been better to give unhappy citizens a pamphlet with advice about crossing the border safely (albeit illegally) and then sit back and wait for the remittances ($26.1 billion in 2017) that help keep the Mexican government afloat. ANDREA WIDBURG
Exclusive–Eric Eggers: Democrat Plan Could Mail Ballots to 24M Ineligible Voters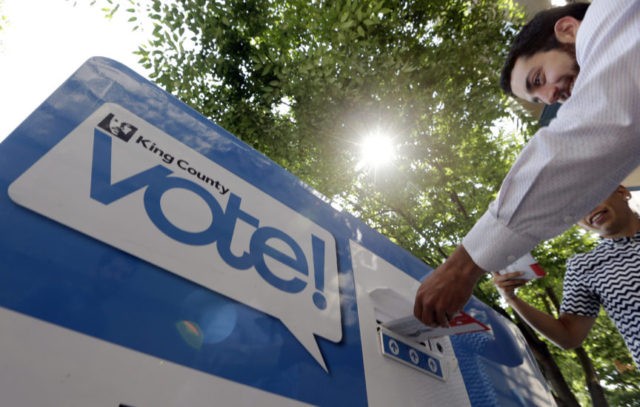 Government Accountability Insititute (GAI) research director Eric Eggers, author of
Fraud: How the Left Plans to Steal the Next Election
, says the Democrats' plan for nationwide mail-in voting would send ballots to 24 million inaccurate and flawed voter registrations.
In an exclusive interview with SiriusXM Patriot's Breitbart News Tonight, Eggers said nationwide mail-in voting would be wide open to fraud and abuse.
"The concern I have if we're trying to mandate national mail-in elections — which by the way was part of the language that Nancy Pelosi and House Democrats inserted in the first version of the most recent stimulus package — would be that we have such massive problems with voter rolls in this country," Eggers said. "So, now are we going to be mailing ballots to people that authentically don't exist and or are ineligible voters?"
A 2012 study by Pew Research Center revealed that there are 24 million ineligible or inaccurate voter registrations on state voter rolls. This means 1-in-8 voter registrations are either no longer valid or invalid.
Eggers said mail-in voting ensures voters associated with those flawed voter registrations would get the chance to vote in the 2020 presidential election.
"If you have national mail-in ballots where the supervisor of elections are mailing ballots to everybody on the voter rolls and we know per Pew [Research] Center statistics that we've got at least 24 million flawed or inaccurate voter registrations in this country," Eggers said. "That's 24 million ballots that are potentially going to people with the wrong address or to people that are dead or to people that have double registered."
Similarly, nationwide mail-in voting would almost certainly be tied to federal legalization of ballot harvesting, where political operatives are allowed to collect and deliver an endless number of absentee ballots from voters.
"You've got these paid political machines whose job it is to manipulate or to capitalize on those errors … the other problem I'd have is another part that was mandated in the Democrat-version of the stimulus bill which would be the legalization of … national ballot harvesting," Eggers said.
"Democrats are so concerned about the necessity of social distancing but by legalizing ballot harvesting, you're literally sending in many cases young potentially asymptomatic carriers of the [coronavirus] to the homes of these vulnerable populations including the elderly and the infirm who we all know are more susceptible to the virus," Eggers continued.
As Breitbart News reported, the George Soros-funded Brennan Center for Justice at the New York University School of Law is spearheading the nationwide mail-in voting initiative.
Today, there are nearly 250 counties across the United States with more registered voters on the voter rolls than eligible citizen voters. There are also nearly three million individuals who are registered to vote in more than one state. In Illinois, alone, close to 580 noncitizen voters were improperly registered to vote in the 2018 election.
John Binder is a reporter for Breitbart News. Follow him on Twitter at @JxhnBinder.

TRANSFORMED: 1

in

10 Voters

are

Immigrants
I'm not anti-immigrant. I came to this country as a child.
But there's a huge difference between a reasonable level of immigration, in keeping with the nation's history and traditions, and a transformative flood that washes everything away.
What we've had is effectively open borders migration at a level most people don't understand and can't even comprehend. That helps explain the extreme radicalism that has overtaken the country.
When the population increasingly has little connection to the country's history and traditions, and little investment in it, the national fabric breaks down, politics becomes tribal, and all bets are off.
This is how we lose America.
Hans von Spakovsky: DOJ Should Sue States Registering Non-Citizens to Vote
Voting integrity group finds millions of inactive registrations
"The newly elected president, Andrés López-Obrador, was gleeful during the election when he told his compadres they should
all
move to America, illegally. His encouragement along with his pro-poverty policies will set the stage for another tsunami of illegal immigration." COLIN FLAHERTY
The "
mother of all caravans
" is forming in Central America, and our border-enforcement system is
at "the breaking point"
— all because Democrats in Congress rejects any effort to plug the
legal loopholes
that drive the accelerating flood at the border. In effect, Nancy Pelosi and Chuck Schumer are doing just what Cesar Chavez complained about 40 years ago: placating employers by allowing the unhindered importation of cheap labor to undermine the efforts of American workers to negotiate higher wages. MARK KRIKORIAN
THE AMNESTY HOAX
But the business community will have little reason to defend Trump, partly because they have gotten their double-shot of tax cuts and cheap labor. In fact, the legislation does not sunset the amnesty, meaning it can be quietly expanded with a few legal tweaks that can be attached to any of the myriad obscure bills annually passed by Congress.
US now has more Spanish speakers than Spain – only Mexico has more
THE INVASION!
MEXICO UNDER, OVER AND OCCUPYING AMERICA AT STAGGERING COSTS

"While other witnesses at Mr. Guzmán's trial in Federal District Court in Brooklyn have testified about huge payoffs from traffickers to the Mexican police and public officials, the testimony about Mr. Peña Nieto was the most egregious allegation yet. If true, it suggests that corruption by drug cartels had reached into the highest level of Mexico's political establishment."
The former president of Mexico, Enrique Peña Nieto, took a $100 million bribe from Joaquín Guzmán Loera, the infamous crime lord known as El Chapo, according to a witness at Mr. Guzman's trial. ALAN FEUER