HIGHLY GRAPHIC!
IMAGES OF AMERICA UNDER LA RAZA MEX OCCUPATION… gruesome!
BEHEADINGS LONG U.S. OPEN BORDERS WITH NARCOMEX: The La Raza Heroin Cartels Take the Border and Leave Heads
AMERICA'S OPEN AND UNDEFENDED BORDERS:
LA RAZA HEROIN CARTELS CUT HEART OUT OF LIVING MAN AND BEHEAD HIS PARTNER!
MEXICANS ARE THE MOST VIOLENT CULTURE IN THE WESTERN HEMISPHERE!
"A group of cartel gunmen fighting for control of a Mexican coastal state cut out the heart of one of their living victims while another was beheaded. The violence took place not far from the beach resort cities of Acapulco and Ixtapa Zihuatanejo, Guerrero."
Heather Mac Donald of the Manhattan Institute has testified before a Congressional committee that in 2004, 95% of all outstanding warrants for murder in Los Angeles were for illegal aliens; in 2000, 23% of all Los Angeles County jail inmates were illegal aliens and that in 1995, 60% of Los Angeles's largest street gang, the 18th Street gang, were illegal aliens.
Granted, those statistics are old, but if you talk to any California law enforcement officer, they will tell you it's much worse today.
Mexican Border State Offers Cash for Cartel Kingpins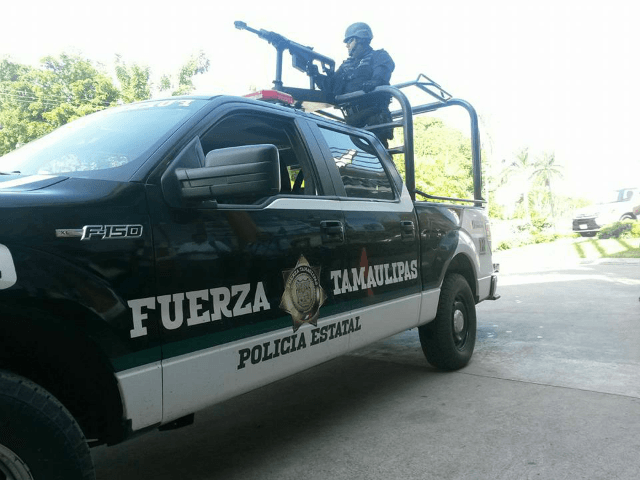 MATAMOROS, Tamaulipas — Mexican authorities are offering a series of cash rewards for information leading to the capture of four cartel bosses responsible for kidnappings, murders, and other violent crimes in Tamaulipas. The new targets are a continuation of an ongoing program aimed at targeting cartel members.
The four fugitive cartel bosses are singled out by authorities as being tied to the raging violence in the cities of Nuevo Laredo, Matamoros, Ciudad Victoria, and Tampico. Last month, Breitbart Texas reported on the start of a

reward program where authorities offered cash for information leading to the capture of eight other bosses

responsible largely for the violence in the border city of Reynosa. Days after the announcement, authorities arrested Miguel "Flako Sierra" Mercado, one of the targets with a reward of approximately $70,000 USD.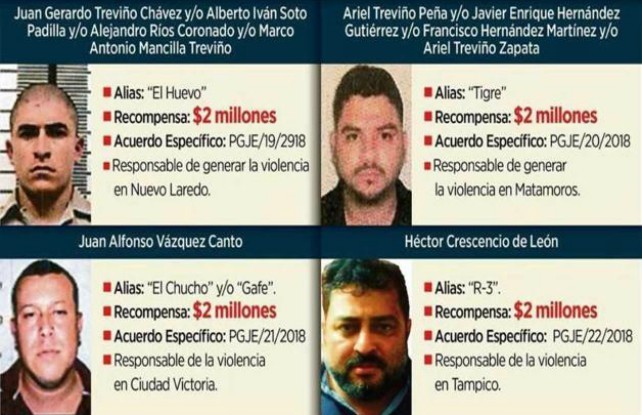 The new targets include
Juan Gerardo "El Huevo" Treviño Chavez, wanted on various charges for his activities as the leader of the Cartel Del Noreste faction of Los Zetas in Nuevo Laredo.
The Tamaulipas government is offering $2 million pesos ($100,000 USD) for information leading to his capture.
In the border city of Matamoros, authorities are searching for Ariel "El Tigre" Treviño Peña, a regional commander with the Gulf Cartel who operates out of the town called Control. Authorities are also offering $2 million pesos for him.
Tamaulipas officials single out the cartel boss known as Juan Alfonso "El Gafe" or "Chucho" Vazquez Canto as responsible for the escalating violence in Ciudad Victoria. El Gafe is believed to be the leader of a faction of the now splintered Los Zetas. Authorities are also offering $2 million pesos.
Authorities are offering $2million pesos for information leading to the arrest of Hector Cresencio "R3" de León, a leading figure with the Gulf Cartel who is believed to be responsible for the violence in Tampico in southern Tamaulipas.
Editor's Note: Breitbart Texas traveled to the Mexican States of Tamaulipas, Coahuila, and Nuevo León to recruit citizen journalists willing to risk their lives and expose the cartels silencing their communities. The writers would face certain death at the hands of the various cartels that operate in those areas including the Gulf Cartel and Los Zetas if a pseudonym were not used.
Breitbart Texas' Cartel Chronicles
are published in both English and in their original
Spanish
. This article was written by "J.A. Espinoza" from Tamaulipas.