"Democrats are throwing blacks under the bus by appealing for the Hispanic vote by calling for open borders. The lives of blacks in cities like Detroit, with uninterrupted Democratic rule for decades, have not improved significantly. These policies have been devastating to blacks."
Illegal Immigration and Poor Americans
The Democrats and the left have a rallying cry regarding the Trump administration's policy toward those crossing the border illegally. They point to the separation of children from their parents and deplorable conditions. They claim that it is a humanitarian effort, but how humanitarian is it to drop off numerous unaccompanied children or release them into an unknown territory where they can become the victims of predators?
They never address the negative impact on the poor American citizen.
They are calling attention to pictures of children in cells, yet, in 2014, when Obama was president, American Thinker interviewed then-governor of Arizona Jan Brewer, who stated, "Each child has a designation of cells, such as 'cell 7 or cell 8.' There is a chain link fence surrounding them and they are sleeping on bed mats with just a blanket. It breaks my heart to see babies being born in these facilities. I spoke with a fifteen-year-old who is pregnant. I was told by a lot of these children that they had to pay between $5,000 and $7,000 and that they still owe money to those who brought them here. You know what these cartels will do – use extortion. We need to question if there were any children that never arrived, and what happened to them? What about the potential for these children to be part of a human-trafficking ring? Do we know anything about the people they are being released to? As a mother, I can never conceive that these children would be sent with a stranger to a strange land on a fifteen-day hazardous journey. I understand the humanitarian argument and feel the situation is pathetic and pitiful
.
But what about the children who are American citizens living in ghettos and are fearful for their lives because of gang violence? The bottom line is, America is not big enough or rich enough to accept all these people.
"
Another instance was told to American Thinker by a member of the Civil Rights Commission, Peter Kirsanow, who also happens to be a great thriller-writer, his latest being Second Strike. A few years ago, he and his colleagues went to a Texas detention center and found the conditions to be the opposite of Arizona's. "We found very nice facilities where the people there were given three meals a day, dental/medical care, clothing, and a nice recreational area. Yet the majority report included two photos showing horrific conditions. My assistant discovered that these were not of the detention center, but of prisons," which also separate families when either a mother or father is incarcerated.
Kirsanow is frustrated with what is happening in America today.
He is a black American and believes that illegal immigration has a devastating effect on low-income American citizens. It seems that the Democrats and left are just using the illegal immigration issue as a talking point, supporting aliens at others' expense. "We need to understand illegal immigrants have some negative competitive effects on American workers. They drag down wage rates, drag down employment, and compete directly with blacks in industries such as service, hospitality, and construction. Welfare and college spots have been taken from Americans and given to illegal immigrants. They are a net drain on the economy."
Steven A. Camarota, director of research for the Center for Immigration Studies, agrees. "Because the overwhelming share of illegal immigrants residing in the country have not completed high school or have only a high school education, it would require highly implausible assumptions to avoid a substantial net fiscal drain from this population.
In short, illegal immigrants are a large net fiscal drain because of their education levels, and this fact drives the results."
He compared the amount in annual expenditures on children in detention centers to those of American children: "the March 2017 Current Population Survey has 24 percent of American children living in a household making $35,000 or less. And it is my understanding that is what we spend on kids in detention."
Senator Robert Kennedy was in the Mississippi Delta 50 years ago for a Senate subcommittee examination of War on Poverty programs. Ellen B. Meacham wrote in an op-ed, "What he saw on his widely publicized trip shocked a nation, but Americans would be even more shocked to know that 50 years later, the Delta remains desperately poor," with one in three people running out of food each month. Perhaps this is because the attention has shifted to the illegal alien.
Concerning the separation of families, the Heritage Foundation found that single parents make up the overwhelming majority of all poor families with children in the United States. Welfare programs create disincentives to marriage because benefits are reduced as a family's income rises, such as food stamps, public housing, Medicaid, day care, and Temporary Assistance for Needy Families.
It is striking that the conditions of a poor American child do not draw the same attention and sympathy as children of illegal aliens. Kirsanow wants people to understand that 73% of black children are born to a single mother, up from 20% in the 1960s. "Liberal policies have been responsible for this. The Democratic policies facilitate single parenthood, separating children from their families."
Kirsanow cites the statistic that competition from illegal aliens has caused 40% of the nineteen-point decline of black employment levels over a couple of decades. "We are talking over a million jobs. Black wage rates were suppressed by $1,000 annually.
Democrats are throwing blacks under the bus by appealing for the Hispanic vote by calling for open borders. The lives of blacks in cities like Detroit, with uninterrupted Democratic rule for decades, have not improved significantly. These policies have been devastating to blacks."
All Americans should strive to protect our fellow citizens and their interests first. As Kirsanow summarized, "it is really disappointing to see an entire party more invested in the plight of foreigners than in the welfare of Americans. The Democrats understand that even though they have policies devastating to blacks they still get 90% of their votes. They have disjointed appeals to different identity groups, with electoral politics trumping all."
The author writes for
American Thinker.
She has done book reviews and author interviews and has written a number of national security, political, and foreign policy articles.
Axios: Millennials Are Much Poorer Than Their Parents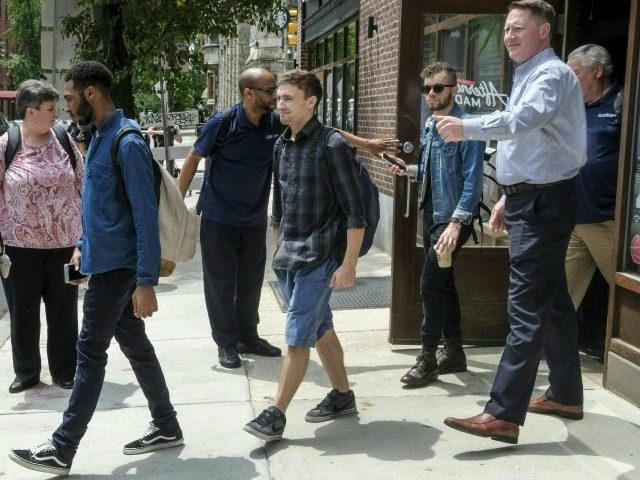 Thirty-year-old millennials' fortunes, sex lives, and income are all pitiful compared to what their fathers enjoyed at age 30, according to Axios.
Millennial men pay 2.5 times as much for college, have triple the debt, have half the chance of being married, fewer kids, and are much less likely to own a home, according to the data presented by
Axios
.
Axios reported that compared to 30 years ago:
Men are more likely to earn less. In 1975, only a quarter of 25 to 34-year-old men made less than $30K per year, but that number rose to 41% in 2016.

[Economist Raj] Chetty attributed most of this erosion to slower GDP growth and a change in the distribution of GDP favoring higher earners: GDP would have to rise by 6% a year to get the same impact, he said, and wealth would have to be distributed much more evenly.
Millennial women are individually better off than their mothers — but the women's husbands are the millennial men.
Missing from Axios, however, is any mention of the causes, such as the federal government's immigration policy of importing one new worker for every four Americans who graduate school or college each year.
This massive 25 percent inflation of the labor supply is widely ignored by economists who struggle to understand why young men earn so much less than their parents. The new-labor inflation is made worse by the government's policy of importing temporary workers for good jobs in the expanding professional sectors. Roughly 1.5 million foreign guest-workers now hold jobs in healthcare, technology, academia and other sectors, even as young American college graduates struggle to pay off debts.
President Donald Trump's "Hire American" campaign would modestly curb the inflow of immigrants and foreign workers, but it is strongly opposed by progressives, Democrats and business-first Republicans.
Four million Americans turn 18 each year and begin looking for good jobs in the free market — but the government provides green cards to roughly 1 million legal immigrants and temporary work-permits to roughly 3 million foreign workers.
Jose Angel Gutierrez, professor, University of Texas, Arlington and founder of La Raza Unida (NOW THE UNIDOSus Fascist Party) political party screams at rallies:

"We have an aging white America. They are dying. They are shitting in their pants with fear! I love it! We have got to eliminate the gringo, and what I mean by that is if the worst comes to the worst, we have got to kill him!"

"Tens of millions of people have been coming to America with non-American values — essentially, values of the left such as big government and a welfare state. And thanks to the Democratic Party and the left, they don't jettison these non-American values at the border and are encouraged to hold on to them."




"THE RADICALS SEEK NOTHING LESS THAN SECESSION FROM THE UNITED STATES WHETHER TO FORM THEIR OWN SOVEREIGN STATE OR TO REUNIFY W

ITH MEXICO. THOSE WHO DESIRE REUNIFICATION WITH MEXICO ARE IRREDENTISTS WHO SEEK TO RECLAIM MEXICO'S "LOST" TERRITORIES IN THE AMERICAN SOUTHWEST."

MARIA HSIA CHANG PROFESSOR OF POLITICAL SCIENCE, UNIVERSITY OF NEVADA RENO
IMMIGRANTS CHANGE CULTURES
Whether it's New Yorkers in Florida or Latinos in America.
July 25, 2018
The most frequently used description of America by those who advocate for large numbers of immigrants — those here legally or illegally — is "America is a nation of immigrants."
The statement sounds meaningful. But in reality, it's meaningless. What else could America be? If no one had come to America from elsewhere, the North American continent would have remained populated only by its indigenous people — which is what many on the left wish had happened. As the late Howard Zinn, author of "A People's History of the United States," the most widely used American history text in high schools and universities, said to me, the world was not better off thanks to the founding of America.
So, the statement "America is a nation of immigrants" tells us nothing about the only questions that matter: Should be there any limits to immigration? And what should we do about illegal immigration?
Regarding the first question, an increasing number of Americans on the left do not believe in any limits: We should allow all those escaping poverty or violence into the United States. As Hillary Clinton was caught on tape saying, she doesn't believe in borders. She speaks for the American left: In the past few weeks, leftists have marched in American streets demanding the abolition of ICE, the Immigration and Customs Enforcement agency.
Therefore, for the left, the second question, "What should we do about immigration?" is essentially irrelevant. Their answer is "Nothing. All migrants are welcome."
However, for those of us — liberals, conservatives and independents — who do believe in borders, the second question is critical.
And the reason has nothing — absolutely nothing — to with race or ethnicity. The reason we worry so much about vast numbers of immigrants is that too many immigrants in too short a period of time will change American culture and values. Our concern is not rooted in xenophobia; it is rooted in values-phobia .
Why is this an issue now? Because the vast majority of past immigrants changed their values, not America's, when they came to this country. They came here to become American, not only in terms of language, citizenship and national identity but also in terms of values.
But while some immigrants still do, the majority does not. They want to become American citizens in order to better their lives — a completely understandable motivation — not to embrace American values and identity. The majority of today's immigrants from Latin America, for example, wishes to become wealthier ... Latin Americans.
Tens of millions of people have been coming to America with non-American values — essentially, values of the left such as big government and a welfare state. And thanks to the Democratic Party and the left, they don't jettison these non-American values at the border and are encouraged to hold on to them.
Again, the concern many have over the issue of immigration has absolutely nothing to do with race or ethnicity. Pope Francis is a good example. He looks like a white European, but he has brought the left-wing Latin American values of his native Argentina into the papacy.
One more proof that opposition to vast numbers of immigrants has nothing to with xenophobia, racism or nativism and everything to do with values is the effect of American immigrants going from northern states to southern states. The large number of (white) American internal "immigrants" from northeastern states has changed Florida's values. Once a rock-solid conservative state, Florida has become more and more liberal and leftist because of the influx of people from New York and the Northeast.
Is noting the values effect of New Yorkers immigrating to Florida — or Californians to Arizona and Oregon — xenophobic, racist or nativist? Of course not.
That's why opposition to large-scale Muslim immigration into Europe (or America) also has little or nothing to do with xenophobia, racism (Muslim is not a race anyway) or nativism. It has to do with changing European values. Large-scale Muslim immigration to Europe will do to Europe's values what large-scale northern-state immigration has done to Florida and what large-scale European immigration did to the native culture of North America.
So, while the issue appears to be whether one is for or against large-scale immigration into America, the real issue is whether one wants to preserve American values or see them changed.
The left wants them changed. Conservatives don't.
THE AZTLAN INVASION & THE LA RAZA FASCIST PARTY FOR MEXICAN SUPREMACY
"The radicals seek nothing less than secession from the United States whether to form their own sovereign state or to reunify with Mexico. Those who desire reunification with Mexico are irredentists who seek to reclaim Mexico's "lost" territories in the American Southwest."
MULTICULTURALISM, IMMIGRATION AND AZTLAN
By Maria Hsia Chang Professor of Political Science, University of Nevada Reno
One of the standard arguments invoked by those in favor of massive immigration into the United States is that our country is founded on immigrants who have always been successfully assimilated into America's mainstream culture and society. As one commentator put it, "Assimilation evokes the misty past of Ellis Island, through which millions entered, eventually seeing their descendants become as American as George Washington."1 Nothing more vividly testifies against that romantic faith in America's ability to continuously assimilate new members than the events of October 16, 1994 in Los Angeles. On that day, 70,000 people marched beneath "a sea of Mexican flags" protesting Proposition 187, a referendum measure that would deny many state benefits to illegal immigrants and their children. Two weeks later, more protestors marched down the street, this time carrying an American flag upside down.
Both protests point to a disturbing and rising phenomenon of Chicano separatism in the United States — the product of a complex of forces, among which are multiculturalism and a generous immigration policy combined with a lax border control. The Problem Chicanos refer to "people of Mexican descent in the United States" or "Mexican Americans in general."
Today, there are reasons to believe that Chicanos as a group are unlike previous immigrants in that they are more likely to remain unassimilated and unintegrated, whether by choice or circumstance — resulting in the formation of a separate quasi-nation within the United States. More than that, there are Chicano political activists who intend to marry cultural separateness with territorial and political self-determination. The more moderate among them aspire to the cultural and political autonomy of "home rule". The radicals seek nothing less than secession from the United States whether to form their own sovereign state or to reunify with Mexico. Those who desire reunification with Mexico are irredentists who seek to reclaim Mexico's "lost" territories in the American Southwest.
Whatever their goals, what animates all of them is the dream of Aztlan. According to legend, Aztlan was the ancestral homeland of the Aztecs which they left in journeying southward to found Tenochtitlan, the center of their new civilization, which is today's Mexico City. Today, the "Nation of Aztlan" refers to the American southwestern states of California, Arizona, Texas, New Mexico, portions of Nevada, Utah, Colorado, which Chicano nationalists claim were stolen by the United States and must be reconquered (Reconquista) and reclaimed for Mexico. The myth of Aztlan was revived by Chicano political activists in the 1960s as a central symbol of Chicano nationalist ideology. In 1969, at the Chicano National Liberation Youth Conference in Denver, Rodolfo "Corky" Gonzales put forth a political document entitled El Plan de Aztlan (Spiritual Plan of Aztlan). The Plan is a clarion call to Mexican-Americans to form a separate Chicano nation: In the spirit of a new people that is conscious not only of its proud historial heritage, but also of the brutal "gringo" invasion of our territories, we, the Chicano inhabitants and civilizers of the nothern land of Aztlan from whence came our forefathers ...declare that the call of our blood is...our inevitable destiny.... Aztlan belongs to those who plant the seeds, water the fields, and gather the crops, and not to the foreign Europeans. We do not recognize capricious frontiers on the bronze continent.... Brotherhood unites us, and love for our brothers makes us a people whose time has come .... With our heart in our hands and our hands in the soil, we declare the independence of our mestizo nation. We are a bronze people with a bronze culture. Before the world, before all of North America, before all our brothers in the bronze continent, we are a nation, we are a union of free pueblos, we are Aztlan.
How Chicanos are Unlike Previous Immigrants Brent A. Nelson, writing in 1994, observed that in the 1980s America's Southwest had begun to be transformed into "a de facto nation" with its own culture, history, myth, geography, religion, education, and language. Whatever evidence there is indicates that Chicanos, as a group, are unlike previous waves of immigrants into the United States. In the first place, many Chicanos do not consider themselves immigrants at all because their people "have been here for 450 years" before the English, French, or Dutch. Before California and the Southwest were seized by the United States, they were the lands of Spain and Mexico. As late as 1780 the Spanish crown laid claim to territories from Florida to California, and on the far side of the Mississippi up to the Great Lakes and the Rockies. Mexico held title to much of Spanish possessions in the United States until the Treaty of Guadalupe Hidalgo ended the Mexican-American war in 1848. As a consequence, Mexicans "never accepted the borders drawn up by the 1848 treaty."
That history has created among Chicanos a feeling
of resentment for being "a conquered people,"
made part of the United States against their will
and by the force of arms. Their resentment is
amply expressed by Voz Fronteriza, a Chicano
student publication, which referred to Border
Patrol officers killed in the line of duty as "pigs
(migra)" trying to defend "the false frontier."
Chicanos are also distinct from other immigrant groups because of the geographic proximity of their native country. Their physical proximity to Mexico gives Chicanos "the option of life in both Americas, in two places and in two cultures, something earlier immigrants never had." Geographic proximity and ease of transportation are augmented by the media. Radio and television keep the spoken language alive and current so that Spanish, unlike the native languages of previous immigrants into the United States, "shows no sign of fading."
A result of all that is the failure by Chicanos to be fully assimilated into the larger American society and culture.
As Earl Shorris, author of Latinos: A Biography of the People, observed: "Latinos have been more resistant to the melting pot than any other group. Their entry en masse into the United States will test the limits of the American experiment...."
The continuous influx of Mexican immigrants into the United States serve to continuously renew Chicano culture so that their sense of separateness will probably continue "far into the future...." There are other reasons for the failure of Chicano assimilation. Historically, a powerful force for assimilation was upward social mobility: Immigrants into the United States became assimilated as they rose in educational achievement and income. But today's post-industrial American economy, with its narrower paths to upward mobility, is making it more difficult for certain groups to improve their socioeconomic circumstances. Unionized factory jobs, which once provided a step up for the second generation of past waves of immigrants, have been disappearing for decades. Instead of the diamond-shaped economy of industrial America, the modern American economy is shaped like an hourglass. There is a good number of jobs for unskilled people at the bottom, a fair number of jobs for the highly educated at the top, but comparatively few jobs for those in the middle without a college education or special skills. To illustrate, a RAND Corporation study forecasts that 85 percent of California's new jobs will require post-secondary education. For a variety of reasons, the nationwide high-school dropout rate for Hispanics (the majority of whom are Chicano) is 30 percent — three times the rate for whites and twice the rate for blacks. Paradoxically, the dropout rate for Hispanics born in the United States is even higher than for young immigrants. Among Chicanos, high-school dropout rates actually rise between the second and third generations. Their low educational achievement accounts for why Chicanos as a group are poor despite being hardworking. In 1996, for the first time, Hispanic poverty rate began to exceed that of American blacks. In 1995, household income rose for every ethnic group except Hispanics, for whom it dropped 5 percent. Latinos now make up a quarter of the nation's poor people, and are more than three times as likely to be impoverished than whites. This decline in income has taken place despite high rates of labor-force participation by Latino men, and despite an emerging Latino middle class.
In California, where Latinos now approach one-third of the population, their education levels are far lower than those of other immigrants, and they earn about half of what native-born Californians earn.
This means that, for the first time in the history of American immigration, hard work is not leading to economic advancement because immigrants in service jobs face unrelenting labor-market pressure from more recently arrived immigrants who are eager to work for less. The narrowing of the pathways of upward mobility has implications for the children of recent Mexican immigrants. Their ascent into the middle-class mainstream will likely be blocked and they will join children of earlier black and Puerto Rican migrants as part of an expanded multiethnic underclass. Whereas first generation immigrants compare their circumstances to the Mexico that they left — and thereby feel immeasurably better off — their children and grandchildren will compare themelves to other U.S. groups. Given their lower educational achievement and income, that comparison will only lead to feelings of relative deprivation and resentment. They are unlikely to be content as maids, gardeners, or fruit pickers. Many young Latinos in the second and third generations see themselves as locked in irremediable conflict with white society, and are quick to deride successful Chicano students as "wannabes."
For them, to study hard is to "act white" and exhibit group disloyalty. That attitude is part of the Chicano culture of resistance — a culture that actively resists assimilation into mainstream America.
That culture is created, reinforced, and maintained by radical Chicano intellectuals, politicians, and the many Chicano Studies programs in U.S. colleges and universities. As examples, according to its editor, Elizabeth Martinez, the purpose of Five Hundred Years of Chicano History, a book used in over 300 schools throughout the West, is to "celebrate our resistance to being colonized and absorbed by racist empire builders." The book calls the INS and the Border Patrol "the Gestapo for Mexicans."
For Rodolfo Acuna, author of Occupied America: The Chicano's Struggle Toward Liberation, probably the most widely assigned text in U.S. Chicano Studies programs, the Anglo-American invasion of Mexico was "as vicious as that of Hitler's invasion of Poland and other Central European nations...." The book also includes a map showing "the Mexican republic" in 1822 reaching up into Kansas and Oklahoma, and including within it Utah, Nevada, and everything west and south of there
"
This is country belongs to Mexico" is said by the Mexican Militant. This is a common teaching that the U.S. is really AZTLAN, belonging to Mexicans, which is taught to Mexican kids in Arizona and California through a LA Raza educational program funded by American Tax Payers via President Obama, when he gave LA RAZA $800,000.00 in March of 2009!
"Today we march, tomorrow we vote!"
At the current rate of invasion (mostly through Mexico, but also through Canada) the United States will be completely over run with illegal aliens by the year 2025. I'm not talking about legal immigrants who follow US law to become citizens. In less than 20 years, if we do not stop the invasion, ILLEGAL aliens and their offspring will be the dominant population in the United States. According to US Border Control (see LINK below). "They will have made such inroads into the political and social systems that they will have more influence than our Constitution over how the U.S. is governed. The ugly consequence of an ignored U.S. Constitution is already taking place." The millions upon millions of illegal aliens streaming into the US are the foundation for what could be another attempt at secession by several US states. Many of them will use ill-conceived programs that reward illegal immigration to become US citizens. Other illegals will simply go to the polls and vote without taking the trouble to apply for citizenship. Together, these groups could form a voting block that could tear our nation apart. Those of you who read the email version of this column should go to www.ConservativeTruth.org to see the map posted there. It shows the borders of a new nation proposed by influential Mexican nationals and Hispanic US Citizens. (See LINK below: Professor Predicts 'Hispanic Homeland'.) It includes six northern states of Mexican, as well as Texas, New Mexico, Arizona, California, and southern Colorado. The idea of a Hispanic Homeland could be ignored as the pipedream of crackpots if a substantial majority of Mexican citizens did not support it.
A Zogby poll of Mexicans done in June 2002 revealed that a substantial majority of Mexican citizens believe that southwestern America properly belongs to Mexico. They said that Mexicans do not need the permission of the U.S. to enter this territory. 58 percent of Mexican citizens agreed with this statement: "The territory of the United States' southwest rightfully belongs to Mexico."
Only 28 percent disagreed with the statement. Listen to what some Mexican government officials and US leaders (including politicians and Professors at taxpayer-funded Universities) have to say on this subject. Jose Angel Gutierrez, professor, University of Texas, Arlington and founder of La Raza Unida political party screams at rallies:
"We have an aging white America. They are dying. They are shitting in their pants with fear! I love it! We have got to eliminate the gringo, and what I mean by that is if the worst comes to the worst, we have got to kill him!"
(See LINK below.) Richard Alatorre, Los Angeles City Council "They're afraid we're going to take over the governmental institutions and other institutions. They're right. We will take them over. Mario Obledo, California State Secretary of Health, Education and Welfare under Jerry Brown, who was awarded the Presidential Medal of Freedom by Bill Clinton, says, "California is going to be a Hispanic state. Anyone who doesn't like it should leave." Proposition 187 was the California initiative supported by a majority of Californians that denied taxpayer funds for services to non-citizens. Speaking at a Latino gathering in response to Proposition 187's passage in 1995, Art Torres, the Chairman of the California Democratic Party, said: "Power is not given to you. You have to take it. Remember, 187 is the last gasp of white America in California." The national newspaper of Mexico, Excelsior: "The American Southwest seems to be slowly returning to the jurisdiction of Mexico without firing a single shot." Gloria Molina, Los Angeles County Supervisor: "We are politicizing every single one of these new citizens that are becoming citizens of this country...I gotta tell you that a lot of people are saying, "I'm going to go out there and vote because I want to pay them back." Jose Pescador Osuna, Mexican Consul General: "We are practicing 'La Reconquista' in California." "Reconquista" means the reconquest of the US southwest by Mexico. (See LINK below.). These people are serious! They think they are going to take US territory. The Mexican President declared it here in our country, and Bill Clinton signed a Presidential Executive Order that paves the way for at least part of Mexico's dream. Mexican President Ernesto Zedillo said in Chicago on July 23, 1997, "I have proudly affirmed that the Mexican nation extends beyond the territory enclosed by its borders and that Mexican migrants are an important – a very important – part of this. For this reason, my government proposed a constitutional amendment to allow any Mexican with the right and the desire to acquire another nationality to do so without being forced to first give up his or her Mexican nationality." Translation: It is next to impossible to receive Mexican citizenship unless you can prove you are of Mexican descent. But Mexico knows that the US has soft immigration laws and will grant citizenship to almost anyone. (After all, we grant citizenship every day to immigrants from countries who have sworn to destroy us.) So Mexico wants to take advantage of this ridiculous situation by encouraging their citizens to apply for US citizenship while keeping Mexican citizenship. That way the Mexican government can influence the political process here in the US. Executive Order 13122, signed on May 25, 1999, by the most treasonous president this nation has ever been cursed with, Bill Clinton, established an Interagency Task Force on the Economic Development of the Southwest Border. Part of the Order reads, "The Southwest Border or Southwest Border region is defined as including the areas up to 150 miles north of the United States-Mexican border in the States of Arizona, New Mexico, Texas, and California." According to experts on international law, this sets the stage for a 150-mile-wide "Border Zone" that will neither belong to Mexico or the US. This could then become the first area of a Hispanic Nation that would eventually encompass the areas shown in the map of the proposed Republica del Norte (The Northern Republic). Our government, pushed by liberal Democrats, has been systematically laying the groundwork for such a breakaway republic. Did you know that immigrants from Mexico and other non European countries can come to this country and get preferences in jobs, education, and government contracts? It's called affirmative action or racial privilege. Some time ago a vote was taken in the U.S. Congress to end this practice. It was defeated. Every single Democratic senator except Ernest Hollings voted to maintain special privileges for Hispanic, Asian and African immigrants. They were joined by thirteen Republicans. Bill Clinton and Al Gore have repeatedly stated that they believe that massive immigration from countries like Mexico is good. They have also backed special privileges for these immigrants. Mexico, a nation that has benefited enormously from American generosity is now working to destabilize our country. Is "destabilize" too strong a word? I don't think so. Whether or not Mexican leaders think they can actually create enough hatred against "gringos" to accomplish the creation of a new republic made up of mainly US territory, they know that pushing that agenda will cause huge political problems here and allow Mexico to accomplish many of their goals. Is the government of Mexico behind this? You have seen quotes from a Mexican President and a Mexican Consul General in support of it. They have everything to gain and little to lose by pushing it. The Mexican government is also pushing illegal immigration, which destabilizes our economy. The US Border Control website (see LINK below) shows an illustration from a Mexican government publication showing their citizens how to best illegally enter the US. Why? It takes the strain of taking care of unemployed Mexicans off the Mexican treasury and puts it on the US treasury. And when the illegals get on welfare, they send some of their money home, which helps the Mexican economy. All this talk by Mexican and US officials about the US illegally occupying Mexican territory does nothing but breed racial hatred. The sad thing is that none of this is about race. It is about the things that all wars and conflicts are about: Greed, power and money. I don't like to talk about a problem without offering a solution. The US politicians and professors who advocate taking US territory are guilty of sedition. Remove them from their offices and (hopefully) put them in a federal penitentiary where they can consider the error of their ways. The Mexican politicians who do the same are guilty of inciting sedition. This is very close to an act of war. Immediately cut of all economic aid to Mexico until its government publicly disavows this lunatic plan. Finally, we must realize that we can't stop this by marching US troops into Mexico. We should use troops to guard our borders, because the US Border Patrol cannot cover the huge US-Mexico border without help. And we need to use pass laws that will stop the government from rewarding illegal immigrants at the expense of those who follow the law. We have a huge immigration problem in this country. This ridiculous Hispanic Homeland idea is just a symptom of the problem. INTERNET RESEARCH: Professor Predicts 'Hispanic Homeland' 1. http://www.aztlan.net/homeland.htm Professor Predicts 'Hispanic Homeland' ALBUQUERQUE, N.M. — A University of New Mexico Chicano Studies professor predicts a new, sovereign Hispanic nation within the century, taking in the Southwest and several northern states of Mexico. Charles Truxillo suggests the "Republica del Norte," the Republic of the North, is "an inevitability." He envisions it encompassing all of California, Arizona, New Mexico, Texas and southern Colorado, plus the northern tier of Mexican states: Baja California, Sonora, Chihuahua, Coahuila, Nuevo León and Tamaulipas. Along both sides of the U.S.-Mexico border "there is a growing fusion, a reviving of connections," Truxillo said. "Southwest Chicanos and Norteño Mexicanos are becoming one people again." Truxillo, 47, has said the new country should be brought into being "by any means necessary," but recently said it was unlikely to be formed by civil war. Instead, its creation will be accomplished by the electoral pressure of the future majority Hispanic population in the region, he said.
The Chicago Model:


Population Replacement and the


Transformation of the USA
Speaking at the University of Missouri in Columbia during a 2008 speech, then-Senator Obama said,
"We are five days away from fundamentally transforming the United States of America."
Many believe that this fundamental transformation was pursued for the eight years Obama was in office.
Few would say that at the time that a fundamental transformation was already going on in Chicago. For more than fifty years, the Chicago Democrats were using population removal to get votes and guarantee the outcome of elections. Just as an iron curtain once fell across Europe, a red curtain had already fallen across Chicago's 50 wards.
The roots of transformation
What are the origins of this program to transform the nation? The roots of Obama's politics are to be found in the uni-party politics of Chicago. It has been the aim of the national Democratic Party to use Chicago as a model and then impose that political model on the United States.
The Chicago model requires, first of all, population replacement. Population replacement leads to voter replacement and then cultural replacement. Once population replacement is accomplished, voting will eventually reach a point where it becomes irrelevant.
After population replacement, any opposition party to the Democrats can never get enough votes to stop the fundamental transformation of the United States from a constitutional republic to a socialist democracy.
Democrats will always have a guaranteed majority once population is replaced. Today, uncontrolled immigration and redefining citizenship are the keystone to unlocking that guaranteed majority.
The ongoing debate over Obama's natural-born citizenship status is an example of how the subject of voting and citizenship is viewed by the Democrats. What should have been a discussion about constitutional qualifications became one about racism.
This accusation of racism nullified the issue in the minds of many, who had a foggy idea about citizenship to begin with.
The debate also showed that Democrats want votes no matter where they can get them.
They want votes up to the point where votes become irrelevant, as is now the case in most Chicago elections.
Englewood and Daley College
What we intend to show here in summary form is how the accumulation of individual lives and the political decisions made by men produce social changes that some may not desire and others maliciously intend. Just like the accumulation of individual coccolithophores over time made the white cliffs of Dover, so population replacement has altered forever Englewood and Daley College.
If we take as examples a Chicago neighborhood and an educational institution in the city, we see how a plan for fundamental transformation was carried out. Both of these examples show how population replacement eventually led to voter and cultural replacement. Population replacement and voter replacement became cogs in the uni-party state that continues to run Chicago, making the city the most segregated in the nation.
The destruction and transformation of Chicago's Englewood community was perhaps the first and best example of how population removal led to voter removal and the transformation of values.
What happened over the course of about 50 years was that a viable community, often rivaling Chicago's Loop in terms of wealth, shopping, and cultural attractions, was transformed into a wasteland that encouraged broken families, poverty, and drug addiction.
The ruling Democrats in Chicago could see this transformation happening before their eyes and did nothing to stop it. They did little to stop redlining, the exodus of the white working class to the suburbs, or the influx of poor blacks from the South.
In short, Chicago's ruling elites built a plantation where blacks migrating from the Southern states would be housed in projects and made to vote Democrat. In many ways, black leaders became the capos of a plantation that assured that Democrats would win election after election in Chicago. Can anyone point to an example of how Jesse Jackson improved, over the long run, the lives of many blacks living in Chicago?
Local urban election victories would be in turn translated to victories on the national level by other segregated U.S. cities. Chicago became the model for Democratic victories at the polls. By the time Barack Obama ran for office, the formula for victory by controlling urban minorities with the help of progressive whites was well in place.
If we move from the example of how a neighborhood experienced population replacement for the sake of voter and cultural replacement, the transformation of Daley College on the southwest side of Chicago becomes a good example of how and institution can also be fundamentally transformed by removing one population and replacing it with another.
Daley College, originally named Bogan Junior College, was established to serve the white ethnic communities on the southwest side of the city.
As Latino immigration increased in the '70s and '80s, a political decision was made to turn what was now Daley College into an all Latino school. That meant replacing the faculty and forcing out the white ethnic students. After an all Latino administration was put in place, little by little, Daley College was transformed into an all Latino institution. Population replacement also led to value and cultural replacement.
Where once there were students speaking Polish and
Lithuanian, students fleeing communism, there are now
Mexican students speaking Spanish and demonstrating in favor
of illegal immigration and socialism.
Ethnic cleansing in the U.S.
What happened at Daley College and Englewood was nothing short of ethnic cleansing, yet few in Chicago would recognize it as that today. Most Chicagoans know little of the history of Englewood or Daley College.
Liberalism and ignorance may be in the water they drink. Yet to participate today in that structure set up by the Democrats is to participate in its evil, the same way the Germans of the 1930s participated in the growing evil of their politics.
Across the nation, controversy over illegal immigration, the watering down of citizenship, and the relentless attack on U.S. history seems to many to be unending. Unfortunately, even those with a good heart and a desire for justice are attracted, perhaps in their innocence, to the illusions of the Democratic Party. Sometimes, we imagine that these misguided citizens outnumber those who are in politics not for patriotism, but for power.
The structure of evil that is the Democratic Party is oblivious to them.
For the Democrats, the God of Abraham, Isaac, and Jacob must be replaced with the ideals of the progressive state. If the Democrats have to use Islam or the wisdom of the great theologian Nancy Pelosi for that removal, they will. In many cases, the ruling Democratic Party in large U.S. cities distorted the values of freedom and justice to the point where they became the false values of multiculturalism and diversity.
There are some who may argue that Chicago politics is just ordinary urban politics found in a U.S. city that has undergone wave after wave of European immigration. Furthermore, the fundamental transformation of Chicago has brought prosperity to some. Walking along the lakefront, it may be hard to argue against that point of view. To make a counter-argument, you must go to Englewood and Daley College to see the spiritual and physical devastation the Democratic Party's quest for power has wrought.
Beyond that, there is the religious question, which may be at the heart of U.S. political history. How did Catholic immigrants end up supporting a progressive politics that was opposed to their faith? Even when some Catholics resisted the transformation of their neighborhoods, as in the case of Father Lawlor, they were betrayed by Catholic politicians.
"Undocumented immigrants" will become undocumented Democrats
It is obvious to many who call themselves deplorables and those living in the heartland that the election of Donald Trump help saved the nation. The Chicago model of fundamental transformation could no longer proceed unstopped. Nevertheless, the Democratic Party is still focused on its goal.
As always, the world goes on. Yesterday's topless towers of Ilium give way to today's Magnificent Mile. The uni-party, headed by the Democrats, still runs Chicago. Chicago politicians are not yet done with their hope for a fundamental transformation.
The Democrats still plan to have the same power structure for the nation that we see in Chicago.
Illegal immigration is the first step toward population and voter replacement, just like in Englewood and at Daley College. Illegal aliens will become undocumented Democrats.
Nevertheless, in many small towns across the heartland, citizens are becoming aware that population and cultural replacement is in store for them. They want nothing to do with it. In 2016, they took matters into their own hands. Donald Trump and the deplorables have frustrated the plan for national, uni-party control. It remains to be seen for how long.
"Do we really need a House Speaker whose every action is calculated to enhance her own financial interests, instead of focusing on how porous borders will affect the security of everyday American citizens?"
Pelosi's Stake in Illegal Immigration
The Minuteman Project, founded by Jim Gilchrist (who is also the co-author of the book Minutemen: The Battle to Secure America's Borders), is made up of citizen volunteers who watch our border with Mexico and report illegal entry to the border patrol. For performing that thankless task in full compliance with the law, Gilchrist and his colleagues have been falsely maligned as fascists, racists, and even murderers. They have been driven off the speaker's platform at Columbia University and vilified by Leftist politicians and their handmaidens in the liberal press.
So it was no surprise that the mainstream media chose to ignore a recent press release, issued by his publisher, in which Gilchrist asked the question about Nancy Pelosi's ethics that should be on the minds of every law-abiding American – including those immigrants who are following the law to become citizens here the proper way: "Do we really need a House Speaker whose every action is calculated to enhance her own financial interests, instead of focusing on how porous borders will affect the security of everyday American citizens?"
Gilchrist did not stop there. He demanded an investigation into Pelosi's "economic stake in just the kind of illegal alien exploitation that we deplore in Minutemen." But you would never know it from the liberal media, who - while ignoring this demand - have had no compunctions in calling for Speaker Hastert's head in the wake of the Foley page controversy.
Gilchrist was reacting to my report several weeks ago in FrontPage Magazine that Pelosi – who owns non-union vineyards in Napa Valley where grape-picking depends chiefly on the availability of cheap foreign labor – is doing everything she can to help open the floodgates to more illegal immigration
. And she wants the American taxpayers to pay their way. As even more proof of this than I previously reported, Pelosi does not want employers like her to be required to pay the cost of illegal aliens' hospital care. She voted against a bill that would make employers liable for the reimbursements if an undocumented employee seeks medical attention. And she voted in favor of rewarding illegal aliens from Mexico with Social Security benefits.
At the same time, Pelosi has led the Democratic opposition to any effective border controls or documentation requirements. She opposed the Secure Fence Act of 2006, signed into law by President Bush, and voted against final passage of a border security and enforcement bill in 2005 which required that all businesses must use an electronic system to check if all new hires have the legal right to work in this country. She voted against a bill to bar drivers' licenses for illegal aliens in 2005. This year she opposed legislation requiring presentation of a legitimate government-issued photo ID to prove eligibility to vote, claiming that "there is little evidence anywhere in the country of a significant problem with non-citizen voters." She is dead wrong. For example, an accused terrorist by the name of Nuradin Abdi was just recently reported to have illegally registered to vote at the Ohio Bureau of Motor Vehicles. Nuradin Abdi was indicted earlier this year as part of a conspiracy to blow up the Columbus Mall.
How many other terrorist suspects may have slipped through the system because Leftists like Pelosi oppose any meaningful screens? Instead she continues to advocate our recognition of the flimsy, non-validated ID card that the Mexican consulates provide to illegal aliens before they cross over our border, called the "matricula consular", which gives them phony documentation to set up bank accounts, apply for jobs, obtain social benefits, board airplanes, identify themselves to police, enter buildings that require IDs, obtain drivers' licenses and then perhaps use those drivers' licenses to try to illegally register to vote in our elections.
Pelosi also believes in giving sanctuary to illegal aliens. She opposed legislation to deny federal homeland security funding to state and local governments who refuse to share information they learn about an individual's immigration status with Federal immigration authorities. Pelosi's hometown of San Francisco is one of the sanctuary cities she voted to protect for the benefit of illegal aliens. Pelosi even voted against strengthening our immigration law with regard to the deportability of alien terrorists.
Jim Gilchrist cut to the chase with this devastating observation that the mainstream media does not want you to read:
"As we've shown again and again in 'Minutemen,' the Democrats aren't just hypocrites, but are working actively to subvert our legislative system to their own ends. Their only goal is votes, votes and more votes, no matter where they come from, no matter if they're cast legally, no matter whether the person casting them is dead, alive, a citizen or an illegal alien."
Pelosi sees Jim Gilchrist's Minutemen Project as a threat to her pro-illegal alien agenda. More illegal aliens mean more votes for the Democrats and more grape-pickers for Napa Valley vineyards like hers. So she even voted against a measure that would have cut off the use of U.S. taxpayers' funds to tip off illegal aliens as to where the Minutemen citizen patrols may be located! She obviously wants to see the Minutemen put out of business – permanently. She can count on the liberal press to distort the work of the Minutemen and to keep out of the public eye Gilchrist's pointed questions about her motivations for helping illegal aliens during the run-up to the mid-term elections that may make her the next Speaker of the House.
Gilchrist, of course, is accustomed to being vilified and prevented by the Left from getting his message out. In early October, he was prevented from finishing his speech at the "Minutemen Forum" sponsored by the Columbia College Republicans. Gilchrist had spoken for just a few minutes and managed to utter the words "I love the First Amendment" when a group of radical protestors took the stage and interrupted him, displaying a big banner saying "There are no illegals." More protestors then stormed the stage. Chaos erupted and the audience members who had come to hear Gilchrist speak never got the chance, which was precisely the protestors' objective. As reported online by the staff of Columbia's undergraduate newspaper, "a mosh pit of triumphal students and community members danced and chanted outside, "Asian, Black, Brown and White, we smashed the Minutemen tonight!" They also put out a statement declaring:
"The Minutemen are not a legitimate voice in the debate on immigration. They are a racist, armed militia who have declared open hunting season on immigrants, causing countless hate crimes and over 3000 deaths on the border. Why should exploitative corporations have free passes between nations, but individual people not? No human being is illegal." (Emphasis added)
We have come to the point in this country where a bunch of radical protestors get to decide who is and who is not a legitimate voice in the debate on as critical a public policy issue as immigration. Such Leftists think that migration in a borderless world is a basic human right. They want no barriers, no guards, and no proof of lawful residency. They certainly do not want the Minutemen watching the border and reporting illegal entry to the authorities.
Leftist slogans like "no human being is illegal" are red herrings. It is not the human being who is illegal; it is what the human being does that may be illegal. One's conduct is the test, not simply who one is. Immigrants who follow our rules are welcome here. Those who do not abide by our laws have no right to be here. A person who breaks into your house without your permission does not deserve room, board and a job as a reward, even if the intruder may be much poorer than you. He has broken the law and deserves to be punished for what he has done. Our country's boundaries and rules for entry and residency similarly define who is permitted to be here and how we choose to protect ourselves. We are a land of immigrants, but we are also a land of laws with certain core values. Those seeking to enter our country and remain here must learn to accommodate to our laws and values, not the other way around. That is the way prior generations of immigrants did it, including those who passed through Ellis Island. Why should the law be thrown aside now?
What we are witnessing is a frontal challenge to our nation's sovereignty. Mexico's Foreign Secretary wants to drag us before the United Nations for intending to build a fence on our side of the border with our money to keep out aliens who seek to enter our country illegally. They will probably get a sympathetic ear as some UN bureaucrats believe there should be no such thing as "illegal" immigrants in the first place. For the first time in our history, Americans are being asked to cede the right to decide how we define ourselves as a nation and protect our own borders to a globalist governance body. Will Pelosi lead her liberal loyalists as House Speaker to support the UN against America's right to control its own borders? Do we really want to risk finding out?
It is high time, as Jim Gilchrist demanded in the press release ignored by the mainstream media, that Pelosi come clean under oath as to her personal stake in the illegal immigration issue before she can do even more damage as House Speaker.
Washington , DC - (202) 225-4965 San Francisco , CA - (415) 556-4862
USE THE EMAIL AT THE BOTTOM OF THIS POSTING AND SEND A COPY TO LA RAZA PELOSI
If you are out of her district, you can still make your feelings heard:
Americanvoices@mail.house.gov
What do they bring to the table?
Critical to the contentious and ongoing immigration debate is the undeniable fact that low-skilled jobs, requiring little to no formal education, are disappearing or being phased out of almost every industry in America.
In the age of a rapidly changing work force, the Democrat initiative to flood the country with people who can't compete in today's job market is myopic, not to mention fiscally irresponsible.
Unlike in the United States, the process of legal immigration in Australia is strict. It's highly regulated and involves a lengthy process for anyone wishing to relocate permanently to the land down under. In fact, part of the Australian immigration application process is proof of employment – prior to arriving – in addition to a proven ability of every applicant to financially support himself. Preference is given to potential new citizens who have a college degree or skill set in engineering, medicine, and technology. Work visas are granted, but the number is abysmally small compared to the number the government receives each year. Furthermore, the official language of Australia is English. In order to be employed in almost every sector of industry, applicants must speak, read, and write English fluently.
Australia is just one example of a handful of countries that require immigrants to bring something to the table. In other words, the immigrant must first prove that he will not be a financial drain on society and will contribute positively to the community.
First and foremost, people crossing the U.S. southern border are uneducated, illiterate, and lacking any real-world skill set. Strike one: They are, for the most part, shut out of the highly competitive, educated American work force, consigned to manual labor in the service, restaurant, agriculture, or hospitality industry. With that in mind, there is a finite number of low-skilled labor jobs available – there are only so many lawns to mow, toilets to clean, restaurant dishes to wash, and hotel rooms to be vacuumed.
Despite the Democrat canard about immigrants doing the jobs that Americans refuse to do, even some of those jobs are disappearing – for example, taking fast food orders at the counter. The CEO of McDonald's recently announced that all McDonald's restaurants in the U.S. will be outfitted with computer order kiosks over the next few years. No doubt, other fast food restaurants will follow the lead of McDonald's. That alone equates to a sharp reduction in employees, many of whom are low-skilled, barely educated immigrants, young and middle-aged.
The same kind of technology innovations are also occurring in the agriculture industry; automated harvesting machines are replacing human hands. Ever see a machine shake a pecan tree and catch falling pecans in a steel hopper? I have.
Strike two: The vast majority of new arrivals, whether they be illegal aliens or refugees, don't speak English. A first-generation immigrant will never bother learning to read or write English, either. They don't have to. If allowed to stay in the U.S., they gravitate toward predominantly minority neighborhoods, where everyone speaks some form of their native tongue. Firsters may acquire enough English to get by, but for the most part, they will continue to speak their native languages at home, in their communities, and within their family circles, which severely limits their employment opportunities. If they do seek work outside the home, they will be in the company of people much like themselves: uneducated, low-skilled manual laborers.
Unfortunately, this segment of American society has one of three paths of livelihood in the U.S.: destined to stagnate in a service industry job with little upward job mobility, government dependence, or a life of crime.
The correlation between chronically unemployed foreign entrants to the U.S. and every category of violent crime in the United States is no coincidence. There's a good reason why President Trump, with the help of Attorney General Jeff Sessions, is chasing down, rounding up, arresting, and deporting MS-13 gang members. The majority of foreign-born MS-13 gang members have taken advantage of the easily accessible southern border for the sole purpose of expanding the drug trade in the United States. Strike three for America.
Until stricter, highly regulated, and closely monitored border access is achieved, hordes of people who bring nothing to the table will continue to plague America
In the July/August version of the Atlantic, columnist Peter Beinart wrote an article titled, "How the Democrats Lost Their Way on Immigration."
"The next Democratic presidential candidate should say again and again that because Americans are one people, who must abide by one law, his or her goal is to reduce America's undocumented population to zero."
Peter Beinart, a frequent contributor to the New York Times, New York Review of Books, Haaretz, and former editor of the New Republic, blames immigration for deteriorating social conditions for the American working class: The supposed "costs" of immigration, he says, "strain the very welfare state that liberals want to expand in order to help those native-born Americans with whom immigrants compete."
The myth, which liberals like myself find tempting, is that only the right has changed. In June 2015, we tell ourselves, Donald Trump rode down his golden escalator and pretty soon nativism, long a feature of conservative politics, had engulfed it. But that's not the full story. If the right has grown more nationalistic, the left has grown less so. A decade ago, liberals publicly questioned immigration in ways that would shock many progressives today.
Listen to the audio version of this article:

Download the Audm app

for your iPhone to listen to more titles.

In 2005, a left-leaning blogger wrote, "Illegal immigration wreaks havoc economically, socially, and culturally; makes a mockery of the rule of law; and is disgraceful just on basic fairness grounds alone." In 2006, a liberal columnist wrote that "immigration reduces the wages of domestic workers who compete with immigrants" and that "the fiscal burden of low-wage immigrants is also pretty clear." His conclusion: "We'll need to reduce the inflow of low-skill immigrants." That same year, a Democratic senator wrote, "When I see Mexican flags waved at pro-immigration demonstrations, I sometimes feel a flush of patriotic resentment. When I'm forced to use a translator to communicate with the guy fixing my car, I feel a certain frustration."
The blogger was Glenn Greenwald. The columnist was Paul Krugman. The senator was Barack Obama.
Prominent liberals didn't oppose immigration a decade ago. Most acknowledged its benefits to America's economy and culture. They supported a path to citizenship for the undocumented. Still, they routinely asserted that low-skilled immigrants depressed the wages of low-skilled American workers and strained America's welfare state. And they were far more likely than liberals today are to acknowledge that, as Krugman put it, "immigration is an intensely painful topic … because it places basic principles in conflict."
Today, little of that ambivalence remains. In 2008, the Democratic platform called undocumented immigrants "our neighbors." But it also warned, "We cannot continue to allow people to enter the United States undetected, undocumented, and unchecked," adding that "those who enter our country's borders illegally, and those who employ them, disrespect the rule of the law." By 2016, such language was gone. The party's platform described America's immigration system as a problem, but not illegal immigration itself. And it focused almost entirely on the forms of immigration enforcement that Democrats opposed. In its immigration section, the 2008 platform referred three times to people entering the country "illegally." The immigration section of the 2016 platform didn't use the word illegal, or any variation of it, at all."A decade or two ago," says Jason Furman, a former chairman of President Obama's Council of Economic Advisers, "Democrats were divided on immigration. Now everyone agrees and is passionate and thinks very little about any potential downsides." How did this come to be?
There are several explanations for liberals' shift. The first is that they have changed because the reality on the ground has changed, particularly as regards illegal immigration. In the two decades preceding 2008, the United States experienced sharp growth in its undocumented population. Since then, the numbers have leveled off.
But this alone doesn't explain the transformation. The number of undocumented people in the United States hasn't gone down significantly, after all; it's stayed roughly the same. So the economic concerns that Krugman raised a decade ago remain relevant today.

What's Wrong With the Democrats?
A larger explanation is political. Between 2008 and 2016, Democrats became more and more confident that the country's growing Latino population gave the party an electoral edge. To win the presidency, Democrats convinced themselves, they didn't need to reassure white people skeptical of immigration so long as they turned out their Latino base. "The fastest-growing sector of the American electorate stampeded toward the Democrats this November,"
Salon
declared after Obama's 2008 win. "If that pattern continues, the GOP is doomed to 40 years of wandering in a desert."
As the Democrats grew more reliant on Latino votes,
they were more influenced by pro-immigrant activism. While
Obama was running for reelection, immigrants'-rights
advocates launched protests against the administration's
deportation practices; these protests culminated, in June 2012,
in a sit-in at an Obama campaign office in Denver. Ten days
later, the administration announced that it would defer the
deportation of undocumented immigrants who had arrived in
the U.S. before the age of 16 and met various other criteria.
Obama, The New York Times noted, "was facing growing
pressure from Latino leaders and Democrats who warned that
because of his harsh immigration enforcement, his support was
lagging among Latinos who could be crucial voters in his race
for re-election."
Alongside pressure from pro-immigrant activists came pressure from corporate America, especially the Democrat-aligned tech industry, which uses the H-1B visa program to import workers. In 2010, New York Mayor Michael Bloomberg, along with the CEOs of companies including Hewlett-Packard, Boeing, Disney, and News Corporation, formed New American Economy to advocate for business-friendly immigration policies. Three years later, Mark Zuckerberg and Bill Gates helped found FWD.us to promote a similar agenda.
This combination of Latino and corporate activism made it perilous for Democrats to discuss immigration's costs, as Bernie Sanders learned the hard way. In July 2015, two months after officially announcing his candidacy for president, Sanders was interviewed by Ezra Klein, the editor in chief of
Vox
. Klein asked whether, in order to fight global poverty, the U.S. should consider "sharply raising the level of immigration we permit, even up to a level of open borders." Sanders reacted with horror. "That's a Koch brothers proposal," he scoffed. He went on to insist that "right-wing people in this country would love … an open-border policy. Bring in all kinds of people, work for $2 or $3 an hour, that would be great for them. I don't believe in that. I think we have to raise wages in this country."
Progressive commentators routinely claim that there's a near-consensus among economists on immigration's benefits. There isn't.Sanders came under immediate attack.
Vox
's Dylan Matthews declared that his "fear of immigrant labor is ugly—and wrongheaded." The president of FWD.us accused Sanders of "the sort of backward-looking thinking that progressives have rightly moved away from in the past years."
ThinkProgress
published a blog post titled "Why Immigration Is the Hole in Bernie Sanders' Progressive Agenda." The senator, it argued, was supporting "the idea that immigrants coming to the U.S. are taking jobs and hurting the economy, a theory that has been proven incorrect."Sanders stopped emphasizing immigration's costs. By January 2016, FWD.us's policy director noted with satisfaction that he had "evolved on this issue."
But has the claim that "immigrants coming to the U.S. are taking jobs" actually been proved "incorrect"? A decade ago, liberals weren't so sure. In 2006, Krugman wrote that America was experiencing "large increases in the number of low-skill workers relative to other inputs into production, so it's inevitable that this means a fall in wages."
It's hard to imagine a prominent liberal columnist writing that sentence today. To the contrary, progressive commentators now routinely claim that there's a near-consensus among economists on immigration's benefits.(Illustration by Lincoln Agnew. Photos: AFP; Atta Kenare; Eric Lafforgue; Gamma-Rapho; Getty; Keystone-France; Koen van Weel; Lambert; Richard Baker / In Pictures / Corbis)There isn't. According to a comprehensive new report by the National Academies of Sciences, Engineering, and Medicine, "Groups comparable to … immigrants in terms of their skill may experience a wage reduction as a result of immigration-induced increases in labor supply." But academics sometimes de-emphasize this wage reduction because, like liberal journalists and politicians, they face pressures to support immigration.
Many of the immigration scholars regularly cited in the press have worked for, or received funding from, pro-immigration businesses and associations. Consider, for instance, Giovanni Peri, an economist at UC Davis whose name pops up a lot in liberal commentary on the virtues of immigration. A 2015
New York Times Magazine
essay titled "Debunking the Myth of the Job-Stealing Immigrant" declared that Peri, whom it called the "leading scholar" on how nations respond to immigration, had "shown that immigrants tend to complement—rather than compete against—the existing work force." Peri is indeed a respected scholar. But Microsoft has funded some of his research into high-skilled immigration. And New American Economy paid to help him turn his research into a 2014 policy paper decrying limitations on the H-1B visa program. Such grants are more likely the result of his scholarship than their cause. Still, the prevalence of corporate funding can subtly influence which questions economists ask, and which ones they don't. (Peri says grants like those from Microsoft and New American Economy are neither large nor crucial to his work, and that "they don't determine … the direction of my academic research.")Academics face cultural pressures too. In his book
Exodus
, Paul Collier, an economist at the University of Oxford, claims that in their "desperate [desire] not to give succor" to nativist bigots, "social scientists have strained every muscle to show that migration is good for everyone." George Borjas of Harvard argues that since he began studying immigration in the 1980s, his fellow economists have grown far less tolerant of research that emphasizes its costs. There is, he told me, "a lot of self-censorship among young social scientists." Because Borjas is an immigration skeptic, some might discount his perspective. But when I asked Donald Davis, a Columbia University economist who takes a more favorable view of immigration's economic impact, about Borjas's claim, he made a similar point. "George and I come out on different sides of policy on immigration," Davis said, "but I agree that there are aspects of discussion in academia that don't get sort of full view if you come to the wrong conclusion."
None of this means that liberals should oppose immigration. Entry to the United States is, for starters, a boon to immigrants and to the family members back home to whom they send money. It should be valued on these moral grounds alone. But immigration benefits the economy, too. Because immigrants are more likely than native-born Americans to be of working age, they improve the ratio of workers to retirees, which helps keep programs like Social Security and Medicare solvent. Immigration has also been found to boost productivity, and the National Academies report finds that "natives' incomes rise in aggregate as a result of immigration."
The problem is that, although economists differ about the extent of the damage, immigration hurts the Americans with whom immigrants compete. And since more than a quarter of America's recent immigrants lack even a high-school diploma or its equivalent, immigration particularly hurts the least-educated native workers, the very people who are already struggling the most. America's immigration system, in other words, pits two of the groups liberals care about most—the native-born poor and the immigrant poor—against each other.

One way of mitigating this problem would be to scrap the current system, which allows immigrants living in the U.S. to bring certain close relatives to the country, in favor of what Donald Trump in February called a "merit based" approach that prioritizes highly skilled and educated workers. The problem with this idea, from a liberal perspective, is its cruelty. It denies many immigrants who are already here the ability to reunite with their loved ones. And it flouts the country's best traditions. Would we remove from the Statue of Liberty the poem welcoming the "poor," the "wretched," and the "homeless"?

A better answer is to take some of the windfall that immigration brings to wealthier Americans and give it to those poorer Americans whom immigration harms. Borjas has suggested taxing the high-tech, agricultural, and service-sector companies that profit from cheap immigrant labor and using the money to compensate those Americans who are displaced by it.Unfortunately, while admitting poor immigrants makes redistributing wealth more necessary, it also makes it harder, at least in the short term. By some estimates, immigrants, who are poorer on average than native-born Americans and have larger families, receive more in government services than they pay in taxes. According to the National Academies report, immigrant-headed families with children are 15 percentage points more likely to rely on food assistance, and 12 points more likely to rely on Medicaid, than other families with children. In the long term, the United States will likely recoup much if not all of the money it spends on educating and caring for the children of immigrants. But in the meantime, these costs strain the very welfare state that liberals want to expand in order to help those native-born Americans with whom immigrants compete.

What's more, studies by the Harvard political scientist Robert Putnam and others suggest that greater diversity makes Americans less charitable and less willing to redistribute wealth. People tend to be less generous when large segments of society don't look or talk like them. Surprisingly, Putnam's research suggests that greater diversity doesn't reduce trust and cooperation just among people of different races or ethnicities—it also reduces trust and cooperation among people of the same race and ethnicity.

Trump appears to sense this. His implicit message during the campaign was that if the government kept out Mexicans and Muslims, white, Christian Americans would not only grow richer and safer, they would also regain the sense of community that they identified with a bygone age. "At the bedrock of our politics will be a total allegiance to the United States of America," he declared in his inaugural address, "and through our loyalty to our country, we will rediscover our loyalty to each other."Liberals must take seriously Americans' yearning for social cohesion. To promote both mass immigration and greater economic redistribution, they must convince more native-born white Americans that immigrants will not weaken the bonds of national identity. This means dusting off a concept many on the left currently hate: assimilation.
Promoting assimilation need not mean expecting immigrants to abandon their culture. But it does mean breaking down the barriers that segregate them from the native-born. And it means celebrating America's diversity less, and its unity more.
Writing last year in American Sociological Review, Ariela Schachter, a sociology professor at Washington University in St. Louis, examined the factors that influence how native-born whites view immigrants. Foremost among them is an immigrant's legal status. Given that natives often assume Latinos are undocumented even when they aren't, it follows that illegal immigration indirectly undermines the status of those Latinos who live in the U.S. legally. That's why conservatives rail against government benefits for undocumented immigrants (even though the undocumented are already barred from receiving many of those benefits): They know Americans will be more reluctant to support government programs if they believe those programs to be benefiting people who have entered the country illegally.

Liberal immigration policy must work to ensure that immigrants do not occupy a separate legal caste. This means opposing the guest-worker programs—beloved by many Democrat-friendly tech companies, among other employers—that require immigrants to work in a particular job to remain in the U.S. Some scholars believe such programs drive down wages; they certainly inhibit assimilation. And, as Schachter's research suggests, strengthening the bonds of identity between natives and immigrants is harder when natives and immigrants are not equal under the law.The next Democratic presidential candidate should say again and again that because Americans are one people, who must abide by one law, his or her goal is to reduce America's undocumented population to zero. For liberals, the easy part of fulfilling that pledge is supporting a path to citizenship for the undocumented who have put down roots in the United States. The hard part, which Hillary Clinton largely ignored in her 2016 presidential run, is backing tough immigration enforcement so that path to citizenship doesn't become a magnet that entices more immigrants to enter the U.S. illegally.

Enforcement need not mean tearing apart families, as Trump is doing with gusto. Liberals can propose that the government deal harshly not with the undocumented themselves but with their employers. Trump's brutal policies already appear to be slowing illegal immigration. But making sure companies follow the law and verify the legal status of their employees would curtail it too: Migrants would presumably be less likely to come to the U.S. if they know they won't be able to find work.

In 2014, the University of California listed the term melting pot as a "microaggression." What if Hillary Clinton had called that absurd?Schachter's research also shows that native-born whites feel a greater affinity toward immigrants who speak fluent English. That's particularly significant because, according to the National Academies report, newer immigrants are learning English more slowly than their predecessors did. During the campaign, Clinton proposed increasing funding for adult English-language education. But she rarely talked about it. In fact, she ran an ad attacking Trump for saying, among other things, "This is a country where we speak English, not Spanish." The immigration section of her website showed her surrounded by Spanish-language signs.Democrats should put immigrants' learning English at the center of their immigration agenda. If more immigrants speak English fluently, native-born whites may well feel a stronger connection to them, and be more likely to support government policies that help them. Promoting English will also give Democrats a greater chance of attracting those native-born whites who consider growing diversity a threat. According to a preelection study by Adam Bonica, a Stanford political scientist, the single best predictor of whether a voter supported Trump was whether he or she agreed with the statement "People living in the U.S. should follow American customs and traditions."

In her 2005 book, The Authoritarian Dynamic, which has been heralded for identifying the forces that powered Trump's campaign, Karen Stenner, then a professor of politics at Princeton, wrote:
Exposure to difference, talking about difference, and applauding difference—the hallmarks of liberal democracy—are the surest ways to aggravate those who are innately intolerant, and to guarantee the increased expression of their predispositions in manifestly intolerant attitudes and behaviors. Paradoxically, then, it would seem that we can best limit intolerance of difference by parading, talking about, and applauding our sameness.
The next Democratic presidential nominee should commit those words to memory. There's a reason Barack Obama's declaration at the 2004 Democratic National Convention that "there is not a liberal America and a conservative America … There is not a black America and white America and Latino America and Asian America; there's the United States of America" is among his most famous lines. Americans know that liberals celebrate diversity. They're less sure that liberals celebrate unity. And Obama's ability to effectively do the latter probably contributed to the fact that he—a black man with a Muslim-sounding name—twice won a higher percentage of the white vote than did Hillary Clinton.In 2014, the University of California listed melting pot as a term it considered a "microaggression." What if Hillary Clinton had traveled to one of its campuses and called that absurd? What if she had challenged elite universities to celebrate not merely multiculturalism and globalization but Americanness? What if she had said more boldly that the slowing rate of English-language acquisition was a problem she was determined to solve? What if she had acknowledged the challenges that mass immigration brings, and then insisted that Americans could overcome those challenges by focusing not on what makes them different but on what makes them the same?
Some on the left would have howled. But I suspect that Clinton would be president today.
CHRISTIAN SCIENCE MONITOR
What will America stand for in 2050?
The US should think long and hard about the high number of Latino immigrants.
It's not just a short-run issue of immigrants competing with citizens for jobs as unemployment approaches 10 percent or the number of uninsured straining the quality of healthcare. Heavy immigration from Latin America threatens our cohesiveness as a nation.
MEXICO WILL DOUBLE U.S. POPULATION
At the current rate of invasion (mostly through Mexico, but also through Canada) the United States will be completely over run with illegal aliens by the year 2025. I'm not talking about legal immigrants who follow US law to become citizens. In less than 20 years, if we do not stop the invasion, ILLEGAL aliens and their offspring will be the dominant population in the United States.