L.A. Mayor Eric Garcetti Spends Money Nationwide Ahead of 2020 Race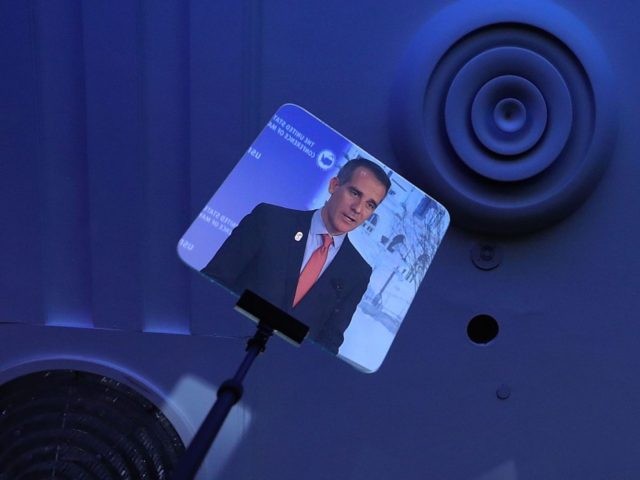 Los Angeles Mayor Eric Garcetti, who is considered a contender for the Democratic Party's presidential nomination in 2020, is spending money nationwide ahead of the midterm elections to help his party — and to buy support.
The Democratic Midterm Victory Fund — Garcetti's most ambitious fundraising endeavor yet to help his party — is boosting the mayor's national profile and allowing him to forge alliances with party leaders as he considers a long-shot bid for the White House.

Launched last year to help congressional candidates and state parties ahead of the November midterm election, the committee had raised $673,000 through late June, according to a Times analysis of the most recent filings. It's one of the most concrete efforts by the mayor to expand his political presence beyond California as he tests the waters for a possible presidential run.
Garcetti's spending supports Democratic efforts in 19 states, the Times reports, including key primary states like Iowa, New Hampshire and South Carolina.
As Breitbart News has
reported
, Garcetti has traveled to all three of those states to lay the groundwork for a presidential run.
The Times adds, however, that Garcetti's travel expenses have attracted criticism, as has his alleged neglect of problems in L.A., like homelessness:
(Garcetti's travel expenses have become an issue for the mayor. The Times is suing the city over its refusal to disclose how much taxpayers are spending on the security detail that accompanies him on his trips.)
Jane Demian, a committee member of the Eagle Rock Neighborhood Council and member of the L.A. Tenants Union, supports flipping Republican seats. But Garcetti's attention on national politics is "at the expense of focusing on homelessness and housing," Demian said. "This is a crisis and he's not acting like it's an emergency."
Other California candidates in 2020 could include Sen. Kamala Harris (D-CA), who is considered the party's frontrunner.
THE STAGGERING COST OF THE WELFARE STATE MEXICO AND THE LA RAZA SUPREMACY DEMOCRAT PARTY HAVE BUILT BORDER to OPEN BORDER'
According to the
Federation for American Immigration Reform's 2017 report,
illegal immigrants, and their children, cost American taxpayers a net $116 billion annually -- roughly $7,000 per alien annually. While high, this number is not an outlier: a recent study by the
Heritage Foundation
found that low-skilled immigrants (including those here illegally) cost Americans

trillions

over the course of their lifetimes, and a study from the
National Economics Editorial
found that illegal immigration costs America over $140 billion annually. As it stands, illegal immigrants are a massive burden on American taxpayers.
Previous generations of immigrants did not believe they were racially superior to Americans. That is the view of
La Raza Cosmica
, by Jose Vasconcelos, Mexico's former education minister and a presidential candidate. According to this book, republished in 1979 by the Department of Chicano Studies at Cal State LA, students of Scandinavian, Dutch and English background are dullards, blacks are ugly and inferior, and those "Mongols" with the slanted eyes lack enterprise. The superior new "cosmic" race of Spaniards and Indians is replacing them, and all Yankee "Anglos."
POPULATION EXPLOSION FOR GRINGO WELFARE
THE HORDES OF ILLEGALS KEEP COMING…. Despite America's jobs, housing and Mexican crime tidal wave.
"If the racist "Sensenbrenner Legislation" passes the US Senate, there is no doubt that a massive civil disobedience movement will emerge. Eventually labor union power can merge with the immigrant civil rights and "Immigrant Sanctuary" movements to enable us to either form a new political party or to do heavy duty reforming of the existing Democratic Party. The next and final steps would follow and that is to elect our own governors of all the states within Aztlan."
LA made $1.3B in illegal immigrant welfare payouts in just 2 years