Watch that new border wall going up where it is needed most
Congress still refuses to fund a complete border wall, but that isn't stopping the king of construction, Donald J. Trump, from delivering the goods where it is needed most. The El Paso Times has provided an entertaining and interesting video of construction of a new, much bigger border wall being built on the border separating the metropolises of Juarez, Mexico and El Paso, Texas, with a combined metropolitan population of at least 2.7 million souls. In an environment of scarcity, priorities must always be established, and the most densely populated areas should pay the greatest dividends in limiting the prospects of border-jumpers. San Diego and Tijuana, along with El Paso and Juarez are ground zero.
The Hill reposts the El Paso Times video and notes:
"In fiscal year 2017, El Paso Sector apprehended 25,193 illegal aliens, seized 34,189 pounds of marijuana and 140 pounds of cocaine," the release continued. "Additionally during that fiscal year, there were 54 assaults against El Paso Sector agents."

The agency said it contracted West Point Contractors of Tucson, Ariz., on June 1 to build the barrier.
(screen grabs from El Paso Times video)
As for San Diego, the New York Post reports construction there is already underway:
A 14-mile section of President Trump's border wall is under construction in San Diego, at a cost of $147 million.

The money comes from the omnibus spending bill that Trump signed in March. The legislation included a $1.6 billion down payment on the "great, great" wall that – Trump promised throughout his presidential campaign – would stretch across the nation's southern border.

The San Diego wall will reach up to 30 feet high, topped with a sheer vertical "anti-climbing plate" that offers no hand- or footholds for illicit border crossers.

It will replace a long stretch of 8-to-10-foot-high metal fencing that was built in the 1990s out of scrap metal and repurposed steel plates. Rusted and wobbly in places, the old wall has been no match for drug smugglers and human traffickers.
Instead of waiting for a comprehensive bill funding a new wall, President Trump is doing what a businessman does: making the best use of the limited resources at his disposal.
Most Iowa voters say unscrupulous employers deserve most of the blame for illegal migration because they offer jobs to illegals, according to a poll of 801 adults in Iowa.
The result contradicts that frequent claim by business groups that public opposition to immigration is merely a racist-style dislike of migrants.
Also, the public's decision to blame companies is being fought by business groups, who are spending millions of dollars on attack ads this year which try to shift the blame from their cheap-labor hiring policies to the migrants who illegally sign up for jobs at businesses.
The Des Moines Register poll was taken Sept. 17-20, and asked, "Who do you blame more when illegal immigrants are found working in Iowa — the workers or the employers who hire them?" The data showed:
Across party affiliations, majorities blame those who employ undocumented workers more than they do the workers. Seventy percent of Democrats, 66 percent of independents and 57 percent of Republicans blame the employers.

The same is true of self-identified Trump voters — 64 percent of them blame employers over workers.

But Republicans are more likely to place blame on workers (32 percent) than are independents (13 percent) or Democrats (6 percent).
Overall, the poll showed that "63 percent of Iowans blame employers who hire people in the United States illegally. Sixteen percent blame the workers, and 21 percent are not sure.
The concern over migration helped Donald Trump get elected, and now his deputies are cracking down on employers who hire illegals, and are deporting more employed migrantswho have not committed additional crimes. Trump has also pushed "Hire American" policies and is pressuring companies to hire fewer visa-workers.
This public criticism of companies is merely disguised racism, claim business lobbyists. For example, Todd Schulte, the director of the investor-funded FWD.us cheap-labor lobbying group, recently declared that opponents of cheap-labor immigration are actually "anti-immigrant."
Also, business groups are spending heavily during the 2018 campaign to blame migrants for the economic and civic damage caused by companies' eagerness to attract and employ the cheap-labor migrants. Tibbetts' alleged killer, for example, worked for low wages at a local dairy in place of European-style cow-milking robots.
Businesses' focus on migrants was highlighted by America's Voice, a pro-migration group which normally operates closely with pro-migration employers. A Sept. 24 post, headlined, "GOP's Divide and Distract Strategy " declares that donor-funded campaign groups "have placed millions of dollars on the wager that scapegoating immigrants is the path to electoral success."
For example, a pro-GOP group titled One Nation funded two attack-ads for Rep. Martha McSally, the GOP candidate for Senate in Arizona. The first ad, said America's Voice:
begins with the highly politicized death of Kate Steinle, and ends with an ominous hooded figure walking alone on a street brandishing a knife.

The other ad One Nation ran was in support of Republican candidate Martha McSally, which begins with the highly politicized death of Kate Steinle, and ends with an ominous hooded figure walking alone on a street brandishing a knife.
The business-funded campaign ads do not show the economic impact of illegal-immigraiton on Americans' wages, or do not show how Trump's "Hire American" policies are helping to nudge up wages for white-collar and blue-collar Americans. al cheap-labor immigration.
The Iowa poll reflects Americans' ambivalent views on migration, which include sympathy for legal immigrants and even for illegal migrants, alongside a strong hostility for government policies which allow companies to hire cheap-labor migrants in place of Americans.
This ambivalence helps the various pro-migration groups — business interests, progressives, and Democrats — to distract and divide the swing-voting public from demanding politicians reduce immigration. For example, business groups and Democrats fund polls which pressure Americans to declare support for migrants or to submit to the claim that the United States is a "Nation of Immigrants."
The public's ambivalence has helped to reduce public recognition and opposition to the Washington-imposed economic policy of economic growth via immigration.
Four million young Americans will join the workforce this year, but the federal government will also import 1.1 million legal immigrants, and allows an army of at least 2 million blue-collar and white-collar visa-workers to work U.S. jobs, alongside asylum-claiming migrants, refugees, and illegal aliens.
The policy also drives up real estate prices, widens wealth-gaps, reduces high-tech investment, increases state and local tax burdens, hurts kids' schools and college education, pushes Americans away from high-tech careers, and sidelines at least 5 million marginalized Americans and their families, including many who are now struggling with opioid addictions. Immigration also pulls investment and wealth away from heartland states because investment flows towards the large immigrant populations living in the coastal states.
Migrant Families, Minors Crossing AZ Border Nearly Doubles 2017 Reports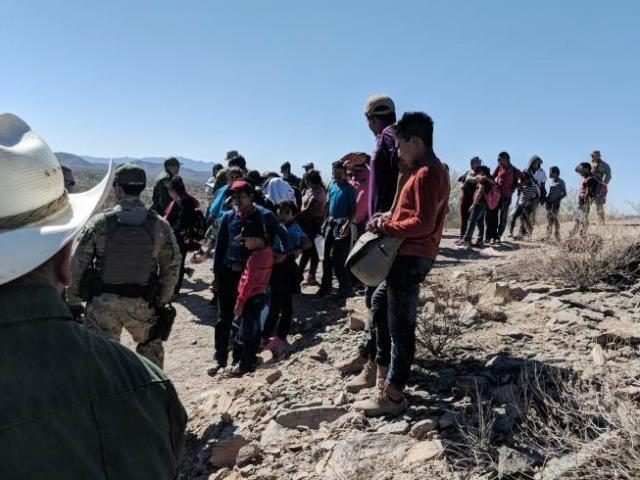 Border Patrol agents in Arizona witnessed a near doubling in the number of migrant families and unaccompanied minors who are illegally crossing the border and putting their lives at risk in the desert.
A recent report released by U.S. Customs and Border Protection (CBP) reveals that the illegal crossing of Family Unit Aliens (FMUA) and Unaccompanied Alien Children (UAC) increased from 13,181 in Fiscal Year 2017 year-to-date (YTD) reports to 25,911 in Fiscal Year 2018 – a 98 percent increase, according to the August Southwest Border Migration report. Yuma and Tucson Sector officials reported these classes of migrants are crossing in large numbers from Mexico into the southern Arizona desert where at least 83 migrants died during calendar year 2018.
Yuma Sector officials reported the largest increases in both FMUA and UAC categories. The apprehension of FMUAs in the Yuma Sector increased from 5,429 in FY2017 to 12,367 — a 128 percent increase, CBP officials stated. UAC apprehensions almost doubled in this sector, rising from 2,534 in FY2017 to 5,060.
During the fiscal year's final month (September), the numbers continue to swell. Yuma Sector agents recently arrested nearly 200 migrants in the desert during a 33-hour period, Breitbart Texas reported.
Between noon on Tuesday and 9 a.m. Wednesday morning, Yuma Station agents arrested 23 groups of illegal immigrants after they crossed the border from Mexico. The 23 groups came to the U.S. from seven countries and included Family Unit Aliens (FMUA) and Unaccompanied Alien Children (UAC), according to Yuma Sector Border Patrol officials.
The largest cohort came to the U.S. from Guatemala (149). Officials said that 155 persons were in family units while 18 were unaccompanied minors.
"With the 128 percent increase in family unit apprehensions and 100 percent increase in unaccompanied alien children apprehensions in Yuma Sector, compared to the same time last year, we want to emphasize the extreme hazards that accompany crossing the border illegally during the summer months." Yuma Sector Chief Patrol Agent Anthony Porvaznik told Breitbart Texas in response to an email inquiry. "With peak days reaching close to 130 degrees, parents who are planning on crossing the border illegally need to seriously reconsider the possibly fatal dangers they will not only be subjecting themselves to, but their children as well."
Tucson Sector officials also witnessed a doubling in the number of family units apprehended in the desert. During the first 11 months of FY2017, agents arrested 1,907 families who illegally crossed from Mexico into the U.S. This more than doubled to 3,860 during the same period in FY2018, officials reported. Unaccompanied minors actually outnumbered family units during FY2018 in this sector. Agents 4,624 UACs in FY2017 — up from 3,311 in FY2017 (a 40 percent increase).
Bob Price serves as associate editor and senior political news contributor for Breitbart Texas. He is a founding member of the Breitbart Texas team. Follow him on Twitter
@BobPriceBBTX
and
Facebook
.
NOW WATCH THE LA RAZA SUPREMACY DEMOCRAT PARTY FIGHT THIS TOOTH AND NAIL LIKE THEY DID IDs FOR ILLEGALS TO VOTE FOR MORE!
THE STAGGERING COST OF THE WELFARE STATE MEXICO AND THE LA RAZA SUPREMACY DEMOCRAT PARTY HAVE BUILT BORDER to OPEN BORDER'
According to the
Federation for American Immigration Reform's 2017 report,
illegal immigrants, and their children, cost American taxpayers a net $116 billion annually -- roughly $7,000 per alien annually. While high, this number is not an outlier: a recent study by the
Heritage Foundation
found that low-skilled immigrants (including those here illegally) cost Americans trillions over the course of their lifetimes, and a study from the
National Economics Editorial
found that illegal immigration costs America over $140 billion annually. As it stands, illegal immigrants are a massive burden on American taxpayers.
There are 10.4 million children who are US citizens with at least one noncitizen parent. Of this group, nearly 6 million children receive public health benefits. These families could be separated if a parent is considered a public charge and not granted legal permanent residency.
US announces new barrier to citizenship for low-income immigrants
By Meenakshi Jagadeesan
29 September 2018
On Friday, US Department of Homeland Security (DHS) Secretary Kirstjen Nielson signed a proposed new rule that will require all immigrants applying for permanent legal status or citizenship to provide evidence of their financial status, including applications for public benefits, proof of private health insurance and credit histories and scores.
The rule is another major step in the Trump administration's drive to create a class-based immigration system. The DHS defends the new rule as a means of preventing immigrants who may become a "public charge" from acquiring permanent legal status.
This is supposedly being done to prevent
foreigners from becoming a "burden" on the
American taxpayer. Neither the Trump
administration nor its nominal opposition in
the Democratic Party evinces a similar
concern for the burden on the average
taxpayer of multitrillion-dollar tax cuts for
corporations and the rich.
According to the proposal, a credit check is needed to reveal an individual's bill payment history, current debt, work history, bankruptcies and, most importantly, whether a person can be "self-sufficient" in the United States.
This proposal follows a regulation change announced last week that will effectively bar immigrants from acquiring permanent legal status if their families have used social programs. That new policy labels as public charges all undocumented immigrants who have ever used cash or noncash benefits—such as food stamps, housing vouchers or Medicaid—making it all but impossible for them to obtain permanent legal status (a green card). This directly affects just under 10 million undocumented workers who have already used the benefits outlined in the rule.
Millions more immigrant workers will be affected because they will forgo use of public benefits for themselves and the children for fear of being branded "public charges" and targeted for deportation. The rule, as numerous studies have pointed out and even the DHS itself has acknowledged, disproportionately targets the most vulnerable sections of the population, including pregnant women, infants and children and will increase poverty rates.
There are 10.4 million children who are US citizens with at least one noncitizen parent. Of this group, nearly 6 million children receive public health benefits. These families could be separated if a parent is considered a public charge and not granted legal permanent residency.
The Trump administration is escalating its war on immigrants behind a wall of media silence and the connivance of the Democratic Party, which says nothing. The Democrats have all but dropped any pretext of defending immigrant workers and youth. They are focusing all their efforts in the run-up to the November midterm elections on promoting their warmongering anti-Russia campaign and their right-wing #MeToo witch hunt, designed to solidarize their alliance with the CIA and the military and mobilize their base among privileged upper-middle-class layers of the population.
Workplace raids by Immigration and Customs Enforcement (ICE) are continuing unabated. This past week, ICE carried out a series of raids in Southern California, arresting 150 immigrants who were categorized as "public safety threats."
A 10-day ICE operation in North Texas and Oklahoma led to the arrest of almost 100 people.
Melting Pot or Civil War?: A Son of Immigrants Makes the Case Against Open Borders
Hardcover, ISBN: 0735216274, $17.70
Paperback, ISBN: 0520297113, $28.00
Kindle, 1438 KB, ASIN: B06W599DSM, $13.99
Book Description
: For too long, liberals have suggested that only cruel, racist, or nativist bigots would want to restrict immigration. Anyone motivated by compassion and egalitarianism would choose open, or nearly-open, borders—or so the argument goes. Now, Reihan Salam, the son of Bangladeshi immigrants, turns this argument on its head.
In this deeply researched but also deeply personal book, Salam shows why uncontrolled immigration is bad for everyone, including people like his family. Our current system has intensified the isolation of our native poor, and risks ghettoizing the children of poor immigrants. It ignores the challenges posed by the declining demand for less-skilled labor, even as it exacerbates ethnic inequality and deepens our political divides.
If we continue on our current course, in which immigration policy serves wealthy insiders who profit from cheap labor, and cosmopolitan extremists attack the legitimacy of borders, the rise of a new ethnic underclass is inevitable. Even more so than now, class politics will be ethnic politics, and national unity will be impossible.
Salam offers a solution, if we have the courage to break with the past and craft an immigration policy that serves our long-term national interests. Rejecting both militant multiculturalism and white identity politics, he argues that limiting total immigration and favoring skilled immigrants will combat rising inequality, balance diversity with assimilation, and foster a new nationalism that puts the interests of all Americans—native-born and foreign-born—first.
America is a nation with a severe housing crisis, a million legals who are homeless, tens of millions of legals who have given up finding a job that pays living wages and yet the borders are open to keep the hordes coming simply to keep wages DEPRESSED.
THE INVITED INVADING HORDES: IT'S ALL ABOUT KEEPING WAGES DEPRESSED!
"In the decade following the financial crisis of 2007-2008, the capitalist class has delivered powerful blows to the social position of the working class. As a result, the working class in the US, the world's "richest country," faces levels of economic hardship not seen since the 1930s."
"Inequality has reached unprecedented levels: the wealth of America's three richest people now equals the net worth of the poorest half of the US population."
Welfare for Refugees Cost Americans $123 Billion in 10 Years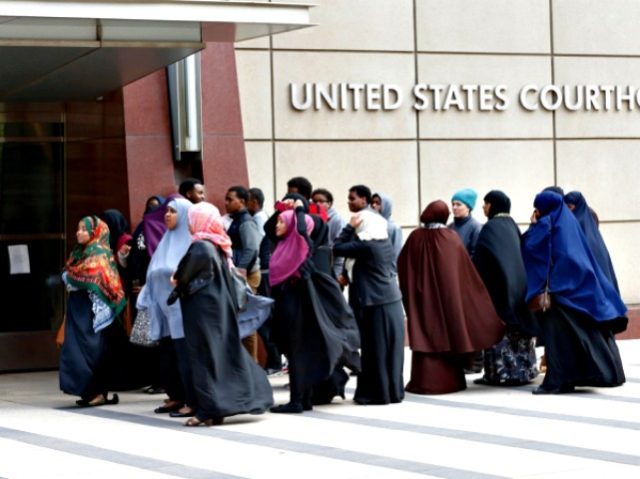 Americans spent almost $100 billion to support 606,000 poor refugees in the 10 years up to 2014, according to a State Department report.
The $96.6 billion cost rises to $126 billion when officials count the extra cost of paying for the refugees' spouses and children, including U.S.-born children.
The $126 billion bill is just for programs managed by the Department of Health and Human Services. It excludes additional taxpayers' spending via state programs, as well as federal spending on Social Security, education, and housing programs, plus tax credits, says the State Department's annual report to Congress on the refugee program.
The one-agency, $126-billion firehose of cash, however, was a huge taxpayer subsidy to the refugee groups which delivered the refugee to cities and towns. It is also a huge subsidy to the low-wage employers who hired the refugees in place of higher-wage Americans, and to the grocery stores and apartments who sold food and rented apartments to the new arrivals.
The huge cost adds up to $670 per working American, not counting the hard-to-assess costs of crowded schoolrooms, flooded labor markets, civic diversity, and shifts in political power away from Americans.
The massive spending will continue because the vast majority of the 606,000 refugees remain in the United States, mostly in low-skilled jobs, and will age into retirement. Since 2014, former President Barack Obama imported an additional 155,000 refugees.
The expenses are high because few of the refugees have the skills to earn a good living. The report noted:
Education level: Respondents age 25 or older averaged 8.7 years of education before arrival; about half did not have a high school diploma upon arrival; and 29 percent of refugees age 25 or older listed their prior educational attainment as "none." Among respondents age 18 and older, 16 percent were pursuing a degree of some kind, with most seeking high school equivalency.

English language proficiency: Respondents improved their English over time, but large deficits remain. Among refugees age 18 or older who had lived in the United States between 4.5 and 6.5 years, 53 percent spoke English "not well" or "not at all," based on self-assessments.

Employment: 59 percent of respondents ages 16 to 64 were employed, lower than the 67.5 percent employment rate for native-born members of the U.S. population. Male respondents were employed at a rate roughly on par with the U.S. population after being in the United States for only two years. Employed refugees age 18 or older earned $12 per hour on average.

Public benefits use: Two percent of respondent households reported public assistance as their only source of income; 27 percent received cash welfare of some kind, most often Supplemental Security Income (SSI); and 56 percent received Supplemental Nutrition Assistance Program (SNAP) benefits. Among respondents age 18 or older, 57 percent reported having health coverage throughout the previous year, while 34 percent reported no health coverage. Among those with coverage, about half received Medicaid or Refugee Medical Assistance.
President Donald Trump has dramatically braked the inflow to 53,000 refugees in 2017 and has promised to accept a maximum of 30,000 organized-inflow refugees in 2019.
Also, the Department of Homeland Security has announced a new regulation to deny visas and green cards to foreigners who poor, unskilled, or old. For the moment, the rule does not apply to refugees.
Trump's slowdown has reduced the impact of refugee migration on Americans cities, such as Lewiston, Maine, or Kansas City, Kansas.
The reduced inflow has also forced many employers, especially meatpackers, to raise wages for Americans. Breitbart News
reported
:
The State Department's report provided a chart showing how the HHS agency spent the money: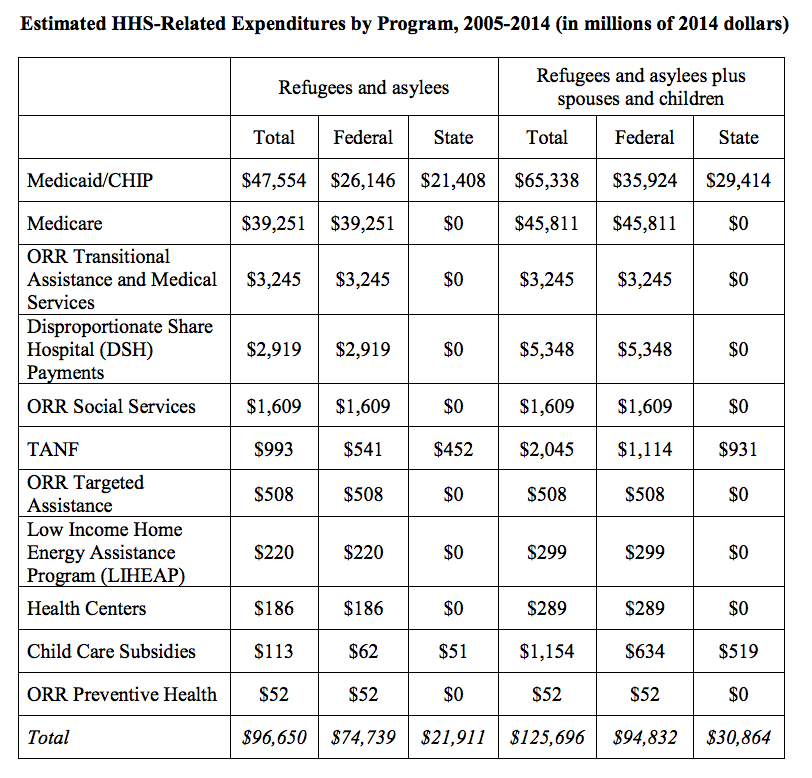 The report detailed which migrants were treated as refugees:
HHS estimated expenditures from the major HHS programs assisting refugees and asylees and their dependents over the 10-year period 2005-2014. For purposes of its analysis, HHS included individuals who entered the United States since 1980 as refugees, asylees, Iraqi and Afghan Special Immigrant Visa (SIV) holders and their spouses and unmarried children under the age of 21, Cuban and Haitian entrants, certain Amerasians from Vietnam, victims of a severe form of trafficking who have received certification or eligibility letters from ORR, trafficking victims family members with T nonimmigrant visas, and some victims of torture. Individuals who later changed their immigration status to legal permanent resident or naturalized as U.S. citizens are included as well.
Four million young Americans will join the workforce this year, but the federal government will also import 1.1 million legal immigrants, and allows an army of at least 2 million blue-collar and white-collar visa-workers to work U.S. jobs, alongside asylum-claiming migrants and illegal aliens.
That flood of outside labor spikes profits and Wall Street values by cutting salaries for manual and skilled labor offered by blue-collar and white-collar employees. The policy also drives up real estate prices, widens wealth-gaps, reduces high-tech investment, increases state and local tax burdens, hurts kids' schools and college education, pushes Americans away from high-tech careers, and sidelines at least 5 million marginalized Americans and their families, including many who are now struggling with opioid addictions. Immigration also pulls investment and wealth away from heartland states because investment flows towards the large immigrant populations living in the coastal states.
New study estimates disturbing number of illegals in USA.
September 26, 2018
New study estimates 16 to 29 million illegals in USA, as false-documented criminals claim American victims such as Mollie Tibbetts and NFL player Edwin Jackson.
"The number of undocumented immigrants living in the United States stayed steady for an eighth straight year in 2016 with 11.3 million people," reported USA Today last year, citing a report from Pew Research that pegs the "unauthorized" population as "no different from the 2009 or 2015 estimates."
Those who view the 11.3 estimate as bogus now have some support.
Last Friday, Guatemalan national Manuel Orrego-Savala was sentenced to 16 years in prison for killing Edwin Jackson, a linebacker for the Indianapolis Colts of the National Football League. The white Guatemalan illegal had a blood-alcohol content nearly two and a half times the legal limit when he crashed his truck into Jackson, killing the African American and his Uber driver Jeffrey Monroe.
Orrego-Savala, or whatever his real name is, was in the country illegally and had been deported in 2007 and 2009, returning with no difficulty. Jackson's mother, Mary Ellen Powell Jackson, got the news as she was leaving church. "Our hearts have been ripped apart and we're always asking, 'Why Edwin?'" she told reporters, a hardworking, caring son with "a heart of gold."
Deborah Monroe, Jeffrey's widow, spoke directly to the Guatemalan illegal. "My family and I are serving a life sentence because of you," Monroe said, "you're a drunk, a liar, a murderer and a coward."
The murder victim's brother, Jake Tibbets, told Fox News his sister, "a beautiful young girl," was killed by a "horrible person that came in from Mexico, illegally." Investigators said he entered illegally between four and seven years ago, evidence that the border is totally porous and that U.S. officials have no clue how many illegals are in the United States.
One of the illegals is Mexican national Luis Bracamontes, who in 2014 in Sacramento gunned down police officers Danny Oliver and Michael Davis. In his trial earlier this year, the Mexican said "I wish I had killed more of the motherfuckers" and called witness Anthony Holmes a "nigger" before yelling at the jury "black lives don't matter!" The racist Mexican had also been previously deported.
So had the Mexican criminal calling himself Garcia Zarate, along with other fake names. He was slated to be handed over to federal officials but in 2015 the sanctuary city of San Francisco released him. The Mexican criminal then gunned down Kate Steinle on a San Francisco pier. A San Francisco jury found Garcia Zarate not guilty and defense attorney Francisco Ugarte called the verdict "a vindication for the rights of immigrants."
Mexican national Juan Corona was deported in 1956 but duly returned and became a labor contractor. Corona wound up killing 25, including Charles Fleming, Melford Sample, Donald Smith, John J. Haluka, Warren Kelley, Sigurd Beierman, William Emery Kamp, Clarence Hocking, James W. Howard, Jonah R. Smallwood, Elbert T. Riley, Paul B. Allen, Edward Martin Cupp, Albert Hayes, Raymond Muchache, John H. Jackson, Lloyd Wallace Wenzel, Mark Beverly Shields, Sam Bonafide and Joseph Maczak.
Not a single one was Mexican and Corona also sodomized the victims and mutilated them with a machete. So the worst murderer in California and possibly U.S. history, now 84, was not even supposed to be in the country. Neither was Mexican national Lorenzo Sanchez, who raped 12-year-old Cally Jo Larson, stabbed her in the chest, then strung up the victim's bleeding body from a staircase banister.
Even those who didn't vote for Donald Trump might think that kind of violent crime calls for tough border security and building the wall. As the president recently tweeted.
"I want to know, where is the money for Border Security and the WALL in this ridiculous Spending Bill, and where will it come from after the Midterms? Dems are obstructing Law Enforcement and Border Security. REPUBLICANS MUST FINALLY GET TOUGH!"
So far they aren't, and the left doesn't want the government to know how many false-documented illegals are criminals or even how many illegals are in the country. The Trump administration has proposed a citizenship question on the 2020 census. The ACLU calls this "a deliberate attempt by President Trump to once again attack immigrants."
70% OF ILLEGALS GET WELFARE!
"According to the Centers for Immigration Studies, April '11, at least 70% of Mexican illegal alien families receive some type of welfare in the US!!! cis.org"
So when cities across the country declare that they will NOT be sanctuary, guess where ALL the illegals, criminals, gang members fleeing ICE will go???? straight to your welcoming city. So ironically the people fighting for sanctuary city status, may have an unprecedented crime wave to deal with along with the additional expense.
$17 Billion dollars a year is spent for education for the American-born children of illegal aliens, known as anchor babies.
$12 Billion dollars a year is spent on primary and secondary school education for children here illegally and they cannot speak a word of English.
$22 billion is spent on (AFDC) welfare to illegal aliens each year.
$2.2 Billion dollars a year is spent on food assistance programs such as (SNAP) food stamps, WIC, and free school lunches for illegal aliens.
$3 Million Dollars a DAY is spent to incarcerate illegal aliens.
30% percent of all Federal Prison inmates are illegal aliens. Does not include local jails and State Prisons.
2012 illegal aliens sent home $62 BILLION in remittances back to their countries of origin. This is why Mexico is getting involved in our politics.
$200 Billion Dollars a year in suppressed American wages are caused by the illegal aliens.
Nearly One Million Sex Crimes Committed by Illegal Immigrants In The United States.
IN AMERICA, YOU'RE MUCH BETTER OFF
BEING AN ILLEGAL!
THE NEW PRIVILEGED CLASS: Illegals!
This is why you work From Jan - May paying taxes to the government ....with the rest of the calendar year is money for you and your family.
Take, for example, an illegal alien with a wife and five children. He takes a job for $5.00 or 6.00/hour. At that wage, with six dependents, he pays no income tax, yet at the end of the year, if he files an Income Tax Return, with his fake Social Security number, he gets an "earned income credit" of up to $3,200..... free.
He qualifies for Section 8 housing and subsidized rent.
He qualifies for food stamps.
He qualifies for free (no deductible, no co-pay) health care.
His children get free breakfasts and lunches at school.
He requires bilingual teachers and books.
He qualifies for relief from high energy bills.
If they are or become, aged, blind or disabled, they qualify for SSI.
Once qualified for SSI they can qualify for Medicare. All of this is at (our) taxpayer's expense.
He doesn't worry about car insurance, life insurance, or homeowners insurance.
Taxpayers provide Spanish language signs, bulletins and printed material.
He and his family receive the equivalent of $20.00 to $30.00/hour in benefits.
Working Americans are lucky to have $5.00 or $6.00/hour left after Paying their bills and his.
The American taxpayers also pay for increased crime, graffiti and trash clean-up.
THE INVISIBLE CALIFORNIA
De facto apartheid world in the Golden State.