BILL CLINTON SUCKS IN BRIBES FROM ISIS DONORS!
The Muslim Sheikhdom Qatar is a major sponsor of ISIS and global anti-American terrorism. How disturbing is it that Bill Clinton sucked in a bribe of ONE MILLION DOLLARS under the guise of a birthday gift? There is NO one the Clintons will not sell us out to and have already!
"Even though it has gone virtually unreported by corporate media,

Breitbart

News

has extensively documented the Clintons' longstanding support for "open borders." Interestingly, as he

Los

Angeles

Times

observed in 2007, the Clinton's praise for globalization and open borders frequently comes when they are speaking before a wealthy foreign audiences and donors."
SWAMP KEEPER TRUMP'S BIGGEST DEAL EVER: Saving the 9-11 invading Saudis' arses!
https://mexicanoccupation.blogspot.com/2018/11/mike-lee-swamp-keeper-trump-and-his.html
"I doubt that Trump understands -- or cares about -- what message he's sending. Wealthy Saudis, including members of the extended royal family, have been his patrons for years, buying his distressed properties when he needed money.
"The Wahhabis finance thousands of madrassahs throughout the world where young boys are brainwashed into becoming fanatical foot-soldiers for the petrodollar-flush Saudis and other emirs of the Persian Gulf."
AMIL IMANI
Bill and Hillary Clinton kicked off their 13-city paid speaking tour, "An Evening with the Clintons," on Tuesday night by accusing President Donald Trump of taking part in a Saudi "cover-up."
The Clintons — speaking at the Scotiabank ice hockey arena filled with empty seats in Toronto, Canada, Tuesday evening — took the opportunity to bash Trump's support for Saudi Arabia and accused him of being part of the "cover-up" of Saudi dissident Jamal Khashoggi's murder.
"What makes this so troubling is how much commercial interest both the president's family and business and his son-in-law's family and business have with the kingdom," said Hillary Clinton.
"We have a president who is the part of the cover-up as to what happened in that consulate or embassy when Mr. Khashoggi was murdered," she added.
Former President Bill Clinton said the U.S. "compromised" its place in the world under Trump and went on to defend his North American Free Trade Agreement (NAFTA).
Meanwhile, Hillary Clinton continued to take potshots at the president.
"He said today that his gut and his opinion is a lot smarter than peoples' brains. Literally, you can't make this stuff up. A dozen times your head is spinning," she said.
But the Clintons did more than just bash Trump at the Tuesday evening event.
Former Canadian ambassador to the U.S. Frank McKenna, who was a major Clinton Foundation backer featured in Breitbart News Editor-at-Large Peter Schweizer's book Clinton Cash, interviewed the couple with softball questions on hot topics and events in the past.
"It seems almost offensive to ask you, but why does Putin hate you so much?" he asked Hillary Clinton. "You seem like a very nice person."
Toronto was the first stop on the Clintons' much-hyped 13-city speaking tour for which tickets sold for thousands of dollars on resale sites in many cities.
Officials say the Clintons' Toronto event sold approximately 3,300 seats in a 19,000-seat venue that fills up when the Toronto Maple Leafs play a major hockey game, although event organizers blocked off seats in the arena's upper deck.
The tour was billed by promoter Live Nation as a "one-of-a-kind conversation with two individuals who have helped shape our world and had a front seat to some of the most important moments in modern history."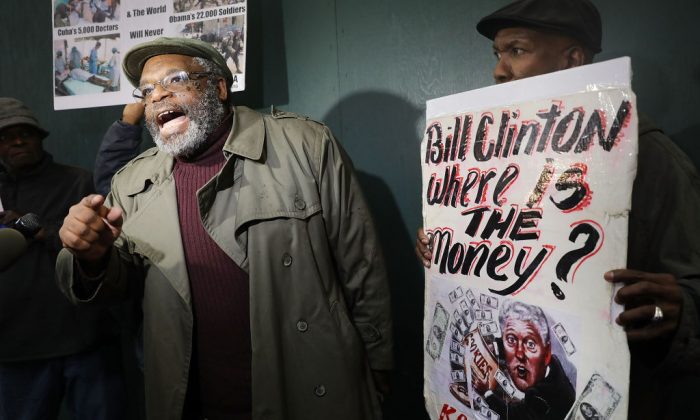 New Reports Reveal Donations to Clinton Foundation Dropped by Almost 58 Percent After Election Loss
Recent reports exposed a massive drop in donations to the Clinton Foundation after Hillary Clinton's 2016 election loss.
Donations dropped by almost 58 percent, according to the
New York Post
. Recently released tax filings show donations dropped from $62.91 million in 2016, to $26.57 million in 2017.
Another source of Clinton cash, fees from speaking engagements, also did a major dip. In 2015 the Clintons received $3.6 million in speaking fees. In 2017 that number dropped to $300,000, according to the Post.
The foundation said the drop is due to internal moves.
"We anticipated a decline in both revenue and expenses for 2017, largely attributable to the absence of sponsorship and membership contributions for CGI," a foundation spokesman told the Post. CGI refers to the Clinton Global Initiative, a foundation project that was shut down.
Travel expenses through the foundation that pay for the Clintons to fly first class or by private jet also fell, slightly. The $3,917,419 spent in 2016 fell to $2,300,601 in 2017, according to the Post.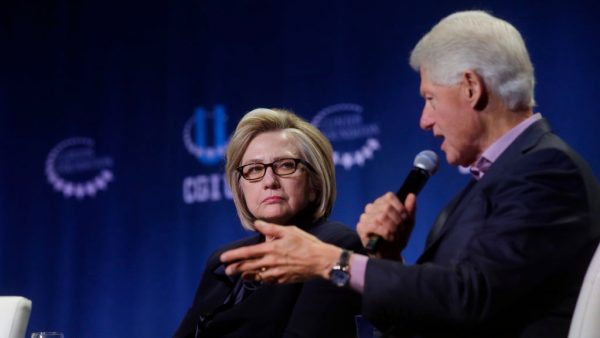 Ongoing Corruption Probe
The foundation has long been the subject of an investigation into misuse of funds along with a pay-to-play scheme during Hillary Clinton's time as secretary of state, according to the
Post
.
The investigation was initiated by the FBI in the Clintons' home state of Arkansas, and is overseen by the local U.S. attorney's office,
CNN
and the Post reported.
Leading up to the presidential election, Hillary Clinton was asked specific questions about accusations against the foundation, during a debate between Clinton and Donald Trump, via
PBS NewsHour
.
"(E)mails show that donors got special access to you. Those seeking grants for Haiti relief were considered separately from non-donors, and some of those donors got contracts, government contracts, tax payer money," debate moderator Chris Wallace asked Clinton.
Clinton went around the topic, never directly addressing or denying the allegations. She goes on to just praise the work of the foundation.
Wallace stops her and tries again to get a direct answer.
"The specific question went to pay-for-play. Do you want to talk about that …?" Clinton doesn't stop to pick up the question. Wallace then asked Trump to talk about his knowledge of the foundation, while Clinton tried to heap more praise on the foundation.
"It's been very well studied. And it's a criminal enterprise and so many people know it. It's a criminal enterprise," said Trump. "So I'd like to ask you right now: why don't you give back the money that you've taken from certain countries that treat certain groups of people so horribly? Why don't you give back the money?"
Trump goes on to talk about the hatred that has built up in Haitian-American communities as a result of the Clintons' alleged taking of donations from the 2012 Haiti earthquake relief initiative, where there are questions as to whether or not that money ever reached Haiti.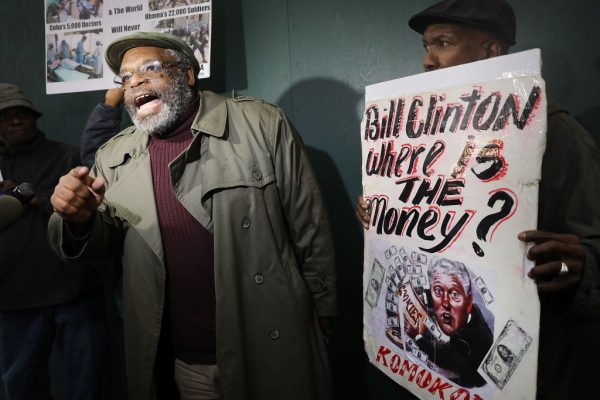 At the time of the earthquake, Hillary was secretary of state and Bill was the UN special envoy to Haiti. Many Haitians blame them for the extremely slow recovery efforts despite the massive aid and donations that were supposed to reach the nation,
BBC
reported.
Monica Lewinsky says Bill Clinton hinted she should perjure herself, arranged a farewell Christmas tryst before dumping her

LA RAZA SUPREMACIST HILLARY CLINTON'S

TRILLION DOLLAR WELFARE HANDOUT TO NARCOMEX!
Clinton amnesty plan would cost taxpayers $1.2 trillion
FOLLOWING THE CRIMES OF BILL AND HILLARY CLINTON BECOMES AMERICA'S ROAD TO REVOLUTION
THE DEMISE AND ULTIMATE DESTRUCTION of HILLARY CLINTON
"Hillary Clinton is a known liar, a criminal of monstrous proportions; others have gone to prison for crimes she has committed over and over: lying to Congress, lying to the FBI, violating national security laws by which she was bound as Secretary of State, etc. It's a long list."
Clinton, the candidate favored by most of Wall Street and the corporate elite and large sections of the Republican Party establishment, is seeking to assemble something akin, within the framework of the US political setup, to a grand coalition between the Democratic Party and the Republican leadership.
bankers, for which she received six-figure paychecks, show her praising the recommendations of the 2010 Simpson-Bowles deficit-reduction commission, which called for sweeping cuts to Social Security, Medicare and Medicaid; the elimination of 200,000 federal jobs; a tax on employees' health benefits; and huge cuts in income taxes for the wealthy and corporate taxes.
BILL CLINTON SUCKS IN BRIBES FROM ISIS DONORS!
"Even though it has gone virtually unreported by corporate media,

Breitbart

News

has extensively documented the Clintons' longstanding support for "open borders." Interestingly, as he

Los

Angeles

Times

observed in 2007, the Clinton's praise for globalization and open borders frequently comes when they are speaking before a wealthy foreign audiences and donors."
Hillary's Russian connection
SWAMP EMPRESS HILLARY CLINTON
Leaked Julian Assange Message:
Hillary Is A 'Well Connected, Sadistic Sociopath'
STEAL FROM THE AMERICAN MIDDLE-CLASS and
HAND IT TO THE SUPER RICH ON A SILVER
PLATTER!
"The Wealth-X report shows that the world's billionaire population has grown by 15 percent, to 2,754 people, since 2016, and that the wealth of these billionaires "surged by 24 percent to a record level of $9.2 trillion," equivalent to 12 percent of the gross domestic product of the entire planet."
Bill and Hill - and the Evil that Men Do