New Home Sales Collapse 8.9 Percent Even as Prices Fall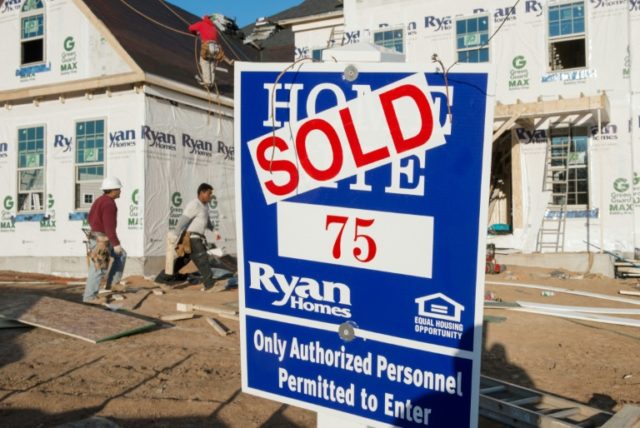 Sales of new homes in the U.S. plunged in October.
Purchases of newly built single-family homes dropped 8.9 percent to a seasonally adjusted annual rate of 544,000 in October, the Commerce Department said Wednesday.
The decline was unexpected. After a weak initial read of 553,000 annual rate in September, economists had forecast a 4 percent rebound to 575,000.
Somewhat offsetting the weak read for October, however, the September figure was revised up to 597,000. So some of the sales that were expected to boost October actually came earlier.
Compared with a year ago, U.S. sales in October were down 12 percent.
The decline was even more remarkable because the median price of new homes declined in the month, which should have helped homes become more affordable. The supply of homes on the market rose to the highest level since February 2011.
But mortgage rates have risen in the last year to by around one percentage point, which may be enough to deter some buyers.
Sales declined all across the country, with the North East–the most volatile market–seeing the biggest decline.
New home sales are a relatively small slice of real estate sales in the U.S. but they can have big economic impacts. Building new homes employs skilled and unskilled workers in a variety of trades and professions. And purchases of new homes are typically accompanied by purchases of appliances such as washing machines, televisions, dishwashers, and refrigerators. So although new homes themselves are a small piece of the U.S economy, they can have a multiplier effect that spreads out through the broader economy.
GENERAL MOTORS DUMPS THOUSANDS OF WORKERS AND CLOSES PLANTS - Stockholders celebrate!
"The yearly income of a typical US household dropped by a massive 12 percent, or $6,400, in the six years between 2007 and 2013. This is just one of the findings of the 2013 Federal Reserve Survey of Consumer Finances released Thursday, which documentsa sharp decline in working class living standards and a further concentration of wealth in the hands of the rich and the super-rich."
"The American phenomenon of record stock values fueling an ever greater concentration of wealth at the very top of society, while the economy is starved of productive investment, the social infrastructure crumbles, and working class living standards are driven down by entrenched unemployment, wage-cutting and government austerity policies, is part of a broader global process."
"A defining expression of this crisis is the dominance of financial speculation and parasitism, to the point where a narrow international financial aristocracy plunders society's resources in order to further enrich itself."
BEL AIR MAXINE WATERS AND HER CRACK ALLEY CONSTITUENTS
WALL STREET BANKSTERS AND THEIR BOUGHT DEMOCRAT POLS PREPARE FOR THE NEXT WAVE OF BOTTOMLESS NO-STRING BANKSTER BAILOUTS…
Will this one finish off the American economy?
Considering her record and documented history of poor ethical and moral fitness, it's outrageous that Maxine Waters is up for chair of the ultra-powerful House Financial Services Committee, which has jurisdiction over the country's banking system, economy, housing, and insurance.
"Wall Street billionaires are pushing a new plan to swipe the profits of Fannie Mae and Freddie Mac from U.S. taxpayers–and in the process revive the system of privatized-profits and public-risk that contributed to the severity of the Great Financial Crisis."
The Moelis plan stands out as a strikingly bold grab for control of the companies and their profits. It calls for the dividend payments to the Treasury to cease so that the companies can rebuild capital. Shockingly, it also calls for the cancellation of the senior preferred stock altogether–with

no compensation

for the past risk and future profits currently due to taxpayers. It is as if a company proposed to do a stock buyback by proposing to cancel its shares rather than purchasing them for cash.
So will Maxine Waters be the crusading financial protector of our 401k plans and save America from the next financial bubble? Well, there will certainly be lots of harassment and shakedowns. But don't count on her steering us clear of Wall Street excesses. If history is any guide, Mad Maxine will be way too busy raising money from the people she is now in charge of regulating.
Stephen Moore is a senior fellow at The Heritage Foundation
Waters, who represents some of Los Angeles' poorest inner-city neighborhoods, has also helped family members make more than
$1 million
through business ventures with companies and causes that she has helped, according to her hometown newspaper. While she and her relatives get richer (she lives in a $4.5 million L
os Angeles mansion), her constituents get poorer. JUDICIAL WATCH
VIVA LA RAZA SUPREMACY, WIDER OPEN BORDERS, CHAIN MIGRATION, NO LEGAL NEED APPLY and BILLIONS IN WELFARE TO KEEP THEM CRAWLING OVER OUR BORDERS???


DEMOCRAT PARTY CORRUPTION
"This is how they will destroy America from within. The leftist billionaires who orchestrate these plans are wealthy. Those tasked with representing us in Congress will never be exposed to the cost of the invasion of millions of migrants. They have nothing but contempt for those of us who must endure the consequences of our communities being intruded upon by gang members, drug dealers and human traffickers. These people have no intention of becoming Americans; like the Democrats who welcome them, they have contempt for us." PATRICIA McCARTHY
THE INVASION SPONSORED BY THE DEMOCRAT PARTY
Congressional Democrats are apparently fine with catch-and-release policies because they see the likely electoral benefits. According to Customs and Border Protection (CPB), of the 94,285 Central American family units apprehended last year, 99 percent of them remain in the country today. CPB also reports that 98 percent of the 31,754 unaccompanied minors from the Northern Triangle of Central America remain in the country. CAL THOMAS