CALIFORNIA RUNNING OUT OF OTHER PEOPLE'S MONEY TO TAX
December 13, 2018
To paraphrase a Thatcher paraphrase, socialism works until you run out of other people's money. And then you start taxing Netflix and text messages. On its way to bankruptcy, Chicago managed to do impose some ingenious taxes. Now
California is following suit
.
A California regulator's plan to tax texts in order to fund cellphones for the poor hit a snag Wednesday after a Federal Communications Commission ruled text messages aren't subject to the utility agency's authority.

The decision by the FCC, which categorized text messages as "information services" on par with emails and not "telecommunications services," came in an effort to combat robo-texts and spam messages. The California Public Utilities Commission now faces an uphill battle ahead of a scheduled vote on the measure next month.

Those opposed to the planned tax hailed the FCC decision a victory.

"We hope that the CPUC recognizes that taxing text messages is bad for consumers," Jamie Hastings, senior vice president of external and state affairs for CTIA, which represents the U.S. wireless communications industry, told The Mercury News. "Taxing this service would burden those who rely on and use this service each and every day."
To quote the Beatles, "If you drive a car, I'll tax the street, If you try to sit, I'll tax your seat. If you get too cold I'll tax the heat, If you take a walk, I'll tax your feet."
Study: More than 7-in-10 California Immigrant Households Are on Welfare
US Customs and Border Patrol
More than 7-in-10 households headed by immigrants in the state of California are on taxpayer-funded welfare, a
new study
reveals.
The latest Census Bureau data
analyzed
by the

Center for Immigration Studies

(CIS) finds that about 72 percent of households headed by noncitizens and immigrants use one or more forms of taxpayer-funded welfare programs in California — the number one immigrant-receiving state in the U.S.
Meanwhile, only about 35 percent of households headed by native-born Americans use welfare in California.
All four states with the largest foreign-born populations, including California, have extremely high use of welfare by immigrant households. In Texas, for example, nearly 70 percent of households headed by immigrants use taxpayer-funded welfare. Meanwhile, only about 35 percent of native-born households in Texas are on welfare.
In New York and Florida, a majority of households headed by immigrants and noncitizens are on welfare. Overall, about 63 percent of immigrant households use welfare while only 35 percent of native-born households use welfare.
President Trump's administration is looking to soon implement a policy that protects American taxpayers'
dollars
from funding the mass importation of welfare-dependent foreign nationals by enforcing a "public charge" rule whereby legal immigrants would be less likely to secure a permanent residency in the U.S. if they have used any forms of welfare in the past, including using Obamacare, food stamps, and public housing.
The immigration controls would be a boon for American taxpayers in the form of an
annual $57.4 billion tax cut
— the amount taxpayers spend every year on paying for the welfare, crime, and schooling costs of the country's mass importation of 1.5 million new, mostly low-skilled legal immigrants.
As Breitbart News
reported
, the majority of the more than 1.5 million foreign nationals entering the country every year
use
about 57 percent more food stamps than the average native-born American household. Overall, immigrant households consume 33 percent more cash welfare than American citizen households and 44 percent more in Medicaid dollars. This straining of public services by a booming
44 million
foreign-born population translates to the average immigrant household costing American taxpayers
$6,234
in federal welfare.
Trump May Build More Tent Cities Amid Skyrocketing Illegal Immigration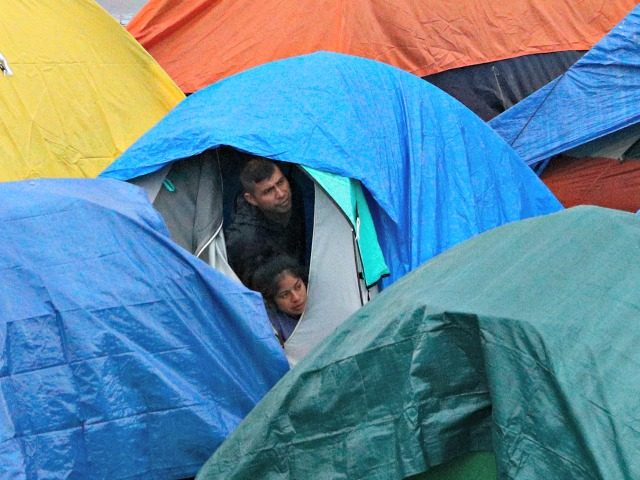 President Trump's administration may build more tent cities to detain and house illegal aliens and Unaccompanied Alien Children (UACs) amid a border crisis wherein illegal immigration has skyrocketed to decade-high levels.
Department of Health and Human Services (HHS) data released to NPR reveals that the administration's first round of tent cities to house border crossers are near full capacity, with nearly 15,000 UACs in federal custody.
Currently, HHS has more than 100 facilities to house the UACs, but about 92 percent of those facilities are full. The possibility of full-capacity at the tent cities is forcing the Trump administration to weigh the option of building more tent cities, a plan that would be sure to help wipe out the Catch and Release process whereby border crossers are caught and then released due to the lack of federal detention space.
The NPR report admits that the vast majority of the UACs detained in the tent cities are young Central American boys who arrived alone at the southern border. Despite seeking asylum, fleeing poverty, crime, or gang violence are not eligible claims for asylum in the U.S.
The potential plan to expand tent cities comes as illegal immigration to the country has soared to record levels over the past two months.
In November 2018, there were close to 52,000 border crossings on the southern border, alone, marking the highest level of illegal immigration in the month of November since 2006.
The continuing rise of illegal immigration at the southern border indicates that Fiscal Year 2019 will see the biggest boom of illegal immigration in more than a decade, with more than 600,000 border crossings, according to Princeton Researcher Steven Kopits.
In October 2018, illegal immigration at the southern border soared to the highest level for a single month since April 2014. The month's illegal immigration levels are almost exactly double what southwest border crossings were this same month in 2017.