The Schumer & Pelosi show
Chuck Schumer and Nancy Pelosi, the twin nutters of Congress, were certain they could beat Trump at his own game, but have made fools of themselves, as usual. The stand-off is not over but with each passing day, the Democrats reveal more of their anti-American, pro-illegal immigration agenda. Conservatives have been sounding the alarm for years: Democrats do not care about American citizens!
We are an annoying inconvenience, especially those of us who do not buy what they are selling. We vote against them, which makes them angry. They lash out at us, call us names, impugn our intelligence with fervor. All of the late-night comics, the Bill Mahers of the comedy branch of the entertainment industry, are especially venal. Jimmy Kimmel has decried those who have contributed to the GoFundMe page to fund the border wall as meth addicts. It was begun by a Vet, Brad Kolfage, who lost three limbs and it's raised nearly $15m.
It appears that Democratic members of Congress are as snowflakey as millennials on our university campuses. They assume that anyone who opposes their ridiculous socialist, genderless, climate-alarmist, virtue-signaling directives is a Neanderthal, unfit to have an opinion. It is then thoroughly acceptable to malign such people, those of us who oppose every aspect of their anti-America-as-founded agenda, in any and every disgusting manner they can devise.
The left is all about identity politics. They assign all of us to a group -- racial, class, and/or all of their fabricated gender categories. The right is all about individuals, their character, their talent, their contributions to society. We do not care about skin color, economic class or sexual orientation. We do care about good vs. evil, right vs. wrong. This makes us quite villainous in the eyes of the left for whom everything is relative. For example, we do not think poverty causes crime, unlearned values of Western Civilization do. Try to steal an election? It is moral if it takes out an opponent. We are, it appears, the left vs. the right, very different on a neurological level.
Schumer and Pelosi have armed guards whenever they are amongst the public. But they are both fervent in their quest to deny us the right to bear arms and to prevent a wall on the southern border to protect us from the flood of lethal drugs that flow into the US. They are impervious to the crimes of the barbaric gangs like MS13, no matter how many innocent Americans they kill. They do not give a thought to the many illegals from terrorist nations that also seek to enter the country on a daily basis. Schumer, Pelosi and their willing subjects in Congress ignore completely the horrific hazards that cross the border every day. They want cheap labor, no matter how many Americans are left jobless, and they want, more than anything, a dependent underclass whom they mean to give the right to vote. They already vote anyway, thanks to the Left's rejection of Common-sense voter ID.
If there were a television program based on Schumer and Pelosi, it would have to be a comedy; the two of them are so inept, so childish. They would be Dumb and Dumber redux. Each of them seems to believe they run the country and can dictate to the president how he will govern. They demand that Trump abandon the wall. They have no intention of compromising; they only want to deny Trump and his supporters what they want -- border security that works. So enraged, so benighted, by Trump's presidency, they would rather see us overrun by migrants from third-world nations, like those who have destroyed the UK, Germany, Sweden, and the rest of Europe, than protect America as a sovereign nation.
The "government shutdown" is just a ploy, many times overused by now, relatively meaningless to the lives of most Americans. The Schumer & Pelosi show will do everything they can to hype it as a disaster, but we all know it is nothing of the kind. Trump must hold out for funding of the wall.
While there have been some bad actors in our government in the past, Schumer and Pelosi are the worst of the worst. They are equally arrogant, each thoroughly ignorant of reality beyond the bubble of wealth and privilege they inhabit. They both believe themselves to be smarter than the rest of us, when in fact they are both really dim bulbs, long past their sell-by date. Yes, Pelosi is good at raising money; how and why is a mystery. That each of them is repeatedly re-elected does not say much for their constituents' familiarity with the Constitution, the law, American history or the facts in their own communities.
San Francisco, Pelosi's district is now a hell-hole but for her walled compound.
New York too, like California, is a state that residents are fleeing as fast as they can.

Both states have been destroyed by moonbatty leftists; high taxes, dumbing down of education for political purposes, and the sacrifice of common sense to global warming alarmists.
Schumer and Pelosi have for years been on board with every silly attempt to restructure, to transform, American society. They both jumped on the Obama bandwagon the moment he was elected. Along with Obama, they are responsible for incalculable damage done to this country over the eight years of that administration.
While their constant appearances on television are so often humorous (Pelosi's silly, practiced hand gestures and Schumer's relentless badgering of Trump), they are not one bit funny. They are just loathsome.
The Gospel According to Nancy: No Borders, Kill Babies (UNLESS THEY'RE LA RAZA ANCHOR BABIES!)
Tucker Carlson pointed out a few days ago how the already insufferable leader of the Congressional Democrats has recently been "ordained….an archbishop in the church of progressive sanctimony." For a while now, Nancy Pelosi's been the country's expert on morality (e.g., border wall: immoral; abortion on demand: moral). She's now taken to telling the country how much she prays, and she's urging others to do it, too – at least that old sinner, Donald Trump. After last Thursday's televised squabble in the Oval Office, Pelosi shared with reporters how she told Trump she was praying for him and urged the president (whom she also called a "skunk" while ridiculing his manhood) to accept the Democrats' budget proposal with no funding for a border wall. "In fact," she said with stomach-turning piety, "I asked him to pray over it."
When a smug person ends an argument by telling you to "pray over it," she's really saying, "Ask God. He knows I'm right!"
Summarizing her and Chuck Schumer's meeting with Trump, she told the media, "I myself thought we should open the meeting with a prayer, which I did. I told him about King Solomon, when he was to become king of the Jews, he prayed to God, he said: 'I need you to give me great understanding and wisdom, Lord.'"
King Solomon is Pelosi's favorite Bible character, especially because he proposed solving a problem by cutting a baby in half.
Now Sister Nancy's praying for Trump to keep the government open so federal employees can finish their Christmas shopping.
It's an axiom that if a conservative says his faith informs his political decisions, he'll be condemned for establishing a state religion, while liberals get to veer back and forth over the church-state centerline as freely as those motorists who love to text while driving. Right now the liberal media are applauding the way Pelosi "schooled President Donald Trump about the Bible," but it's not clear why. It's not as if they're suddenly in favor of anyone being schooled in the Bible, especially anyone in a public classroom.
Pelosi never bats an eye without a political motive. This Saint Nancy act might be her attempt to occupy the spiritual high ground that, obviously, Donald Trump has shown no interest in occupying himself. Pelosi wouldn't dare try this with a president like George W. Bush, who, while he didn't boast about his piety on TV, was recognized as genuine in his Christian faith – prompting the left's usual reaction: Ross Douthat wrote in 2006 that "the fear of theocracy has become a defining panic of the Bush era."
Theology was less of an issue for liberals during the Obama years; he was their messiah, and they just worshiped him. Meantime, Obama conspicuously dissed orthodox Christians with everything from calculated snubs and criticism to gratuitously tormenting the Little Sisters of the Poor, all the while devotedly celebrating the unblemished virtues of Islam. In 2015, Hillary bluntly stated that "[d]eep-seated ... religious beliefs ... have to be changed" to accommodate the unlimited abortion license. Then, last year, Democratic National Committee chairman Tom Perez said it is "not negotiable" that "[e]very Democrat" support abortion. Pelosi tried to mitigate Perez's remarks by saying "of course" there's room for pro-lifers in the Democratic Party, but try to find one who's not actually voting Perez-style.
This year, Pelosi watched the Democrats lurch wildly to the extreme left. For decades before that, they were trusted allies in the left's war on conventional morality and religion (except Islam!) for being repressive, patriarchal, and counterrevolutionary. It may be that, alarmed that the Democrat brand has become too materialistic, amoral, and atheist, she thinks she can give it religion. Maybe she can draw an unfavorable comparison between the reprobate and undisciplined Donald Trump and herself: the "ardent, practicing Catholic," who exhorts the President to beg for "the great understanding and wisdom" that she (and Chuck Schumer?) have already been granted by God. Haven't Republicans marched under the banner of morality and Christian values long enough? Now that they've elected the unholy Trump, why can't the Democrats seize that banner for themselves?
For one thing, because no evangelical or conservative Catholic would ever buy it. Sure, the Democratic Party is crowded with Catholics, but the serious ones left years ago. The leading unserious Catholic is Pelosi herself, who professes her devotion to the faith but does it while living in open, willful defiance of the Church's crystal-clear teaching against abortion: "It is the teaching of the Catholic Church from the very beginning that the killing of an unborn child is always intrinsically evil and can never be justified."
When her duplicity threatened to become an issue in 2004, Pelosi pretended that, moved by her "ardent" devotion to the Church, she had been studying the Church's teaching on the beginning of life "a long time," and she stated falsely to Tom Brokaw on Meet the Press that the Church has never defined it. Asked when human life begins, she replied, "We don't know," and that "[t]he point is, that it shouldn't have an impact on the woman's right to choose" – the "it" being when a human life begins, which shouldn't have an impact on the decision to get an abortion. Easy mistake to make when your catechism is Roe v. Wade.
Later, when a reporter mentioned the Gosnell infanticides and challenged her own support for partial-birth abortion, an agitated Pelosi snarled back that "[a]s a practicing and respectful Catholic, this is sacred ground to me when we talk about this[.] ... This shouldn't have anything to do with politics." But as a politician, she never stops talking about it, and the sacred ground she was talking about wasn't human life, but the exercise of a mother's "free will" to terminate her child. In response, New York's Cardinal Egan said, "Anyone who dares to defend that [the unborn] may be legitimately killed because another human being 'chooses' to do so or for any other equally ridiculous reason should not be providing leadership in a civilized democracy worthy of the name." Her own bishop reluctantly corrected her misstatements in a public letter, necessitated by "the widespread consternation among Catholics" of her deliberate distortions of Catholic doctrine. Pope Benedict counseled her, in person, on the Church's express teaching, "which enjoins all Catholics, and especially legislators," to protect "human life at all stages of its development." Pelosi, " the respectful Catholic" who presumed to tell Trump to pray for wisdom, emerged from thatmeeting no wiser for it, obtusely extolling the "Church's leadership in fighting poverty, hunger and global warming."
Jesus warned against hypocrites who make a public display of praying "that they may be seen by men." The way Pelosi pretends to exemplify "prayerful" politics, and the way she told Trump "in private" that she's praying for him – and immediately announced it in a televised press conference – is pure Pelosi: cynical, addlebrained, phony. If it might hurt Trump, she'll pontificate how every MS-13 killer retains a "spark of divinity," then goes right back to her life's work snuffing out that spark from 60 million innocents and counting. The Bible never says it's intrinsically evil to build a wall or protect a border, but it's still got that commandment against murder.
Let the Democrats canonize this Pharisee if they need a patron saint. Her feast day can fall on January 22.
T.R. Clancy looks at the world from Dearborn, Michigan. You can email him at trclancy@yahoo.com.
President Lopez-Obrador and the Wall
Over the last few years, I've had conversations with friends in Mexico. We usually end up talking about the border. For us, the border is illegal immigration. For Mexicans, it's guns and cash corrupting a very fragile political system.
As a Mexican friend said recently, the cartels have the politicians in their pockets, especially in the small towns where many of these vans full of cash and guns drive through.
There are many reasons to build that border wall, as former Secretary of Education William Bennett said on Sunday:
By weight, 86 percent of heroin that entered the United States in 2016 was of Mexican origin, according statistics from the Drug Enforcement Administration.

"After 9/11 we shut down the border. When we shut down the border, drugs didn't come in," Bennett said. "If you shut down that border, if you close it off, if you build a wall, it can have a real and profound difference."
There is another reason, as any rational Mexican will tell you.
On a weekly basis, lots of cash and guns go south. They are the profits and rewards of the drugs going north. According to unofficial estimates:
Officials in Mexico believe the tide of laundered money could be as high as $50bn per year, a sum equal to about three per cent of Mexico's legitimate economy -- more than all its oil exports or spending on key social programmes. Internationally, money laundering represents between two and five per cent of global GDP, or between $800bn and $2tn annually, according to the UNODC.
It would be more difficult for money or guns to go south if you had a wall on the border.
So President Trump should pick up the phone and call President Lopez-Obrador. He should thank him for keeping the caravans in Mexico and discuss the benefits of the border wall. Why wouldn't the Mexican president support the wall? I'm sure that the Mexican army and police would love to see that wall go up.
The lack of a stable border hurts both sides.
300 Migrants Apprehended in Arizona Desert in 24 Hours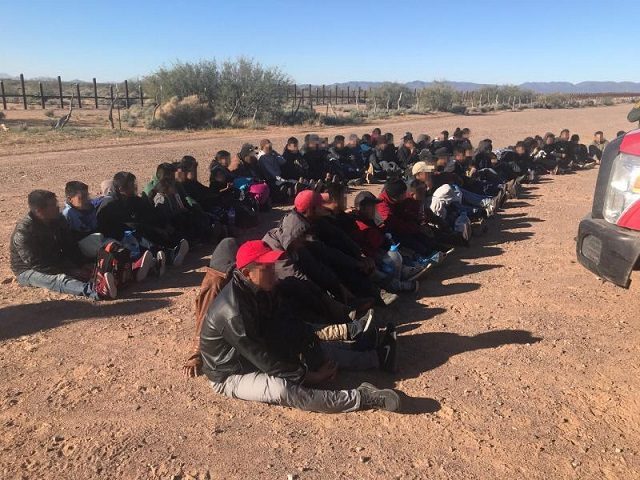 Tucson Sector Border Patrol agents apprehended two large groups of Central American migrants who illegally crossed the Mexican border into Arizona. The groups consisted mostly of family units and unaccompanied minors. At least five of the migrants required medical assistance.
Agents assigned to the Ajo Border Patrol Station came upon a group of 242 migrants while they were patrolling the border on December 19 about 15 miles west of Lukeville, Arizona, according to information obtained by Breitbart News from U.S. Customs and Border Protection officials. The following morning, Casa Grande Station agents came upon a group of 64 migrants while patrolling the border in the Tohono O'odham Nation. Both groups of migrants surrendered to the agents without incident, officials stated.
The agents reported both groups consisted mainly of family units — including juveniles and pregnant women. The groups came to the U.S. mainly from El Salvador, Guatemala, and Honduras. Officials did not say if these groups broke away from or were connected to the so-called caravan migrants.
Breitbart TV
Border Patrol agents carried out initial screenings with the migrants which included an interview to determine if any of the migrants were experiencing health of safety-related issues. During that screening process, agents identified five people — one pregnant woman and four juveniles who required immediate medical assistance. Agents arranged transportation for those file migrants to a hospital in Goodyear, Arizona. Doctors treated the migrants and released them to Ajo Station agents for processing.
Agents at the Tucson station identified nine additional juveniles displaying flu-like symptoms The juveniles who ranged in age from one to thirteen were taken to a local hospital for evaluation and treatment, officials reported.
"Border Patrol agents save people every year who are overcome by the elements, including people found suffering from dehydration, heat stroke, hypothermia, drowning in the river, injuries, and left for dead by smugglers in some of the most remote areas of the desert when they enter the country illegally," Tucson Sector officials said.
Agents processed the remaining migrants for immigration violations according to Tucson Sector protocols.
Bob Price
serves as associate editor and senior political news contributor for the Breitbart Border team. He is an original member of the Breitbart Texas team. Follow him on Twitter
@BobPriceBBTX
and
Facebook
.
EXCLUSIVE: Mexican Gulf Cartel Taunts Trump with Caricature on Dope Load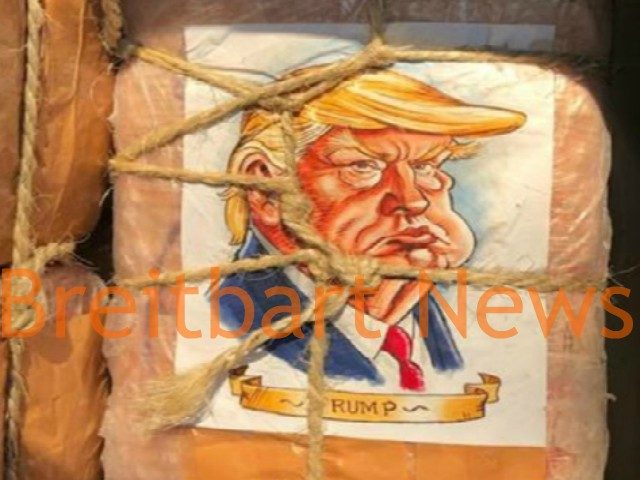 MCALLEN, Texas – Cartel drug smugglers moved a 900-pound shipment of marijuana bearing a cartoon of U.S. President Donald Trump into Texas. The cartoon appears to mock President Trump and his border security comments. Border Patrol agents seized the load, preventing its delivery into the U.S.
Smugglers marked some of the drug bundles with a caricature of President Trump to not only identify the drug shipment but also to mock the politician. The Gulf Cartel, the criminal organization that operates south of McAllen, Texas, has used several different images to identify their drug loads including scorpions and popular comic book heroes. It is not known if cartons of Donald Trump have been used in the past.
Rio Grande Valley Sector Border Patrol agents seized the load this weekend in South McAllen after spotting several men on the Mexican side of the Rio Grande carrying bundles of marijuana towards the river, law enforcement sources working under the umbrella of U.S. Customs and Border Protection revealed to Breitbart News. Some of the men made their way to the U.S. side but swam back as soon as they spotted federal authorities. U.S. Border Patrol agents called Mexican authorities to request their help in capturing the men. Mexico responded, saying no one would be responding to the area.
An hour after the initial smuggling attempt, U.S. Border Patrol agents spotted a group of men in rafts trying to move several bundles of marijuana across the river. Federal agents responded to the scene and found nine men. The men quickly ran back to Mexico leaving behind a white SUV loaded with 40 bundles of marijuana.