Rep. Black Introduces 'Zero-Tolerance' Bill for Illegal Immigration
(CNSNews.com)

– On July 10, Rep. Diane Black (R-Tenn.) introduced the Zero Tolerance for Illegal Entry Act, which would make it a felony to cross the U.S border illegally and would mandate an E-Verify system for American employers to ensure that they are not hiring illegal immigrants.
The law would make illegally crossing the border for the first time a felony instead of a misdemeanor and would up the penalty from six months or less to a year and a day or more. (The full text of Section 275 as it currently stands can be found here.)
The proposed law would also mandate the E-Verify verification system for U.S. businesses to ensure that the people they hire are not illegal immigrants. The legislation says "all employers in the United States shall participate in E-Verify, with respect to all employees recruited, referred, or hired by such employer on or after the date that is 1 year after the date of the enactment of this subsection."
In a
press release
, Rep. Black said,
"The United States government should never prioritize illegal immigrants over American citizens. We must have a zero tolerance policy when it comes to illegal border crossings and sanctuary cities, and we must give ICE the resources they need to do their job as they protect our nation."
"By no longer creating incentives to come to our country unlawfully, we also discourage families from sending their children on an often dangerous journey to reach our southern border," states the release.
Black continued, "The Zero Tolerance for Illegal Entry Act works hand in hand with law enforcement to ensure that we are doing all we can to uphold the dignity of our border. President Trump has been clear about illegal immigration from day one, and we know that he is committed to protecting our nation for future generations. We must do all we can to deter the criminal abuse of our border – it has gone on for far too long."
The anti-illegal immigration organization NumbersUSA also praised the legislation, stating it would protect American jobs, reduce illegal immigration, and hold sanctuary jurisdictions accountable for obstructing the enforcement of Federal immigration law."
Exclusive—Buddy Carter Introduces Bill to Prevent Illegals from Stealing Americans' Social Security Numbers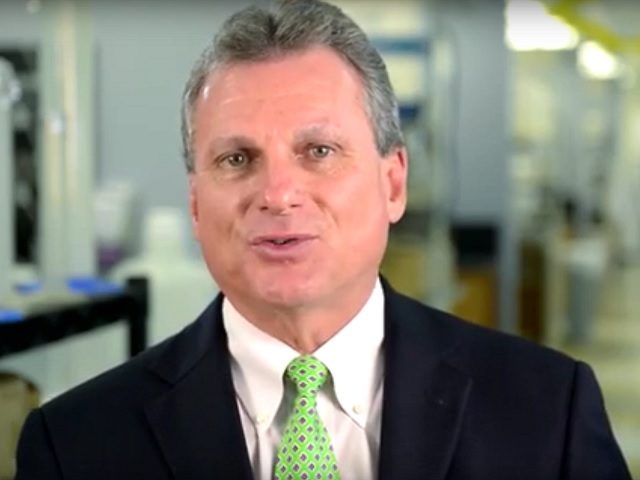 Rep. Buddy Carter (R-GA) told Breitbart News in an exclusive interview on Thursday about his new legislation that would prevent illegal immigrants from using Americans' Social Security numbers, protect citizens' privacy, and deter illegal immigration.
On Wednesday, Rep. Carter introduced H.R. 6333, Tax Identity Protection Act, which would direct the Internal Revenue Service (IRS) to help protect Americans from illegal immigrants from fraudulently using their Social Security numbers.
In his press release this week, the Georgia Republican said that he contacted the IRS and the agency told him that they were not "in the position to notify victims" that their Social Security numbers were used fraudulently. The IRS "blamed it on a computer system."
Rep. Carter Breitbart News why he decided to sponsor this legislation, saying, "After we found out that last June of 2017 that the Inspector General in the Treasury Department had noted that there was like 1.4 million illegal immigrants that were fraudulently using Social Security numbers of American citizens, we knew wanted to do something about that."
The Georgia Republican slammed the IRS for doing nothing to prevent illegal immigrants from stealing Americans' Social Security numbers, or, at least notify American citizens about the fraud.
"That was probably the most egregious part of it. It was not only that the IRS was not notifying citizens that their Social Security number had been compromised and used by illegal immigrants, it was also the attitude, to be quite honest with you," Congressman Carter said. "They were nonchalant, they said they couldn't do anything about it, that's how the computer system works."
"It's just a catastrophe in the making, and we found appalling that the IRS was taking a lackadaisical view toward to it," Carter added.
Congressman Carter then suggested that most illegal immigrants try to obtain Americans' Social Security numbers "to gain longer access" to America. The Georgia Republican said that his legislation "would deter people who are doing this, using these Social Security numbers fraudulently and it would be easier to identify them because I'm sure right now they can stay longer to slip under the radar."
Carter's legislation has several cosponsors from across the Republican spectrum. Freedom Caucus members such as Reps. Joe Barton (R-TX), Scott Perry (R-PA) and other Republicans such as Reps. Joe Wilson (R-SC) and Doug LaMalfa (R-CA) have sponsored the bill.
Carter said that many of his colleagues "were very concerned about it, they were outraged by it," when he heard about illegal immigrants stealing Americans' Social Security numbers and IRS doing nothing about it.
The Georgia Republican added, "There should be bipartisan support."
Carter told Breitbart News that his legislation reinforces the need for a wall on America's southern border and stronger border and immigration enforcement.
The Georgia Republican said, "It proves the point there are bad actors out there, who are coming in and this would be another example where we need to secure our borders and make certain that those who are bad actors can be taken out of the country."
Sen. Chris Murphy from Connecticut heard angry comments from some of his state's citizens about his and his Democratic Party's positions on open borders and amnesty for illegal immigrants.
Murphy, a Democrat seeking re-election to a second term in the U.S. Senate this year, is a progressive who wore a green "Defender of the Universe" T-shirt while conducting his third annual walk across the state.
According to a report in the Telegraph, Murphy received an "earful" from Connecticut citizens about the Democrats' stance on open borders for illegal immigrants and the recent call for the abolition of the U.S. Immigration and Customs Enforcement (ICE) by some. Murphy said he does not support abolishing ICE.
Gary Pavano, an air-conditioner repairman, told Murphy he did not want his tax dollars supporting illegal immigrants in detention facilities.
"I email you!," Pavano said. "Why didn't you answer? I email you all the time. I get a boiler-plate answer!"
The news report continued:
"I can't support you anymore," said John O'Brien, an unaffiliated voter from Berlin with a Trump sticker on his car. O'Brien was a former union Democrat, he said, but abandoned the party because "I'm not getting Social Security increases because we are supporting people like them," referring to undocumented immigrants.

Murphy reminding [sic] him that waves of immigrants throughout history — like O'Brien's ancestors — sought to come to this country.
Similarly, Ann Reilly said Murphy's walk across the state was a "show."
Reilly confronted the senator about the effects of illegal immigration on the economy and asserted immigrants should remain in their countries while they apply for asylum in the U.S.
"There a [sic] lots of people who legitimately come to the border because they fear for their life or their kids' lives," Murphy responded.
"You could say that, quite honestly, going into Hartford and New Britain, parts of the areas, right?" Reilly interrupted. "My husband and I, we're starting to watch Fox News in the morning, and I'm like 'Oh my God!'"
"Ecuador and Hartford, Connecticut are, respectfully, not the same." Murphy countered, however.
As the Telegraph observes, Murphy received a very different response while walking in Hartford as most people complained of President Donald Trump's crackdown on illegal immigration.
Murphy told them that for Democrats to gain control in November, they might focus on economic issues in the way Bernie Sanders did in 2016.
"Democrats often pay way too much attention to identity politics and cultural and social issues, at the expense of the kitchen table issues that I'm hearing about on this walk," Murphy said.
Murphy is also a major proponent of gun control in the Senate. He recently referred to Judge Brett Kavanaugh, Trump's nominee to the Supreme Court, as a "Second Amendment radical."
How can I

report

illegal

activity?
If you would like to

report

illegal

aliens, please call

Immigration

and Customs Enforcement (ICE) at 1-866-DHS-2ICE (347-2423). They will need to know names, locations (either work place or residence) and any other specific information you can provide. For more information, please visit
www.ice.gov.
You may also contact the
Border Patrol Sector
where the

illegal

aliens are located, and ask them to investigate further.
AMERICA: NO LEGAL NEED APPLY!
"The percentage of foreign-born workers in the U.S. labor force has more than tripled over the last four decades and while the U.S. represents just 5 percent of the world's population it attracts 20 percent of the world's immigrants, according to a new report."
Open the floodgates of our welfare state to the uneducated, impoverished, and unskilled masses of the world and in a generation or three America, as we know it, will be gone.
Those most impacted are middle class and lower middle class. It is they whose jobs are taken, whose raises are postponed, whose schools are filled with non-English speaking children that absorb precious resources for remedial English, whose public parks are trashed and whose emergency rooms serve as the local clinic for the illegal underground.
"Currently, the U.S. admits more than 1.5 million legal and illegal immigrants every year, with more than 70 percent coming to the country through the process known as "chain migration" whereby newly naturalized citizens can bring an unlimited number of relatives to the U.S. In the next 20 years, the current U.S. legal immigration system is on track to import 15 million new foreign-born voters. Between 7 and 8 million of those foreign-born voters will arrive in the U.S. through chain migration." JOHN BINDER
THE SECRET REPORT ON ILLEGALS TAKING MIDDLE AND HIGH END JOBS…. What? You thought they only took the sh//// -it jobs?
ib Study: Illegals miss court dates due to confusion, mental illness, bad bus service
About 70% of illegal aliens who claim asylum never bother to show up for their court cases. They simply disappear "into the shadows" once they are released into the population. And no wonder, given that courts have found 80% of asylum cases to be bogus to begin with.
It appears that illegals are cynically gaming our immigration system to get a foot in the door, make a false asylum claim, and then disappear into the interior of the country.
But liberals can't have people thinking that, so they have produced a "study" explaining why illegal aliens don't show up for their court dates. Guess what: it's never their fault!
The "study" gives a variety of reasons to explain the absence of illegal aliens.
1. The immigration court is at fault. The immigration court never told the illegals to show up! Or it sent the illegals notices with the wrong court dates! Why can't our immigration courts be as conscientious as illegal aliens?
2. Some illegal aliens are mentally ill. Karen, an illegal alien from Honduras, gave birth to an anchor baby soon after she arrived in America and promptly got post-partum depression. She was so depressed that she missed her court date!
3. Some illegal aliens are so learning disabled that they can't read a court summons! We learn the story of Zoe, an illegal alien from El Salvador who has "undiagnosed dyslexia." Because of her handicap, she couldn't read the court summons, so she wasn't to blame for missing her court date!
4. Some illegals move to new locations and refuse to attend court hearings near where they originally lived. We are told the story of Julia, an illegal alien who moved from California to Virginia but didn't provide proof that she now resided in Virginia. The court insisted she return for her hearing in California. Julia had no trouble getting from Honduras to America, but she couldn't figure out a way to get from Virginia to California for her court date!
5. Other illegals can't find good transportation to the court.
Julia made several attempts to attend her hearing, requesting transportation from her family, a social worker, and legal counsel. Her inability to obtain transportation, lack of financial resources, lack of familiarity with the city, and severe language barriers contributed to her inability to attend the hearing. Consequently, in June 2015, the immigration court ordered Julia removed in absentia.
Poor Julia! She managed to travel thousands of miles from Honduras to the United States, sneaking over barriers and borders, but she couldn't figure out how to get to a courtroom even with several weeks notice!
Because they didn't show up, the courts ordered these people deported. But don't worry. In most of the cases above, the Catholic Legal Immigration Network appealed and got new trial dates for these virtuous illegals.
So you see, it's never the fault of the illegal alien. Nothing in the study referenced above mentioned illegals who simply chose not to show up. It never happens.
Liberals will distort reality and present absolutes (in this case, the virtue of the illegal alien) as much as they want to achieve their desired results, and when you challenge them, they will present "studies" like these as settled fact.
Image: Mack Male via Flickr.
THE NEXT MEXICAN INVASION IS AT HAND:
*
"Mexican president candidate Andrés Manuel López Obrador called for mass immigration to the United States, declaring it a "human right". We will defend all the (Mexican) invaders in the American," Obrador said, adding that immigrants "must leave their towns and find a life, job, welfare, and free medical in the United States."
"Fox's Tucker Carlson noted Thursday that Obrador has previously proposed granting AMNESTY TO MEXICAN DRUG CARTELS. "America is now Mexico's social safety net, and that's a very good deal for the Mexican ruling class," Carlson added."
Billionaire Mexicans tell their poor to JUMP U.S. OPEN BORDERS and LOOT THE STUPID GRINGO… and loot they do!
Billions of dollars are sucked out of America from Mexico's looting!
1) Mexico ended legal immigration 100 years ago, except for Spanish blood.
2) Mexico is the 17th richest nation but pays the 220th lowest minimum wage to force their subjects to invade the USA. The expands territory for Mexicans, spreads the Spanish language, and culture and genotypes, while earning 17% of Mexico's gross GDP as Foreign Remittance Income.
*
MICHELE MALKIN
Understanding LA RAZA / UNIDOSus: The U.S. tax dollar funded Mexican fascist party which is the fastest growing political party in America
Only in America could critics of a group called "The Race" be labeled racists. Such is the triumph of left-wing identity chauvinists, whose aggressive activists and supine abettors have succeeded in redefining all opposition as "hate."
Previous generations of immigrants did not believe they were racially superior to Americans. That is the view of
La Raza Cosmica
, by Jose Vasconcelos, Mexico's former education minister and a presidential candidate. According to this book, republished in 1979 by the Department of Chicano Studies at Cal State LA, students of Scandinavian, Dutch and English background are dullards, blacks are ugly and inferior, and those "Mongols" with the slanted eyes lack enterprise. The superior new "cosmic" race of Spaniards and Indians is replacing them, and all Yankee "Anglos." LLOYD BILLINGSLEY/ FRONTPAGE mag
PAUL KRUGMAN
The disintegration of California, a Mexican satellite welfare state of poverty, crime and high taxes
"Chairman of the DNC Keith Ellison was even spotted
wearing
a shirt stating, "I don't believe in borders" written in Spanish.
According to a new CBS news
poll
, 63 percent of Americans in competitive congressional districts think those crossing illegally should be immediately deported or arrested. This is undoubtedly contrary to the views expressed by the Democratic Party.
Their endgame is open borders, which has become evident over the last eight years. Don't for one second let them convince you otherwise."
Evan Berryhill Twitter @EvBerryhill.
WHAT ABOUT THE CHILDREN OF LEGALS LEFT ORPHANED DUE TO A MEX MURDER???
Instead Francis Hernandez, an illegal alien driving 81 miles an hour, slammed into a pickup truck, killing the two women inside, and smashing it through the glass wall of the Baskin Robbins.
Francis Hernandez had been arrested 16 times in 5 years without ever being turned over to immigration authorities. That failure to enforce immigration law separated a little boy from his family forever. DANIEL GREENFIELD – FRONTPAGE
'Unbridled Immigration, Legal and Illegal, Is Taking the Country Down'
This annual income for an impoverished American family is $10,000 less than the more than $34,500 in federal funds which are spent on each unaccompanied minor border crosser.
A
study
by Tom Wong of the University of California at San Diego discovered that more than 25 percent of DACA-enrolled illegal aliens in the program have anchor babies. That totals about 200,000 anchor babies who are the children of DACA-enrolled illegal aliens. This does not include the anchor babies of DACA-qualified illegal aliens. JOHN BINDER
AMERICA: YOU'RE BETTER OFF BEING AN ILLEGAL!!!
This annual income for an impoverished American family is $10,000 less than the more than $34,500 in federal funds which are spent on each unaccompanied minor border crosser.
A
study
by Tom Wong of the University of California at San Diego discovered that more than 25 percent of DACA-enrolled illegal aliens in the program have anchor babies. That totals about 200,000 anchor babies who are the children of DACA-enrolled illegal aliens. This does not include the anchor babies of DACA-qualified illegal aliens. JOHN BINDER
"Open border advocates, such as Facebook's Mark Zuckerberg, claim illegal aliens are a net benefit to California with little evidence to support such an assertion. As the CIS has documented, the vast majority of illegals are poor, uneducated, and with few skills. How does accepting millions of illegal aliens and then granting them access to dozens of welfare programs benefit California's economy? If illegals were contributing to the economy in any meaningful way, CA, with its 2.6 million illegals, would be booming." STEVE BALDWIN – AMERICAN SPECTATOR
College-Grad Salaries Eroded by Hidden Army of 1.5 Million Visa-Workers
Every CEO in every company sees the business opportunity: Will I earn higher profits by replacing my American staff with cheaper H-1B workers? The answer is an obvious yes.