Tucker Carlson on Mueller Probe Conclusion: 'The People on TV Have Been Lying to You'
Friday on Fox News Channel's "Tucker Carlson Tonight," host Tucker Carlson reacted to reports that Department of Justice special counsel Robert Mueller was submitting his the probe's report to Attorney General William Barr, which signified the conclusion of the probe's investigation into Russian interference in the 2016 presidential election.
Given there were no indictments tied to alleged collusion between 2016 Trump campaign officials and the Russian government, Carlson concluded the many had been misled by some who have taken to television to make claims of Trump-Russia collusion.
"The people on TV have been lying to you," Carlson said. "They will deny it now. They will tell you it was always about Trump's taxes or some foreign real estate deal or hush money he paid to a girlfriend. That's a crock.
This investigation was always from day one about collusion with Russia. About betraying this country. They told us that for years."
John Dean: Mueller Probe Conclusion Doesn't Resolve Whether Trump Russian Agent
Appearing Friday evening on CNN's Erin Burnett OutFront, former Nixon White House counsel and network contributor John Dean said the completion of special counsel Robert Mueller's investigation into possible collusion between the Trump campaign and Russia during the 2016 election does not resolve whether President Donald Trump is a Russian agent.
A senior Department of Justice official on Friday said Mueller will not recommend any further indictments as part of his investigation.

A partial transcript is as follows:

ERIN BURNETT:

John Dean, anything surprises you [about the Mueller probe's conclusion?]

JOHN DEAN:

Not so far. This has been right by the letter of the special counsel's charter. He's released the document. What I'm looking for is relief and understanding that there's no witting or unwitting likelihood that the President is an agent of Russia. That's when I'll feel comfortable, and no evidence even hints at that. We don't have that yet. We're still in the process of unfolding the report to look at it. And its, as I say, if [Attornery General William Barr] honors his word, we'll know more soon.
Swalwell: I Don't Think I'll Accept a Report 'Unless Its Veracity Is Testified to' by Mueller
On Friday's broadcast of MSNBC's "MTP Daily," House Intelligence Committee and Judiciary Committee member Eric Swalwell (D-CA) stated that he doesn't think he or the majority of his colleagues will accept a report "unless its veracity is testified to by Bob Mueller."
Swalwell began by saying, "[T]he American people will see every word, every comma, every period of this report. The president is outnumbered now in a way that he was not before."
He added, "Second, I don't think I, and most of my colleagues, will accept a report unless its veracity is testified to by Bob Mueller. He — you know, there will be a lot of questions as to whether he was pressured to wrap this up, if there [was] any political pressure put on him. … I believe we need to hear from Bob Mueller. I think the country would benefit from hearing from Bob Mueller and not just taking the attorney general at his word."
Swalwell further stated, "I believe the president will have no credibility to attack the report. Because the state of the evidence will not include his testimony."
Dem Sen. Blumenthal: Mueller Report 'Likely to Show a Lot of Criminality' That Isn't Indicted
On Friday's broadcast of MSNBC's "The Beat," Senate Judiciary Committee member Richard Blumenthal (D-CT) stated that the facts and evidence in the Mueller report "are likely to show a lot of criminality, a lot of wrongdoing, and law-breaking" that isn't indicted.
Blumenthal said, "The facts and evidence here are likely to show a lot of criminality, a lot of wrongdoing, and law-breaking that is not indicted here."
Host Ari Melber asked Blumenthal if he was saying that the 37 indictments that Mueller has issued are a floor, not a ceiling.
Blumenthal answered, "It's a floor in terms of proof beyond a reasonable doubt and the Department of Justice policy."
Donald Trump Leaves for Mar-a-Lago Amidst Mueller Report Rumors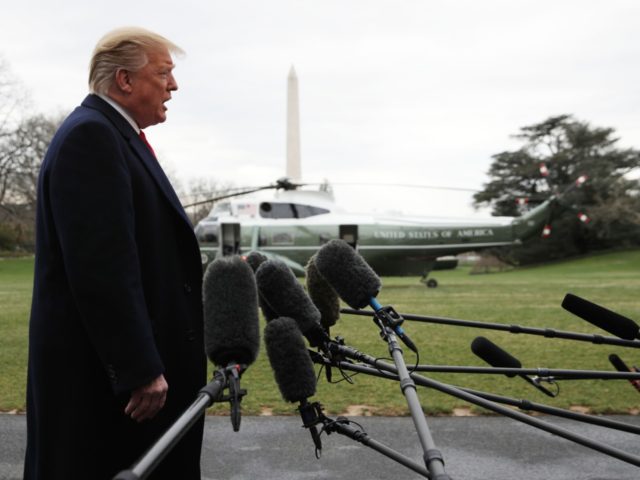 President Donald Trump left the White House on Friday for his club at Mar-a-Lago, amidst rumors that Special Counsel Robert Muller was concluding his report.
"I have no idea about the Mueller report," Trump told reporters who asked him whether he expected the report to released on Friday.
"We'll see what happens, it's going to be very interesting, but we'll see what happens, there was no collusion there was no obstruction, everybody knows it, it's all a big hoax," Trump said. "I call it the witch hunt, it's all a big hoax so we'll see what happens."
The president and First Lady Melania Trump plan to meet with Caribbean leaders Friday afternoon.
Trump said Attorney General William Barr would make the ultimate decision about how much of the report would be released to the public.
The president dismissed Congressional Democrats trying to subpoena more documents and demand testimony from more than 80 people connected to his political campaign, administration, and businesses.
"It's just a continuation of the same witch hunt and behind closed doors, they laugh at it," he said. "It's just a continuation of the same nonsense."
ANN COULTER EXPOSES TRUMP'S "WALL" HOAX